Dressed in pristine, full of excitement, showering grace and elegance; that's how we picture ourselves as brides, Don't we! So to add further to your grandeur and majesty we have some wonderful details on how to pick bridal gloves. Wedding gloves may not be a tradition but a more etiquette enhanced culture where, by just wearing bridal gloves a woman adds to her charm and grace. Wedding gloves etiquette dates back to the historical times when woman spilled grace, dignity and poise. Wedding gloves were not just for brides as even now many guests attending a wedding, also wear cotton, laced or sheer gloves which add to their beauty. Wearing gloves shows honor and regard to the people around. Gloves also convert a simplest wedding gown into a stunning master piece, thus wedding gloves for brides enrich and enhance the bridal look.
How to Choose Bridal Gloves:
Picking bridal gloves requires assessment of the entire bridal wear as they must match with every detail and blend in well. From bridal gown to accessories to even the ring, every details would be needed in picking a wonderful bridal glove. Let us look at the foremost important part, the design and details of wedding gown; what kind of wedding glove fits in with which kind of wedding gown:
1. Strapless wedding dress:
For a strapless wedding gown, off shoulder and body hugging; you can go with a complete wedding glove. From three forth of hand to just until elbow anything would look charming and elegant. From cotton, to lace to net or even satin with or without wrinkles, anything would go along perfectly for the length mentioned.
2. For capped sleeve wedding gown:
In capped sleeve or short sleeve middle ground style of bridal gloves would be perfect. Something that just finishes above the wrist and may or may not cover the fingers. Lace would look amazing but don't forget to match with your wedding gown material and then decide. For more intricately detailed wedding gown, net gloves would be perfect.
3. For long sleeved wedding gown: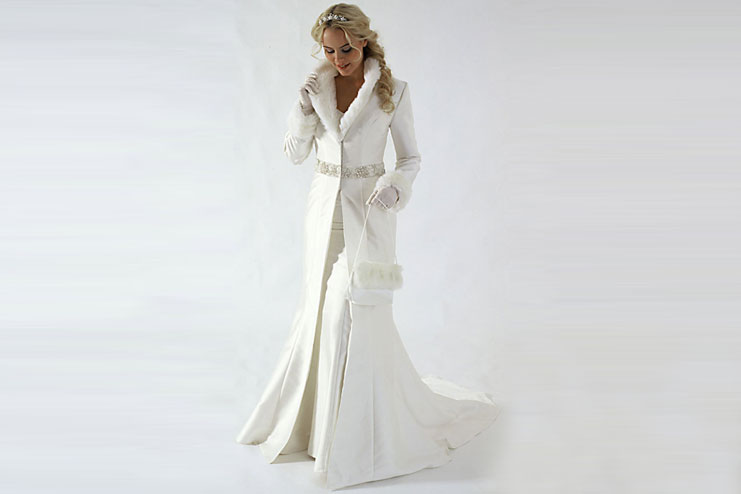 For those with long sleeved wedding gowns, a simple bridal glove just about the wrist of little short would be great. Pick laced or netted material for timeless and elegant look.
4. For ball gown:
Ball gowns with puffed up look would be perfect with long gloves for they add more elegance and charm to the bridal wear. All attention is drawn towards your arms and thus giving an enchanting appeal. Pick long illusion sleeves pr shorties, both would go amazing with your wedding gown based on its material.
5. Wedding gowns with elaborate beads and embellishments:
Simple kid gloves would be amazing to match with elaborate beads and embroidered gown. Pick lace or decoration if your wedding gown is just tulle or satin and also look out for silk floral adornments or crystal trims on your bridal gloves
6. A line wedding dress:
For A-Line wedding dresses classic 6 button gloves or shorties go perfect. For more fashion forward touch pick colored bridal gloves with your pristine wedding gown. Coordinate the glove with bridesmaids or in blue or lilac for more appeal.
7. For empire sleeves wedding gowns:
Classic high waist style of empire wedding gowns would look perfect with opera or elbow length gloves. They not just add elegance but warmth and flair too.
8. Suit jacket and skirt kind of wedding gown:
Generally a suit jacket styled bridal wear does not need any more addition so gloves can be done away. But if at all need be, pick shorties or classic length gloves for style and enigma.
Types of wedding gloves you must know about:
There are several kinds of wedding gloves which are popular and add grace to your bridal look too. Not just the material with which wedding gloves are made but the size, embellishments and the way they are made; gives us a lot many options to choose from. Some popular kinds of wedding gloves are:
1. Fingerless wedding gloves:
Fingerless wedding gloves are beautified with ample embellishments and pearls. This is a very convenient bridal glove as you would not need to remove during ring exchange or eating snacks in between. Your fingers are exposed but your hand is covered which gives an altogether mesmerizing appeal
2. Opera length wedding gloves:
Opera or elbow length wedding gloves are long and they stretch until your arm. They are the longest style of bridal glove. It matches sleeveless wedding gowns perfectly as they give a fuller and longer arm look. Specially for brides with shorter arms and for fall weddings, this can be an advantage. It keeps your warm and also makes your hands look longer
3. Elbow length wedding gloves:
Elbow length wedding gloves are the most popular ones. Brides with slim arms can choose these kinds of wedding gloves as they give elegance and shape to the hands. Specially this accents the upper arms for they are just right sized until the elbows. These elbow length bridal gloves look great with short sleeved wedding gowns.
4. Gauntlet Wedding gloves:
Gauntlet wedding gloves extend from elbow until the wrist and keeps hands exposed. They give delicate and adorable appeal to the bride. They are more functional as they keep entire hands free for the wedding ceremony and gives you the joy and warmth of wearing a graceful wedding glove too
5. Wrist wedding gloves:
Wrist sized bridal gloves are common and they cover just the hands until around wrist. These are generally made of satin or laced. They are less formal than the longer versions of wedding gloves, and look great with long sleeved wedding gowns. For brides with short or thick arms these wrist length wedding gloves are best fit. Wrist gloves are more vintage styled and classic in appeal.
Bridal gloves according to buttons:
Wedding gloves are traditionally measured by the number of buttons it has. The buttons placed at inches apart make for the size of the bridal glove. These buttons reach until a certain point on the arm of the bride:
1. 1 button wedding glove:
These single buttoned bridal glove just reach base of the palm or just below. They are great for brides having long sleeved gown
2. 2 button bridal glove:
2 buttoned bridal gloves are called wristlets or gauntlets. They are also called shorties as they are just 8-9 inches long and until the wrist. Until mid sixties they were the social protocol for women
3. 4 button bridal gloves:
4 button bridal gloves are 10-11 inches long and cover the entire wrist reaching a few inches on the forearm.
4. 6 button bridal glove:
12-13 inches long, these 6 buttoned wedding gloves reach upto the forearm. They are a great pick for day time wedding and they suit any size of sleeves. They have flared arm pieces and can be worn on almost all wedding gowns
5. 8 button bridal glove:
These 8 button bridal gloves are 14-15 inches long and reach the upper forearms. They are also called three quarter length or coat gloves as they are worn as tucked under the sleeves.
6. 12 button bridal glove:
12 button bridal gowns are 18- 19 inches in length and they reach past the elbows of the brides. They include mousquetaire wrist opening which adds grace to the bridal attire
7. 16 buttons bridal glove:
16 buttons or the opera bridal gloves are 20-25 inches in length. The mousquetaire writs opening is standard in this kind of bridal glove
8. 21 button bridal glove:
This 21 button bridal glove is around 27-29 inches in length and has the most dramatic reach just touching the armpits. They go well only with strapless and sleeveless gowns.
Bridal gloves based on the material with which they are made:
Bridal gloves are normally made from satin, lace sheer organza or crushed velvet. These days cotton and spandex blends are also becoming popular. Some popular materials which make up for bridal gloves are:
1. Elastic satin wedding gloves:
In elastic satin wedding gloves is woven with satin weave. The warp threads cross over three of more backing threads. It has lustrous and bright front side with amazing satin finish and dull back finish. The ease and comfort which comes along with the stretch material makes it a great pick for wedding gloves
2. Tulle wedding gloves:
Tulle is a net and mesh fabric with fibers woven in a hexagonal mesh. It gives the look of a delicate and transparent fabric, also giving airy and comfortable feel. It maintains the shape and accentuates the hands well
3. Spandex bridal gloves:
Spandex is an artificial or synthetic fiber with amazing elasticity. It is lightweight, strong and soft also gives good stretch. It also keeps hands comfortable and warm
4. Lace wedding gloves:
Lace bridal gloves are very popular and they are the most exquisite of all fabrics. Lace glove is an excellent accent fabric
5. Voile wedding glove:
Voile fabric is light weight and has plain weave construction. It is semi sheer and gives a crisp appeal. Though it may look firm but it is good on skin and very comfortable for daytime wedding.
Bridal glove etiquette:
There are certain etiquette and norms a bride must abide by while wearing wedding gloves. These include:
Always remember the length of wedding glove is inversely proportional to your wedding gown sleeve. The shorter the sleeves the longer the gloves.
Do not wear gloves if you have bigger upper arms.
Know which places you need to wear and which ones you must not wear your wedding gloves. Remove them while cake cutting, drinking and eating also for ring exchange.
Do not remove the wedding glove as a striptease, rather turn around while in front of guests and slowly take the gloves out to hand over to maid of honor.
Do not wear bridal gloves for beach wedding as they do not blend well there.
Never eat while wearing your gloves
Never cover the sleeve of your wedding dress with bridal gloves, let them go under
Share ahead and keep writing us, we love hearing from you!