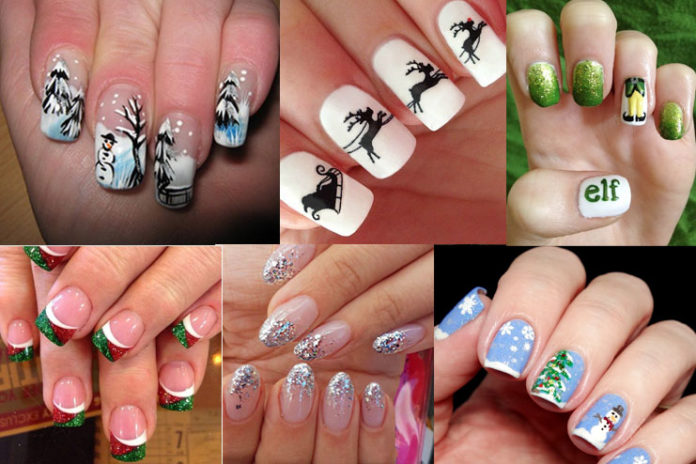 And it is that time of the year when chilly breezy winds and sparkling shiny surroundings captivate all of us. Festival fun with family and friends make this part of the year, most endearing and charismatic for all of us. Be it the Turkey or the pumpkin, egg nog or the coco; we just love every bit of the festival frenzy. Specially the Christmas time, when the jingle bells and snow flakes fill up the ambiance, and its music and laughter all around; its time to bring on our festival fashion and look ethnic best. So we have some wonderful Christmas nail art ideas, which will add charm to your Christmas nails appeal. Not just nail polish ideas but also how to pick your stylish best fit; to make you keep your fashionista appeal. Check out some of the most popular Christmas nails ideas and get the most stunning of nail art designs even at home.
Top 30 Christmas Nail Art Ideas to make this festival a stylish one:
Christmas nail ideas have now become a popular subject of discussion for all fashion connoisseurs. Its not just the nail art ideas but also Christmas fingernails impact that matters. Everything must be in sync with your outfits and festival fun keeping up the zeal and spirit of this family festival. Traditionally Christmas was all about presents, dressing up for the family dinner and sharing delicacies too. But now its more about the all encompassing fashion trends and staying up with them all through every art display you put up. And why not, Christmas nails are completely style transforming part of our beauty and makeup, check out these classics:
1- Fairy Dusted Tips:
A wonderful and mesmerizing representation of Christmas frenzy with glitters and gel based nails. This is your perfect Christmas nail art to let that glitter, shimmer and sparkle take the centre stage. And keep the subtle hues of gel intact for contrasting appeal
2- Warm Toffee:
Its time for hot chocolates and warm toffees, so brighten and sweeten your nails with this relishing nail art for christmas. Get a shimmer tinge on your ring finger and a snow flake art to cum it up elegantly.
3- Twinkling Stars:
Twinkle Twinkle little star, on your nails are a perfect christmas nail design. These simply stunning and sparkling stars on a red nail polish make for an interesting and captivating appeal.
4- Snowman inspired Olaf Christmas nail art:
Recreate the effects of a snowman and the snow for this year's christmas celebration. Just use combination nail polish and glitter polish for stunning and sparkling effect. Olaf is sure a charmer for every family dinner at Christmas time
5- A bright blue snowman Christmas nail art:
Snowman, snow filled trees and dark ambiance; makes for a fantastic christmas nail art. Gradient blue and creamy white nail polish design with elegant art makes it a stunning composition.
6- Reindeer inspired Christmas art:
Pick anyone from the above reindeer inspired nail art designs, Rudolph and his red nose are a sure charm for the festival frenzy. Draw cute and adorable reindeers in red white and sparkle on your nails, and contrast with a matching base nail polish for christmas nail art perfection.
7- Sweater Weather Nails:
The perfect nails to pair with a weather perfect sweater. Use a dark light combination of nail paint and stencil to shade the sweater designs. Fill the gradient way and get some amazing sweater designs specially for Christmas time fun.
8- Snow Capped Mountains:
Get some geometry appropriate christmas nail arts for classic winter tradition. Use acrylic paints to get the snow laden mountains fill them sparkle and shimmer too.
9- Emerald City:
Green is the elf color and green is the festival color too along with red, golden and sparkle. Make the nails all glittery and shiny with some amazing beads and pearls. Put contrasting and loud shades to make them appeal peeping out of your sweaters.
10- Mistletoe nail art:
Mistletoe nail art is the cutest Christmas nail design, with its red and greens all over. It is a great wreath like feeling and goes amazing with your christmas time style
11- Shine Gold:
Get bright and glittery with holiday festivities in this gold leaf look. Base cream and golden prints with artistic designs of christmas tree and snowflakes, this is a sure charmer for your Christmas time fun.
12- String Lights:
Use nail art crystals and design the most stunning string lights for your nail art during christmas. Put a darker, holiday-inspired green shade as the base,and style with red, golden and black for charming appeal
13- Elf inspired Christmas nail art:
Elf is the most appropriate holiday character you can apply on your christmas nail art. Use gradient nail art polish and some glitter effects along with generous green shades, draw elf clothes or feet or shoes to get that stunning appeal on your nails.
14- Snowflakes Christmas nail art:
The silhouettes and glory of snowflakes is amazingly captured here in this nail art. Just make a red glittery or green or gradient blue base and paint snow flakes in white with stunning details and highlights.
15- Snowman inspired nail art in elaborate:
Pick the most elaborate christmas nail art for long nails. This snowman is full fledged right on your nails with every minute detail perfectly captured. Put ready to apply acrylic nails and write your greetings and wishes too. Drawing can be little tricky but sticking false nail with art already done is simple.
16- Glitter and belt themed Christmas nail art:
A great french manicure with bright red base and white outer rim of nails. Add gold and belt designs to capture all details appropriately. Belt details must be drawn close the the nail edges for that stunning impact.
17- Pine Tree Green:
Everything green in glitter and snow is makes the perfect Christmas celebration. So pick this nail art with pine trees and glitter over a creamy white base giving most amazing details of christmas celebration.
18- Shetland Sweater:
A stunning northern Fair Isle look matching your christmas sweater. Hand paint the designs or pre-made appliqués, all look stunning for your christmas nail art.
19- Icicles Nail art:
Here comes a subtle nod to winter weather, with its silver pops over blue base nail paint. Thin streaks of grey and silver make the dangling icicles which are a wonderful twist to the gradient monotony. This looks like a wonderful manicure to impress and charm your festival time look.
20- Snowman, a candy cane, snow, christmas tree and mistletoe:
All in one christmas nail idea which will make a stunning impact. A festival perfect nail art which covers all the details of specialities which make christmas a stunning festival. From candy cane to snowman to snow and mistletoe all on each of the nail, artistically bonded for a perfect nail art style.
21- Red themed Christmas nail art:
Red is the color of the season and so nail art with red as main base color is all what you need for your christmas celebration. Make ribbons and bells in glitter polish or other contrasting shades for that elegant appeal for your nails.
22- Gift Wrapping Paper:
Use nail tapes or design brushes for gift wrapping paper style of christmas nail art. Make the perfectly horizontal shape for giving it a gift like appeal for every nail.
23- Knit pattern:
This delightful knit pattern is the perfect nostalgic pick. This matches with your sweater and thus makes for a stunning Christmas nail art already.
24- Snowman by the mountain Christmas nail art:
Put a clear base coat and design the snowy mountain and snoman details with perfection. Use imagination and paint it all what comes to your midn when you think of snow laden mountains and christmas.
25- Red and green Christmas nail art design:
Paint on various details of Christmas colors and designs on your nails. Use glitter polish and red plus green pearls to decorate and lock it with a sealant for perfectly elegant and stylish christmas nail art.
26- Glitter Dipped:
Sparkling effects on red base with some green and gold to ornament the nails, makes for a great recipe of christmas nail art. This the sparkling celebrating festival time preparation for your stunning soiree appeal.
27- Winter Wonderland:
A striking tribute to the festival season, with this beautiful way to celebrate nature on your nails. Just hand paint using a tooth pick and this is a sure stunner for your festival frenzy this year.
28- Christmas French tips:
A little bit of red, a little bit of green and shimmery appeal to finish the most trendy nail art for christmas. This holiday season on your french manicure is all about paying a tribute to all colors that make this festival so special.
29- Christmas tree inspired nail art:
Paint Christmas decorations on your nails in utmost details appropriation. This is an interesting way to celebrate the festival fun with utmost glorious of ways.
30- Poinsettia themed Christmas nail art:
Fill your nail with silver glitter paint and draw neat poinsettia flowers to top it. Add beads and enhance the accent for this amazingly stylish christmas nail art
Share ahead and keep writing us, we love hearing from you!