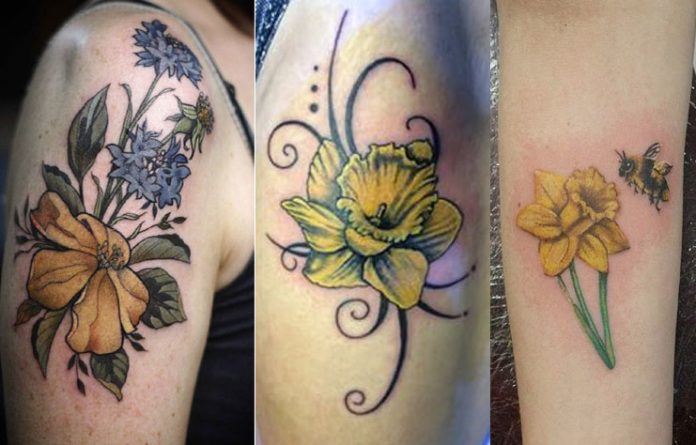 Daffodil tattoos designs are becoming the latest trend everywhere and specially the colors and shapes they can be drawn into, makes them the most cherished tattoo art. There is a hidden meaning and symbolism of daffodil tattoos as various mentions for daffodils are found in history and literature too. There is a special presence of daffodil in art and culture too, their aesthetic beauty and elegance drives most of us crazy.
Flowers hold symbolic and ornamental values, and daffodil holds a lot of importance for us, from life until death. Some cultures believed that seeing a daffodil was a symbol of good luck and fortune. Some European cultures believed that seeing a daffodil flower symbolizes wealth and prosperity for all. Daffodil is also a symbol of Chinese new year.
Seeing a daffodil blossom in new year is related with good fortune. Daffodil is also a symbol of Easter and spring for many cultures. As daffodils are one of the first flowers to bloom in spring. Thus it is related to rebirth and new beginnings as well. The daffodil flower stands harsh winters and makes it through to the spring thus signifying determination and courage. Meaning of Daffodil tattoo can be different for everyone but one things is sure that these daffodil tattoos signify some important thing for everyone.
Some Meaning And Symbolism Of Daffodil Tattoos:
From birth to a fresh start to new beginnings, daffodil flower signifies different meaning for everyone. It has cultural and religious significance too, from birth until death many cultures have embraced daffodils in their rituals. Daffodil tattoos designs can be colored in any which shades and they are truly the most stunning flower tattoos. Some meaning of daffodil tattoos are:
Daffodil tattoos may mean that the person wearing it has gone through harsh times and has risen again over the hard luck they faced
Daffodil tattoos also signify a new beginning for someone. Someone wanting to start a new chapter in their life.
Daffodil also means sun sign of Aquarius as it blooms in early year. Also, it is a new age symbol so for many it signifies coming of age.
Daffodils are fresh and natural when tattooed, and thus for some, it signifies purity and no pretense. It signifies life, radiance, vitality and energy for some
Daffodil tattoos are also very artistic and look lovely with amazing colors and designs so it gets preference over and above other body art.
Some more daffodil tattoo significance is Life, trust, friendship, new beginnings, rebirth, forgiveness, love, energy, vitality, radiance, power and enlightenment.
Some Daffodil Tattoo Designs:
Daffodil tattoo ideas are ample, and for some reason every now and then a new specific comes out which inspires other designers to experiment further. So this daffodil tattoo art can be said an evergreen body art which has been here for a while and will be here for long.
Some simple and amazing daffodil tattoos designs are compiled to help you get inspired. These 27 daffodil tattoo designs are completely stunning and can transform your fashion and style to a much higher level:
1. Lovely and Peaceful Daffodil Tattoo Design On The Upper Back:
With full grown daffodils and stunning blue hues this is a great daffodil body art with mesmerizing color coordination
2. Single Daffodil Tattoo On The Centre Back:
This great design is minimal and yet stylish with just a simple cute little daffodil inked just at the spinal cord line
3. Cute Daffodil Tattoo Design On The Wrist:
This is a simple and yet very stylish daffodil tattoo which is truly placed at a wonderful site. being on the wrist makes it sacred and lovely too
4. Monochrome Daffodil Tattoo On Waist:
A full drawn daffodil in black looks stunning on the waist line with complete details of the plant too. A great way to flaunt your cropped tops in summers
5. Well Painted Daffodil On The Ankle: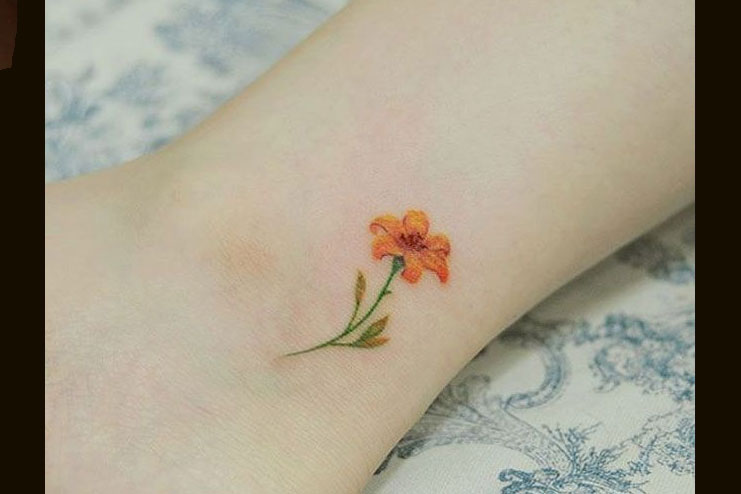 An amazing art on the ankle with bright and shimmering colors, this daffodil tattoo is short and cute. This is so ethereal that it gives an image of delicate water color art on the skin
6. Daffodil And The Lily On The Arm:
This amazing daffodil art is a great work for it covers the upper arm completely and with stunning colors
7. Daffodil With Birth Month And Birth Date:
This is a great way to capture the birth details and in a very sacred way. This gives a stunning appeal to the arm and also makes it very special for the date it signifies.
8. Butterfly Daffodil Tattoo Design On The Foot:
This is again a wonderful body art which signifies purity and blossoms. The butterfly along with daffodil flower makes it a special tattoo
9. Spring Solo Daffodil With Name:
A very warm and blossomy art with name printed makes it stunning and stylish daffodil tattoo design
10. Daffodil Tattoo On Upper Chest:
Cute English tattoo art with a daffodil tattoo on the upper chest with peep through appeal and stunning color contrasts
11. Colorful Daffodil Bouquet On The Arm:
A complete bouquet with two colors of daffodils and pretty green leaves to make it a stunning and stylish tattoo art
12. Complete Back Daffodil Tattoo Design:
A fuller daffodil tattoo with complete back covered and stunning contrasts of colors.
13. Daffodil And Bees Design:
Simple and yet wonderful daffodil tattoo idea with bee on the top of daffodil
14. Gray Daffodils On Full Hands: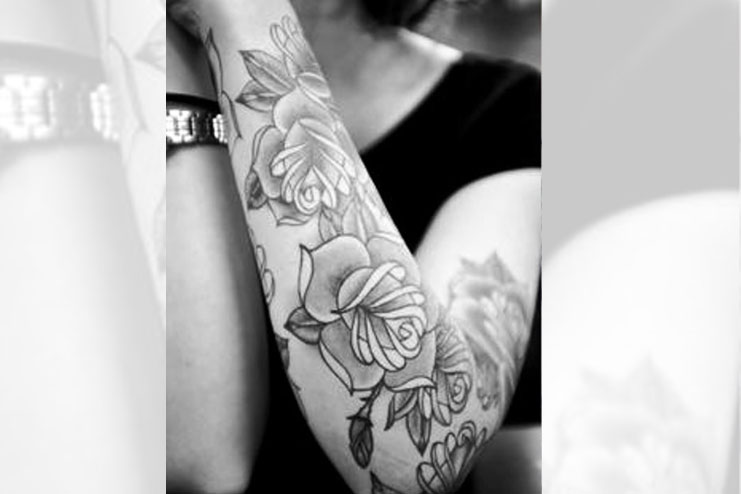 Painted to cover the entire hand, daffodil all over the arm is a stunning tattoo art with some wonderful stylish designs
15. Daffodil On Ankle Big Tattoo:
A complete daffodil flower on one side of ankle with yellow shades looks stunning and mesmerizing.
16. Stylish Daffodils In A Cup:
17. Xray Daffodil Tattoo Design With Perfect Shades:
A versatile and powerful tattoo design with daffodils in black x-ray prints
18. Daffodil Leg Tattoo with Bigger Petals and Perfect Blend of Yellow and Black Shades:
19. Couple Daffodil Tattoo Designs:
These couple tattoo designs
 are awesome and inspiring for people in love.
20. Thigh Tattoo Daffodils To Die For, Imprinted In Black And Shaded To Perfection:
21. Xray Daffodil Tattoo On Entire Waist In Life Size Art:
22. Rose and Daffodil Foot Tattoo With Amazing Color Combination:
23. Black Colored Daffodil Tattoo Design On Foot:
24. Daffodil Tattoo Design On Finger:
25. Minimalist Daffodil Tattoo:
A beautiful and minimal tattoo design which gives just a sneak peek of the tattoo yet makes you feel stylish
26. Daffodil Bangle Tattoo For Complete Wrist:
A vibrant and cute bangle daffodil art with full coverage makes it funky and stylish
27. Daffodil Tattoo Art On Complete Back From Lower Waist To Shoulders:
A flirty and fun design with amazing art. This makes the complete picture for life signifying health, happiness and fun
Flower tattoos are truly inspiring and mesmerizing, specially daffodil tattoo designs.
Share ahead and keep writing to us, we love hearing from you!
More Tattoos Recommended Articles: