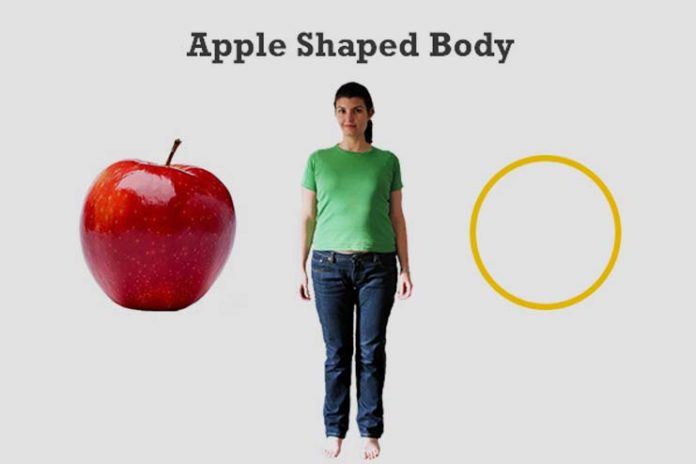 Having an apple shaped body and worried about what to eat, how to workout and what to wear, well! we have some interesting details to help you here. Apple body shape is nothing but more fat towards the centre than at arms or legs. Apple shaped women is generally a condition where women in their mid ages develop more fat towards torso, belly, and bust.
What is apple shaped body:
Apple shaped body is when you have a tendency to gain weight towards your tummy. Specially during peri menopause stage your body suddenly changes the shape and drifts towards apple body shape. Some features of apple shaped women are:
No definite waistline, and a full grown rounder stomach
Broad shoulders and upper arms
Large bust and protruding
Hips slimmer in comparison to mid body size
Flat rear as compared to other bulging parts
Nice slim legs
Wider torso and a fuller upper back
The body is more like an apple towards the centre and flatter under
Waist to hip ratio is greater than 0.8, for measuring waist to hip ratio stand upright and measure your waist one inch above your navel, and measure your hip thrice from the largest part. The greatest one is the hip measure. Now divide the waist measure with hip measure, and if the result is greater than 0.8 you have an apple shaped body.
Why do we have apple shaped body in higher ages:
Generally women have a more apple shaped body towards their menopausal stage. This has ample reasons and also since the metabolic activities reduce as we age, they are difficult to reduce. Some reasons of apple shaped bodies in women are:
Apple shaped body comes in higher ages because male hormone androgen is produced in excess during peri-menopausal or menopause times.
Apple shaped body is called android body type medically, and high levels of androgen govern the body fat
The excess fat in our body gets deposited around waist, back, bust and torso region. This excess fat is the adipose tissue
Most of the visceral fat in apple shaped body surrounds around internal organs like heart, liver, pancreas, kidney and other organs which may cause severe health hazards if ignored
These give rise to problem in sitting down, bending, back aches, hormonal imbalance and lower metabolic activities which makes it difficult for us to lose weight.
Health hazards of having apple body shape:
Apple shaped body may not just look embarrassing but also cause a lot of health issues too. And if ignore and not worked upon it may cause some serious ailments. These health hazards are:
Type 2 diabetes
Metabolic syndrome
Heart diseases and blood pressure
If unchecked it can also result into stroke or myocardial infractions
Higher level of stress.
Even cancer or tumors of body
Respiratory disorders
Apnea and pulmonary hypertension
Sleeplessness
Muscular stiffness
Weight loss for apple shaped bodies:
Loosing weight is the only remedy for apple shaped bodies. As otherwise the health hazards may cause havoc. Also it is increasingly difficult to lose weight once you cross middle ages, so a thorough regime for workout focussing primarily your belly area must be adopted. Pick a mix of cardio and strength training for balancing the body weight effectively
Some of the apple shaped bodies lose weight with power yoga and meditation too. So make a schedule for each day of the week, covering almost all basic fitness sequences to get utmost benefits. Some of the waist defining strength moves include:
1- Running:
Running is a great strength trainer. It helps in balancing the body fat and evenly spreading it out to all areas. It also builds up stamina enriches your core. Running helps in shedding big amount of calories in less time. A lot of energy is needed for running so apple shaped areas will get more tension and spread out with fat getting reduced in sometime
2- Core strength exercises:
Knee fold tuck: Sit upright with hands on the floor and knees bent. Put a ball between the knees, now lift the knees to reach up. Keep the hands such that the elbow is parallel and straight up the knees. Try to touch the knees to elbows. Bring back to start and repeat 15 times
Rope climbing: Sit upright with feet turned out in V position. Now bend such that the spine forms a C shape. Begin raising your arms one after the other as climbing a rope and hold legs in position
Side plank: Start in a plank position with legs extended behind you and forearms on the ground. Rotate the torso to one side and put entire body weight on that arm and roll , no again come back to start and roll to other side with entire body weight on the other side of the arm. Continue alternating for 15 times
Crunches: Lie down on your back with knees bent and hands behind your head. Hole elbows to the sides, and tilt your chin such that it comes near the chest but not touching it. Now pull abdomen inwards. Now lift your head, neck and shoulder off the floor. Now move back on the start position.
3- Swimming:
Swimming helps in total body workout. It helps in balancing the body weight too. And when in water the body gets relaxed and calm thus preventing too much stress
4- Power yoga specially Surya namaskar:
Surya Namaskar is a 12 step power yoga which not only helps in balancing body weight but also calms and relaxes the mind too. This sequence of gracefully linked asana help in body balance, strength training and also reducing belly fat. Begin by standing upright and joining hands, now raise your arms and bend behind as much as you can, now bend down touch the ground. Bring the feet behind and make an inverted V. Now take one feet towards the hands and stretch head outwards. Hold this and then move back to inverted V gently. Stand and again stretch in the second pose you took. Now come back to joined hands. Release and repeat
[Read: Honest reasons why you are still fat]
What would be the diet plan for apple shaped bodies:
Diet for apple body shape women is simple but needs a thorough dedication to follow. Most women don't see immediate results and switch back to their unhealthy and junk diets. Lot of patience is needed as its not a quick process to control diet and get results on apple body shape. Some of the tips for diet of apple shaped body are:
1- Eat complex carbs:
Take more and more fiber rich foods which are healthy and filling for long. Brown rice, quinoa, buckwheat, oats and multigrain breads are great additions in diet. Avoid starch rich carbs and make more recipes of these fiber rich foods
2- Avoid junk and processed foods:
Junk foods like burger, pizza and pasta are not only fat providing but also unhealthy for functioning of vital organs. They add more calories and cholesterol.
3- Eat good amount of proteins:
Protein rich foods are great for losing weight. Beans, cottage cheese, tofu, lentils, beef, chicken, fish must be a part of your diet. Try and stick with a balanced diet for weight loss and more of proteins
4- Healthy fats in moderate quantities:
Eat healthy fats like Yogurt, avocado, nuts etc which will aid weight loss and also are heart healthy
5- Stay off sweets and sugary drinks:
Sugar adds unnecessary calories to the body and increases fat depositions. Avoid them as much possible. Also stay away from caffeine as it causes more cravings for fat foods.
Diet plan for apple shaped bodies:
Diet plan must be such that it covers every essential nutrient in adequate quantity and avoids unhealthy foods completely. A suggestive diet plan for an apple shaped body is:
Breakfast: Protein rich with egg, salmon, beans and fat free dairy
Mid morning snack: Nuts and oats or quinoa crackers, berry fruits and fat free yogurt
Lunch: Healthy carbs and some salads. Also, take soups which have good protein and fiber
Mind afternoon snack: Best time for desserts. Dry fruits and nuts also oat bars and honey
Dinner: Vegetables loaded in brown rice and some beans, yogurt and fresh fruit juice to end
What should apple shapes wear:
Apple shaped bodies must take proper precaution when selecting outfits. There are some specific attires which help in hiding the heavy central body. The aim is to create nice silhouettes with dresses. You can highlight your cleavage, mark the waistline and try not to wear too skimpy outfits. Best dresses for the apple shaped body are:
Tops:
Wear a good fitted bra which does not let your chest look bulging
Buy ruched tees
Wear layered tops
Opt for more V necked tops which will attract more attention than towards heavy belly
Opt for thicker fabric texture which are not clinging too much
Pick more patterned outfits
Prefer longer tops covering hips
Pick nice fitted jackets do not button them up
Pick asymmetric dresses which helps in highlighting the dress more than the belly
Pick dresses which reflect more of your arms and neckline than the belly part
Bottoms:
Pick flared or straight trousers
For jeans opt for mid rise and boot cuts, they give a rather great lift to your body.
Avoid too tight lowers
Specially stretch ones, must be a struct no no
Pick skirts with side zip
Avoid more volume towards belly by keeping pleated outfits off
Other additions to look thin:
Pick a long cardigan
Wear kaftan or shrug every time
Wear statement neck pieces to switch attention away from belly region
Long tops with jeans or leggings are great to hide apple body shape
Wear shorter lowers, showing the slim and nice legs will take away the focus from your belly
Wear shoes that emphasize your legs and not boots. Platform wedges, sandals, clogs and strappy footwear are good choices.
What not to wear in dresses for apple shaped bodies:
Avoid too tight clothes
Do not pick short tops
A high neckline emphasized the belly more so avoid
Avoid bulky clothes
Say no to heavy sweaters
Do not wear outfits in just one solid color
Front zipper clothes must be avoided
The above compilation on Diet and fitness for an apple shaped body is to help in eating right, working out well and dressing perfectly to avoid any embarrassment due to bulging central part of the body. Don't ever ignore apple shaped body as it may cause serious health hazards and check with your dietician for more inputs
Share ahead and keep writing us, we love hearing from you!