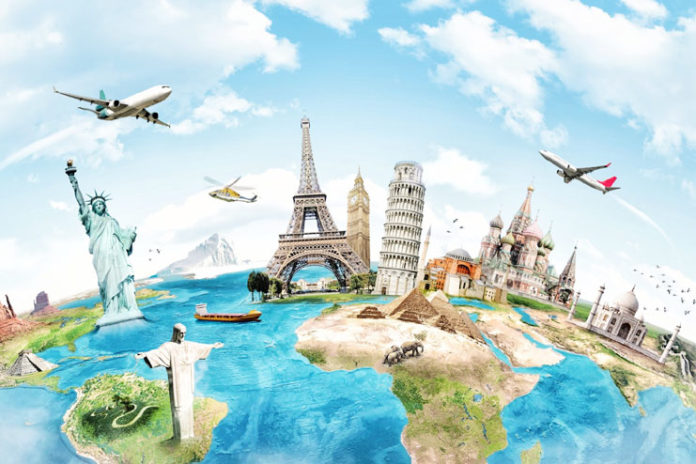 Traveling is an amazing experience for those who love to explore. The reasons for traveling are personal. Traveling is all about building memories, sharing new experiences, meeting new people. Traveling for some is an adventure, that extra zing of adrenaline rush which liberates your mind, body and soul. Traveling is based on individual interest, but it emancipates the soul. Traveling is important for a healthy mind. And a soulful association of mind with body. 'Have you read these reasons for traveling' is based on the exquisite experiences of traveling to some exotic locations around.
Some reasons for traveling are:
1. Traveling gives you a perspective:
Traveling helps you to meet new people, experience the rich cultural heritage and traditions far and wide. It acquaints you with diversity and relative interactions people have at those places.
2. Traveling is relieving:
Traveling is a very good de-stresser. It relieves you from the mundane routine and revitalizes you. Healthcare providers also recommend travel for people suffering anxiety, depression and stress.
3. Traveling helps you in learning:
When you travel you meet new people, new culture and new tradition. You experience different languages, cuisines and festivals and thus learn about geography, religion, culture and rituals
4. Traveling helps you build strong and lasting memories:
When you travel with family or friends you create those magical timeless memories of just being together and experiencing a whole different life.
5. Traveling helps you to make new friends:
When you travel you meet different people and sometimes best friendships are made this way. Traveling gives you a chance to meet more and more people from diverse backgrounds. Thus a greater network and better connect.
6. Traveling helps you to introspect:
Traveling helps in unwinding and introspecting. Which is extremely important in the busy routine life. It refreshes you to resume the daily life with a more zesty and zealous version of yourself.
7. Traveling helps you to get some ME-Time:
It is very important to sit back and enjoy the things you as an individual appreciate. Traveling gives you the opportunity to follow your interests and hobbies and take your own time out. Some people travel to quiet and calm places to just relax, read and pamper themselves; some travel to more exotic and happening locations for party life.
8. Traveling helps you to take time off social media and screen:
When you travel, not all the places will give you the network connectivity thus its a great time to enjoy and cherish. With screen space taking most of your daily life, it is important to take time away from social media and connect to self and family
9. Traveling helps in boosting morale:
When you travel, you confront situations that have a long term impact on your self confidence. You tend to become more confident as you have arranged the perfect travel plan yourself
10. Traveling helps you to strengthen your relationships:
Traveling with your family or to meet your family and friends is a great way to deepen the ties. Sometimes in the busy schedule, we tend to lose our love and passion in relationship. Traveling gives that chance to rekindle and appreciate the strong bonds you share. Traveling also connects you to different levels with fun and play times you share with your near and dear ones.
[Also Read: How to save your relationship from crisis]
11. Traveling helps you to know each other better:
When you travel with partner, friends of family you tend to understand each other better. Sharing, planning and organizing the intricate details and then accomplishing the same through travel helps you to understand each other
12. Traveling gives you an escape from complex daily life:
When you travel you leave the baggage of your routine life behind. You make new experiences and memories. It gives a positive and much needed escape from your boring routine life. The new places with fun and adventure brings great distraction for you.
13. Traveling sometimes gives you a chance to celebrate:
Birthdays, anniversaries, promotion and other success can be celebrated with travel. It rejuvenates and adds more passion to work better each coming day
14. Traveling sometimes helps you explore skills you didn't know existed:
Sometimes traveling gives you the time and experiences that help you identify your skills and interests you did not know about. The traveling adventures like paragliding, bungee jumping, scuba diving or hiking, trekking, camping are some experiences only traveling can bring. Sometimes just reading or writing while traveling makes you identify your own competence in the same.
[Also read: Top 3 national parks in USA for a weekend getaway]
15. Traveling challenges you to run an extra mile:
Traveling is not very simple and definitely not that easy. It takes time and effort in planning the same. Sometimes it challenges you to follow a routine, you never though of. Sometimes you may miss the basic necessities like tea and coffee at the place you travel to. Traveling is full of uncertainty and it gives you a chance to overcome the hardship and enjoy the moments
[Also Read: Beautiful beaches in USA from coast to coast]
Traveling may be an interest or hobby or a job related compulsion but it certainly is a very important activity. For it gives the unimaginable pleasures and ecstatic moments with a lifetime to cherish them. The above compilation on 'Have you read these reasons for traveling' is to help you pack your bags and go on the expeditions you always fantasized for or you were always afraid of. The reasons are immense, find your worthy catch and just pack your bags.
Minu Manisha