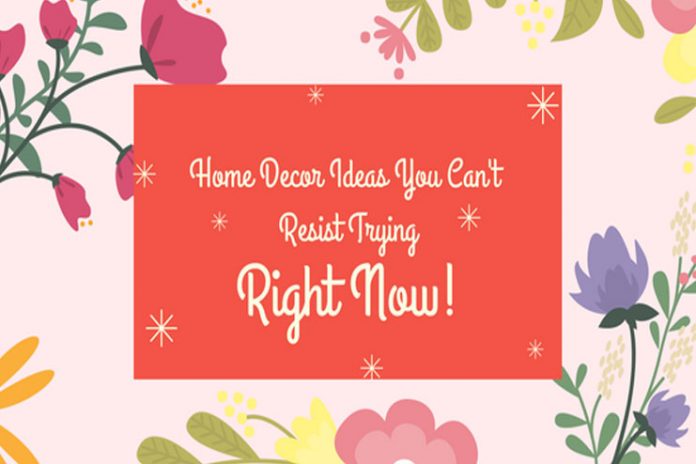 Decorating your home doesn't have to cost a lot of money. Sometimes it's the little personal things we do that are more meaningful. It's all about being creative, not spending a fortune. Making your little part of the universe reflect your style and taste is the essential meaning behind decorating. Let your ideas flow and bring your imagination to life.
But first thing first, If you're starting to get that itch to decorate but need some inspiration, look to these places for ideas. And most of all, take your time and decorate slowly. No need to drastically change your home overnight.
Places To Find Home Decor Inspiration
If you are the type that wants to see and hear about how something is done, then YouTube is for you. Search for anything you are curious about to redecorate your home. For example, if you're into a nautical theme, search "nautical design for the home" or something similar. There are literally thousands of videos on every theme you can think of and many are uploaded by enthusiastic people that want to show you how to achieve the same look in your own home.
You may already be on Pinterest and following several boards. If you're not already and the idea overwhelms you, then go in with only one goal in mind and stick to that. If you're looking to redecorate your bathroom, then do a search on "bathroom ideas on a budget" for example and pin what you like. Start small and no need to get overwhelmed. Think of this as your virtual board for images that inspire you.
Most pins on Pinterest come from blogs. But you can bypass Pinterest all together and just Google for blogs on home redecoration. If you are on a budget, be sure to indicate that in your search. There are also several blogs out there dedicated to home decorating ideas that use only Dollar Tree, yard sale and thrift store items.
Once you know from where you can get inspiration, here are 10 ideas to help get your creative juices flowing:
Home decor ideas:
1. The Family Gallery:
Throw away all of the cheap art decor painting and go for an all-out family photo gallery. Get your favorite family pictures blown up and put in frames to display anywhere and everywhere. Get some cute action shots of the kids or grandkids playing at the park, or with the family pet. Line the hallways with an action sequence shots for a unique look and feel. If you don't want to start everything from the scratch, you can create a photo collage using tools like Canva too. It's super easy and free too.
2. Indoor Gardens:
Grow some plants that do well indoors. Plant them in hand-painted pots, or create your own indoor garden area. Decorate the surrounds will brightly colored rocks or shells to give it a look all its own. Nothing gives more cheer to a home than feeling like its spring all year long.
3. Brighten the Walls:
Make your life colorful. Cast neutral hues to the curb and paint walls and decorative items the brightest colors your mind can conceive. The contrast can really be amazing. What was once a drab room will be full of life and vibrant color?
4. Mirrored Image:
Small homes can really benefit from the use of mirrors. Placing mirrors along open walls will make the space appear much bigger than it actually is. They make great backdrops for knickknacks, flower vases, or anything that you want to highlight.
5. Simple Things:
Candy dishes and vases are terrific accent pieces that add country charm to any home. Instead of spending a fortune on new ones, check out the cupboards and see what you might have already that will work. Those old perfume bottles make excellent vases. Some are pretty fancy looking. Try adding a mix of hard candies to an old glass canning jar. Both are items that you might already have around collecting dust.
6. Create Handmade Items:
Learn how to knit, crochet, quilt or weave. There are so many creative projects you can do and display the results in your home. The best way to have a home reflect your individuality is to display what you can do. Search the internet for home craft ideas, if you can't think of any yourself. Your next decorating idea could very well end up being your favorite hobby. You never know.
7. Create a Candle Corner:
Candles are more than a decorator piece, but can serve a function if the power goes out. Create a special corner of the house devoted to candles. There are scented ones and shaped ones and you can even try your hand at making them. You might be surprised at how creative you can get.
8. Pretty is Key:
Romance is a mood that is set many times by ambiance and atmosphere. Create your romantic space by adding soft feminine colors and frilly pillows. Lace tablecloths and curtains, heart-shaped storage boxes and delicate china displays all bring a space into feminine focus.
9. Furniture Covers and Area Rugs:
There's no need to replace perfectly good carpeting or living room furniture in order to make a dramatic change. Purchase some area rugs and furniture covers to give a complete facelift to your space. There are some terrific furniture covers made these days that are relatively form fitting and look attractive. Use area rugs to change the color scheme of the room. The combination can make a very dramatic difference. You might even recognize the place yourself!
10. Bring Your Individual Style:
The most important part of decorating is making sure it truly reflects your style. Individuality can't be bought from IKEA. It comes from the heart and soul and is poured out through our simple efforts in the home. The incredible thing is that's what frugal decorating is all about. Leaving expensive changes at the curb and incorporating the items you love and care about are the things that make a lasting impression.
Confused? Well, how many times have you wondered wouldn't decorating be easier if there was a simple list of dos and don'ts to follow when you did it? There is. Here are the most important home décor dos and don'ts:
Home Decor Do's and Don'ts
Don't Forget the Ceiling
Each of your rooms has five walls and a floor—that wall you forgot about is the ceiling. This is especially important in smaller spaces. You get more openness and volume by hanging curtains high up on the wall near the ceiling. And continuing your paint and texture onto the ceiling adds even more space and appeal.
Do Paint Right
Use dramatic color in a small space that you don't spend as much time in. This makes the whole home seem bigger and adds interest without affecting your mood negatively. Avoid choosing your paint first; you can match paint exactly to other elements like furniture so it should come last. To keep your place interesting but not frantic, stick to three coordinated colors for all rooms. And never choose paint in the store, because the lighting matters a lot.
Don't Neglect Seating
Your impulse to keep your rooms simple is a good one, but don't forget to keep your home livable. Make sure that there are plenty of places to sit down, and that the choices are not all immovable. You want to visually invite your guests to be comfortable and stay awhile, getting lost in a great conversation.
Do Let There Be Light
Lighting changes the entire mood of a space. Don't rely on cold, harsh recessed or overhead lighting, and if you need to use it, opt for a dimmer switch which can save you from either one, too-bright room or fumbling in the dark. Floor and table lamps help create a comfy feel, and wall sconces and picture lights can provide pleasant backup lighting anywhere. Never skimp on lighting fixtures, which must dress entire rooms and often provide a major focal point. Using a statement piece for your lighting is a great choice.
Don't Hug the Wall
Most of us are stubbornly insistent upon backing each piece of furniture against the wall, but this practice actually hurts your décor. Aim for the right conversation spaces and settings by placing your furniture closer together in a grouping that is friendly and inviting. About four to eight feet of space is the right conversation space choice. And do you really want to place your desk against the wall so you have to stare at it all day?
Do Know When to Stop Decorating
Excess décor is, at best, clutter (and at worst, a major failure). Make sure each element works hard in your created space. The look of having endless knick-knacks cluttering every surface is never a good one. You can always rotate what you set out periodically; why not highlight your best pieces? If they're surrounded by more mundane items, no one will notice them.
So friends, I hope this guide has helped you to turn your ordinary home into a dream home. Please let me know in the comments, which ideas did you try and which ones did you get appreciation for.
Have fun decorating!
Guest Post by Kavita
More Articles To Read: