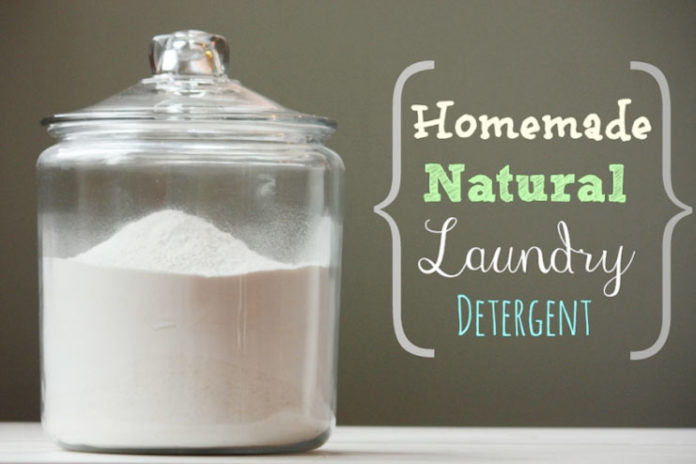 Making your own laundry detergent is all about patience and determination. And when the benefits far outweigh the store brought its time to gather it and put yourself un to it. You have all the freedom to choose your ingredients, let's just say you can diss the abrasive ones and catch hold of beneficial ones. Homemade Laundry detergent preparation from old times has been weighed over any other form of washing.
Natural Laundry soap helps you in saving ample and not compromising on the cleanliness aspect. Some of the homemade DIY laundry soaps have been miraculous on hard as well as soft water. Unlike the store brought detergents these homemade laundry detergents maintain the brightness and longevity of the clothes and keep the apparels as is for long. Homemade detergents are non-toxic and biodegradable causing no harm to the environment. These green options are definitely uplifting the climate controls and maintaining our environment safer for all.
Natural laundry soap or DIY homemade laundry detergent are both equally beneficial for the life of our clothes. They both serve as an important base for keeping the abrasive and harmful chemicals off our washing cycle. These also keep away the hassles of shrinking of cloth after every wash, loosening of the elastic sides of our tees, and most important fading the beautiful and bright colors of our clothes.
What it is Homemade Laundry Detergent?
A detergent is a surfactant or a mixture of surfactants with cleaning properties in solutions where they dissolve. These are family of compounds which are more soluble in hard water than soap can because the polar of detergent is less likely to bind to calcium or other ions found in hard water.
Detergents are amphiphilic that's is partly polar and partly non polar, this facilitates the cleansing action. And because detergents are non hydrophilic they are good foaming agents with varying degrees.
Homemade Laundry Detergent Powder:
Homemade laundry detergent powder is a synthetic detergent and is typically designed for a specific purpose, which can give great foaming and cleansing even in hard water or cold water. These contents are natural in sense they are derived from products of nature. They may or may not have processed aspects but these definitely use the lesser ingredients from nature.
Homemade Liquid Laundry Detergent
Making your own homemade laundry detergent sounds like a tiring and tedious task. Of all the difficulties we presume and the time consumption we perceive we diss it even at thought stage. But it is not even half the time of giving a natural homemade facial or a homemade makeup removal. So why not giving this safer and eco-friendly option a try and enjoying the ease, comfort, and cheaper option of making your on laundry detergent so quickly at home.
Is homemade laundry detergent or liquid better:
Powder is definitely weighed high over liquid as it decreases cost, needs less hassle of storage, and the simplicity as in it takes way less time then the little complicated laundry liquid preparation. The results you see on your clothes are simply amazing and miraculous. And you can boast off the simple and inexpensive recipe of your magical potion for cleaning clothes at home.
Natural Laundry Detergent:
Natural laundry detergents are designed to work in hot or cold water and to clean inside the fibers of clothes effectively. Depending on water quality, some people find that natural laundry soaps don't work well on their clothes. Others may notice build up or a dingy color over time. But these are simply myths, and natural laundry detergents, if optimally chosen the ingredients, works wonderfully and is true return on investment. As effective or even better than high end detergents
Homemade DIY Laundry Detergent and Soap:
There are ample ways we can make homemade DIY laundry detergent or soap at home. The ingredients also range from routine stuff at home to some more specialized ones with amazing benefits.
How to make homemade DIY laundry detergent powder:
This easy, inexpensive method for making DIY powdered detergent requires just three ingredients:
A bar of castile soap, you may choose either unscented or a scented bar of your choice. Castile soap may be made up of olive oil and soda. It is softer on clothes and better efficient too
A box of washing soda or also called sodium carbonate or sodium ash. It is available in grocery stores all over and is a common ingredient for every soap or detergent
A box of borax which is a naturally occurring mineral that comes in powdered form, and is also available in grocery stores.
Procedure:
Grate the castile soap in as fine parts as possible. You may use a chopper or a cheese grater to grate off the entire bar. Even a mild run of food processor may do wonders. Get a nice and fine consistency, without any large chunks or lumps. This must be fine else the detergent powder may not hold its powdered for well.
Now add washing soda and borax in a big bowl in equal quantities. Use a spatula or a tong and mix them well. They must not have any lumps
Now add one part of grated soap to 2 parts of above mixture comprising washing soda and borax. Mix them well using same spatula or tong
Now add baking soda and some essential oil for fragrance. This is optional as you may skip the odor and just continue with an unscented detergent. Baking soda is a must as it freshens the clothes and also removes sweat or dirt smells too. Essential oil adds extra pleasing smell and just a few drops are fair enough for the purpose
Now store this detergent in an airtight container or a ziplock sealed perfectly. You may use it as a natural homemade detergent powder now, just a cup is fine for a large load.
Some More Natural Laundry Detergents:
Some wonderful and quick fix recipes that you can try, to make natural laundry detergent. These have been used by people from years and have some amazing effects on the apparels and on the coast aspect as well.
1- Natural laundry detergent liquid using bar soap:
Contents:
1 quart Water (boiling)
2 cups Bar soap (grated)
2 cups Borax
2 cups Washing Soda
Procedure:
Add finely grated bar soap to the boiling water and stir until soap is melted. You can keep on low heat until melted.
Pour the soapy water mixture into a large, clean vessel and add the Borax and Washing Soda. Stir well until all of it is dissolved.
Add 2 gallons of water, stir until well mixed.
Cover the container and use 1/4 cup for each load of laundry. Stir the soap each time you use it as it may het humid and form lumps.
2- Natural laundry detergent liquid using bathing soap
Ingredients needed:
Hot water
1 cup Washing Soda
1/2 cup Borax
1 Bathing soap bar
Procedure:
Grate the bar and add to a large saucepan with hot water. Stir over medium-low heat until it dissolves and is fully melted.
Fill a 10-gallon pail half full of hot water. Add the melted mixture, Borax and Washing soda, stir well until all powder is dissolved. Top the pail up with more hot water.
Use 1 cup per load, stirring soap before each use
3- Natural laundry detergent powder:
Ingredients:
2 cups Fels Naptha Soap (finely grated)
1 cup Washing Soda
1 cup Borax
Procedure:
Mix all ingredients well and store in an airtight plastic container.
Use 2 tablespoons per full load.
4- Natural laundry detergent liquid using ivory soap:
Ingredients:
Hot water
1 bar (4.5 oz) Ivory Soap – grated
1 cup Washing Soda
Procedure:
In a large saucepan add grated soap and enough hot water to cover.
Heat over medium-low heat and stir until melted.
Fill a large pail with 2.5 gallons of hot water, add hot mixture.
Stir until well mixed.
Then add the washing soda, again stirring until well mixed.
Set aside to cool.
Use 1/2 cup per full load, stirring well before each use
5- Natural laundry detergent liquid using bar soap:
Ingredients:
2.5 gallons Water (hot)
1 Bar soap (grated)
3/4 cup Washing Soda
3/4 cup Borax
2 tablespoon Glycerin
Procedure:
Melt grated soap over medium-low heat topped with water, stir until melted.
In a large pail, pour 2.5 gallons of hot water, add melted mixture, washing soda, borax and glycerin.
Mix well.
Use 1/2 cup per full load.
6- DIY natural homemade laundry detergent:
Ingredients:
2 cups Bar soap (grated)
2 cups Washing Soda
2 – 2.5 gallons hot water
Procedure:
Melt grated bar in a saucepan with water to cover.
Heat over medium-low heat and stir until dissolved.
Pour hot water in large pail, add hot mixture and washing soda.
Stir very well.
Use 1 cup per full load.
7- Baking Soda Instead for Natural Laundry Detergent Preparation:
Ingredients:
2 gallons Water (hot)
1 bar Soap (grated)
2 cups Baking soda (and not washing soda)
Procedure:
Melt grated soap in a saucepan with enough hot water to cover.
Cook on medium-low heat, stirring frequently until melted.
In a large pail, pour 2 gallons hot water.
Add melted mixture, stir well.
Then add the baking soda, stir well again.
Use 1/2 cup per full load, 1 cup per very soiled load.
8- Powdered Laundry Detergent DIY Recipe:
Ingredients:
12 cups Borax
8 cups Baking Soda
8 cups Washing Soda
8 cups Bar soap (grated)
Procedure:
Mix all ingredients well and store in a sealed tub.
Use 1/8 cup of powder per full load.
9- Powdered Laundry Detergent with Vinegar DIY Recipe:
Ingredients:
1 cup Vinegar (white)
1 cup Baking Soda
1 cup Washing Soda
1/4 cup liquid castile soap
Procedure:
Pour the liquid soap in bowl first
Pour some vinegar in it and stir well
Now add baking soda and again add vinegar at regular time
Mix well
At first it will be thick and viscous but it will gradually dry out
This will have lumps so try and break them and keep stirring
After sometime it forms a detergent powder
Use 1/2 cup per full load
Why should you switch to Natural Laundry Soap?
Natural laundry soap is preferred choice by most environmentalists and people who want to do it all by themselves. Want to save money and avoid the harmful ingredients lurking in many traditional laundry detergents? Use the Natural Laundry Soap recipes. Though same DIY detergent may not work for all water types and you may need to experiment with soap or washing soda combinations and ratios to find out what works best.
Some reasons why natural laundry soap is better than the store brought option:
They are safe and environment friendly
Homemade version is cost friendly and inexpensive rather
There are borax free options too when going the DIY natural way
They are easy and simple to make
They make the work simpler as they are great even in hard water
Why Natural Laundry Detergent or natural laundry soap:
We must switch to natural homemade laundry detergent or soap to avoid the harsh chemicals, fragrances, colors, and additives in many regular detergents. It turns out that homemade is much less expensive and incredibly easy to make giving even more amazing results. Natural laundry soap is a simple switch you can make without much effort and without expensive speciality ingredients.
How to make DIY Natural Laundry Soap:
Laundry Soap Ingredients:
A grated soap bar
A cup of washing soda
A cup of borax
20 drops of lemon essential oil
I cup oxygen booster
How to Make Laundry Soap
Grate the soap using a hand grater or food processor.
Grate into fine particles so it dissolves easily.
Mix with the washing soda and borax (use gloves or a spoon as these can by drying if used directly on skin)
Add essential oils and stir.
Store in an air-tight glass jar.
Use 1-2 tablespoons per load. Add 1 tablespoon of oxygen booster if needed specially on white clothes
Top Ways to Boost DIY Homemade Detergent Effects:
Add lemon juices for dirty load
Soak in baking soda for some time and then wash the heavy clothes and bedding sets
You may also add a few cups of mouthwash to the washing cycle for better results
Add vinegar in water and then soak clothes for 10 minutes.
After this begin your washing cycle to get amazing results. Vinegar kills bacteria, makes them smell fresh, brighten the clothes, make them lint free.
Conclusion:
The above compilation on how to make homemade laundry detergent and its benefits is to help become environment friendly and adopt greener and safer cleaning options. These are totally inexpensive and non toxic. Be sure to check allergies for baking soda and borax before using them on clothes. Wear gloves while preparing as it may cause skin harms.
Share ahead and keep writing us, we love hearing from you!
More Recommended Articles: