Most of us ditch the routine jewelry cleaning activity and let our favorite piece of gem get tarnished and dull while lying in closet drawers. Going out to a jeweler is not that easy and most often we tend to ignore it completely thus letting our jewels get damaged with tarnish. We don't need any fancy exorbitant jewelry cleaner, yes, check out this amazing compilation on how to clean jewelry at home which is so simple and so easy that you will never have to keep your favorite jewelry shut down in closets. Most of the cleaning supplies you probably already have in your kitchens and don't need anything more. So time to know the natural way to clean jewelry at home and keep them sparkling like brand new.
How To Clean Jewelry Naturally At Home:
Where our efforts to take repairs to a serviceman ends the world of DIY wakes up, all what you can do at home and need to just give some time and effort is what looks like a plan. Well! most often we tend to ignore jewelry cleaning and that's how the jewel gets tarnished and damaged. Jewelry cleaners at store may be exuberant in price and too fancy for you to pick up but we have some simple homemade jewelry cleaners which not just simplify our task in hand but also make us believe that going organic and natural is the way to go. The most natural way to clean a jewelry is by using just the non biodegradable items available at home. Check out the guide on how to naturally clean jewelry:
1. Baking Soda, Water And Aluminum Foil: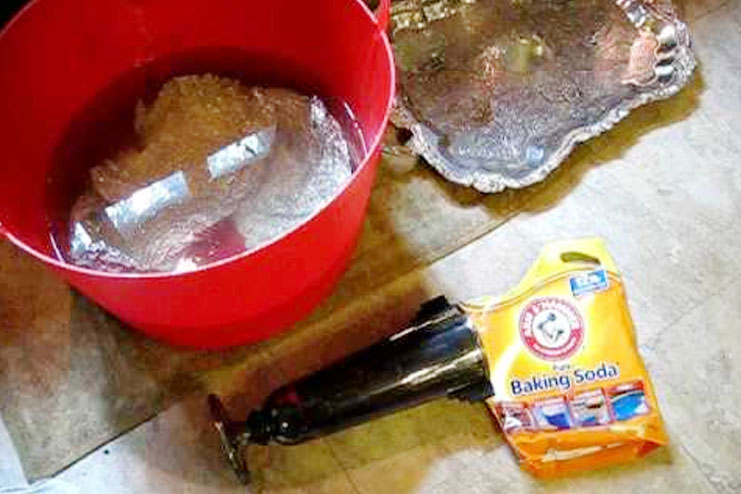 The quickest catch for cleaning at home with natural supplies is always baking soda because of its abrasive effects on germs and tarnish and non-abrasive effects on most metals. Simply mix some baking soda in hot water and pout in a silver foil over a bowl. Then soak your silver metallic jewelry in it. The tarnish and dirt gets dissolved in water and we see our jewelry turning out clean as new. Then take the jewelry out and wipe with a soft cloth
2. Beer To The Rescue: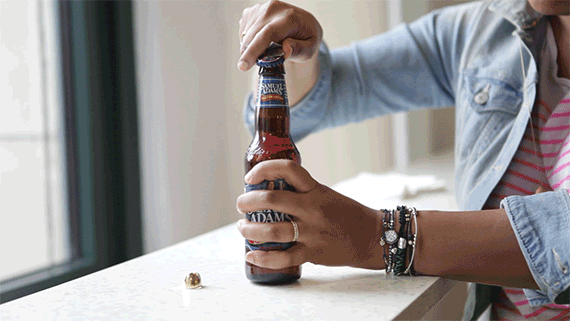 Beer is not just a great drink but it works wonders on jewelry cleaning in addition to acting as a conditioner for dry hair. Just soak the jewelry in beer for 10 minutes and wipe with clean cotton ball. Then dry the jewelry by wiping with a clean cloth
3. Club Soda And Lemon: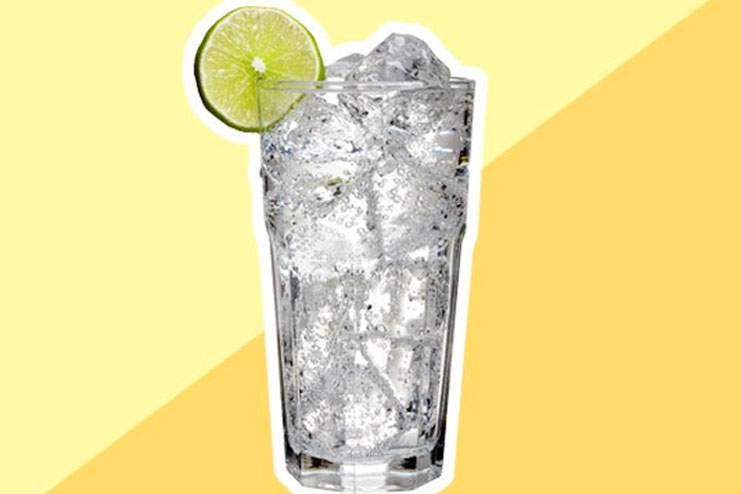 Club soda and lemon when mixed and jewelry soaked in it helps in quick jewelry cleaning naturally. From diamonds, rubies, sapphires and emeralds everything can be cleaned with this natural treatment at home. Just take a glass and mix club soda and lemon juice, now soak your piece of jewelry in it overnight and wipe the surface of jewel clean the following morning
4. Toothpaste: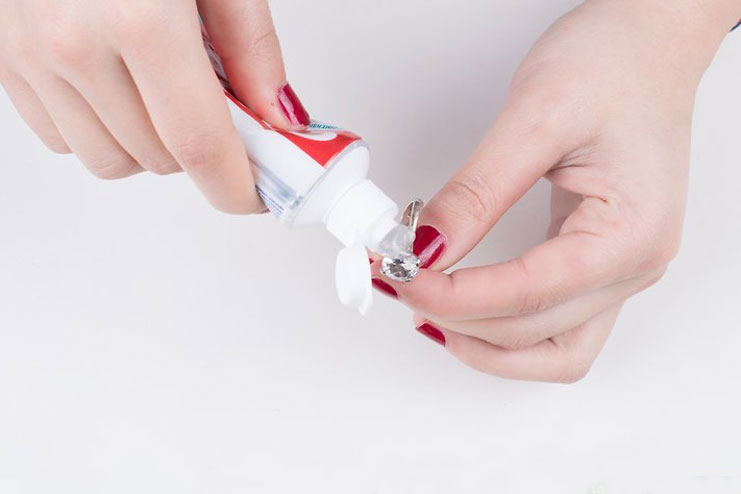 Most of us do not know but all the silverware can be turned to brand new with just a few touches of toothpaste at home. Just dissolve some toothpaste in warm water and make a thick paste then using clean towel or a used toothbrush you can turn your tarnished silver jewelry into brand new in just 5 minutes. Toothpaste is mildly abrasive but it does not damage the jewel and is probably the best way to clean jewelry at home
5. Antacids: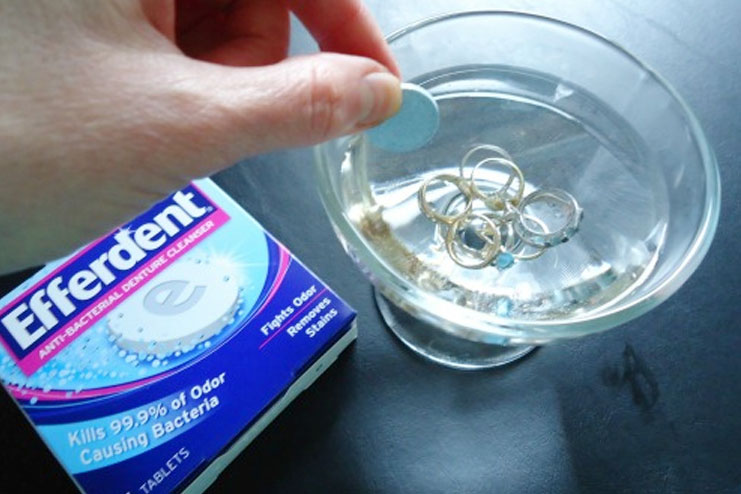 Antacids also helps in cleaning the damaged jewels effectively in addition to acting on refluxes in our belly. Just dissolve 3 tablets in a glass of warm water and soak the jewelry in it for a few minutes. Fizzling and bubbling actions work on tarnished areas and remove the solid dirt too, very quickly and effectively. Then wipe the jewelry with a damp and dry cloth
6. Soap and Water: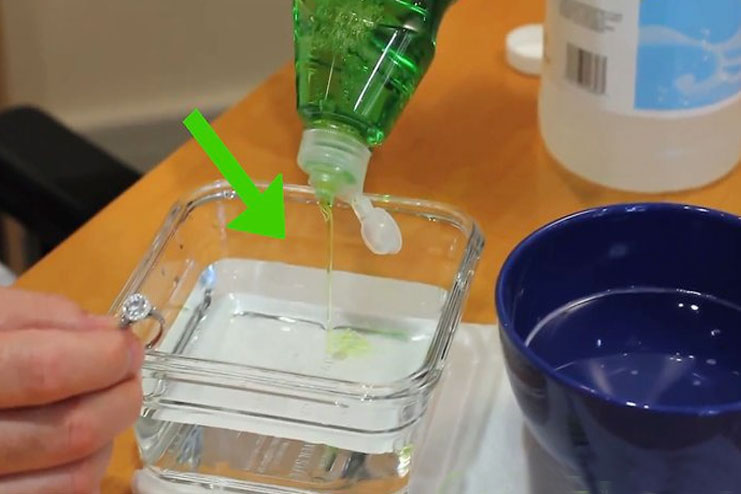 Preferably dish soap or homemade laundry detergent mixed in warm water, for some kinds of jewels which do not have hard dirt or tarnish. For stones which are porous and soft this age-old method of cleaning jewelry at home works wonders. Using this method you must be sure to let the jewelry air dry before storing it in drawers.
7. Ketchup: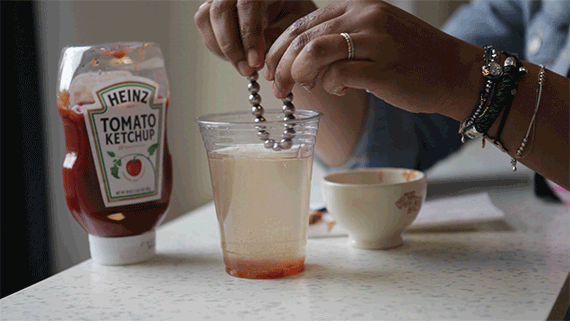 Ketchup is the easiest way to clean your jewelry at home. As ketchup is not just a condiment for your hot dogs, it is rather a multi-functional agent for home. It cleans the silver tarnishes quickly and without damaging the jewel. Just use a damp cloth and put some ketchup on the jewel for 5 minutes and wipe it clean.
8. Vinegar: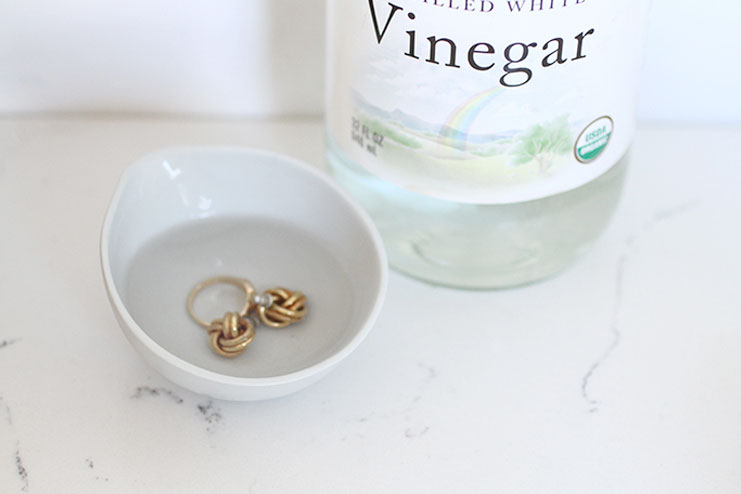 Vinegar is the best possible cleaning agent for every need at home. From bathrooms to carpets to even jewelry is the one-stop fix for all dirt and germs. Simply soak your jewelry in vinegar and leave for half an hour, then  wipe it clean with a clean cloth
9. Baby Shampoo: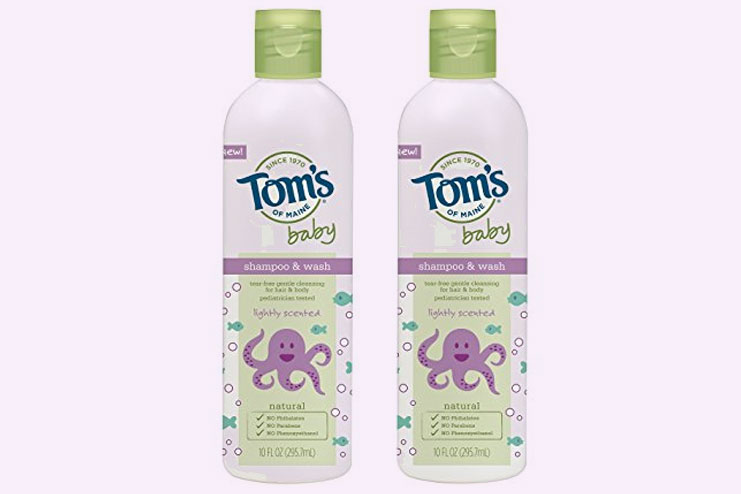 For extremely delicate pearls and jewels use baby shampoo and a soft toothbrush as we do not want to cause any abrasion on the jewel. You can also use warm water mixed solution of baby shampoo along with Q tis for cleaning delicate jewelry. 10- Use lens cleaner:
For some kinds of fake jewelry even lens cleaner solution works wonders in getting rid of grime and dirt. Just soak the jewel in lens solution for half an hour and using soft bristled toothbrush clean the surface well. Then wipe with damp cloth and let it air dry
10. Rubbing Alcohol: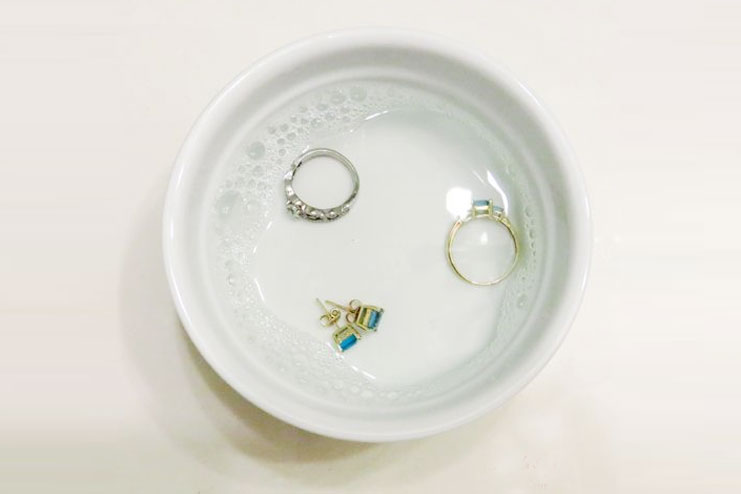 Rubbing alcohol also does wonders on some tarnished jewels. Just soak the piece of jewel in rubbing alcohol in a bowl for half an hour then using Q tip or soft brush wipe the surface clean. The use damp cloth to clean the jewel and let it air dry
11. Windex: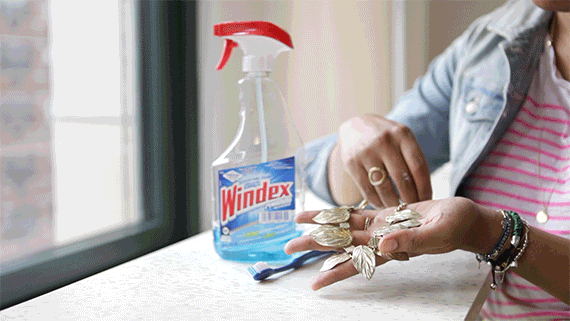 For really harsh grime just spray some windex on the jewel and keep it for 3 to 5 minutes. Then use a soft bristled brush and clean it and wipe it with damp cloth
How to Clean Jewelry DIY Depending On Their Metal And Made:
Not all jewels can be fixed from tarnish by the above methods as some of the abrasive products can damage your jewel. Beware when choosing from our best way to cleaning jewelry at home, and check for the metallic properties and effects or reactions by the selected procedure. Some tips on natural way to clean jewelry are:
1. For silver made jewels:
Sterling silver scratches easily so do not use any abrasive product on it. Just use a clean soft cotton ball and do not rub it with it.
2. Gold:
Avoid chlorinated products and soapy solutions as it can permanently tarnish your gold
3. Pearls:
Use solutions and dip the pearl in and never use a brush or wipe the pearl in a harsh way as it can damage the pearl surface
4. Diamonds:
Warm soapy water is the best way to clean diamonds. Toothpaste may be recommended but be sure to check the softer material lying around the diamond in your jewel
5. Brass and other jewels with textured surface:
Only soft bristled brush can help in cleaning textured surfaces. Soak them first in the solution and then brush away the grime and dirt.
Tips for keeping the jewelry untarnished for long:
Maintaining the jewelry well is the only trick to prevent too frequent jewelry cleanings sessions at home. And when you keep the jewel safer from grime for long, it adds life to it. Some tips for keeping the jewels shinning and glittering for long are:
Never spray perfume or rub lotion after wearing the jewelry as these impact the metallic surface of jewels
Take the piece of jewel off while bathing as soap and warm water or bath chemicals in body wash can turn the metal hazy and get it tarnished quickly
Wipe your jewelry regularly and keep it in a dark closed box to prevent oxidation
Use ziplocks with jewelry to prevent water or air damage on them
Don't wear your jewelry even the engagement ring when cleaning the home using harsh chemical supplies
remove jewelry even while cooking
keep excess heat and cold temperatures away from jewelry
Share ahead and keep writing us, we love hearing from you!