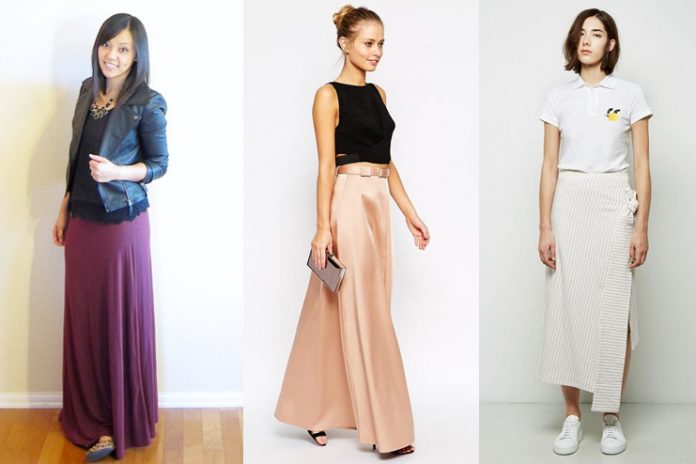 Timeless Maxi Skirt
Nothing says bohemian chic like a great maxi skirt. Gone are the days when only petite women would dare to don a maxi skirt, today women of all shapes and size can wear this piece and rock it! Team it up with a cute top, or wear your favorite jewellery, there are many ways in which you can wear the maxi skirt and completely own it!
Maxi skirts have become an important part of almost every women's wardrobe and can be worn for any occasion and in any season.Paired with any other elements.and they are not just flattering, they are extremely practical for everyday use too.
The Maxi Skirt
A favourite with Calvin Klein, Gucci, Narciso Rodriguez and Clements Ribeiro, the maxi skirt has been around for a very long time. Until the beginning of this century all women could wear were maxi length dresses or skirts, but a time has come where the length of their skirt is completely their choice.
And even with the ever changing face of fashion and various trends, women are crazier than ever with maxi skirts. The design was first created by Paul Poiret, who wanted to revolutionize women dressing by creating clothes that were more natural and form fitting. From the hobble skirt to trousers, to more advanced versions of the skirt with various designs, skirts have evolved so much.
As the years progressed the skirt length got shorter and it wasn't until the sixties that the hem length reached the floor again. The seventies saw the coming of the hippies who preferred flowy, ethnic printed long skirts. Yves Saint Laurent was the designer who made floor touching iconic maxi skirts relevant and so much more fashionable. The eighties took a completely different and exciting turn with the denim culture and pencil skirts, much more focused on power dressing. And then came the nineties with their boho chic culture and dressing styles and design that were devised whilst keeping comfort and style in mind.
With their inclusion in mainstream fashion culture, their hasslefree quality makes them a number one pick for hot summers or a breezy evening.But easy or not easy we all know that too many options can be confusing, so here we have rounded the 15 most effortless yet chic ways in which you can wear that maxi skirt feel your feminine best.
1. Maxi Skirt With a Tank Top
An easy summer ensemble, wear a beautiful long skirt around your waist and make it look flowy, whilst pairing it with a top and that relatively simple. This will give you a neat look.
2. Sport it Up
Team your maxi skirt with a varsity or a leather jacket and look bold. You can also complete the sporty look by choosing to wear a graphic tee beneath and some classic doc martens.
3. Denim it Up
Pair your favorite maxi skirt with a denim jacket and some cute flats. This is a perfect look for winter. Your look will be complete on it own. It can be worn for a casual occasion and the freedom it gives you is unparalleled.
4. Scarf it
If you want to get a non cumbersome look for a professional setting you can also wear a solid colour t-shirt or sweater with your maxi skirt and tie a scarf around your neck. the way you wrap your scarf should be emphasized in this look.
5. Floral All The Way
A loose cardigan over a seemingly cute tshirt or tank top and your intricate flowery maxi skit will make a great team. This is cute summer look, that makes you look feminine and provides you ample room for movement too. Definitely a favorite.
6. Crop Toppin' it
Wear a cute crop top with a beautiful maxi skirt to make for an elegant evening look. You can wear your skirt right above your waist for a retro look or you can even bear your stomach the currently trendy vibe.
7. The Pleated Skirt
A pleated maxi skirt with a round neck top can make one look so classy and chic at the same time. This look is extremely versatile and can be worn for any occasion. You can g anyway with this look. Long earrings, boots, aviators, the options are endless.
8. Don't Sweat it
Feeling lazy this winter? Don't worry as the evergreen maxi skirt can even be teamed with a sweater for a casual outing, or college. Tie your hair up in a pony tail, and wear your favorite boots to complete the languorous, boho look and embody effortlessness.
9. The High Slits
Is there anything sexier than a high slit maxi skirt that shows off your legs yet leaves a lot of room for imagination. Wear some high boots with this and a dark coloured top, to look like a total badass. This look is almost runway worthy, leave your hair down and maybe do a bit of dramatic make up to make this look a truly memorable one.
10. Old Schoolin
A cute shirt with a rather simple yet elegant shorter edge maxi skirt that enhances your lower body can be a ideal look for fun outing. Or even a week place- whatever you want. Keep your hair neat and don your favorite canvas shoes to give it that ever loved, old school look. And because of the tail of this type of maxi skirt is short, you will get more ease of movement.
11. The Classic Tulip
A recent hit among the fashionistas has been the tulip skirt. This flower shaped beauty is flattering on all body types and will have dancing around, feeling your feminine best. Team it up with a tank top, use a colourful scarf, again the options are endless.
12. Belt it
A denim shirt or a white t shirt tucked into your maxi skirt at the waist can make one look extremely glamorous without even trying. It is a look which is both retro and modern at the same time. Use a belt to cinch it in the centre, and rock it like never before.
13. Polka Dot Charms
Another way to make your maxi skirt look unforgettable is to ether wear a skirt that has polka dots or wear a polka dotted top.with the return of all things retro, it seems like this elegant yet cut style will never go out of fashion. If you could get a adorable hair band to complement your look, you will not be able to stop the heads from turning around. This way of wearing a maxi skirt never goes out of style.
14. Business Casual
Require a serious yet glamorous look? So bring out your high heels and sunglasses. Team a formal shirt with maxi skirt and tuck the shirt in. Choose solid colors or maybe even pin stripes to complete the entire look. You can also add some classic jewellery for a more mature look. This one of the different types of maxi skirt that can give you a refined look, just like pencil long skirt is in fashion. You can combine these elements for the ultimate bawse look.
15. The Elegant Look
Do you want to get that peachy, breezy look that redefines dimly lit nights or beautiful sunsets?
The pair up a flowing, lush nude coloured maxi skirt that seems never ending. Leave your hair free and do minimal make up. Team this with a full sleeved, rayon top, preferably in a nude shade too. Accessorize it with a classy clutch.
16. The Hippie
Fulfil your hippie dreams with this look. Go all out and combine the other elements of the entire ensemble. Get a headbands, chunky jewellery, tops with designs patterns that have a mind of their own. Choose a skirt that allows easy, movement and get transported back to the times of Woodstock. The look can look equal party gypsy if you let our curls down and wear beautiful rings. Ruffled patterns and mix matching is allowed to give your ensemble a personality.
17. Wool it Up
Trendy wool long skirts can also give you the much desired Instagram look. And not to mention the much needed warmth required. Team it with a black sweater and brown boots to look comfortable yet completely stylish. Wide patterns are appreciated to complement the solid colors of the top. To add the extra spunk add a beanie or hat to your look and you are good to go. This look is extremely versatile and be worn on both formal and informal occasions. It is a modern look, yet gives the kind of warmth that a winter morning needs.
18. Glam All The Way
Wear this body hugging long skirt that makes you look like you walked straight off the runway. Wear your favorite heels and an overall flattering top to amp up the glam and slay! Bandage crop top and elaborate embroidery goes a long way to up the hotness quotient and is one of the most sought after looks of 2018. even sequins and various other designs can make you look like a complete queen. From Kim Kardashian to many other models, this look is all things hot and makes the maxi skirt such an important element of our wardrobe.
19. Drawstring Maxi Skirts
Drawstring maxi skirts are one of the most popular elements out there. Not only are they comfortable, they are extremely funky and so very versatile. Those lazy afternoons do not need much thought, as you can look fabulous without having to draw out and intensive plan. Pair this skirt up with any casual top and some comfortable flats and enjoy your day without having to worry. Get a matching scarf and some funky accessories. if you are wearing a solid coloured, stripes could be an excellent idea.
20. The Classic
No matter what your stance on maxi skirts might be, one look that fashion enthusiasts all over the globe are still fawning over is the denim haul. The long denim skirt is a sure shot way to make that look memorable. Pair it with a long jacket or just keep it simple with a chic top, this look spells iconic an for the right reason. Some vintage boots and viola, get that Instagram popping.
The New Wave of Fashion
With maxi skirts being the new craze, girls worldwide are thinking of ways to glam up their look and be stylish in their daily lives. These skirts are the epitome of all things feminine and yet they provide so much ease in movement that they will very soon become your favorite. From Kendall Jenner to Millie Bobbie Brown everyone is sporting them. And why not, in this age of versatility and change, a timeless element like a maxi skirt should not be taken lightly. So embrace the comfort and grace, one fashionable maxi skirt at a time!