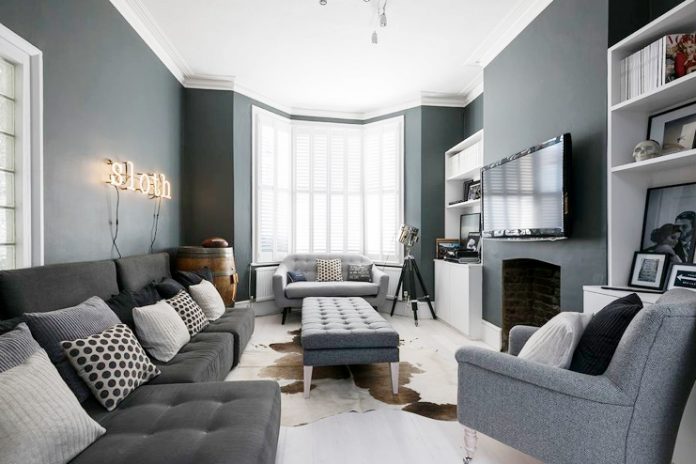 The living room is where one spends most of their time. It is also the first place your guests notice when they come over. Not only does the living room demand to visually appealing, it also sets the tone and mood for the decoration ideas
for the rest of the house. The idea for decorating your living room is a direct reflection of your personality. Your living room and the way you decorate it can say a lot about you and your style, which why they say that the living room is the beating heart of any house.
Whether you want it to look warm, or you want it to look chic. Cozy or efficient, you get to decide the vibe. But considering how many choices we are spoilt with, and the number of ideas the internet has decided with, it becomes difficult to select a particular mood. So based on efficiency, we have rounded a list excellent living room decorating ideas that will help you transform a house into a home:
1. Beautiful Ceilings
If your living hall has a ceiling that is high, it is an excellent idea to decorate it in a way that draws more attention. Drapes that lead up to the ceiling or paintings on the wall are an excellent way to do this. Another thing that you could do is make sure that the paintings you put up are mid size, this will give an illusion that your walls are bigger.
2. White It Out
Are you worried about having completely white interiors? You shouldn't be, considering how easily you can make your living room family friendly. Just make sure you have durable fabrics and furniture that can be wiped off clean. This way you can have the posh looking interiors you have always wanted, without having to worry about the mess kids will create!
3. Choosing Furniture That Looks Light
To make your living room look bigger, another thing that you can do is use furniture that looks lighter. Yes you read that right, furniture that looks lighter can give the illusion that your living room is bigger. This inturn can enhance the overall appearance of your house. Also choosing lighter colors is another way in which you can make your room look bigger. Any furniture that does not obstruct the view, is a fine way to make a thing look less constricted.
4. Patterns That Are Subtle
Make sure that you lean towards the mood you are trying to convey. Mix and match the articles of furniture in a room so vividly that nothing looks bland or boring. Make abundant use of textures and patterns.
5. Rug It Out
There are few things that revamp the look of a room the way a rug does. And an ornate rug can just transform the vibe of a room. You can go for statement rugs or play it out with the colors of the furniture to make sure that it all looks like its in sync.
6. Mirror It Up
Mirrors can always make a small place look bigger, so be smart and design your interiors in a way that your living room looks alive and way more spacious than it actually is. Mirrors also help in creating a focal point. Having a big mirror in the living room is one of the most common decoration ideas. You can also play with lighting and create an ambiance by placing a light behind a mirror.
7. Small Scale Furniture
It is always necessary to remember that you select furniture that does not overpower your entire living room. It should be minimal and sophisticated and should make the room look appealing this is where utility and aesthetics can play an important role, so make sure that your furniture that adds substance to the room metaphorically, and does not just clamp the area.
8. Play In With Your Weird Side
If you have your quirks, you should make sure that you play them in. Figure out what your style is and play it up. After all, your living room must speak "YOU". figure out the needs and requirements of the place and then design it the way you want. Distribute the colors in a way so that it does not look jarring. Another thing that can be extremely appealing is of the room is not conventionally angled, this gives you so much space to play out your interior design fantasies, any way you want.
9. Modern Chic
Minimal furniture with adequate lighting that makes every surface or article look sophisticated and like it belongs there-this is what modern interior design is about. The furniture should be firm and mostly solid coloured while the walls can play it out with either whites or pastel colors. The living room can take to a mood with ambient lighting and requite arches that give more personality to the room. A chic, boho approach that makes it look fancy and intimate at the same time.
10. Classic Interiors
Combine classic colors and elegant furniture to give your living room a personality of its won. The reason these ideas still work is because they have an old school charm that never dies. Bring in the drama and do u the walls, the furniture and the rug. Add a book case on the side or a grand piano, the choice is yours, your living room is going top leave an impression that one shall never forget.
11. The Adult Pad
Make sure that you have outgrown your dorm style living. Make the living room a breathable place, and let it have a personality that looks neat and well thought of. Not a couple ideas that were just thrown together. Make sure that your living room communicates exactly what you want it to convey, no overcrowding or impractical pieces of furniture. Add colourful prints and splashes for that extra dash of personality and substance.
12. Accessorize Your Living Room
Make sure that you add plenty of baskets and pots and vases or articles that make your living room look like its been lived in. Yes, it is important that you add a personal touch in every way because it's your living room but make sure that you do not over do it by adding too many articles. That will be cluttering. This is just for the spunk. Pine dresser, wicker basket, antique vase, go forth, take your pick.
13. Textile Piling
Turn a living room into the room of your dream by draping and piling textiles and sheets to add more personality tot he room. Choose colors that go with the wall or contrasting, add an ethnic print or bring the oversized pillows. Adding textiles to the context makes a room look way more luxurious than it actually is and this can never go wrong when it comes to creating first impressions about living rooms! This kind of decor can be extremely intimate and give a sort of bohemian feel too. A current hit among this generation, this idea is one you should definitely ponder upon.
14. Sofa So Good
Oh, is there any other piece of furniture that holds this much relevance? A sofa can literally make your break your bedroom. It can make a narrow room look beautiful, it can a bigger room look intimate. Depending on your preference, there are sectional sofas, futons, whatever you want. You just have to keep the space and the idea in mind. A sectional sofa is a very good idea for a smaller room as it does not require much anchoring.
15. Direction
It is important that every living room has a definite direction. Where is your furniture pointing towards? The garden, the tv? Anchor your room in a way that it does not look haphazard. You anchor the room with the help of a large sofa, or a bookcase or whatever you want. Just use articles that are necessary to not give the feeling of being messy or cluttered. Designate zones for things as per groupings, articles, area for standing. This will give your living room a more organized look. Basically plan it in your head first and then execute it.
16. Lighting and Colors
Oh the beauty of moody lighting and aesthetics. The art of making a living room look like a place where you actually want to live essentially boils down to these two elements, they make a room look more appealing and add a humanness to it. Because no two ideas can ever be similar, it makes an interesting study to notice how the same set of lighting can be used to play different moods throughout the year. Be it festivities or what not, everything becomes more defined when it is anchored by well thought of colors and some other design direction. This can literally transform any living room and make it look effortless yet unique.
Every Living Room Has A Story
And it's up to you to design yours. Based on your mood or preferences you can play around with lighting, aesthetics, tapestry, drapes, rugs and furniture, to make a house – a home. You can decide what message or idea you want your living space to communicate, you can anchor it all the way through, and the beauty of all this is that with modern developments in interior design, the options that shall cater to your mood are limitless. So you can create something new, every day.