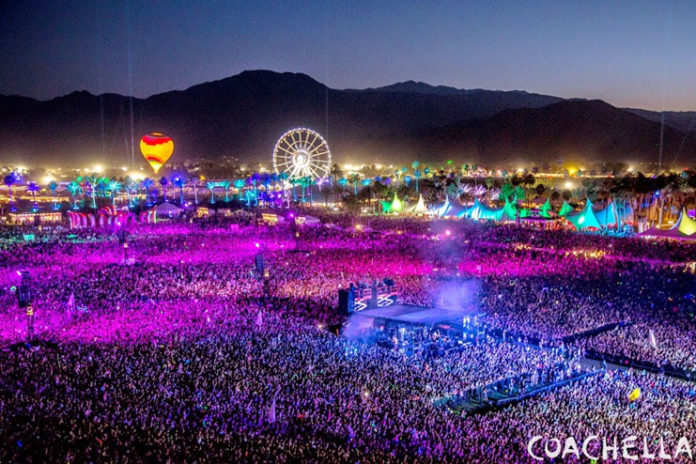 Coachella valley music and arts festival is 3 consecutive days of two weeks, a musical festival at Empire polo club in Indio CA, in the Colorado Desert; in the month of April every year. Coachella features popular and established musical artists as well as emerging artists and reunited groups. Coachella is one of the largest, most famous and most profitable of music festivals in the US and also worldwide.
What is Coachella Actually:
Coachella dates back to the late 90s and since then it has been an extremely popular music and art festival. The festival's origin traces back to a 1993 concert that Pearl Jam performed at the Empire Polo Club while boycotting venues controlled by Ticketmaster. The show validated the site's viability for hosting large events, leading to the inaugural Coachella Festival's being held over the course of two days in October 1999.
Since then it has been expanded and added further with more and more art and musical stuff. It has staged new records for festival attendance and gross revenues. In addition to hosting live music, it also showcases visual arts including sculptures and installation art. Major pieces being interactive provide a visual treat for attendees.
Throughout the year's art displays have grown in scale and outrageousness. Everything is going notched up and ratcheted up every year. Its constantly outdoing itself to make it better and refreshing for its fans.
Where is Coachella located:
Coachella takes place in Indio CA, 125 miles east of LA. It is located in Inland Empire's Coachella valley
within the Colorado Desert. The temperatures have been as high as 106F to even a low 43F. This festival is hosted at 78-acre empire polo club. The event covers a footprint of over 600 acres when accounting for parking and camping sites around.
How Long is Coachella and Some Popular Celebrity Fans:
Coachella began as a 1-day event and within years it came up to a 3-day format. Now it is a 3 day Friday, (Saturday and Sunday ) event with back to back 2 weekends. When Coachella kicks off music and art fans from around the globe flock at the CA desert to soak the sun and groove with popular music. The biggest Coachella fans in Hollywood include Paris Hilton, Kate Bosworth, Diane Kruger, Joshua Jackson, Kellan Lutz, Alessandra Ambrosio, Alexander Skarsgard, Vanessa Hudgens, Katy Perry, Jared Leto, Lindsey Lohan, Emma Roberts, Selena Gomez and many more
Why You Must Go to Coachella at Least Once in Your Lifetime:
For music lovers and art fanatics, its a popular destination year on year. But for everyone else, it has as amazing experiences to offer as any one place can ever do. Mass gathering in the Sahara tent, singing their hearts out, and the signature watermelons buzzing every Instagram feed and Pinterest share; Coachella never fails to amaze. Some reasons why you should attend include:
1- Full Body Reset:
Coachella can provide you the much needed full body reset. Throw away the anxiety and stress behind and connect with nature. Give yourself a break from your daily struggle at work-life balance. This is sure to refresh and energize you
2- Amazing Art Displays:
The art displays have become a sudden craze for Coachella goers. These are classy and fantastic. You cant imagine the creativity these artists can showcase. See it to believe it
3- Crazy People all Around:
Look around and you see people with same craziness as you feel. Everyone is enjoying unaltered fun and frolic. The energy and the excitement of the attendees is what makes it a truly delightful experience.
4- Food Items From Unmatched Heavens:
For all the gourmet delights Coachella offers, it has become a crazy food fiesta too. Imagine ice cream stuffed doughnuts in 100F temperature, gooey fried covered in a tank of cheese and bacon. It has everything that can pamper your taste buds too
5- People Watching and Some Real Whacky Stuff:
From naked man, to an extravagant head, costumes to bikinis, you have just every kind of outfit you could ever see around. For all who love people watching and without having to worry about anyone else, this is your place to be
6- Amusement and Thrill:
Giant Ferris wheel and more inflatables all through the 2 weeks, and some more amusing fun fun-filled activities sure to pump adrenaline.
7- Up-close With Celebrities:
Yes! stars come down on this desert festival, and you can see them in the same crazy fun filled style as the others are. Most of them are around VIP sections of the stages and you see them hanging out and about all day night
8- Star Performers and Bands:
For all you fans of popular bands or singers, here is your chance to see them perform in the same festival energy as others. Remember Kanye West's most shared performance a few years back, here's your chance to attend their most spontaneous show ever
9- Socialize and Make Merry:
Be with your close pals and make new friends. Its all about fun and joyful time
10- To Visualize the Uncensored in Most Extravagant Ways:
From drugs to alcohol, beer to a cigarette you get to see everything out there. Imagine uncensored and uncontrolled break free environment. Yes, you got it, here at Coachella.
What to wear to Coachella:
Now that you have read all about it, it's your chance to dig deeper into fun and merry, in just a $300-400 you get lifetime experiences straight from the bucket list. This spring summer musical festival sees some crazy to some of the most wonderful outfits. Pump up your wardrobe and create an impeccable look with:
Get your perfect hat from fedora to floppy, or a huge fashion piece. You have the reason and season to shine and smile.
Grab your sunnies and make way for some phenomenal collection. For its sun and sand and you got all the fun to withstand.
A cool cape with sheer or cotton line, is all comfort and classic style.It will be great for the scorching heat and the cooler nights along the Californian valley.
Hot pants and some dangerously short denims are also a wonderful pick for the festival
Summery dresses in chiffon or linen with amazing pair of dancing shoes is a great outfit too
Cool girl ensembles like a breezy off-shoulder crop top, with exotic embroidery, and some glitzy jackets and body chains with a high heel gladiator sandal to finish off the boho chic look
Accessorize like never before, and you will find more studded women around.
Things to consider before going to Coachella:
As the weather stays extreme and the tickets are reasonably high, there are some considerations before you grab your tickets to the Californian desert.
Bring your own water bottle: Lone lines at food trucks can be irritating but the water fountains all over let you refill your water bottles and in 100F temperature water will be the biggest necessity
Digital detox opt or get forced into: Well most services are down in the festival arena and you don't get a signal even until parking lots, so don't expect the communication to continue on your smartphone.
Plan for the crowd: Anywhere from 100k to 150k would attend the festival. Don't enter the rush hours as you may not find enough space to sneak in
Dress for all weather permits. Bring ample summer wear and a few for the chilling nights
Book your locker in advance to skip the big lines at the event ground
Leave a set or stage area 10 minutes before it finishes to proceed ahead. As crowds can get disturbing in timely movements
Keep the keys and phone safe, as losing things is a common occurrence at Coachella
Relax and get some sleep as you don't want to miss the 24 by 7 fun
Book the camping site well in advance
Bring aerosol free sunscreen as security doesn't the let aerosol based inside.
Bring ample Summer outfits, a few winter ones and some for the rain too
The oh so wonderful part of Coachella:
Get the travel booking along with VIP sites to save some bucks
VIP passes provide access to separate entrance so beat the crows and get in quickly
Grab some dry dates from America's largest date tree groves around.
The not so wonderful part of Coachella:
You cant see every band, even if you run around its impossible to cover them all
Prices are high on everything, spare a 200$ a day for food and all
It's too hot and you cant do without a tonne of beverages
So when is Coachella anyways, for the coming year it will be in the month of April and keep your plan drafted way before that. For all you "Coachella what is it" queries the above compilation is presented here. Be sure to check at their website for more.
Share ahead and keep writing us, we love hearing from you!