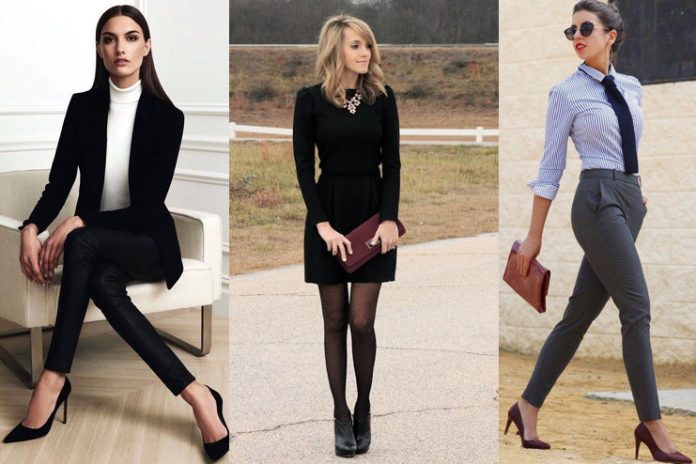 You know they weren't lying when they said "dress for the job you want, not the job you have" yes, an interview is a place where your qualifications and certificates, but one thing that can ensure that you get the job is your presentation of self.by that we are obviously implying at the clothes you wear.
It is true, the first impression that you make can be a crucial factor and you must look the part so as to ensure that you bag the job.it is better o be overdressed than under dressed but even then there are few things that women appearing for interviews should keep in mind. You cannot show too much skin or wear make up that is completely inappropriate for your work scene.
The way you choose to look can convey a lot about your personality and this is how your prospective employees will try to see whether you are fit for the job or not. So set the right impression with your style and ace the interview
with the following steps:
1. Shirts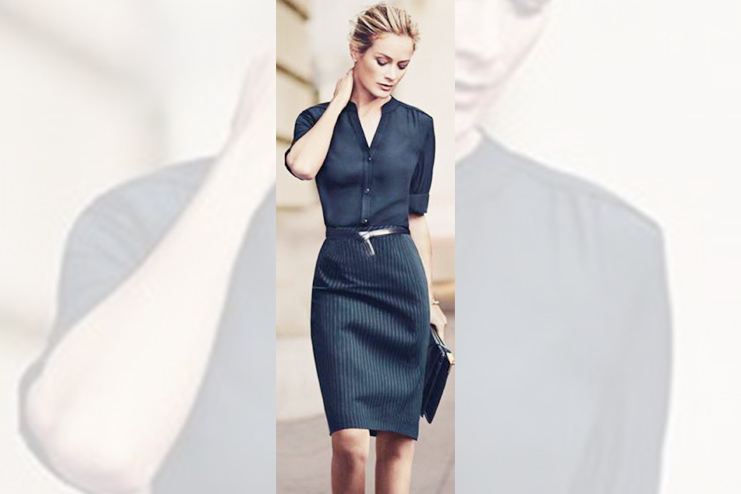 The classic, and effervescent cotton shirt that is sharp and fitting and makes you look slim is an essential piece of clothing that you must own. The shirt is important because it gives you the exact amount of professionalism you need and makes you look important and sophisticated at the same time. The classic shirt can be paired with almost anything and it will still make you look formal and adjusted to a work setting, whether it is a finance gig, or a law job post that you are applying for, knowing how to team up a classic shirt can just make your interview look!
2. Dress Shoes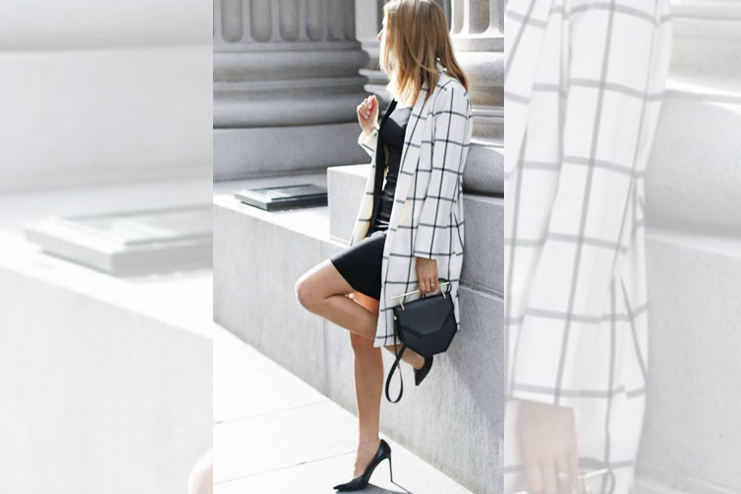 There is nothing, absolutely nothing that makes a better first impression than a great pair of dress shoes. The amount of elegance they can bring in a look is unparalleled and they can rev up your entire image just like that. Shoes are an unforgettable part of anyone's look and they should never be taken lightly. Whether it is heels or moccasins, depending on the work setting, go for a pair that has a personality of its own. It is very important that you pair your clothes with shoes that go with it or else you will mess up the entire outfit. It is also important that you see the shoes that you are planning to wear are extremely comfortable, and allow you ease with regard to the movement as you cannot be stumbling through a work environment. Something that seamlessly becomes a part of your look is preferred.
3. Jackets and Blazers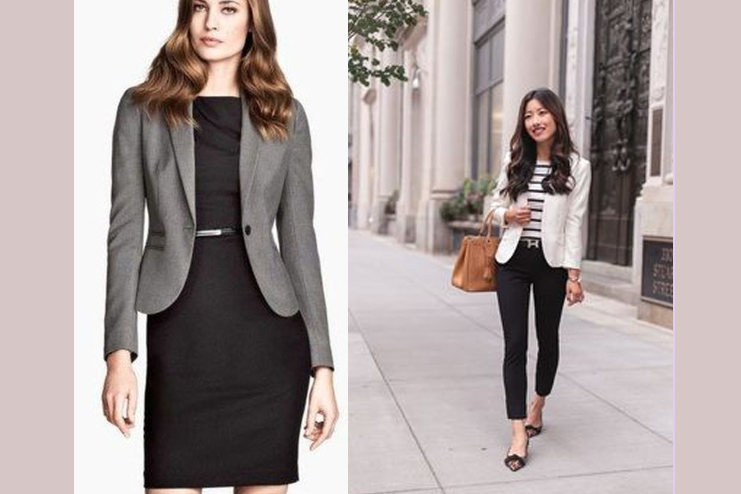 Oh, how we love them jackets and those blazers. To look the part women all over have relied on the professional and sophisticated looking blazers and jackets that make them look like they belong there. We all know that as women, just our qualifications cannot guarantee that we will be taken seriously at work, but if we can somehow turn the table and work in our advantage by not only looking the part but also looking fabulous while we do it, then why not? Team up some fabulous, and posh looking jackets that up your entire outfit game and make you look like straight up professional.team it with a skirt, a pair of fitting trousers or whatever you want and get that preppy look you have always wanted.
4. Go for Pin Stripes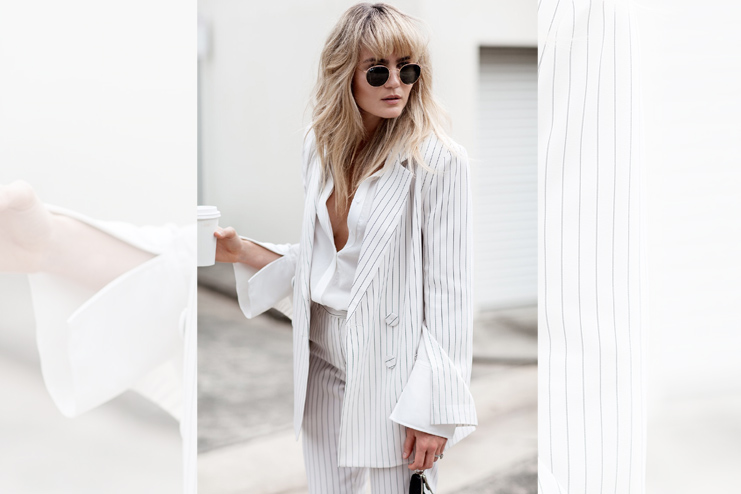 It is one of the most important trends this fall. Whether you are heading to a law firm, or for the post of an editor at a publishing firm, nothing will boost your chances when it comes to appearing for an interview the way it will if you go in something that is pinstripes. That's what they do, pin stripes scream confidence, and professionalism, they are the epitome of class. They re intense, traditional and assures seriousness. Which makes it an ideal way to set a good first impression. Whether is pinstriped suits, skirts, jumpsuits-no matter what. Add a bit of panache to your outfit and look the part and soon you will get it too.
5. Dress Pants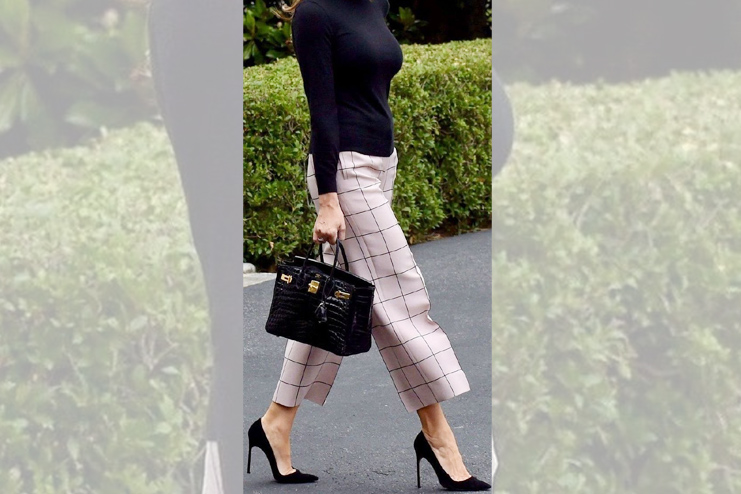 These are so important. They are appropriate in literally every setting and should be used just as judiciously. If something as classy and well fitting dress pants can make you ten times more significant and you have a killer resume there is now way that you will be denied the job. There is just something so elegant and sleek about them that they can be suitable for any environment. They can also be teamed up with shirt, tops, crop top or other semi formal and casual articles of clothing too. Combined with formal flats or loafers, they give you the professional woman look who is breezy yet serious. To the point, yet comfortable. The androgyny in the piece of clothing is what increases its versatility factor and make sit an indispensable part of almost every working woman's wardrobe.
Now that we have stated the essentials for every working woman's wardrobe, w are now going o list out certain outfit ideas that you can put together using these pieces of clothing and look your professional best:
Best Interview Outfits for Women
1. Dress Pants and Sweater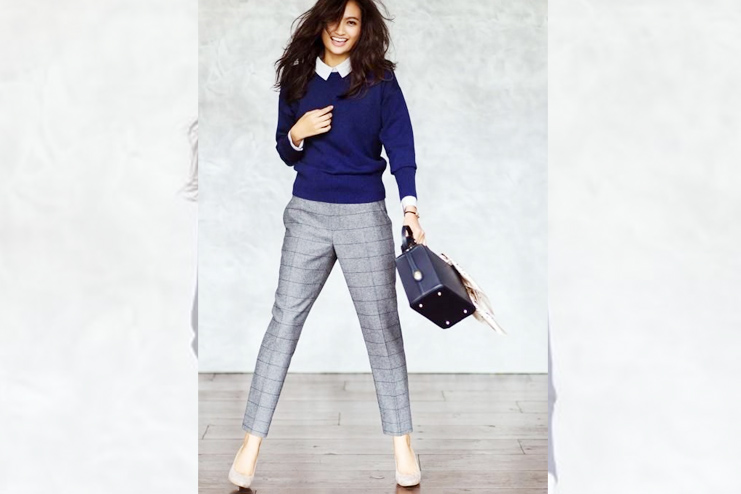 Simple, yet formal. This is a look you can put together in a matter of minute without having to think a lot. No matter where you are going for an interview, given the setting, having pieces of clothing that can both be casual or formal, you can decide to look the part. The sweater and the dress pants make you look like you are comfortable with your self and your choices and you know what is practical.characteristics you definitely want to show at an interview. Use minimal makeup, and practical shoes to complete the look. Wearing heels and teaming the sweater with a formal shirt underneath will also help in giving a more definite look.
2. Skirt and button down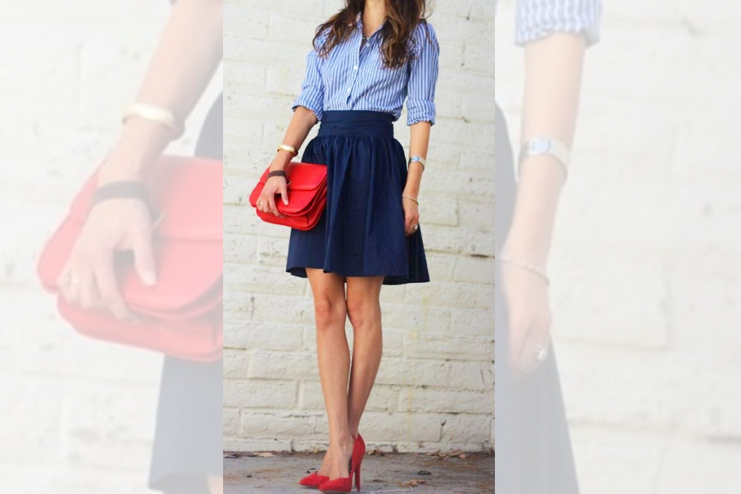 A formal skirt that fit you perfectly and makes for a sharp image is something that you should definitely go for. Along with that if you decide to wear a button down shirt that is every bit elegant, you will be revving your look to a level that makes you look fabulous. This will cast a great impression and will definitely help your chances in getting the job. But the right look and attitude is necessary too. So make sure that your make is not overdone, and that both the pieces of clothing are well ironed. Wear shoes that look good and are also comfortable.
3. Business Suit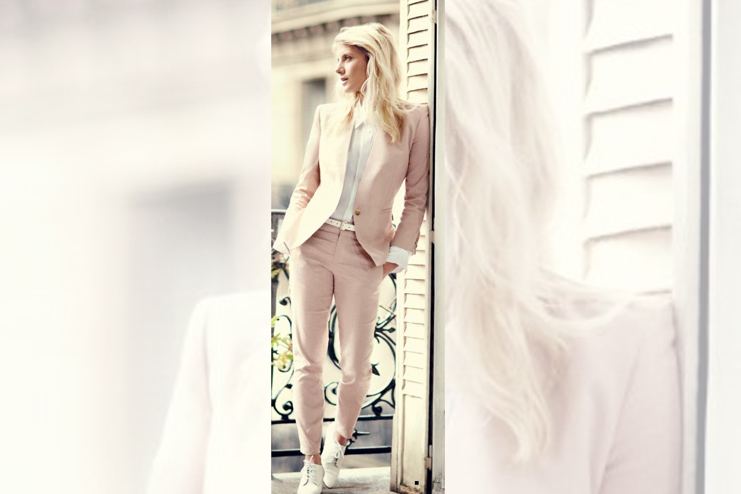 Chanel your inner boss woman. Is there ever a time when wearing a business suit is not appropriate? Specially at a work setting? No matter how casual you decide the setting is, wearing an outfit that marks you as sharp is just something else. And it's not the garment but the attitude that makes the business suit such a hit among working woman. The two piece ensemble is a look in itself that with the right glares and shoes can make you feel like you can conquer the world. It is not just appropriate for boardrooms but also semi formal work settings where you can just show how boss of a woman you are. the attire communicates confidence and that is what you need.
4. V Neck Sweater and Slack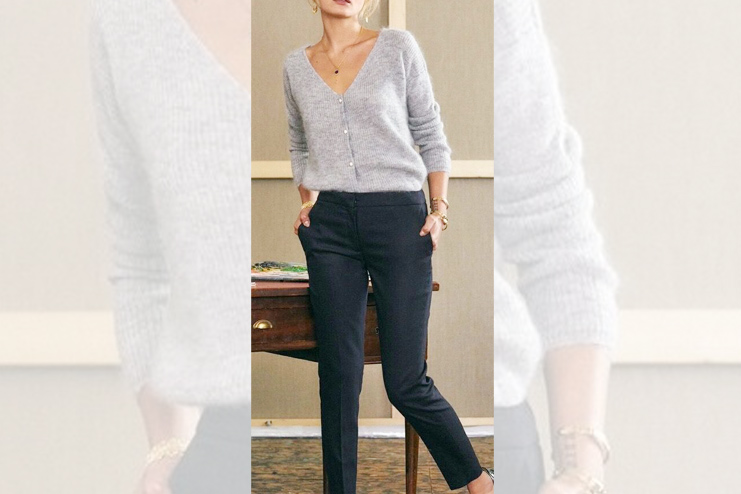 Simple yet chic. Go for a look that I again extremely easy to create and makes you look extremely practical. The most important thing to showcase in an interview is you perspective on things, so if you are able to communicate just how practical you are, it will be extremely beneficial. Somebody who does not spends hours on getting ready but still comes out looking extremely elegant and professional is a look almost everybody will admire, besides you will have more time to work on that portfolio of yours. Make sure that the shoes you wear are perfect and give an overall neat look.
5. Statement Dress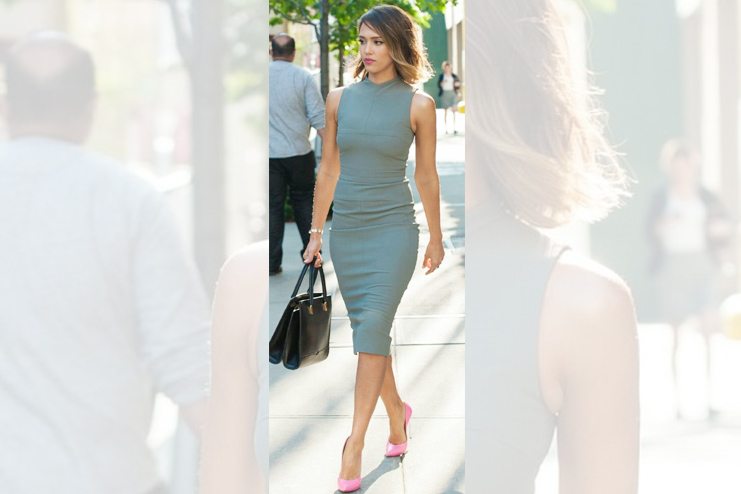 Look your feminine best and bring some glamour to the table whilst still maintaining the boss woman attitude. If you can dazzle and get their attention then why not. Play your cards right and use everything to your advantage. Even your look. But make sure that you are not trying too hard, being bold is great but never go over the top and make sure the attention is more on your achievements. so a dress that is elegant but extremely sophisticated is what is advised. No matter how varied the settings are, bringing some attention to detail when it comes to your appearance is always advisable. Wear appropriate shoes and requisite makeup you complete the look.
6. Black Dress and Tights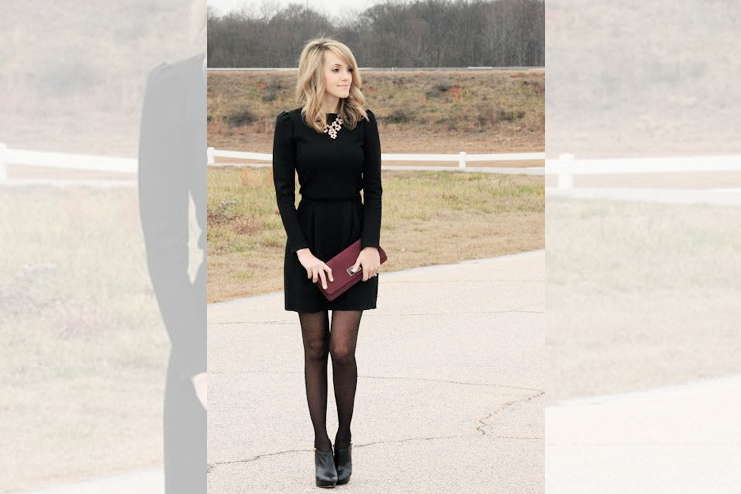 The classic look that never goes out of style. This is your ultimate go to if you are in a funk about what to wear as this can absolutely, almost never go wrong. It makes you look elegant, worldly, sophisticated and to the point. You know what style is, and you know how to embody confidence.
A message like this that can be conveyed to the employers is extremely important and it gives you the boost you need. It is very important that before an interview you feel at your best, and this will ensure that you feel like the boss woman who knows what she wants.
7. Blouse and Skirt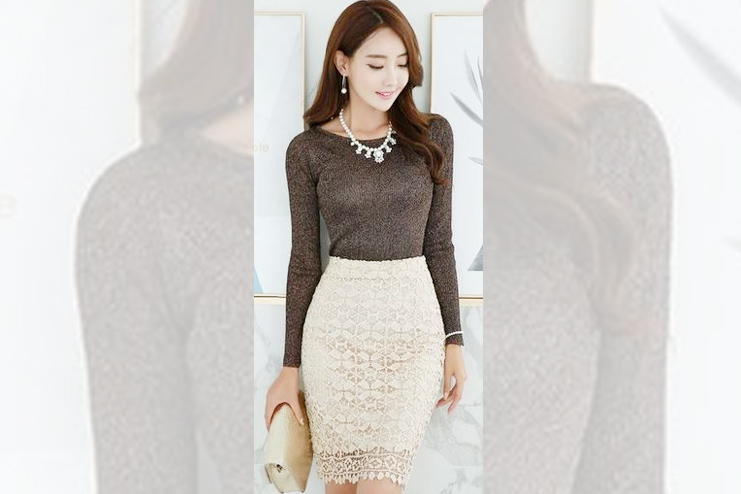 Another attire that can never go wrong or out of style. Choose a blouse that is flattering and skirt that is fitting. Create a look that is suitable for the work setting and keep the mood of the place in mind to design a look that makes you look like you fit right in. While still keeping your individuality intact, decide the kind of message you want to give away with your outfit.
Choose the pieces of clothing, their design, their patterns keeping that in mind. Remember to not go with patterns that are too loud, that almost never goes right. But adding a bit of colour or a feminine pattern could also work in your favour and give you a dash of uniqueness.
8. Shirt and Suit Trousers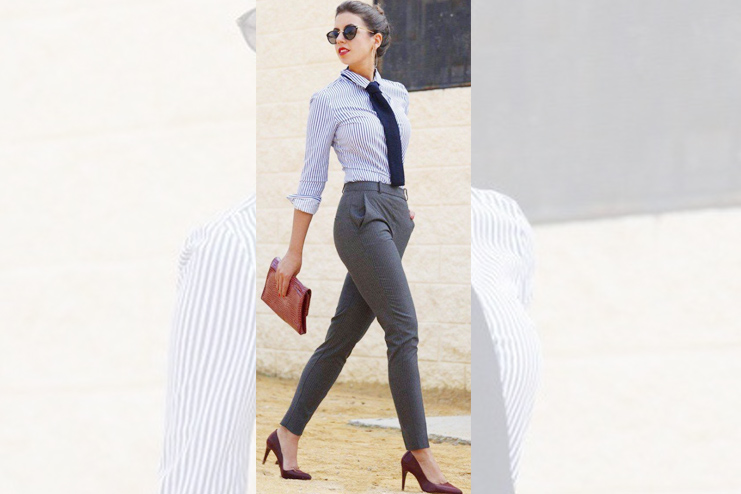 This has to be one of the favorites, not only do they make you look professional but they also make you look incredibly stylish. They are such a likeable pair, the shirt and the suit trousers that it is almost impossible to not b impressed by them. Once you have appealed to the interest's of your employers, this is a sure shit way for them to remember just how unique you were.
The shirt should be fitting and the pants should look sharp. Well ironed and neutral colors that look flattering are advised. Wear sensible and polished shoes to complete the look and make sure you use minimum makeup but boldly coloured lipstick. This entire outfit will convey a mood. Make sure you play every part of it to your advantage.
9. Dress and Blazer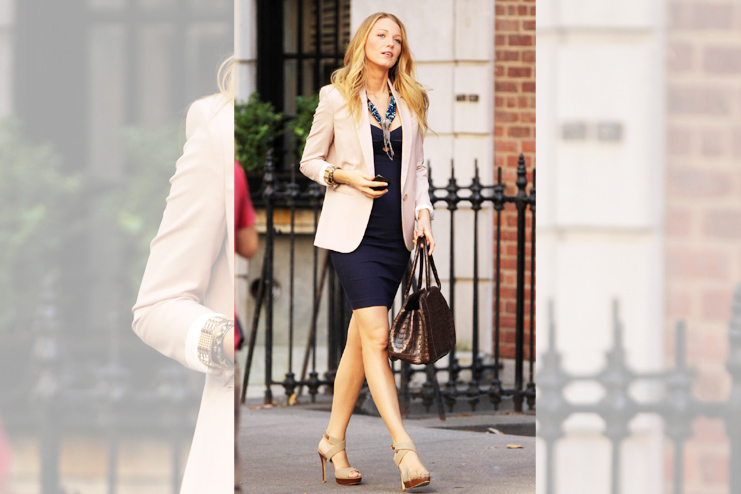 The final look is a no brainer. The ultimate style mantra of almost every working woman who wants to kick ass. It is sharp, it is powerful and it is always effective. This look has been sported by a lot of women and is truly iconic in every way, it makes you look like you know what you are doing and honestly, that is all you need to convey during an interview. Your employers should feel like you are a woman who knows what she is doing and this look once paired with elegant heels makes you look like just that. You should make them look as neat and minimalistic as possible so that you can be an elegant addition to the setting.
They Key to Looking Good in Interviews
There is no sure shot formula, your work has to speak for itself. But if you look great it will always, ALWAYS, work in your favour. Do not forget that the message you are trying to convey is practical, elegant and sophisticated. The looks have to be smooth and not too jarring so that the main focus can be on your personality. Ladies, this is what will help you get the job.