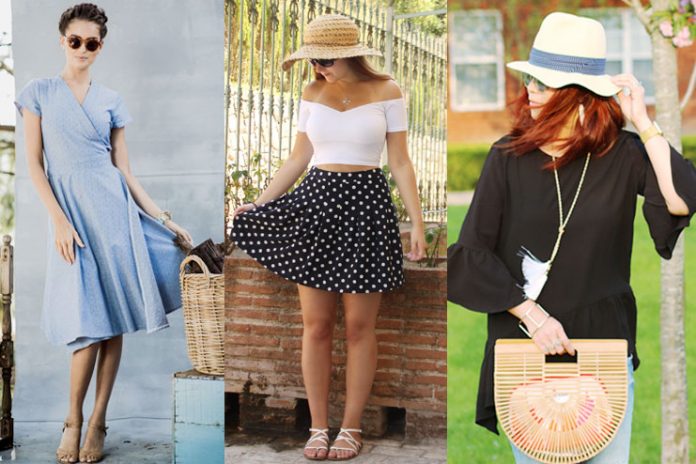 The fresh scent of flowers, soft blowing wind and the smell of sunshine in the air gives the hint of oncoming spring. Spring calls for a transition of our wardrobe from fall to summer. It is the perfect time to venture into trends that you've been wanting to try, or if you've been looking to update your wardrobe. This year, spring silhouettes are modern, fuss-free and super cool. Think girly dresses, wide-legged pants, and soft-as-can-be tees.
Here Are a Few Ideas To Keep You Looking Trendy And Up-To-The-Minute All Through Spring:
1. Wrap Dresses
Wrap dresses are very easy to style and make for such a fun, super girly outfit. You can simply wear it as part of a minimal outfit. They come in various forms like a mini, midi, and maxi. They usually have a tie-up detailing at the waist which works wonderfully to accentuate and highlight your waist. You can dress them up with heels and statement accessories or throw one on with flip flops or slip on for a low-key brunch with friends.
You can opt for a monochrome look with short-sleeved black or white wrap dress and pair it up with sneakers. Pick a sling bag that matches the color of your dress. You can also go for dark florals in bold prints and colors. Accessorize with statement earrings. Pair them with strappy heels or go for a casual look with black kicks. You can also opt for fun prints like pretty florals, cherry prints, or striped wrap dresses. For a more sexy look opt for wrap dresses with a deep V- neck or thigh-high split numbers.
2. Fresh Denim
Denim is a must-have wardrobe staple, no matter what season.This spring, denim is fun, new and fresh. Ditch your old, tired jeans and give them a major update with totally deconstructed distressing, cropped jeans, unfinished hems and pretty embroidery. You can opt for flared styles, high-waisted styles, boyfriends jeans, mom jeans or overall variants. Don't be hesitant to experiment with denim in lighter or darker wash, and in a black or white color.
Mix it up and try them with different styles. Opt for a dainty, deep V-neck camisole with a light blue denim and pair it with flip-flops. A lace-up bodysuit will also look stunning with a high waisted denim. The high waist will also work well to hide your muffin top belly fat so you can satisfy your cravings for delicious chocolates while still making a fashion statement! For a comfier kick, try a pair of low top sneakers with your jeans to create a simple and easy outfit.
3. Show Some Shoulder
Off-shoulders are a great way to show some skin without going over the top. This trend is coming back this spring and you can wear it as dresses, tops, shirts or overalls. You can also try "cold shoulders" which are a subdued version of off shoulders with cut out details only at the shoulders. Off shoulders have a sophisticated yet an elegant feel and can work with your favorite pair of jeans, shorts or skirts this spring.
Pair an off-shoulder printed top with a high waist pencil skirt and sexy heels to make a hot outfit for a night out when you are in the mood for a round of vodka shots with your girls. For a more casual look, pair a white flowy lace off-shoulder top with distressed denim shorts or button up skirt, cute sneakers, and round sunnies. A perfect outfit for a day out with friends or at the beach.
4. Trendy Handbag
A trendy handbag is the easiest accessory to put on and can make an outfit go for boring to trendy in a few minutes. Look for bold new colors and details like tassels and fringe to make a stylish statement. Classic bag styles like totes will always come in handy to instantly perk up your outfit. For a little more jazz, opt for handbags in geometric forms like circles or triangles. The latest in bags are transparent bags which makes flashing your newest buys even easier. Patterned bags are also the new statement pieces and are perfect to instantly give your outfit a major fashion upgrade.
If you're wearing dresses or skirts, opt for small sized bags in a color that matches your overall color scheme. Use your bag for a pop of color in a monochromatic outfit. An all-white outfit will look instantly elevated if you add a bright red purse to it. If you're wearing mostly neutrals, opt for a bright colored or patterned bag for added glam. If you already have a lot of detailing and prints in our outfit, keep it simple with a beige or a tan bag.
5. Classic Polka Dot
One of the easiest ways to incorporate color into your prints is with a classic black and white dot. Polka dots can blend with just about any color. A polka dot skirt can be perfect to embrace the charm of spring. Flowy polka dot maxi dresses are quite a rage right now; just make sure to find a fit that works for you. Polka dots are not just limited to skirts and dresses; a polka dot two-piece or a suit can look super cute as well as sexy.
If you're new to polka dots, venture into the trend with a polka dot top. You can also try a polka dot button up and shorts to make a cute daytime outfit. Don't hesitate to experiment. For a more retro look, try wearing a bullet bra under a classic polka dot dress, accompanied with large ear loops to complete the look. Elevate a polka dot dress with a denim jacket and wedges for a date night outfit. Or opt for a black and white polka dot jumpsuit to suit every body-type and occasion. Create interest with your favorite accessories.
6. Bell-Sleeves
Bell sleeved style dates back to the 70's style of carefree, loose clothing. Slowly but definitely we've seen sleeves become bigger, loose and flowy. The loose fabric around the sleeves adds a bit of drama to the outfit but at the same time, it is modern and classy.
Brighten up your look with a bold print in florals or opt for pretty pastels for a serious spring vibe. Play with the volume of the exaggerated sleeves to create a chic, modern outfit.
Bell sleeved blouses are stylish and adaptable; you can pair yours with jeans for a no-fail look and it can also be paired with shorts or a skirt depending on the occasion. Rompers and playsuit work very well with bell sleeves as the wide sleeves provide a natural balance. Paired with killer heels they make for a trendy, feminine look. You can also try flared jeans with bell sleeved top to create a well-balanced, sophisticated look. You can experiment with embroidered or striped patterns. Accessorize with chunky jewelry to make a serious fashion statement.
7. Mules
Mules have an air of refinery and polish and they are just so easy to style. They're versatile, convenient, comfortable and stylish enough to pull any look together. No matter what the occasion is, you can always count on mules to make a style statement. You can opt for open toed or closed ones in a low heel, high heels or as flat slides. They come in a variety of shapes and sizes such as loafers and slip-on sandals.
What's great about mules is that they seamlessly fit into any style; feminine, grunge or gothic. Wear them with casual tees, off- shoulders, dresses, pants, shorts, skirts(phew!). You can never run out of ways to style them. Wear them with a pair of cropped pants to work and finish off with a cute blouse. Wear a heeled mule with a maxi dress or a pencil skirt for a simple, elegant look. You can also wear them with skirts or denim shorts for a flirty, girly look. Or keep it casual by pairing low heeled or flat mules with boyfriend jeans.
This Article is By Rebecca Siggers A Guest Blogger.
More Related Articles: