This year's SAG just concluded on Sunday Jan 21st and we saw amazing colors and vibrant patterns at the red carpet. A nice change after the all black dress code at the Oscars. It was a wonderful change with almost all female presenters and all colored in splashes of bright and bold. SAG is a televised awards show which honors great performances.
This year SAG took place at the Shrine Auditorium in Los Angeles, the stars brought out some stunning sequins and gleaming glitters as they graced the red carpet. Just two weeks after their black protest against sexual harassment at the Oscars, stars from Halle Berry, Reese Witherspoon, Allison Williams, Margot Robbie and many more came in their haute couture gowns.
Some of the best and worst dresses we saw at SAG 2018:
SAG 2018 was a much needed change for red carpet post the all black protest at the Oscars. For the first time there was a host, Kirsten Bell, who looked pretty in pink. Some of the stars picked really sparkling colors and wore them at utmost perfection, specially the all shimmer Nicole Kidman outfit. Though it did not turn heads as much they should, but turns out she did carry an award in it. Some popular celebrity outfits at SAG 2018 include:
1- Margot Robbie: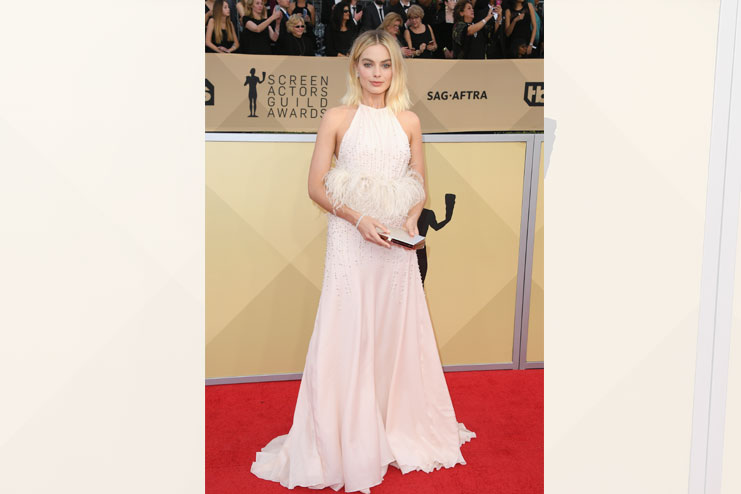 Aussie star Margot Robbie's pale pink dress with a rather unconventional furry addition on the midriff, turned heads. She paired with a silver clutch and kept the makeup stunning with smoky eyes.
2- Nicole Kidman: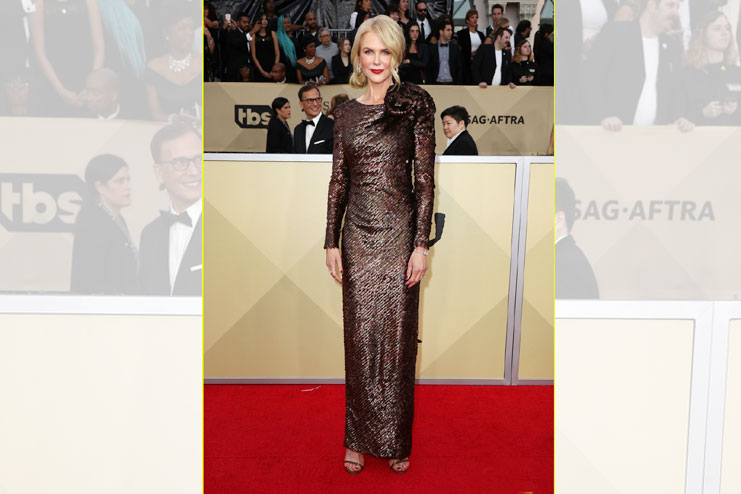 Nicole made a striking pair with her husband Keith Urban. A shimmery sparkling full length A line gown with a floral addition at the left shoulder. She kept it simple with Messy hair bun and heels, though her dress did not create the necessary buzz which she intended as it looked more or less an Oscar continuation.
3- Reese Witherspoon: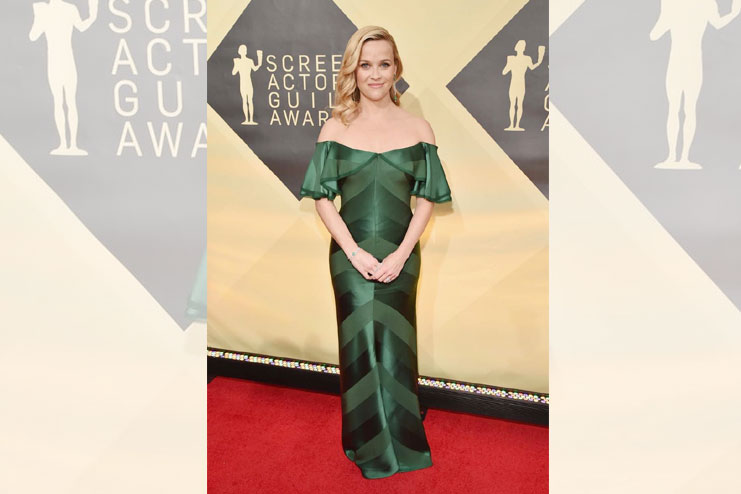 A bottle green off shoulder gown made Reese look starry and glittering. The bell shaped half sleeves looked stunning and her side part hair did the trick. She made it to one of the best dressed celebrities at SAG 2018.
4- Tracee Ellis Ross: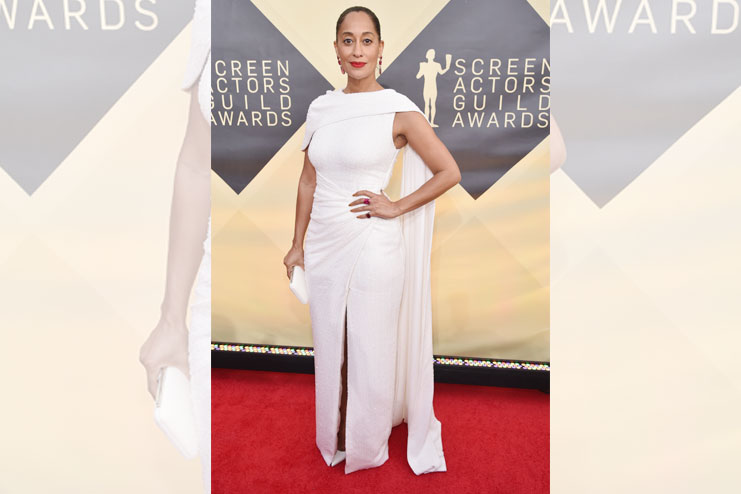 A classic slit gown in all white, Tracee looked pristine and surreal. Paired with an all while accessory; including pumps and clutch; she made a statement white appeal.
5- Susan Sarandon: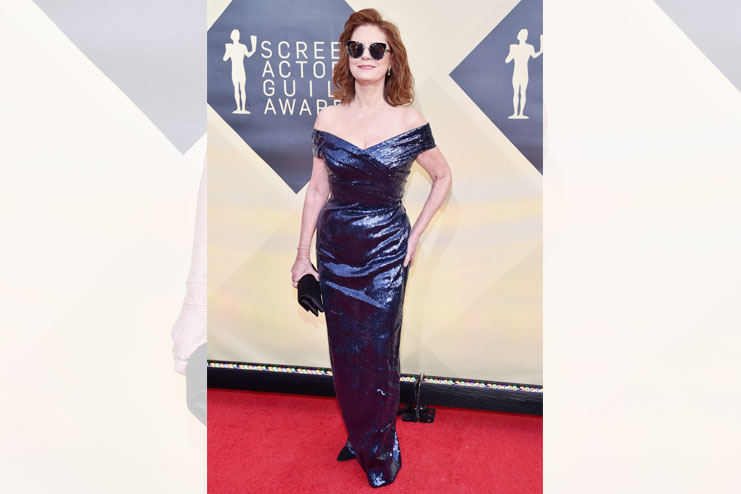 Susan rather elaborated the Oscar journey but kept up with shimmer and sequins in her black outfit. Adorning her shades with a jet black clutch she looked rather worn out
6- Kristen Bell: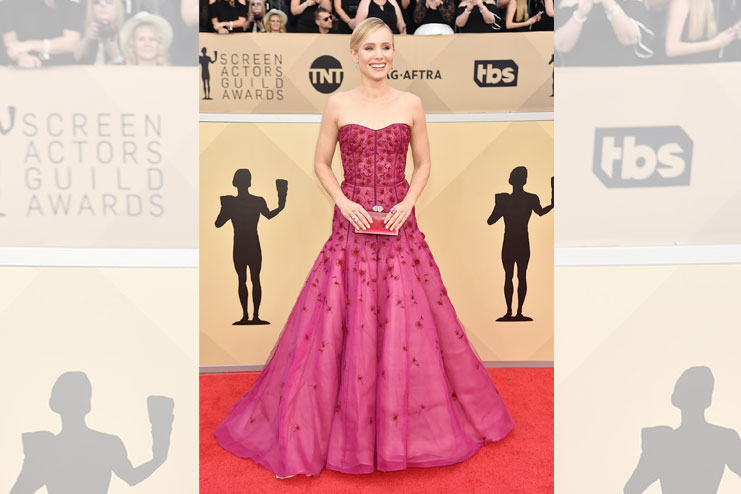 Host for the evening, Kristen looked smashing in pink off shoulder gown with floral embellishments. Paired with a pink red envelope clutch she looked striking and perfect.
7- Kate Hudson and her mom Goldie Hawn: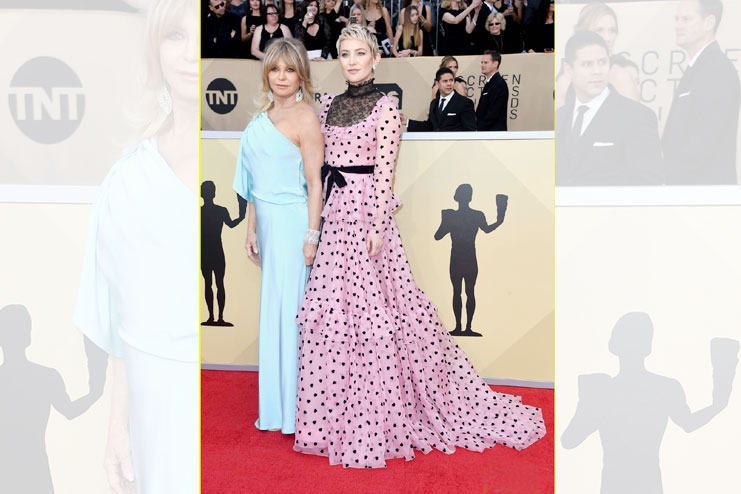 This mother and daughter duo picked a rather soothing contrast for the day. Dressed in powder pink and powder blue they looked soothing and smashing. Kate in her polka dots and cascading waves with a perfect contrast of black and pink, carried a pink clutch to complete her look. While her mother wore a plain blue colored one shoulder gown.
8- Allison Williams: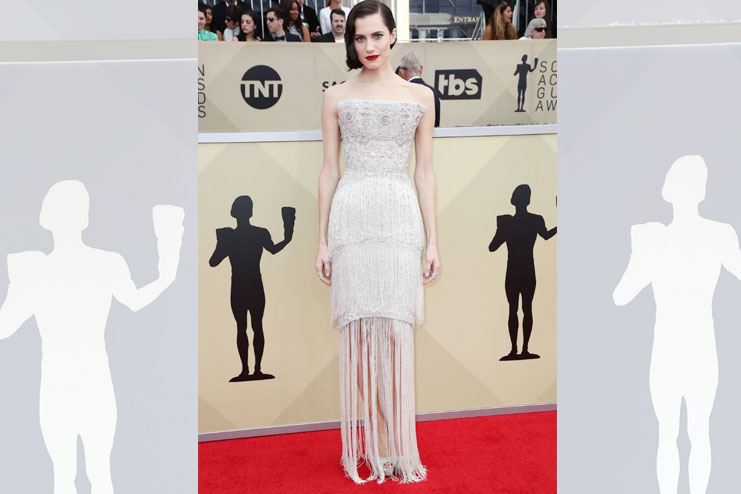 Allison opted for a bold makeup and contrasted with embellished cream outfit with fringes. Dark red lips, dark hair and tasselled dress with burlesque inspiration. She looked stunning in her outfit.
9- Danielle Brooks: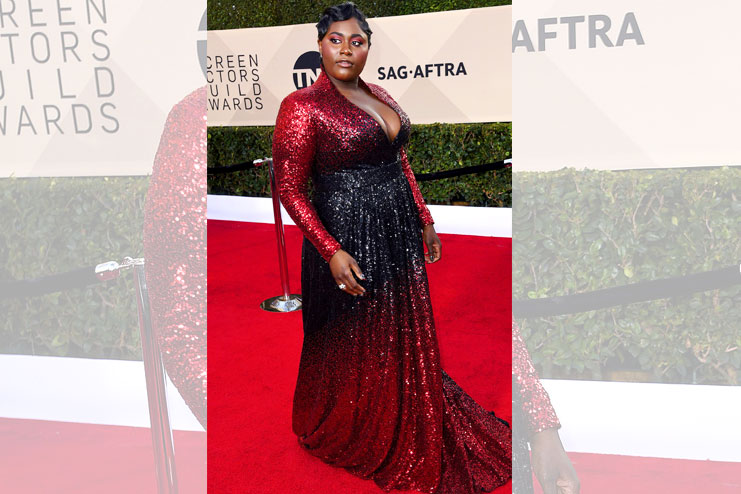 Danielle picked one of the most dramatic looks with black and red sequin outfit. With simple makeup she tried for a different sketch altogether
10- Yvonne Strahovski: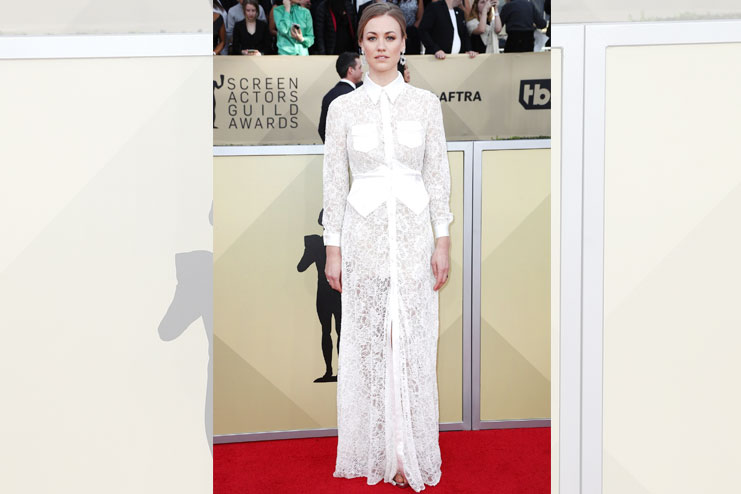 Yvonne looked stunning in her laced and buttoned up outfit. The dress with breast pockets were an unusual look for her though. The outfit with sheer effects could have been better for someone like Yvonne
11- Lupita Nyong'O: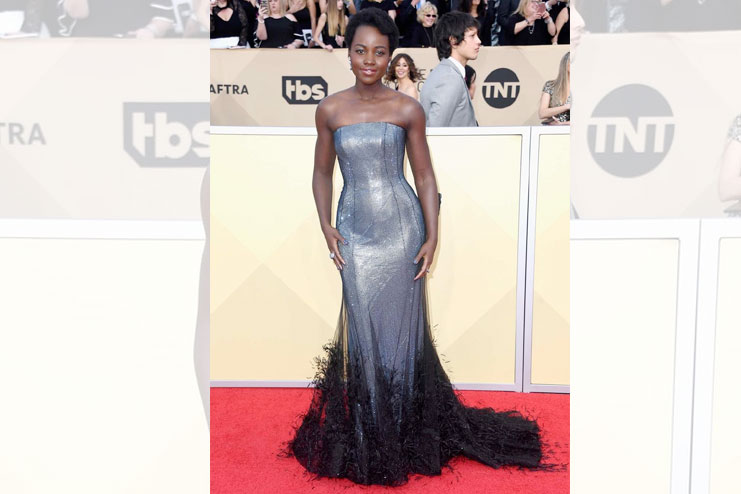 Lupita looked striking in her silver gown and netted black train. This off shoulder figure hugging gown made heads turn and seemed perfect for the evening
12- Hong Chau: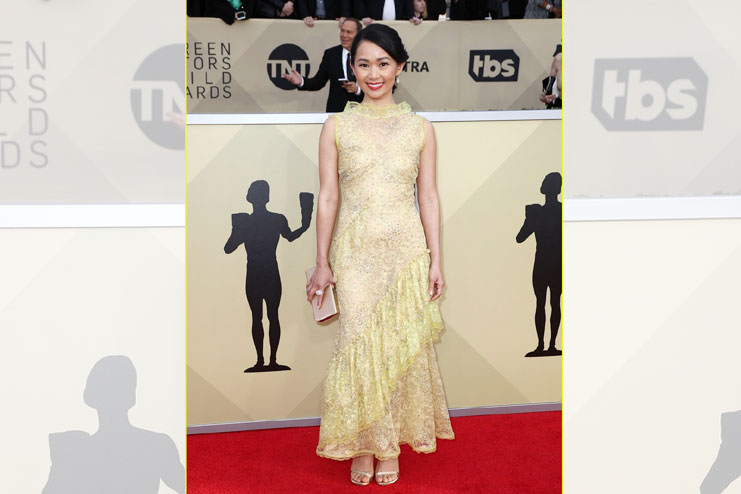 Neon green glittering and sequins, made Hong look rather unconventional on red carpet. A little off in her dress selection, she kept it simple with makeup
13- Halle Berry: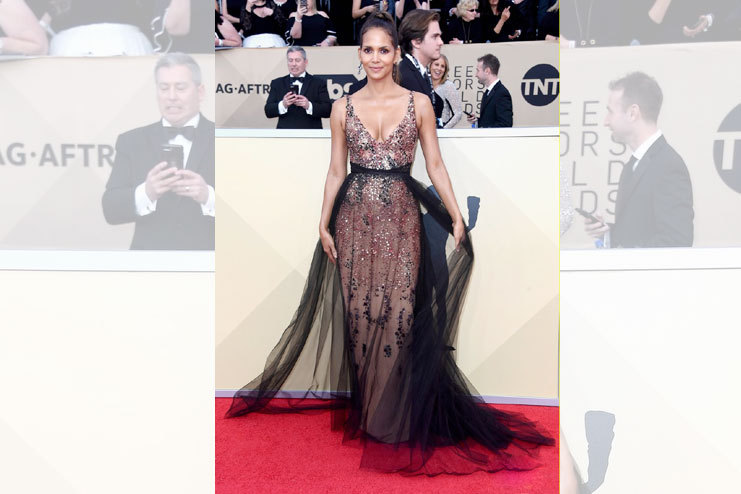 Halle took the red carpet by storm in her sequinned, embellished and deep cut gown in dark gold. The black netted overlay on skirt looked stunning and she made a great appearance
14- Allison Janney: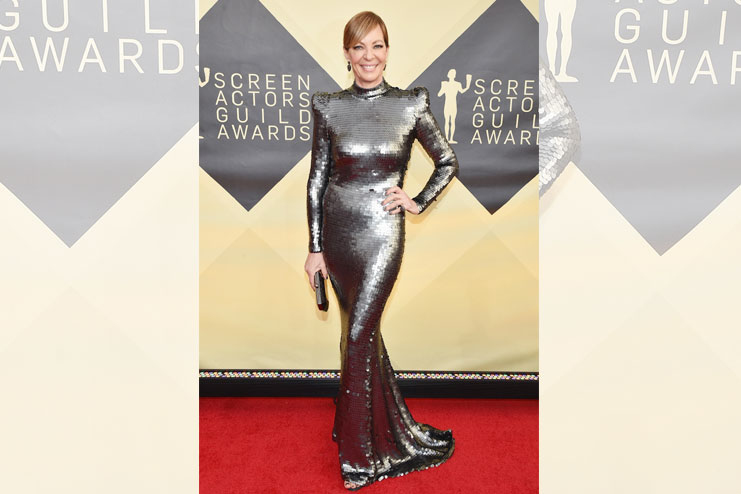 Coins on dress, just like out of matrix, Allison looked little different on the red carpet. Covered from head to toe the mirror like coins did not do the trick.
15- Ryan Michelle Bathe and Sterling K Brown: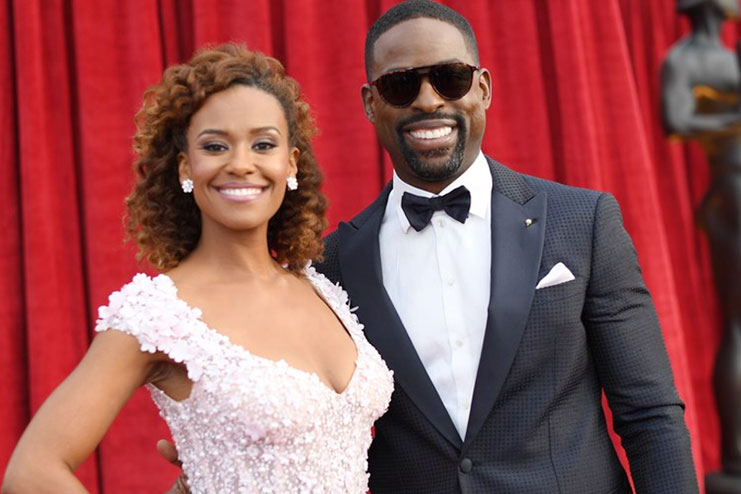 They both looked striking and well in contrast at the red carpet. Michelle in her pink and white ensemble with peal and floral embellishments looked wonderful and Sterling with his neat and tidy suit with bow tie made a great pair on the red carpet
Share ahead the Best and worst dressed at the 24th Screen Actors Guild Awards 2018, and keep writing us, we love hearing from you!