If you are a fitness mania and are in touch with some sort of workout then you should give significance to slipping into something comfortable and I am sure you would agree to this. Having said, do you think you wear the right clothes when you go to exercise or do you see scope to re-look at what you wear while exercising?
An attire that fits you well at your waist, thighs, calf muscles and sits well on your legs on a whole giving you the ease and comfort at the same time is the kind of pants you should pick for yoga, running or while hitting the gym.
This article intends to introduce you to the different types of yoga pants to wear throughout the year. Once you get an understanding at the different yoga pants you would get ready to gauge what type of a yoga pant would suit you as well as give you that everlasting durability and comfort.
Read: Best Yoga For Weight Loss And Toning
What Are Yoga Pants?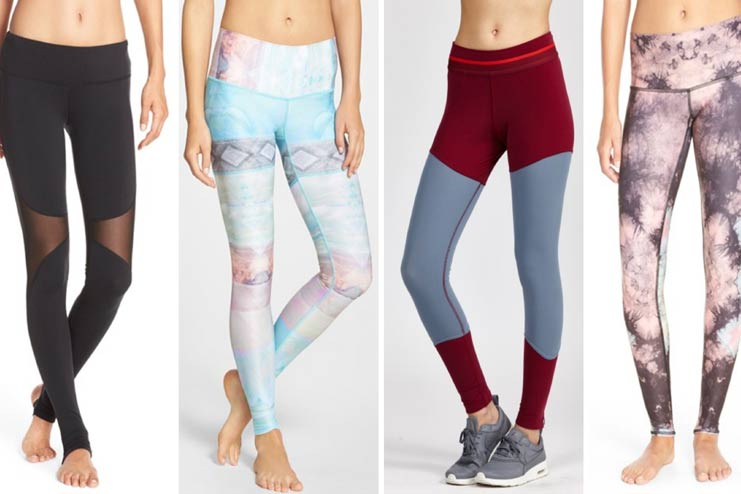 The pants that are made of a durable and good thick elastic, these pants are super flexible. The material is usually 86% nylon and 14% lycra. Besides this, yoga pants are available in cloth, spandex, polyester, wool and other synthetic materials as well.
Basically, one can wear any type of pants for exercising, the comfort in all of them is one and the same but there would always be a difference in the fabric.
Just so that you get a better idea, it is important that you wear a yoga pant while exercising because that is the right fabric in terms of absorbing the sweat from your body. It is believed that Nylon material is good for yoga because yoga is not an intense workout and nylon can absorb how much you would sweat after yoga. Just not this, yoga pants can be worn for casual occasions with a nice t-shirt.
In conclusion, yoga pants have a good stretching capacity and the material it is made of is good as well. You should wear yoga pants when you go for yoga because you have to perform all your asanas with immense flexibility and comfort. Therefore, you cannot compromise on the quality and comfort although you can forgo the design or pattern unless you are not fashion conscious.
Best Yoga Pants For Women To Try!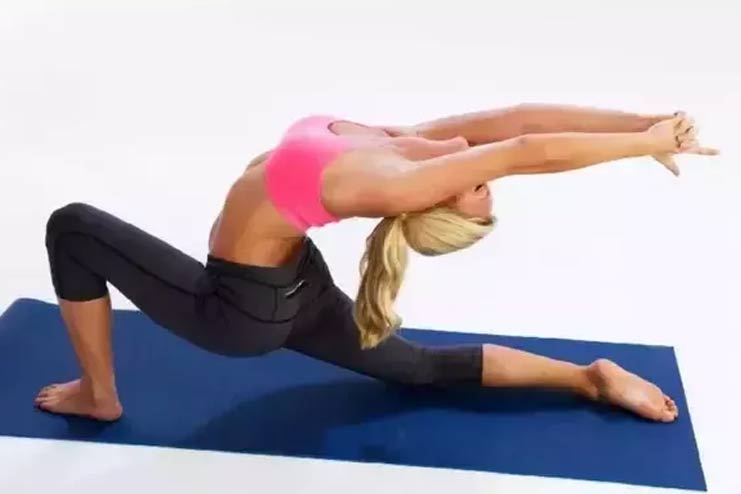 Keep the fabric and comfort in mind before you choose a yoga pant. Take a look at the best yoga pants to get into.
1. Long Boot Leg Yoga Pant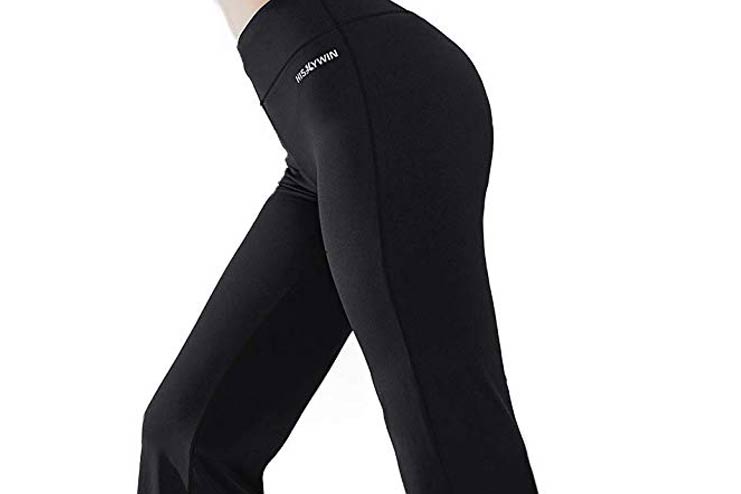 This black long boot yoga pant is soft, durable and can absorb the moisture really well. This is one of the best yoga pants to consider if you do not want to wear a transparent pant. It gives you the ease to stretch well as it is a blend of polyester, spandex and cotton.
You can wear these pants with short as well as long t-shirts. It's black! This is the most happening color and it can be mixed and matched with printed t-shirts, with a sports bra and jacket or you could wear it with a tank top as well.
Specification
What's unique about this yoga pant is the flare towards the ankle.
2. Witkey Printed Yoga Pant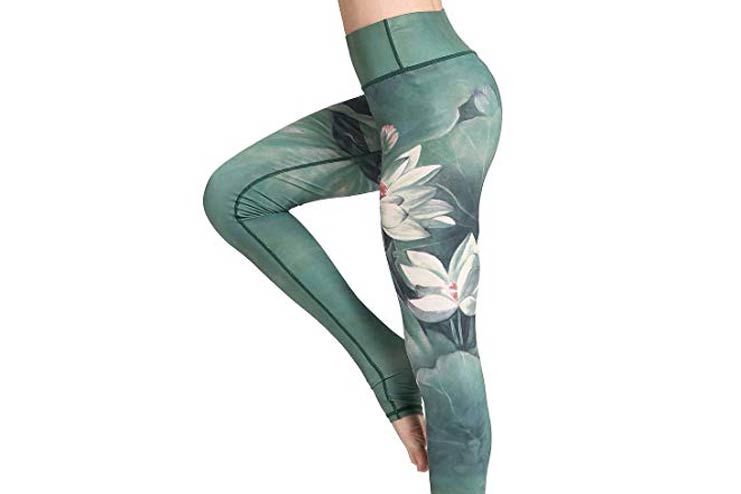 This yoga pant provides you with a streamlined look, it is made of really soft fabric, it is opaque and has the ability to absorb the moisture on your body. You can wear this in any season and it is an awesome outfit to do all kind of stretching exercises, including running and other intense workouts as well.
You can wear these pants with a black, white or green colored t-shirt. A nice sleeveless crop top or tank top would look so cool with these pants as it is high-waist and it will cover all your love handles as well as the fat on your stomach.
Specification
This is a heel yoga pant and it will keep your heels covered.
Buy it here:
Read: 5 Yoga For Muscles Strengthening
3. Fold Over Waist Yoga Pant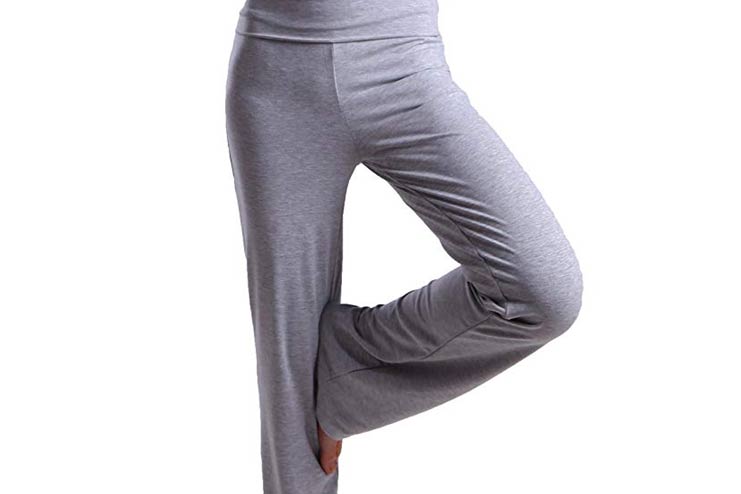 This grey colored fold over waist yoga pant is going to give you such an amazing loose floating feeling. If you do not like body fit pants or leggings then this is an amazing one. It is a comfortable high waist yoga pant.
This will look the best with black and magenta pink colored t-shirts. Not just for yoga but you can use it for your regular walking, running and wearing it to the gym as well.
Specification
It is a lightweight yoga pant as one of the fabrics is a stretch knit fabric.
Buy it here:
4.  Feivo Black Yoga Pant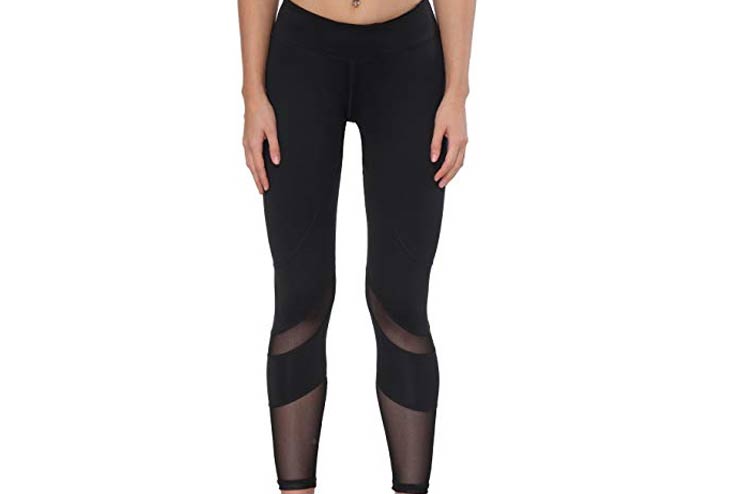 This black yoga pant is high waist and is a mixture of polyester and spandex, it is see-through yet sexy at two portions below the knee. This yoga pant is stretchable as well as it gives that ease to stretch in it.
This yoga pant can be worn with all color tshirts. This can be worn for other occasions as well, it need not necessarily be worn for exercise or yoga only, for it looks so fad.
Specification
It is superb for the way it makes your butt look, well shaped and nice.
Buy it here:
5. Nude Colored Compression Yoga Pant
This pink is a rare shade and this yoga pant is stretchable, can be dried quickly, it is stretchable, it is high waisted and covers your tummy well. It is an ankle length yoga pant, it keeps you away from the heat by making you feel cool because of the fabric. This can be used for dancing, running and can be worn at the gym as well.
You should wear dark colored t-shirts, for instance, black, navy blue, dark purple etc.
Specification
This yoga pant looks stylish, cool as well as it is pretty because of the flower pattern that it has at the ankle.
Buy it here:
6. K-Deer Striped Legging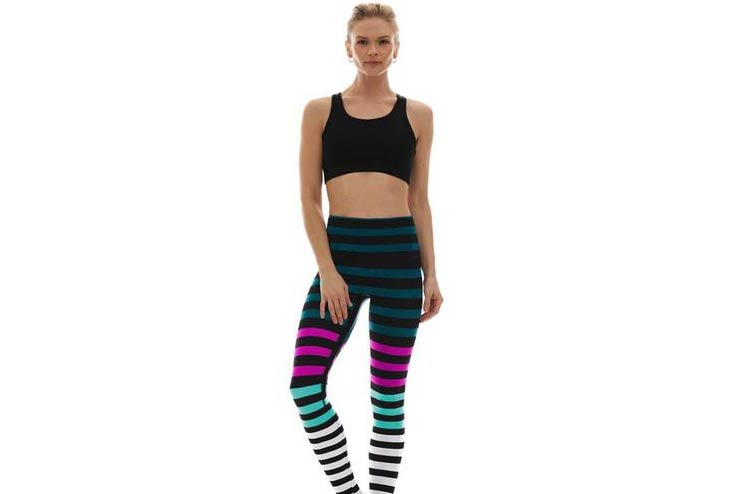 Stripe is an exemplary trend and it is one of those styles that is never going to die out of fashion and it will remain one throughout. It is comfortable, luxurious, stretchable, soft and high waisted. You can wear one of the colored t-shirts that are on the stripes of this yoga pant. T-back sports bra would look superb on these pants.
Specification
This yoga pant is until your heels, you can either fold it or leave it extended.
Buy it here:
Read: Tips And Tricks On How To Get Toned Legs With Some Amazing Leg Exercises
7. Tiger Print Capri Yoga Pant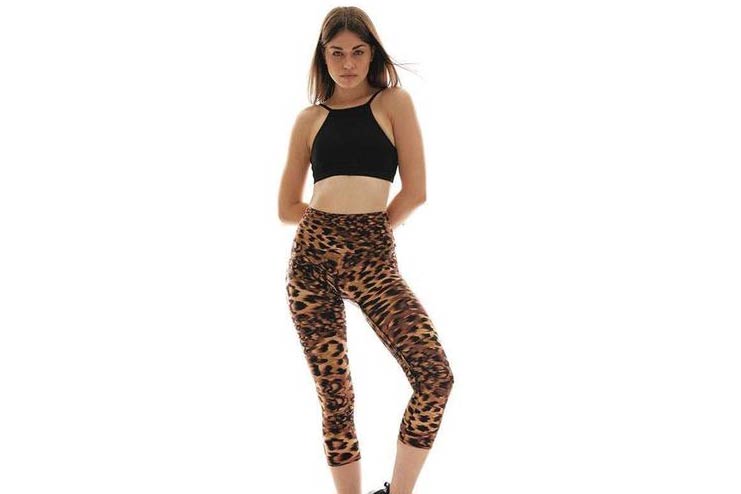 Animal print is graceful, charming and super cool and has been in trend for a long time now. This yoga pant is soft, stretchable in the front, it is a high waist and has got a flat front stream that can be stretched as much as you wish to. It is made of nylon and spandex. It does not easily fade as it is quite durable in terms of fabric as well as its elasticity.
You must wear a black sports bra or a t-shirt with this yoga pant.
Specification
The design is what makes it look rare and lovely.
Buy it here :
8. Grey Python Gloss Yoga Legging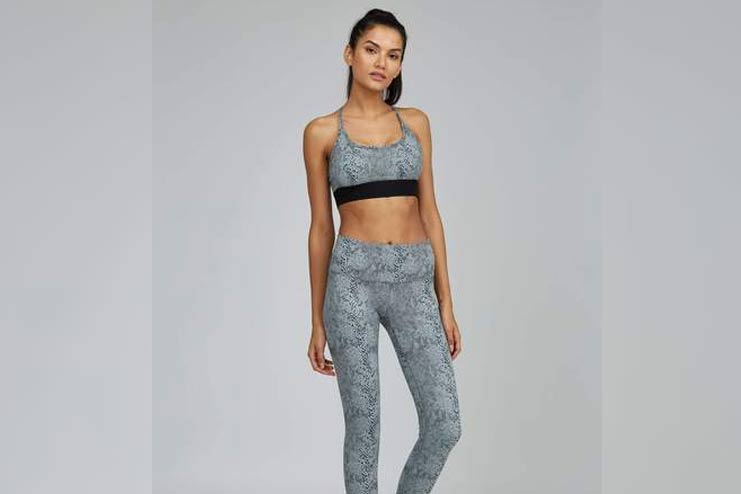 This is a stylish yoga pant for women, it is made of lycra and polyamide. This yoga pant absorbs moisture, can be washed easily and it dries quick. It looks so chic as well as proper attire for doing yoga, pilates, running or hitting the gym.
Specification
It is UV protectant and this print is rare, unlike the usual plain colored or printed leggings and tracks pants.
Buy it here :
9. Tri-coloured High Rise Legging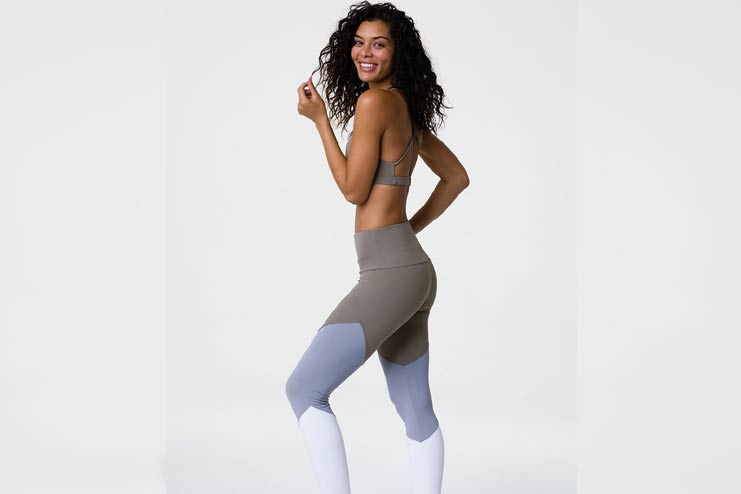 This is a high waist track legging, it covers your hip area and beautifully reveals your belly button. You can wear this with white, light blue or a grey colored t-shirt or sports bra. This track can be washed and dried easily.
Specification
What's lovely about this legging is the presence of three creative and beautiful colors on the legging.
Buy it here:
10. Multi Colored Strapped 3/4th Legging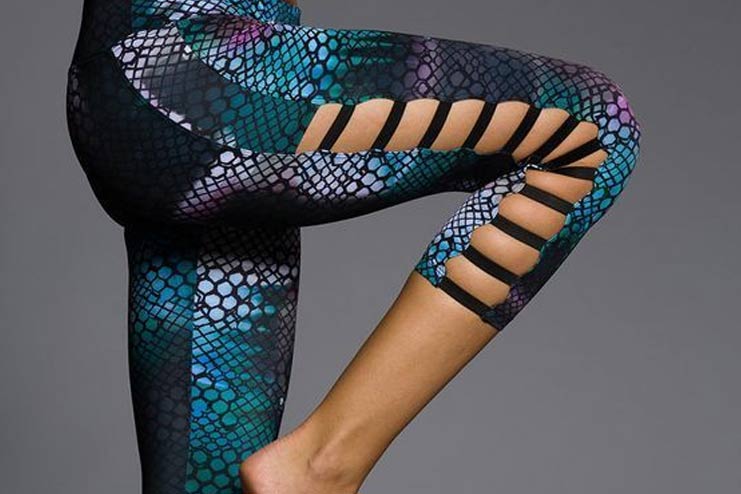 This legging is absolutely whimsical because of the print as well as the pattern on how it is beautifully strapped at the sides. This legging is a perfect example of a fashionable as well as comfortable yoga pant. This can be worn for all kind of workout. It is stretchable as well as comfortable and it comprises of nylon and spandex fabric.
Specification
The design of this 3/4th legging makes it rare and cool.
Yoga pants are multifarious in terms of trend, comfort, colors and to look the most iconic and nailing kinds even while exercising. Having fashion in every walk of life is incredibly motivating. Why would you want to look hep or pretty only when you go to a party or for an occasion? Why shouldn't that shining diva in you be alive all even while you exercise.
Stock up a couple of stylish yoga pants for yourself. Have at least 4 pairs of leggings or pants and stay updated by wearing drolling yoga pants.