We have had that uncanny desire to put our face over the boiling pasta or soup, for the love of steam. While many beauty enthusiasts do not suggest we take so much heat directly, but there simply is nothing that matches the soothing, calming and refreshing vibe which a facial steamer can give. While we must first check with a dermatologist before proceeding with any home based treatment, and only then we can be assured that the home care for our skin is not affecting our kind of skin, negatively.
We all have had those amazing facials where soon after exfoliation we get to enjoy the warming and pleasing facial steamers, and feel the blackheads and dead skin extracted off our face. Yes in addition to the many benefits of facial steamer, it helps in getting rid of those embarrassing blackheads and whiteheads. There is no other treatment which can help us get rid of this creepy outgrowth around our nose, chin and some areas on the cheek. Let us look into an in-depth analysis about facial steamer for acne and blackheads, also understand which kind of skin would most benefit from it.
What is a Facial Steamer:
Facial steamer is an instrument, mostly we see and use at spa
 and
facial treatments
. This treatment put our face through steam soon after the exfoliation and massage is done on the face. It opens the pores of the skin and loosens the blackheads or acne too. These blackheads can then be easily removed from the skin. Also since the
facial
 steamer opens the pores. Facial steaming cleanses the skin deeper and removes infection causing particulates thus it helps in clearing the skin.
Is Steaming Your Face Good For Skin: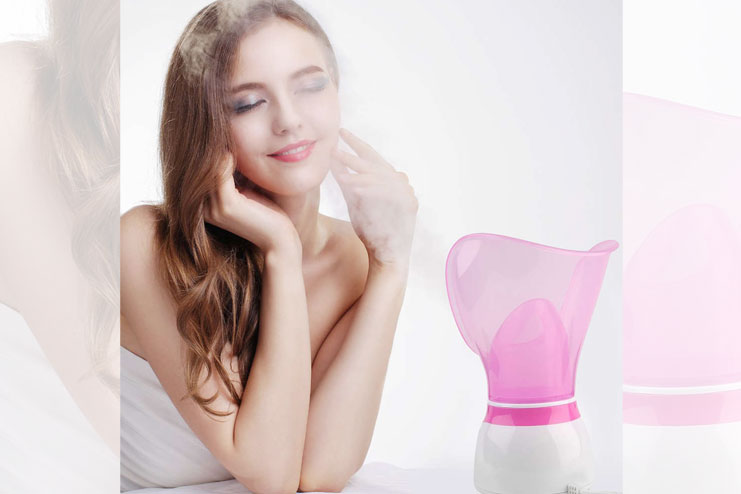 While many dichotomies exist on the usage of the facial steamer. Most of all, one thing is evident; that it all comes down to one simple aspect which is the type of your skin. Not all skin types are good with facial steamers. But the percentage of skin types where facial steaming cannot be applied is hardly 15-20% and rest all the skin types must be given facial steaming for healthier, cleansed, nourished and infection free skin.
If you are using facial steamer too frequently then probably you would end up hurting your skin more than benefiting from the treatment. Also, there are some really important factors which a significant role here, like genetics, lifestyle, diet, skin type and also extraneous factors like pollution, sunlight, and dust. For healthy skin and normal skin type facial steamer benefits are ample but for too oily or too dry skin you may have to get examined from a professional. For weak skin which is very sensitive, you must have larger gaps between two facial steaming sessions.
Benefits of Facial Steamer: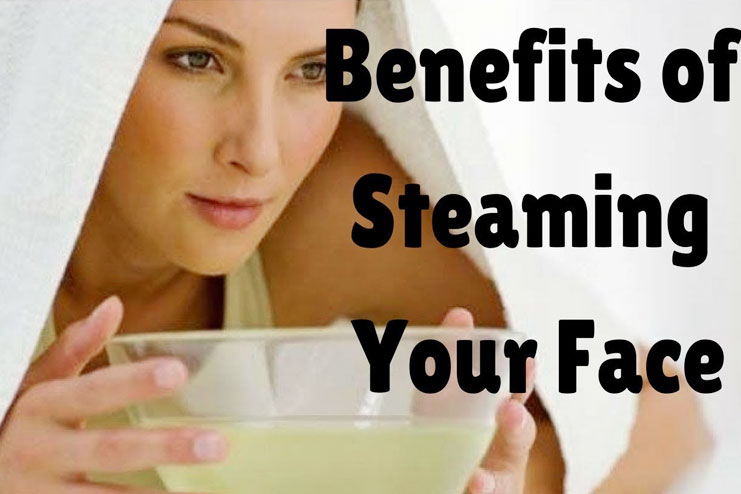 Facial steamer benefits are ample for both old school method of using a steaming bowl or the equipment which has controlled and monitored steam flowing out. The facial steaming treatment must be in compliance with your skin type and weather. For extreme weather there must be lower and lesser treatments for sensitive skin types but for normal skin with healthy and nourished skin, you must adhere to a routine of facial at least in 6 weeks. Some more benefits of facial steaming are:
1. Facial Steaming Deep Cleanses Your Skin:
The major benefit and usage of facial steaming is it deep cleanses your skin. Our skin needs natural and deep cleansing to stay off dirt and infection causing microorganisms. The steamer gives heat treatment to the skin which is conducive to open the pores and deep cleanse the skin effectively. Then when we cleanse and scrub the skin is rid of any infection and excess oils which get deposited in pockets under pores.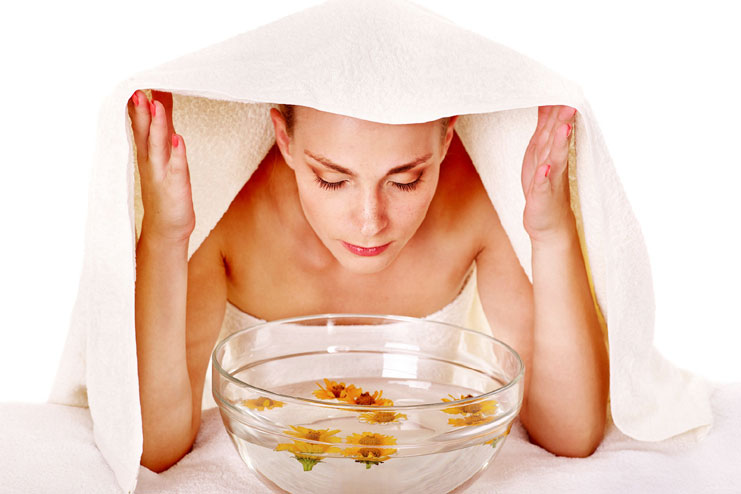 2. Facial Steaming Helps In Curing And Preventing Acne:
Special mention for acne prone skin, facial steaming is your go to a friend to get rid of the embarrassing and painful break outs. Acne and breakouts arise out of clogged pores which are difficult to treat naturally except for using a facial steamer and using natural home made products. Pores when clogged cause the skin to get infected and the clogging makes it tough for daily face wash or bathing to remove the acne causing infection. Heat which arises from facial steamer is great to open up the pores also remove grime and dirt effectively. Also hot steam makes you to perspire which helps in getting rid of excess oils too which lay down under pores and cause acne
3. Facial Steaming Helps In Getting Rid Of Toxins:
Toxins are harmful for our skin health and nourishment. Toxins can be easily removed along with our sweat and since the heat from steamer makes the skin perspire we can easily get rid of these harmful toxins. The more is heat applied, within the range of permits, the better and quicker we can get rid of skin toxins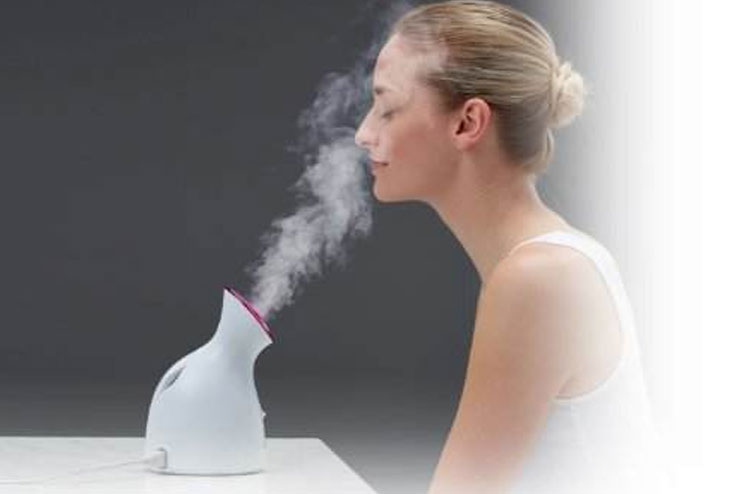 4. Facial Steamer is Most Wonderful Treatment For Black Heads And White Heads:
Facial steamer for home use has found relevance and popularity largely because of the way it helps in getting rid of black and white heads which are a curse to our beauty. With excess sebum depositions around follicle, our skin gets blackheads and they must be removed regularly to prevent any pimples and acne further. When steam is applied, our skin pores loosen and open up which helps us in removing these accumulations causing blackheads as they melt this hardened sebum follicle complex. This then runs out from the pores leaving fresh and germ free skin pores.
5. Facial Steamer Helps In Preventing Premature Signs Of Aging:
Heat treatment through facial steaming helps in fighting the signs of aging like wrinkles and lines. Steaming the face helps in thermoregulating response on our skin that is blood vessels dilate under the skin thus fresh blood flow is triggered throughout the skin cells.
Thus it enriches nutrient and oxygen supply under the skin into all skin cells and tissues. Thus it averts wrinkles and lines since the enriches blood flow makes the skin elastic and supple which is stronger than ever. This also helps in improving the radiance and glow of skin in the long run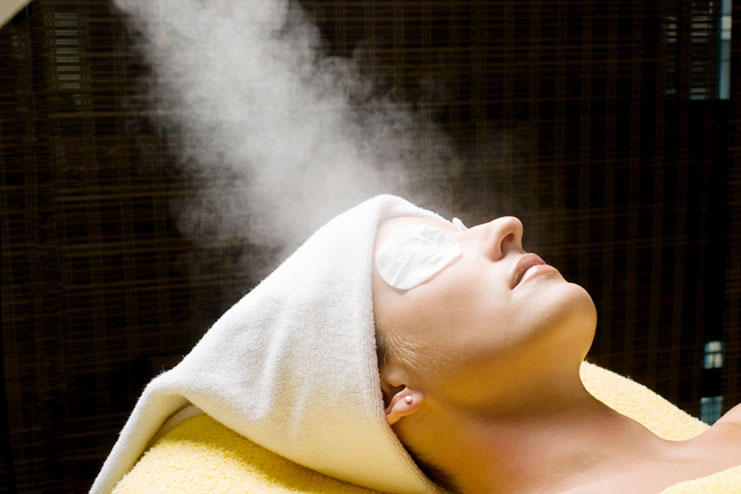 6- Facial steaming helps in preventing dryness and flaky skin:
Heat treatment and moisture helps in making the flaky and dry skin to get deeply hydrated. This helps in skin get more absorbent and thus curing the dry patches on skin surface.
7. Facial treatment helps in making other treatments of skin beneficial:
When heat treatment is applied on skin it not just helps in opening up the pores but deep cleanse and removes grime and dirt in addition to excess sebum thus making the skin ready to take in further beauty treatments.
8. Facial steaming has therapeutic effects to:
Since steaming would require you to close your eye and for a moment just not think much. It thus helps in connecting you from deep within while the skin gets a hydrating, cleansing and lightening treatment. It gives your skin some really strengthening tendencies which make your skin less and less susceptible to infection causing germs.
9. Facial steaming helps in curing sinus problems:
Facial steaming helps in moistening thus the dry air effects are reduced which badly impact your sinus causing acute pain and discomfort. For more congested sinus, add some eucalyptus oils while steaming as this would ease off the passage thus helping in promoting clear inhaling and exhaling.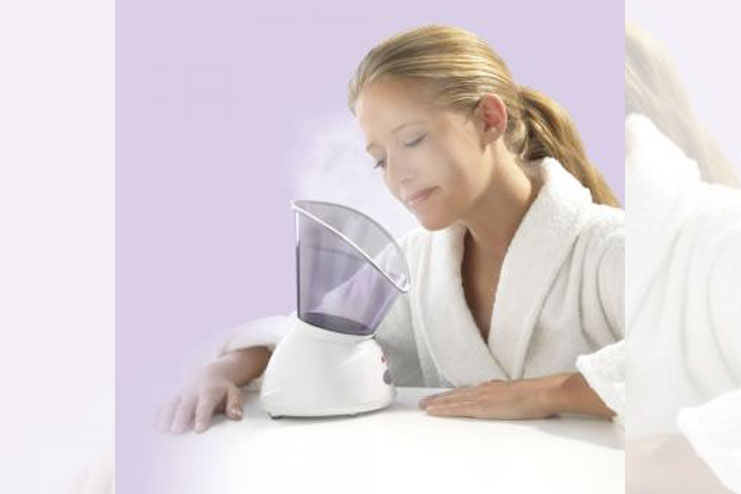 10. Facial Steaming Helps In Relaxing And Rejuvenating Our Mind:
Steaming not just helps in skin treatments but mind treatments too. When you feel stressed or anxious, if you go for a hot bath you start feeling relaxed. Why is that so, well it is because the heat helps in clearing the congestion and enriching the oxygen supply thus strengthening the blood circulation in our body. Also when you add some essential oils it helps in giving aroma therapy treatment for your relaxation
11. Facial Steaming Helps In Making You Look Younger:
When steaming pumps blood in the system it helps in removing the dead and damaged cells thus bringing in new inflow of strong and fresh cells. This helps in making you look younger and refreshed. Also it cleanses and makes your skin shine pink with natural glow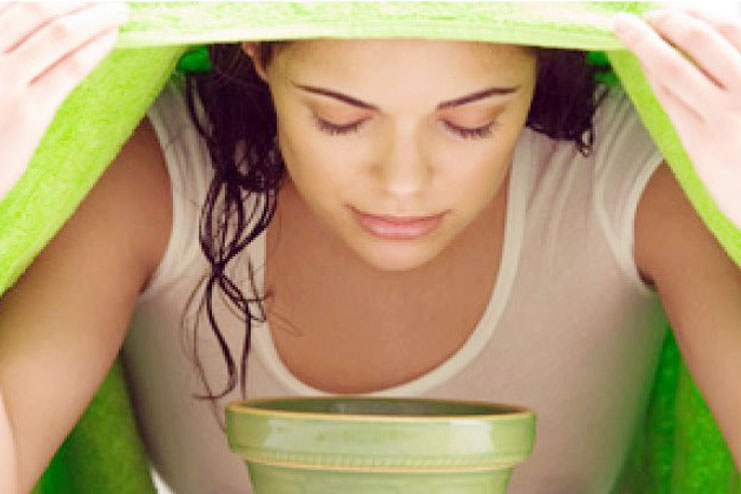 12. Facial Steaming Helps In Getting Rid Of Dead Skin:
Dead skin makes us look old and exhausted, but when you use facial steamer it brings a refreshing update to the skin. It helps in bringing fresh inflow of blood and oxygen supply which helps in shedding dead skin off our system.
13. Facial Steaming Helps In Removing The Makeup Which Is Trapped Under Pores:
Our skin pores get clogged and it may also trap makeup particulates along. This results in infection of the skin. When these chemical causing harm stay clogged inside the pores they may result in pimples and acne also some severe skin deformities. Steaming helps in clearing those left over makeup particles which are not easily removed by usual toning and moisturizing routine.
14. Facial Steaming Warms Up The Skin Surface:
It is very important to warm up the skin not just from upper layer but deeply too as it helps in increasing the blood flow and also clearing out free radicals which may even end up into cancer causing particles.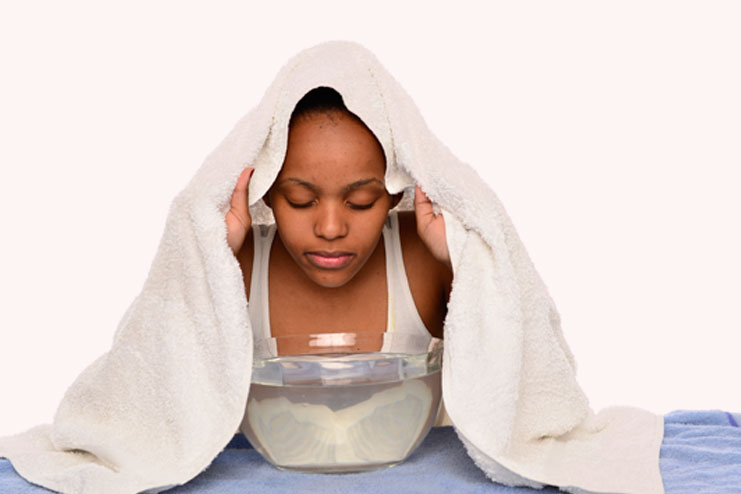 15. Facial Steaming Helps In Making The Skin Lighter And Fairer:
Why does it even matter to have a fairer skin! Most certainly not for any other reasons but to bring out your natural skin color. The one that you wear or have is not your natural color post all the infection and dirt attack. Steaming would just give your skin a natural glow thus lightening it and clearing the blemishes or tan the skin got over a period of time.
Steaming face benefits are ample and while we just proceed with when facial is done, we must do it more often say every 2-3 days if we have healthy and supple skin.
How To Benefits From Facial Steamer For Home Use:
When you are using the facial steamer from store you have everything set and explained. But when you proceed with hot water bowl things need to be understood regarding how close or far the pot must be and how hot the water can be. Some steps for facial steaming at home include: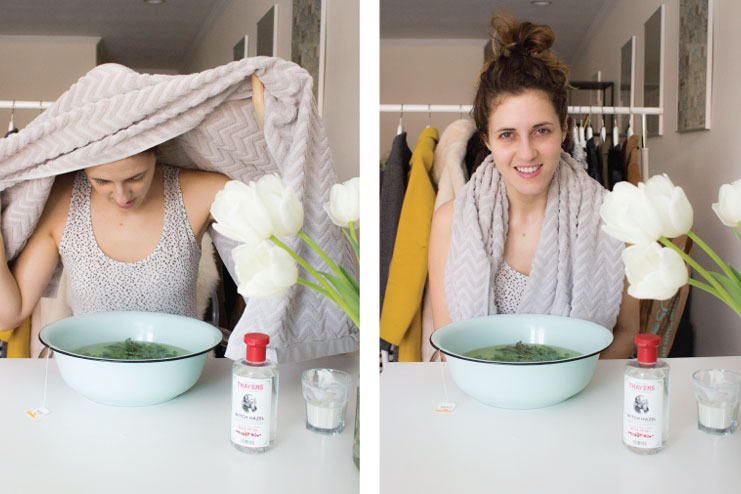 Pick aromatherapy options along with facial steaming at home so gather herbs which your skin type goes well with. Also, essential oils can be used along. For oily skin use rosemary, peppermint and sage. For dry skin use rose, borage and lavender.
Arrange a large fluffy towel which would cover your face and a small towel to wipe. Also, bring a large pot which can hold a good amount of water and is deep too
Boil 4-6 cups of water in the large pot and it is better to go with distilled water. When the water begins to boil add the herbs to it. Then  turn the heat to low and let it simmer while you stir with a wooden ladle.
Meanwhile, wash your face with a mild face wash and wipe it well. If you have makeup on it then first follow the makeup removal process, cleanse and tone only then wash it well. Do not apply any moisturizer.
After simmering for 3 minutes switch the flame off. Then add essential oils to the water and stir. Transfer to the large bowl you arranged for steaming
Now drape the large fluffy and thick towel over your head to from a tent beginning from after the large bowl holding water until your back.
Hold your face 8 inches above water to begin with and keep moving your face near and far to get steam at all places on your face.
Keep steaming for around 7-9 minutes and move your face too, do not go too close and do not stop until 5 minutes and minimum 5 minute steam is needed.
You can now use a dry towel to rub over black heads to get rid of them or use the tool carefully.
Now take some lukewarm water and splash on your face. Then bring the clean piece of towel and pat your face dry gently.
Use a good moisturizer now and gently rub the face giving dab and massages with upward strokes
Side Effects of Facial Steaming:
Steaming face benefits are ample but another theory exists which states than excessive steaming of the face can cause some defections too. Some such beliefs include:
Steaming brings in a lot of heat to the skin thus it dilates the blood vessels thus causing flushing, inflammation and also leading up to rosacea.
Heat effects strips off more natural moisturizers from the skin than ever
Steam may also cause your skin to discharge the basic minimal required sebum or oils which are necessary for the skin nourishment.
So looking at the above it is required for us to first carefully get our skin examined and only then proceed with facial steaming at home. Also too frequently or too less facial steaming will also affect adversely so stay up with the prescribed procedure for your skin type.
Helpful Tips For Facial Steaming: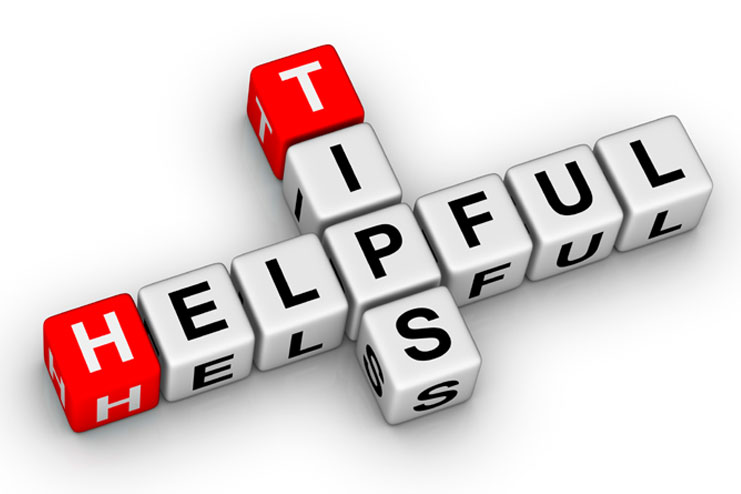 For steaming face everyday benefits follow the below tips:
Facial steaming procedure must not last any longer than 15 minutes and any lower than 5 minutes for best effectiveness.
The temperature at home must be around 104F for best results of facial steaming
Drink plenty of fluids before and post facial steaming as it may cause dehydration.
Do not use any chemical products soon after steaming face as the skin pores are cleansed and receptive to all treatments now on, but if harsh chemical based products are used it may affect the skin adversely.
Be sure to keep your face at a distance between 4 inch to 8 inch for best benefits. If you go nearer than 4 inches it may burn or damage your skin.
All the items used for facial steaming must be washed and disinfected for the skin must be free of any infection.
Using mineral water or distilled water is preferred as normal tap water may affect sensitive skin badly.
Use essential oils based on your skin type and also needs, say for the stress you must use lavender or rose essential oil for dry skin but for oily skin you must use rosemary and tea tree oils. Some more essential oils based on skin types are:
For oily and acne prone skin use rosemary and tea tree oils
For sensitive and red skin use geranium and lavender oils
For dry and flaky skin use rose an jasmine essential oils
For people with sinus which is congested use eucalyptus oil.
9. Follow the frequency for facial steaming based on your skin type:
For dry skin facial steaming every 2 weeks for at least 10 minutes
For normal skin every week for 12-15 minutes
For oily skin twice a week for 15 minutes
For sensitive skin check with your dermatologist before proceeding.
How To Pick Best Face Steamer: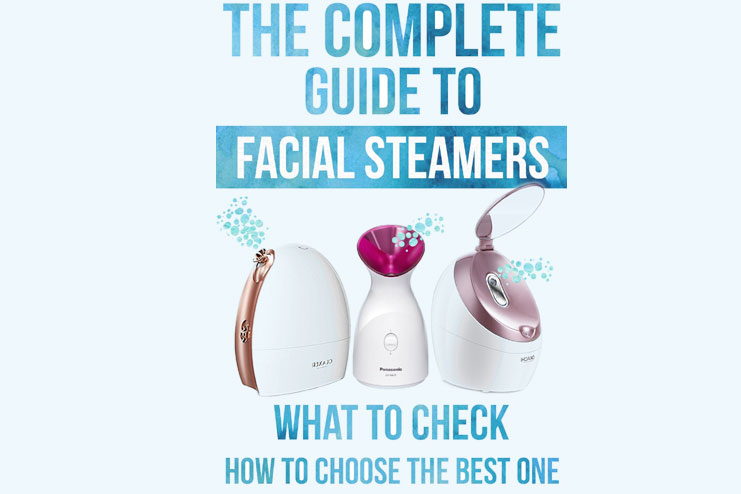 There are several considerations you must have in mind while buying a facial steamer. Nothing works better than traditional home based method but due to time constraint and precision, we must check the below steamers. First, let us look at some tips before buying a face steamer:
Check the capacity of a facial steamer for bigger sessions you may need to refill
Flow and size of steam matters and the ceramic heating element in the facial steamer gives nano steam which is very effective in moisturizing unlike the traditional pot steamer used at home
Seep also makes a lot of difference while many facial steamers take minutes and minutes to begin heating we need to check best facial steamers which do not take long to begin steaming
Ozone functions are important when considering a face steamer, as it sterilizes and purifies steam through an ultra violet lamp. But the kind of home usage facial steamer we are looking at would not have this function as it is very costly and comes over $100 price
Noise levels must be very low for the device as we are looking for relaxation and peace of mind.
Auto shut down is needed soon as the water is consumed for when we use on ourselves we will not understand when the water went off as steam so automatic ones will be better in quality and longevity
Sturdy design is also needed when using at home. The more robust is the device the more vale for money it offers
Check for warranty products
Price does matter and anything between $50 and $100 may be sufficing
Some more features to consider when buying a facial steamer:
Built in a mirror can be fragile
Pick hair and facial steamer both say 2 in 1 to get the best value of your money
Check for vaporizer options too for aromatherapy can be done when they have built in vaporizers
Multi angle nozzle to get the steam in any position you prefer
Water mist option is not necessarily a significant choice you may or may not look for it as it hardly makes any difference
Some Best Face Steamers Based On Reviews And Purchase History:
1. Panasonic EH- SA31VP: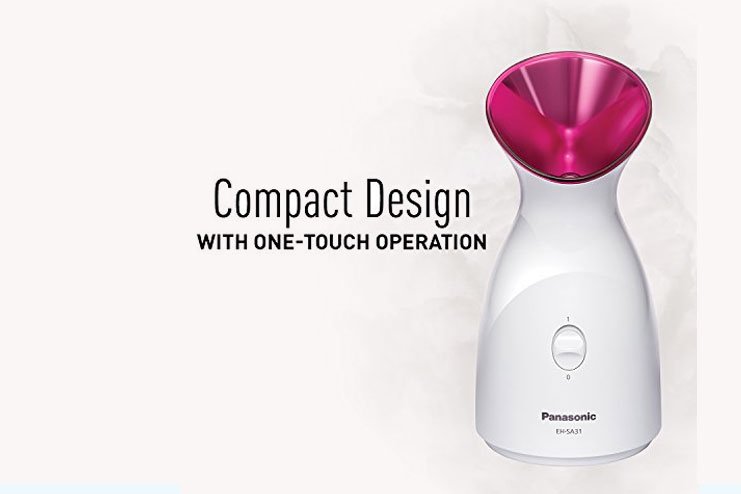 Compact and efficient
Super fine steam say 4000 times more microscopic than others
Good for both long and short therapy sessions
Silent and simple to use
Nano-iconic steam is great for removing infection, oils and dirt
100% natural
2. Jocasta Professional Ozone: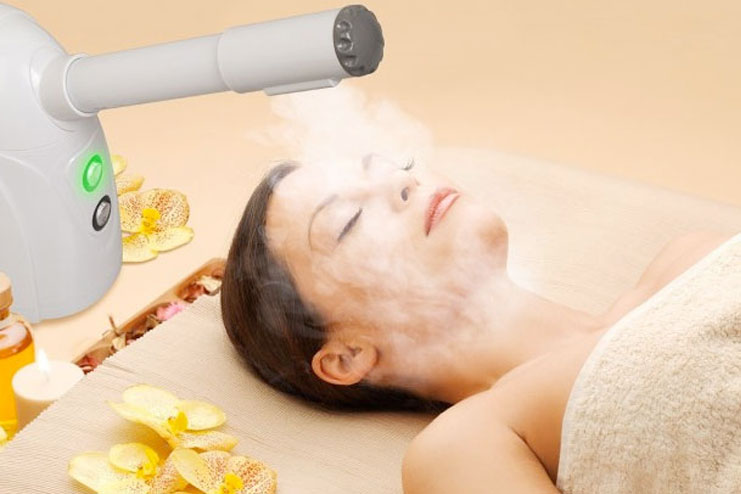 A professional steamer like the one used by estheticians
Two options; normal face steaming and ozone face steaming
Uniform steam flow
Quiet and simple machine
Oxygen-iconic steam acts as a sterilizer here
Durable ad auto shut options too
3. Conair True Glow Facial Steamer: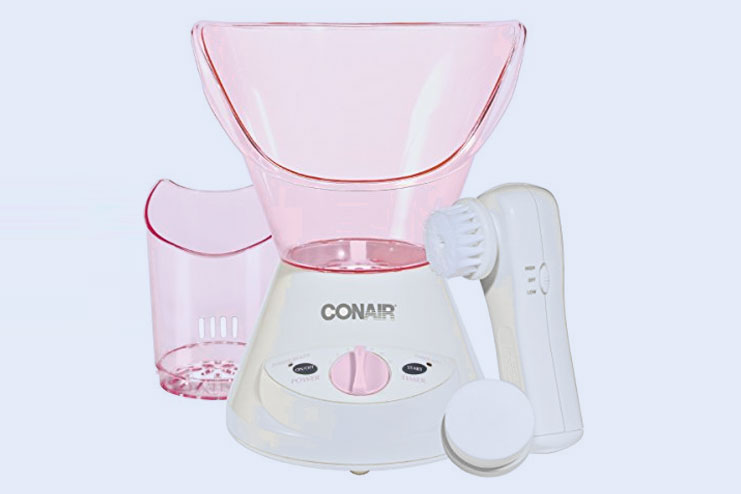 Small and handy
Good for sensitive skin as it gives a gentle steaming
Also nice for dry skin
Nasal cone allows for concentrated steaming
4. Secura Nano Iconic Face Steamer: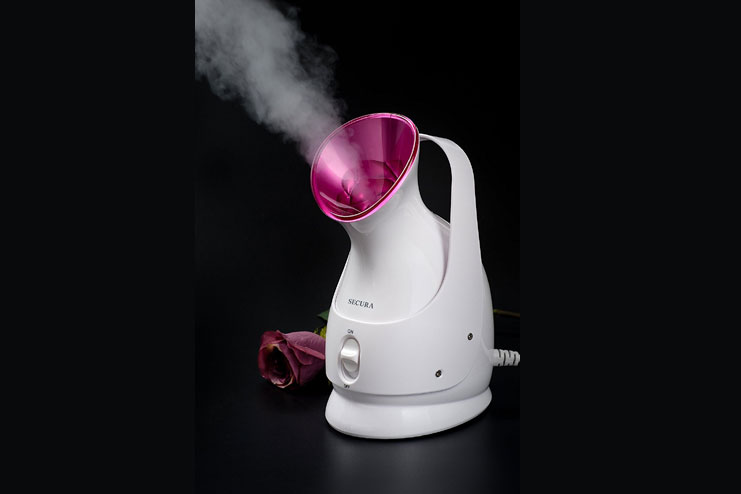 State of art heating technology
Faster and quicker
Fine steam thus better than most others
Affordable and quality product
Lightweight and handy
5. Lure Facial Hydration System: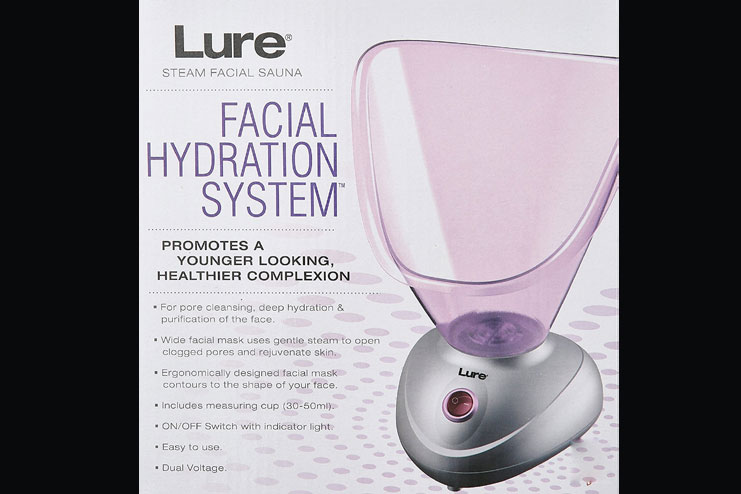 Effective family product
Good for treating cold and sinus too
Lightweight and compact
Good for younger children too
Just not great only for facials usage
Steaming face everyday benefits may not be more than the damages so better check the frequency with your dermatologist. And go ahead with routine steaming for long term benefits.
Share ahead and keep writing us, we love hearing from you!