Being a bride calls for immense style and elegance as your D day needs every bit of effort from your side to look your stunning best. Saying I Do is not just a matrimonial ritual but a lifetime bond of togetherness and eternity; thus everything that surrounds this beautiful day must be up on class, sass and poise. So we have some stunning bridal hair
 pins that are not just adding the much needed gleam but also making your hairstyle look as astonishing as can be.
Wedding hair pins are simply an added shimmer on your hairdo, and whatever style you pick be sure to match it with your bridal gown and other bridal hair accessories. Set all of your bridal wear in tandem so that everything accentuates and brings out the most mesmerizing look for you as a bride. As it is your special day and with all eyes on you; here is your step by step guide to picking the best bridal hair pins
How to use bridal hair pins:
When it comes to using bridal hair pins the first and foremost part is analyzing the usage and significance of a wedding hair pin for your attire and look on your wedding day. For not all dresses look great with bridal hair pins and not every accessory is blended well. Let us first look at some tips to choose bridal hair accessory:
1- Check your personal style:
All the accessories must be in sync with your personal style and pick whatever, just remember you do not have to revamp your style on your wedding day. As marriage is the last event where you want to get a complete makeover which again is not sure to work. So keep in tandem with your own style while choosing bridal hair accessories
2- The bridal hair pins must be accentuating your wedding gown:
Pick your hair accessories in a way that it adds charm to your bridal wear. And keep the texture and embellishments of your bridal wear in mind while selecting the bridal hair pins, as all of them must be uplifting the appeal of the other
3- Pick the material and texture of bridal hair accessory:
The material and texture must be carefully chosen specially in between golden and silver shades you must be able to zero in the best option for your bridal style. Both golden and silver bridal hair pins look stunning but check the embellishments on your bridal wear and other accessories and only then pick which material and accessory goes right for you
4- Be sure of your hairstyle:
It is very important to first zero in your hairstyle and only then look out for bridal hair pins. As the hairstyle would decide whether or not, and which style of wedding hair pins can be picked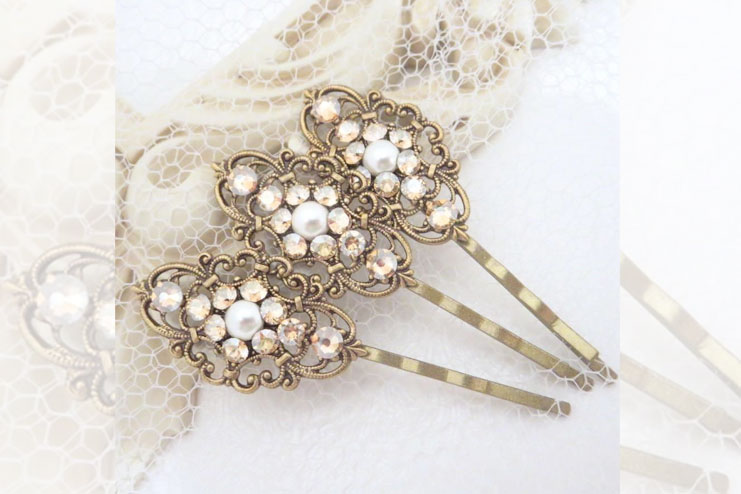 5- Your other accessories and bridal designer jewelry:
If you are wearing a veil your big bridal hair pin may not be that good of an idea for a small one would do the trick. Also for wearing tiara you can not have your bridal hair pins at the top of the head where tiara rests. So first decide which accessory and jewelry you would pick for your wedding.
Read: Tips for Picking Designer Bridal Jewelry
6- Check collection at store first but do not buy yet:
Just check prices of items you lined, online and compare with store prices to choose the best deal. Also wearing and trying a few bridal hair pins would give you an idea if at all the one you are thinking about, suits you or not.
7- Check the theme of your wedding:
For a destination wedding like beach wedding you may not need the rhinestone or crystal wedding hair pins and for a more close knit formal wedding ceremony all you must pick is shimmer and sparkle.
Best bridal hair pins ideas for your special day style:
All you care with your I Do is that you are looking absolutely charming and appealing. All your efforts and confusions are always around what to wear and how to look perfect for your wedding, so here comes your guide to best bridal hair pins ideas for your wedding day style:
1- Crystal and pearl hair pins for your half banned hair style:
This crystal and pearl hair pin adds the much needed charm and elegance to your wedding day style. This glimmering head piece is not just a brilliant work of art but also adds a lot more grace than ever to a bride. Rhinestones and pearls are a wonderful combination great for a destination wedding. It adds an element of pretty and pose
2- Butterfly wedding hair pins: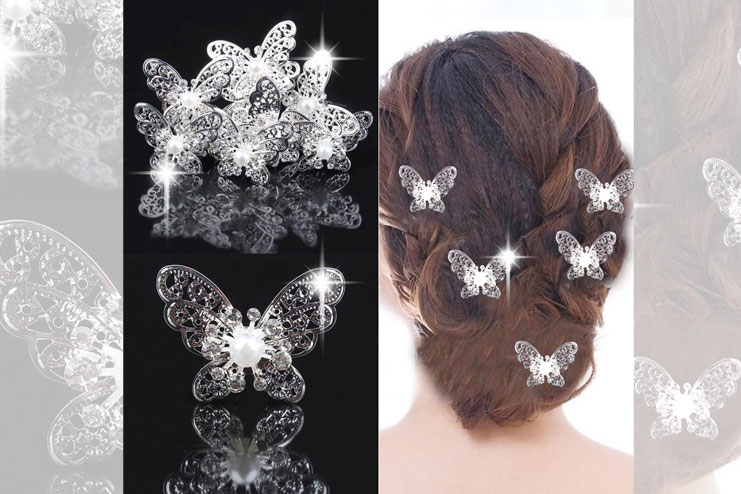 Natural looking butterflies are the most traditional and classic hair accessory for your wedding. They look mesmerizing and effortless on any kind of hair do. Pick organza made butterfly hair pins in red and orange for that perfect contrast to your white bridal gown
3- Starburst bridal hair pins: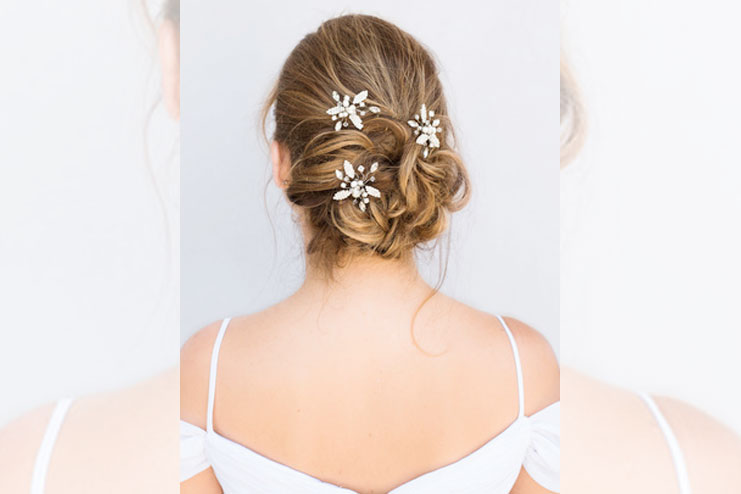 Add three stunning and charming star shaped rhinestone made bridal hair pins to your almost messy bun. Keep the peals and crystals coming out and add the mystery and magic appeal to your wedding day
4- Bridal flower hair pins: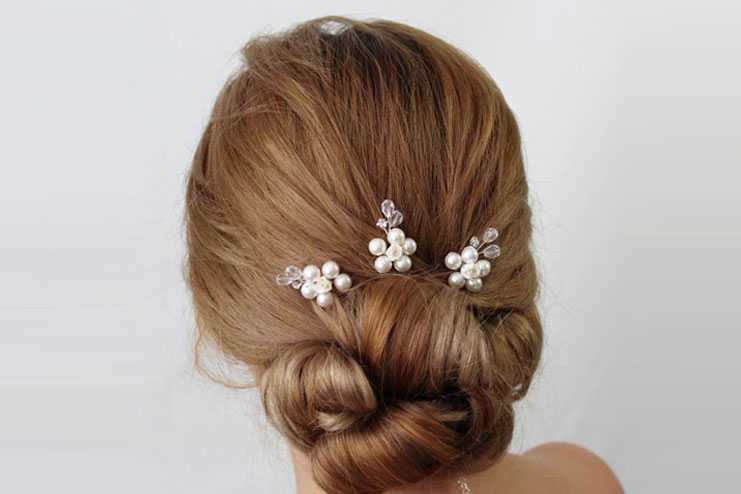 A cute and stunning bride flower hair pin which is small in itself but to prominent and appealing on your hair. A low tilted bun can be added with charm and grace with these bridal hair pins in floral patterns
5- Glamor puss hair pins for brides: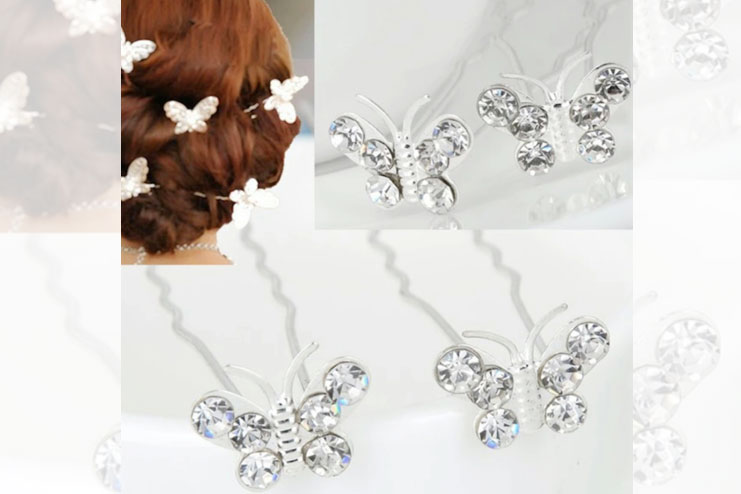 Add some 3-5 puss hair pins which are shimmery and glamorous over the french bun. It gives an appeal of binding from bottom to top which is truly a wonderful sight
6- Petite enamel leaf bridal hair pins: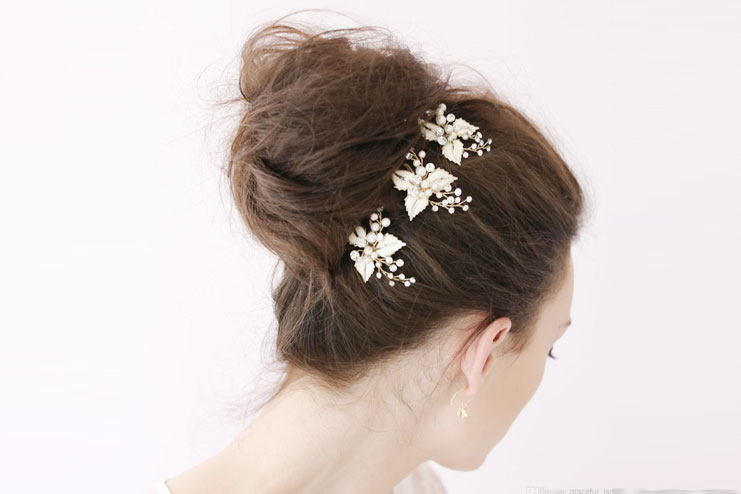 Add thee enamel leaf hair pins to your bun and allow glimmer and sparkle to shine all over. These bobby pins for bridal hair are just so easy and effortless in putting up but give the most stunning style for your wedding day celebration.
7- Just one crystal bridal hair pins: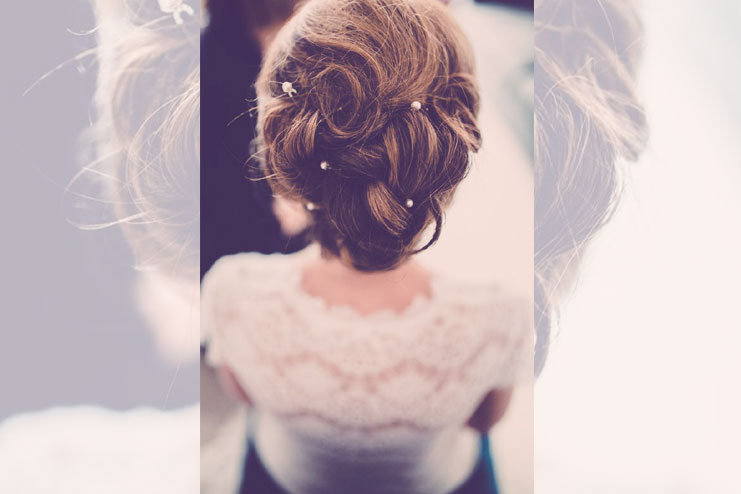 Just pick a large crystal or rhinestone bobby pins for your bridal hair and put them up at the bun. These are just the basic minimal style statements or your wedding day
8- Floral and laced hair pins for bridal hair: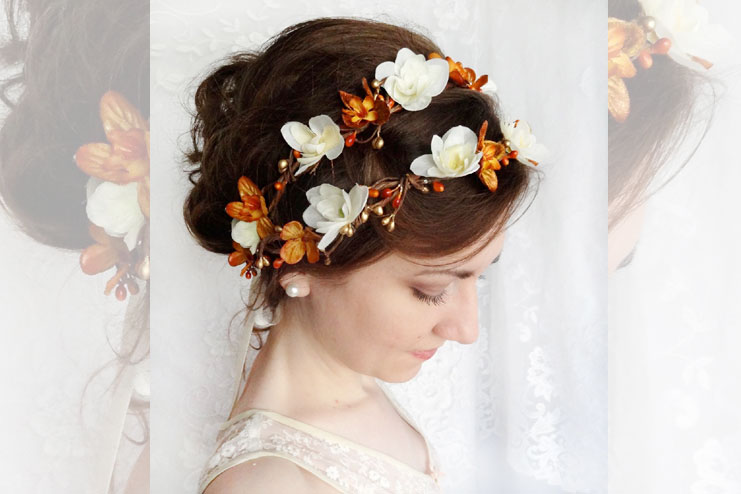 Floral pins are just the most vintage and classic touch for your bridal attire. Apply them at various places and cover your buns would look just as poise and graceful as ever
9- Pearl and beaded flower in crystal hair pins of brides: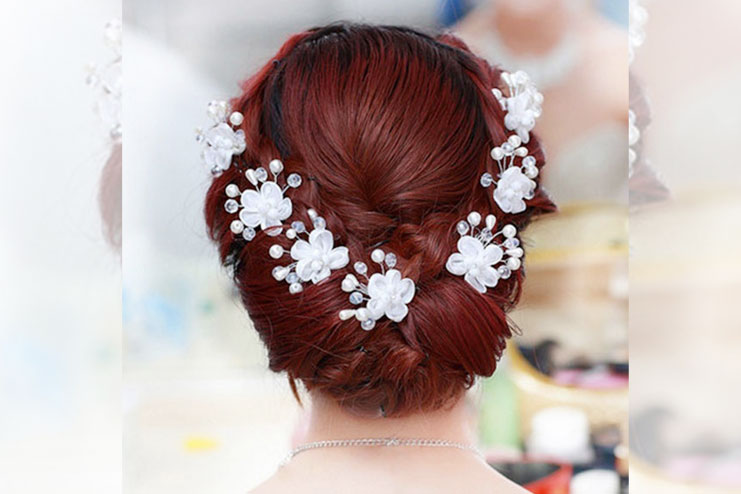 This era the most delicate work of art with stunning pearls and crystals showing the most endearing flower pattern, and when it graces your hair it would add all the more charm and appeal  to your bridal look
10- Leaflet bridal hair pins: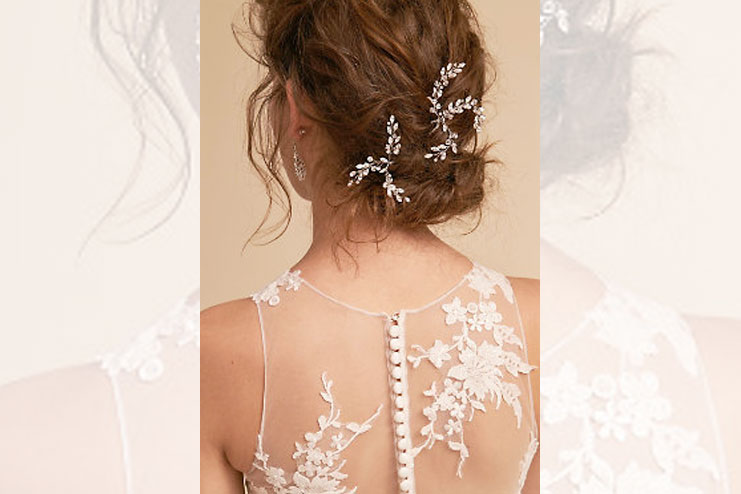 When you want to have an elaborate and yet not too loud hair pins on your wedding day, this leaflet bridal hair pin is your go to friend. It gives a stunning appeal in addition to matching the embellishments on your bridal gown
11- Rhinestone twists coil flower hair pins for brides: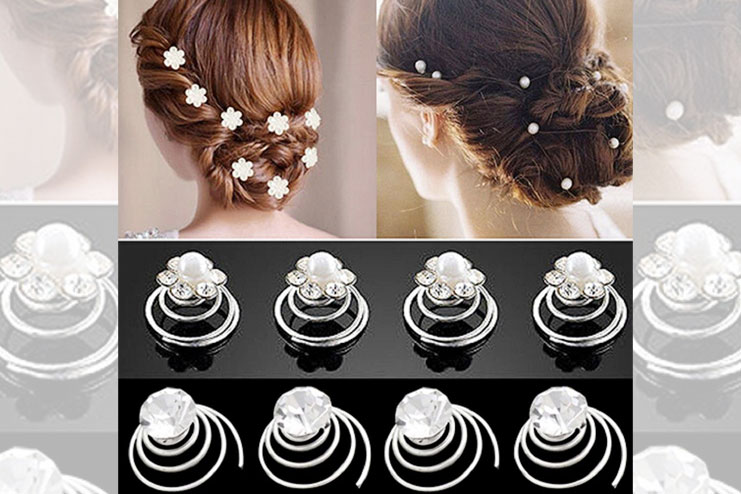 This twisted and coiled hair pins are a great addition to your otherwise plain hair style. These are simply stunning and easy to put.
12- Butterfly and grasshopper hair pins: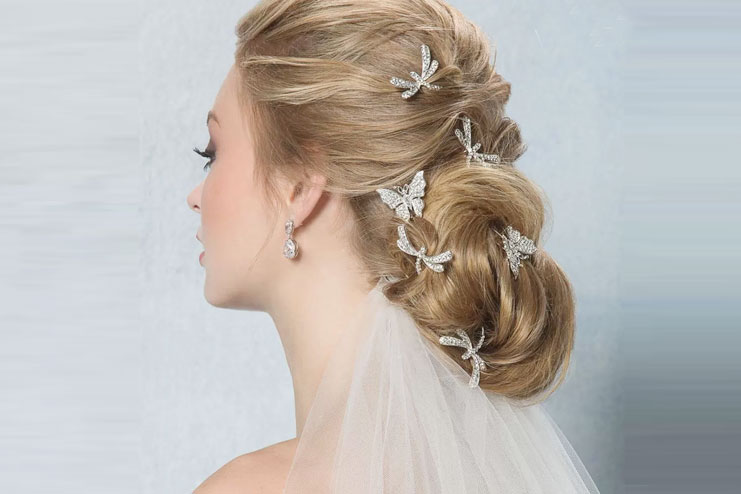 For the nature lover these butterfly and grasshoppers as bridal hair pins made in sparkling rhinestone and crystals is simply mesmerizing. Add 3-5 such hair pins and look out for extra dose of oomph and elegance
13- One big silver rose hair pin: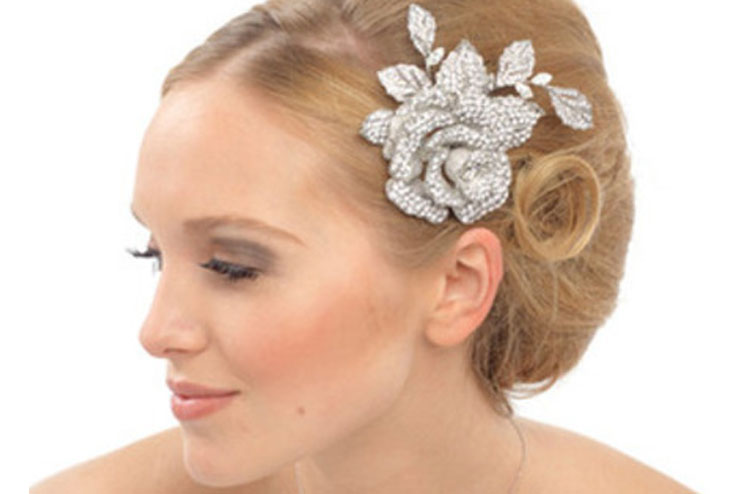 A big silver and sparkly rose bridal hair pin is a great style for brides with a less embellished bridal gown
14- Star bridal hair pins: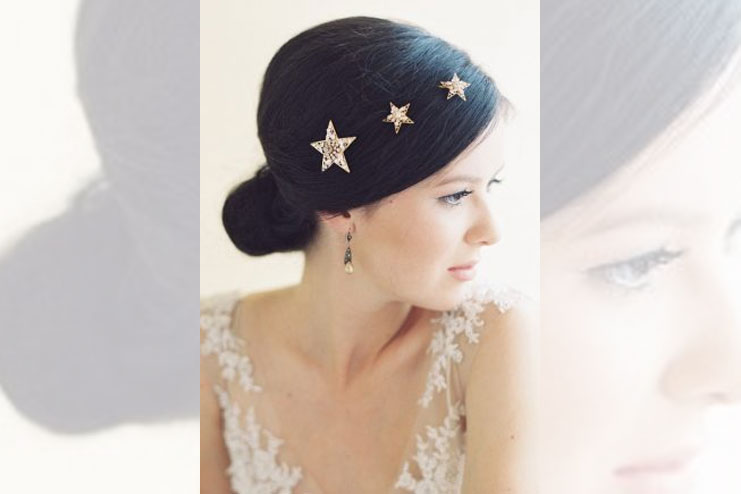 Add stars and get cosmic for the spatial effects are too mystical and magical for bridal hair ideas
15- Rose bud hair pins for brides:
Delicate and simple effects on hair with these charming little pieces of fabric. They add the most needed magic to the bridal attire
Share ahead and keep writing us, we love hearing from you!