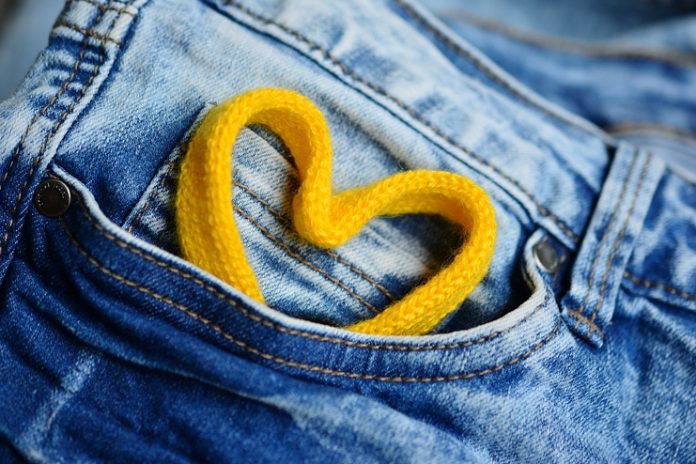 Every woman's body shape is varying from the other. Jeans for a curvy woman while jeans for a not so curvy woman may differ. Anyone can wear anything, here comes the question as to whats the most happening jeans for a curvy woman?
Women and Jeans are partners who are comfortable and chilled out in each other's legs. Irrespective of the jeans being in a curvy woman's body or a less curvy woman's body. You name the occasion and you will have women in jeans every split second of your blink.
This being the case, jeans can never go off fashion and this is known from times immemorial. Of course with a shift in the trend as time goes by.
Fashion is massively a unique art. It has hidden factors linked around it. No matter what factor, few specifics always co-exist. Like, being picky on jeans for a curvy woman or not an absolutely curvy woman.
Get going to see what are the explicit choices you can sort to and high spot your curvy figure with these stylish jeans.
Determine Your Body Type to Get into the Right Jeans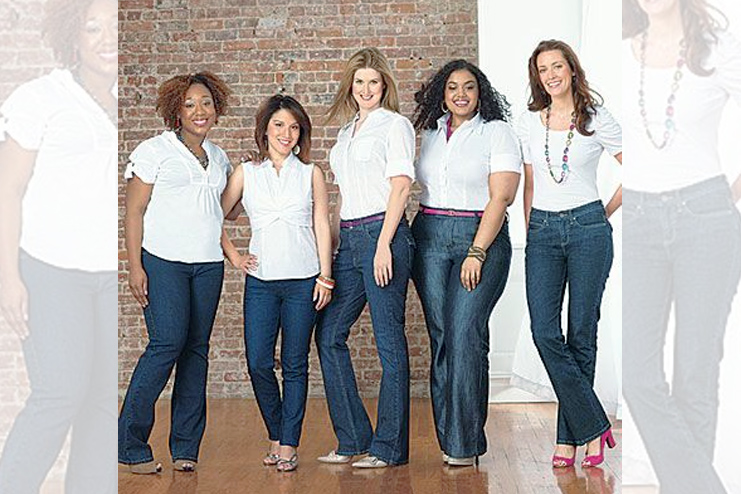 It is a must to know your body type so that in reality it looks hep and brings out the best about your figure. See how can you do so!
Categorically there are four body types. Straight, curvy, petite and hourglass. Watch this video and see the appropriate jeans for a curvy woman.
Checklist to Make While You Consider Buying Jeans
See to it that the jeans is stretchable
Ensure to check if it can be washed in the machine
Try out the jeans and see if the material is quite suiting your comfort
See to it that the back pockets and front pockets of the jeans are well stitched
Keep a check on the shade of jeans you choose that goes well on all your tops and tee's
Are you a Curvy Woman?
If your breasts, butt and thighs are big and in shape with your waist being in and slim that is when you have a curvy body and to take pride in those curves, check out the jeans you can wear.
Types of Jeans For Curvy Woman – Get Cosy In Them!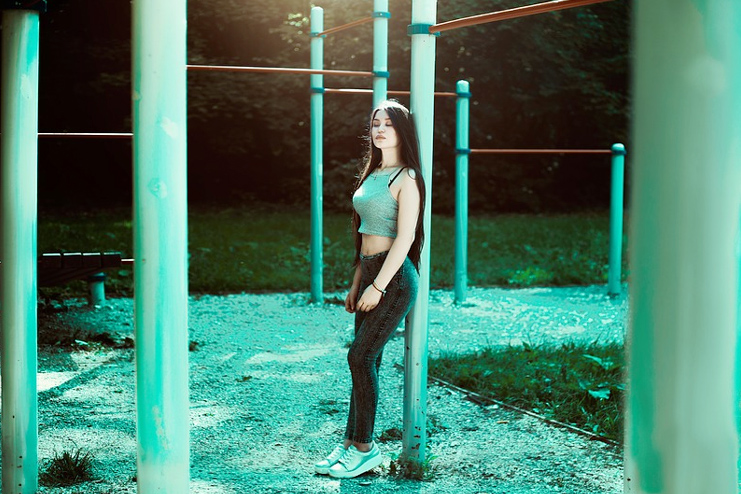 There are a list of the kinds of jeans for a curvy woman, it can be denim or not denim too. You can try different colored jeans. Let's take a quick look at the jeans available for all the curvy woman.
When you wear jeans, just bear in mind you are comfortable with it in terms of how it looks on you and how are you able to carry it off. Do not compromise your comfort for fashion. Try to have both of these in place.
It is known that brands like, Levis, Wrangler, Diesel, Lee, Pepe, Calvin Klein, flying machine and Armani jeans are the top brands you should consider while you pick your jeans.
1. The Spectacular Skinny Jeans For Curvy Woman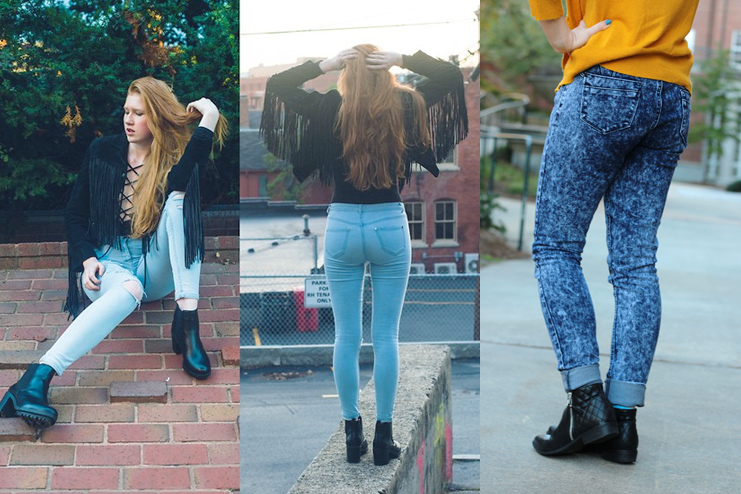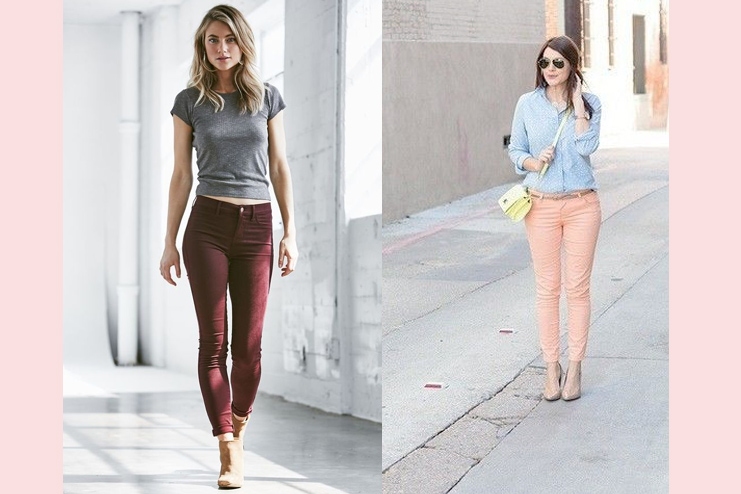 Skinny jeans are straight fit jeans that swirl around your ankle and the rest of the jeans fits well on your legs.
Speciality about Skinny Jeans
What makes skinny jeans stand out from the other jeans type is the way it reveals the shape of your leg and how it makes you look like you have been made for the jeans. Skinny jeans are going to stick to your body, bringing out the real vogue in you.
Renowned Brands to Try
Try AG Adriano GoldSchmied jeans
, this is a renowned brand and you can sort to this if you are looking for a skin fit jeans.
The jeans is a blend of cotton, polyester and polyurethane.
You can try buying jeans from Poshmark or Macy's. You have a range of clothing that will help you widen your options while you shop.
2. The Beautiful Ripped Jeans For Curvy Woman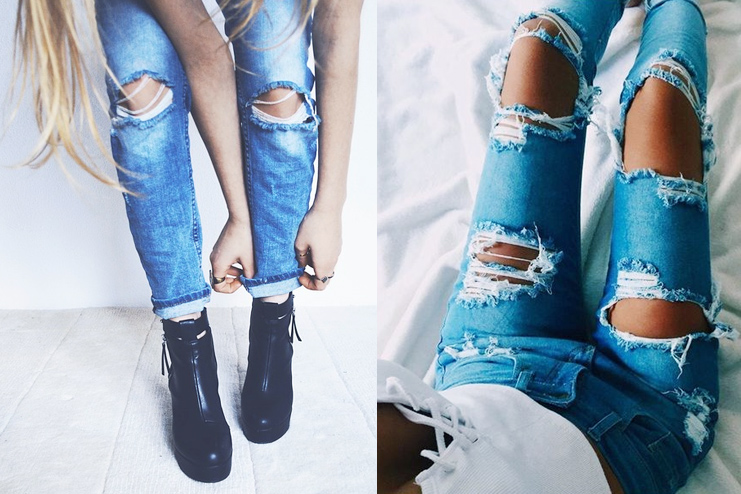 Ripped jeans are torn in between your jeans projecting a fashion sense of its own. It makes one look like a hippie. Ripped jeans give any woman a very casual style. You can wear these off for casual occasions and these jeans for curvy woman sounds like a great idea.
Speciality about Ripped Jeans
You need not to buy special ripped jeans, you can design your distinctive ripped style all by yourself.
Renowned brand to try
Try J Brand Skinny Jeans, This designer joined hands with a celebrity stylist named Susie Crippen and they innovated this easy yet cool idea of ripped jeans. It is lightweight stretch jeans and these ripped jeans look best in the denim material. These jeans is way too chic fora, curvy woman.
3. The Skirted Ripped Jeans For Curvy Woman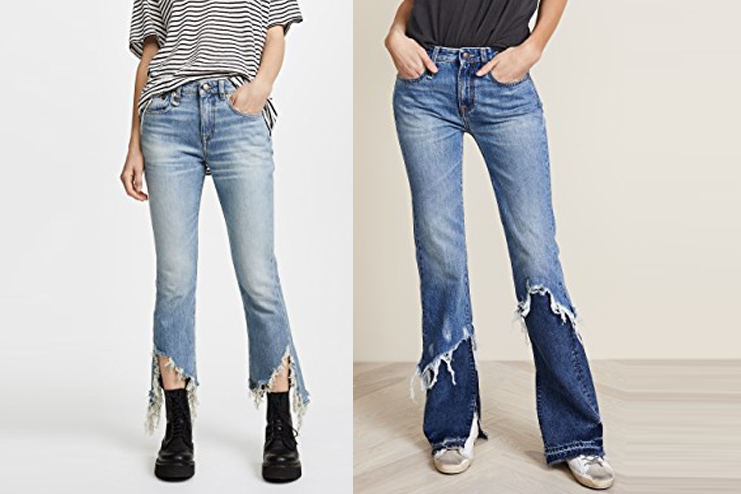 Jeans that is ripped in between and the material of the jeans is thick at the thighs. It is similar to that of a skirt cum jeans. Either there is a skirt design on the ankle of the jeans or near the thighs.
Speciality about Skirted Ripped Jeans
Skirted ripped jeans is marvellous thought of how the ripped jeans trend can further be elaborated. The ripped concept lies constantly whereas the skirt with it is liking an icing to the cake.
Renowned Brand to Try
If you want to go for skirted ripped jeans you can choose R13 one of an innovative brand. The material of the jeans is a blend of denim and soft leather. This is happening jeans for a curvy girl.
4. The Hep Boyfriend Jeans For Curvy Woman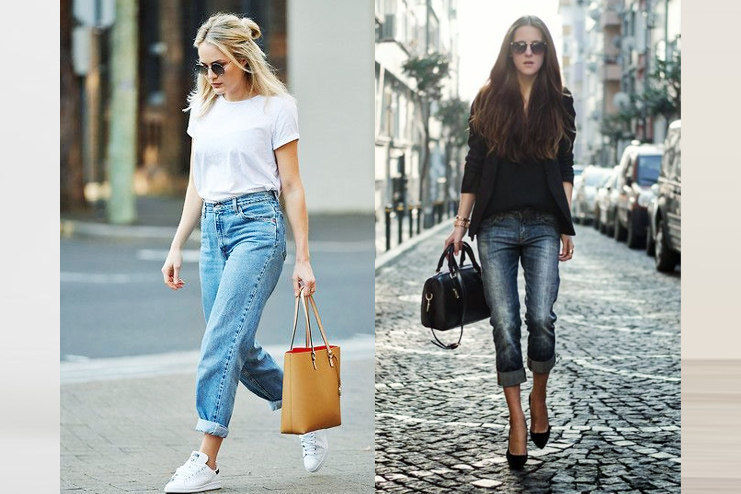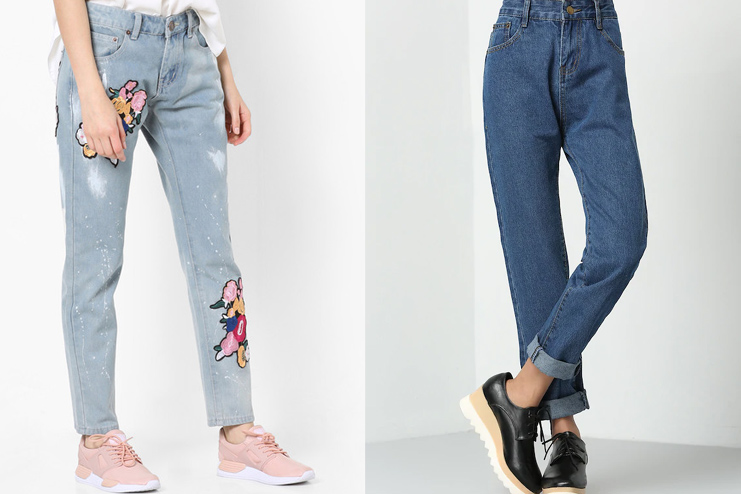 The name 'boyfriend' jeans has a well – though concept. You just get so easy going when you wear these jeans. It is more like a folded pattern and not fully until your ankles. They are opposite to that of skinny jeans in terms of how it fits you.
Speciality about Boyfriend Jeans
The speciality about boyfriend jeans for a curvy woman is that they are wobbly and it is a great combination fashion wise as well as comfort wise.
Renowned brand to try
One known brand you can choose in your boyfriend jeans is Uniqlo Women High-Rise Boyfriend-fit jeans. This looks super-classy and goes well with your tank and crop tops or even formal tucked in shirts, this is a great jeans style for a curvy woman.
5. The A-Line or Boot Cut Jeans For Curvy Woman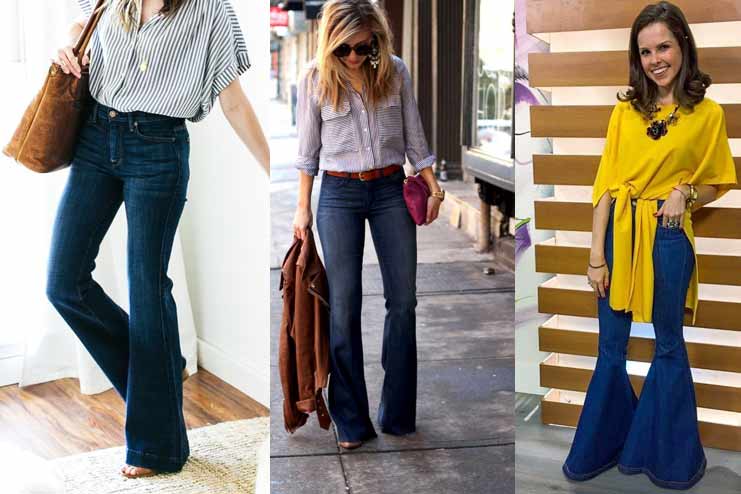 It is a comforting jeans style wherein the jeans does not stick to your thighs and you get the breathing space you need. The jeans flows down like a boat towards your ankle.
Speciality about boot cut jeans
Boot cut or A-Line is in fashion for centuries for now. It comes on and off, it is stagnant yet a striking trend that any age group of women would love to get into.
Renowned Brands to Try
You can try brands like, HUDSON Signature Boot cut jeans and Levis 517 Cropped boot cut jeans. These look fancy and is a good choice in choosing jeans for curvy women.
6. The Flexible Stretchable Jeans For Curvy Woman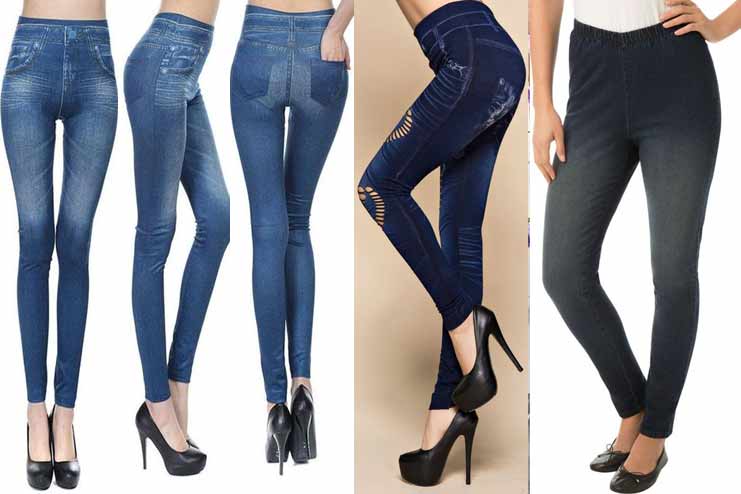 Stretchable jeans give you the ease to stretch, jump and run. When you wear certain kind of jeans you do not really get to stretch as you find them to tight on your body.
Speciality about flexible stretchable jeans
Stretchable jeans are lightweight and easy to handle, you do not have the task of zip and button, it is easy to wash these jeans and it stays perfectly well on your waist. If one is looking for jeans for curvy women then this is the one.
Renowned Brands to Try
You can try brands like Vero Moda Jeans and Wranglers stretchable jeans.
7. The Straight Fit Jeans For Curvy Women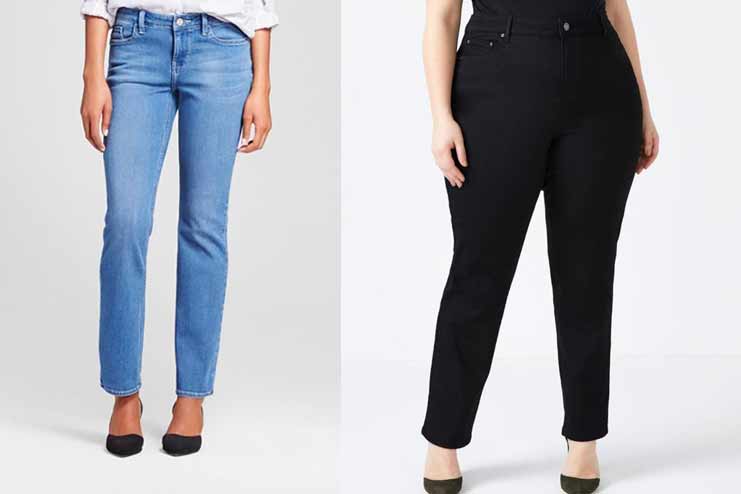 Straight fit jeans is like a mini A-Line sort of jeans. Towards the ankle, the jeans do not stick, it is let free. This jeans for curvy women blends well with their figure.
Speciality about Straight Fit Jeans
What makes straight fit jeans special is the convenience it gives to a woman and overall it looks like it is just made for women to wear them with tees.
Renowned Brands for Straight Fit Jeans
Try the brands Rag and Bone/Jean and Agolde Riley High Rise. These jeans will give you a smart outlook. This is one of the categories in jeans for curvy women.
8. The Ancient High Rise Jeans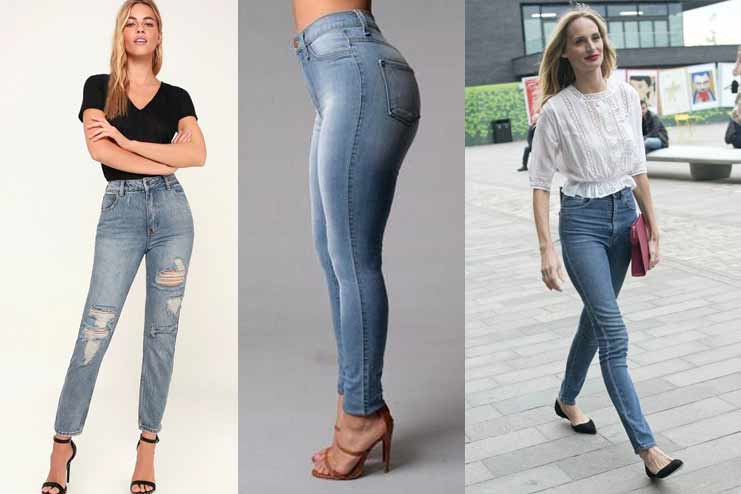 High rise jeans has the authentic old style trend in it. This style of jeans tops in making your sexy butt look sexier. You begin to wear it above your waist, high rise jeans can be stripped, boot cut and straight jeans.
Speciality about High-Rise Jeans
The special speciality about the high rise jeans is that it sits well on your waist and does not fall off your hips, you do not have to break your head on carrying it off as it will never want to get off you, high rise jeans covers your hips well and it sheds away the fats around your waist.
To recapitulate about the best and comfortable jeans for curvy women. One should not ignore the major factor of the body type and as it is jeans for curvy women. A woman should get into jeans that artistically shows her lovely curves and does not make her look like the odd one out.
Picking jeans for a curvy woman is not baffling. Rather, it is like a duck soup provided she does not compromise on hiding off her curves.
Monica Bellucci says, "When I'm relaxed, jeans and a shirt are my uniforms". Would you agree on this when you think of your jeans.