Looking for some outdoor kitchen ideas and wondering how to go about it. Well, look no further as we have some stunning outdoor kitchen designs which will not just make your cooking eclectic but also adds an exotic and mystic appeal to your home. And when the season for BBQ comes along, all you need is to just go to your outdoor kitchen and experiment. So check out these backyard kitchen designs which will surely make you want to set up your own kitchen outdoors and with utmost perfection.
Top 11 Ideas For Outdoor Kitchen:
Planning to add more substance and an exotic appeal to your backyard, well an outdoor kitchen just remains the most interesting bet. And when you see the pictures or other friends hosting elaborate BBQ or outdoor parties in their backyard it becomes all the more interesting for us to have our own private space for cooking and relaxing amid nature. So check out a few backyard kitchen designs which will mesmerize you:
1. Built-in Cook Space: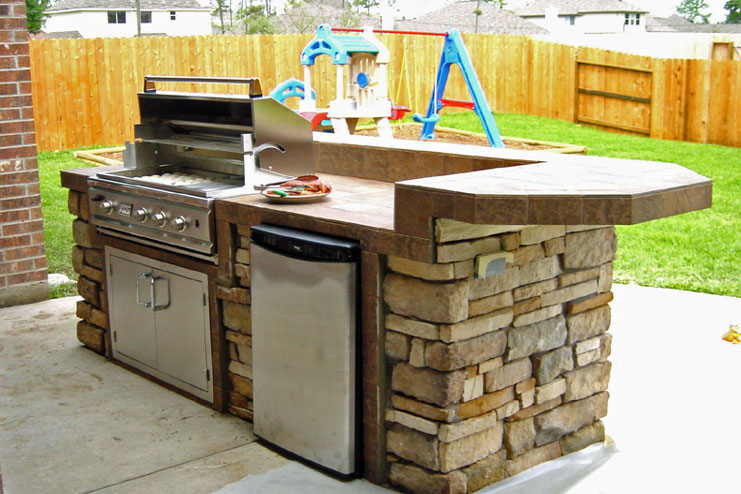 A stunning as it may sound, built in cooking space looks absolutely functional and fabulous too. Specially if it is concrete designed, it gives a rustic appeal to the outdoor kitchen.
2. Metallic Counter Tops: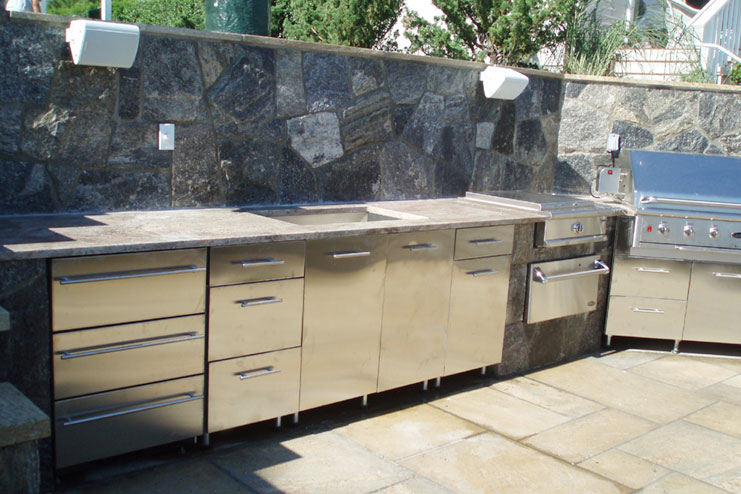 For outdoor cocktail parties, use a metallic counter top which gives a totally fabulous and accented appeal to your outdoor kitchen. Lacquered with staves, which have mystic weathering effects, this space is perfectly glam for your small get together
3. Rooftop Grill: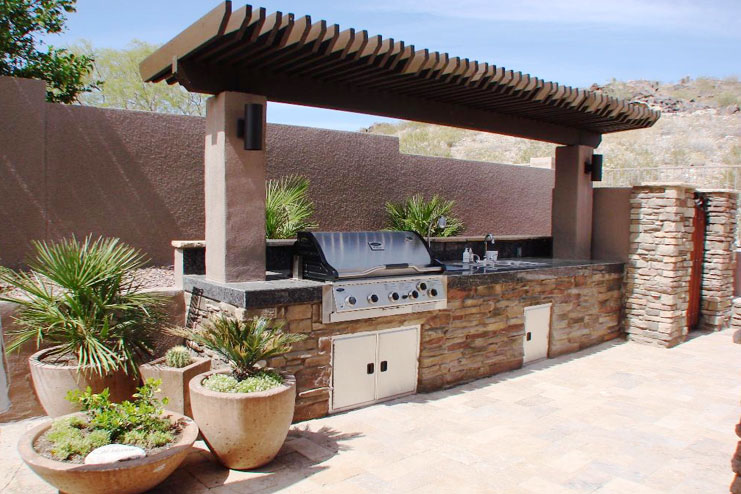 A charcoal grill which anchors your skyline place to live in busy Brooklyn neighborhood. Looking out at the panoramic views of the New York city this space provides perfect magic and appeal to your outdoor kitchen. Don't forget to keep an outdoor insulated ice bin and side away cutting board.
4. Stained Oak Ceiling: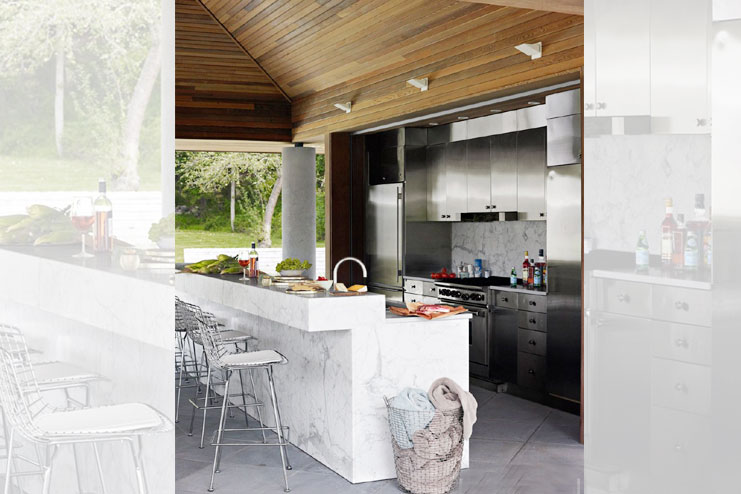 Stained oak ceiling pours the very fragrance of an outdoor kitchen. Vintage and yet exemplary of modern fittings, stained oak is all about showering warmth over cool stainless steel cabinets arranged in a mystic way. Keep it saved from the rain with a drop down metallic gate.
5. Dining Al Fresco: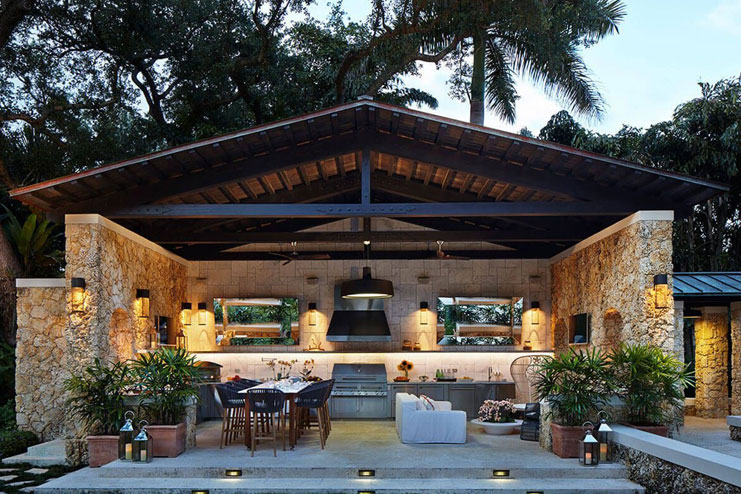 An outdoor cabin with bar lines outside which patio outside where dinner is served hot and piping. Set up wooden tables outside with reclaimed wood for that rustic appeal.
6. Terracotta Hues: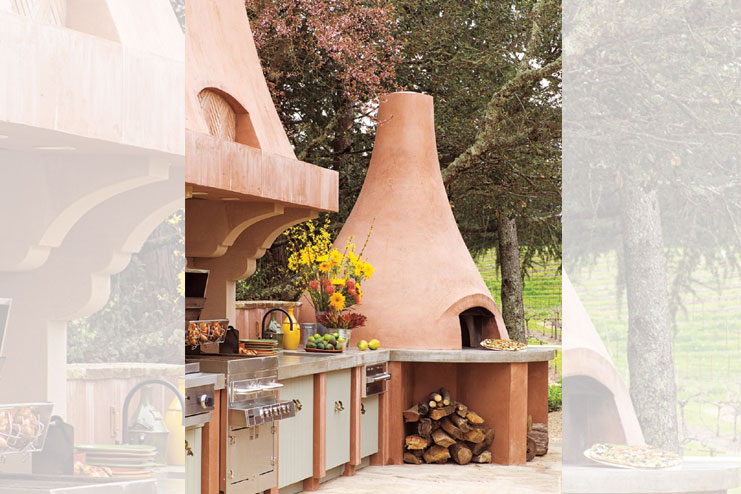 Terracotta brings in the much needed colors and hues form nature and earth. With a Viking warming drawer a pizza oven with lot of seating space and huge counter space. It gives an altogether exotic appeal to the outdoor kitchen
7. Modular Outdoor Kitchen: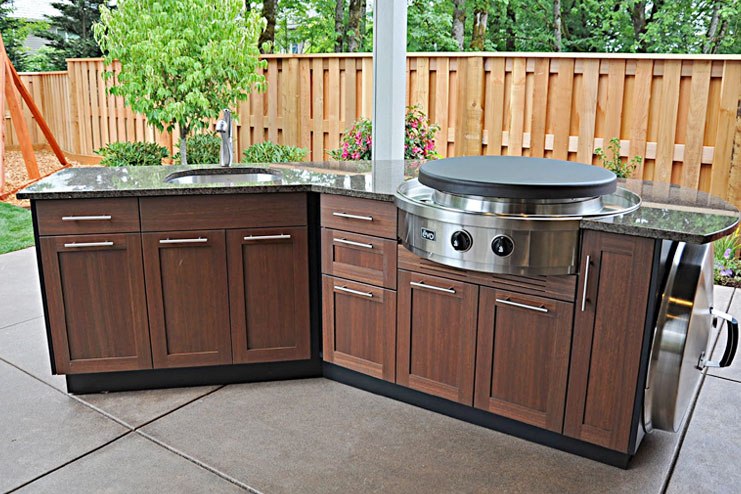 A customizable concrete kitchen which affordable and maintenance free also enthusing a mystic appeal to the outdoor kitchen space. Everything aligned offering space and utility benefits.
8. An Outdoor Fireplace: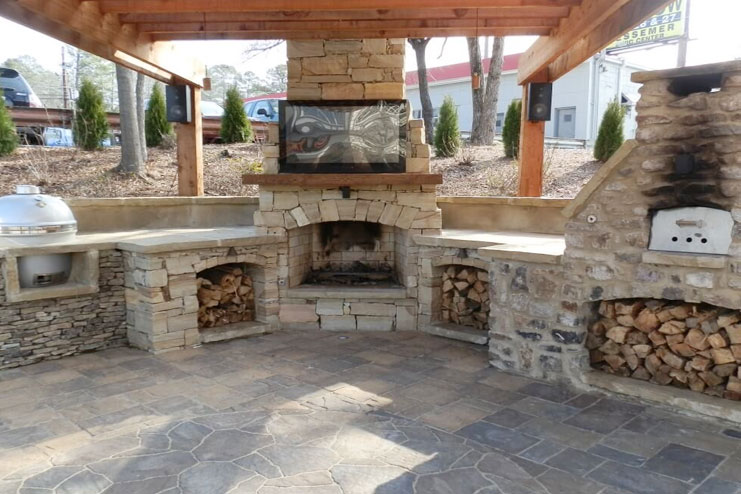 As mesmerizing as it sounds, an outdoor fireplace is a stucco mission styled fireplace which is surrounded with antique Spanish tiles and perfect for those hush s'mores with family
9. Southern California Style: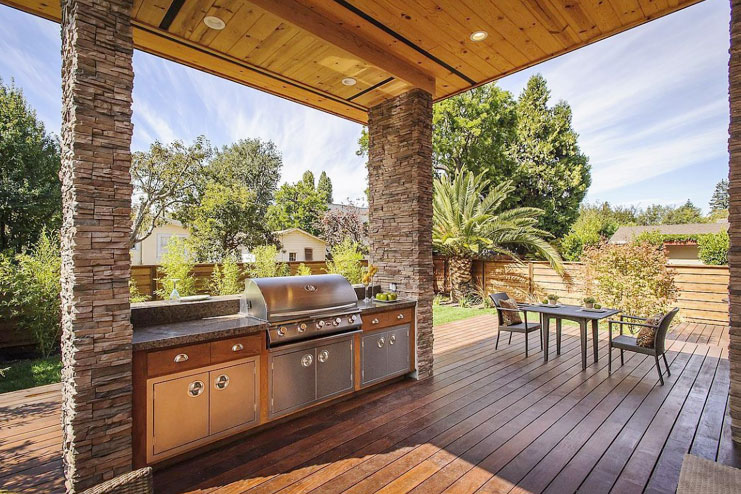 A covered outdoor kitchen with a rustic appeal in Southern Californian hues and fitted with bar panels is just the kind of beauty which is perfect for any weather. Being covered and amid the serene surroundings it is an all weather outdoor kitchen
10. Outdoor Kitchen With Refrigerated Drawers: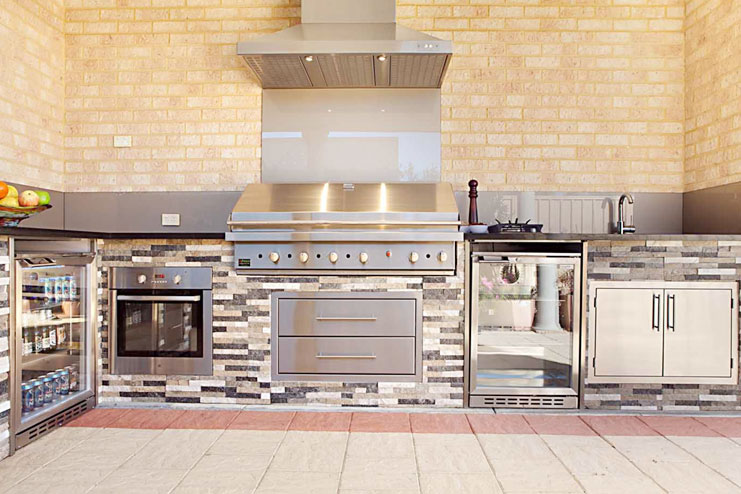 Stacked two or three door refrigerator which keeps beer and other refreshments handy and makes the look stunning indeed. A stylish and functional kitchen which does not need too much space.
11. Chalkboard Wall Outdoor Kitchen: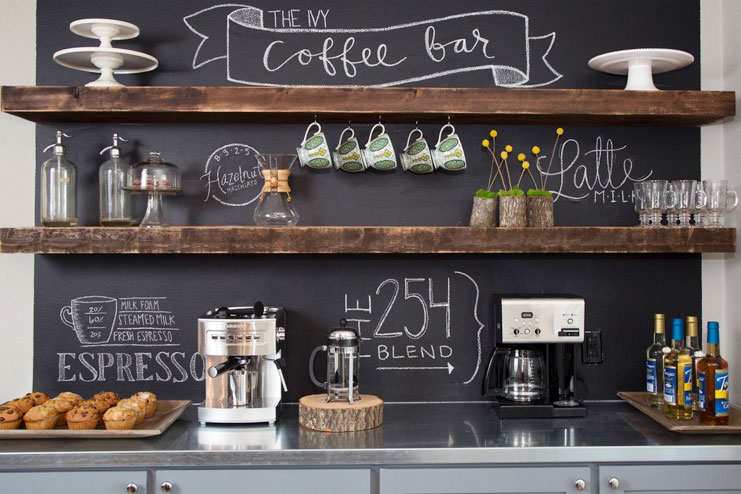 This is a free standing outdoor kitchen unit with vintage wooden blocks lined to perfection. Also the giant chalkboard wall on top is perfect to write menu or other tidbits.
How To Design The Best Outdoor Kitchen:
To make your outdoor kitchen garden stunning and perfect you must consider a few steps before setting it all up. It is important to understand the needs first, as not everyone needs an elaborate kitchen space or a huge setup. Some points to consider here include: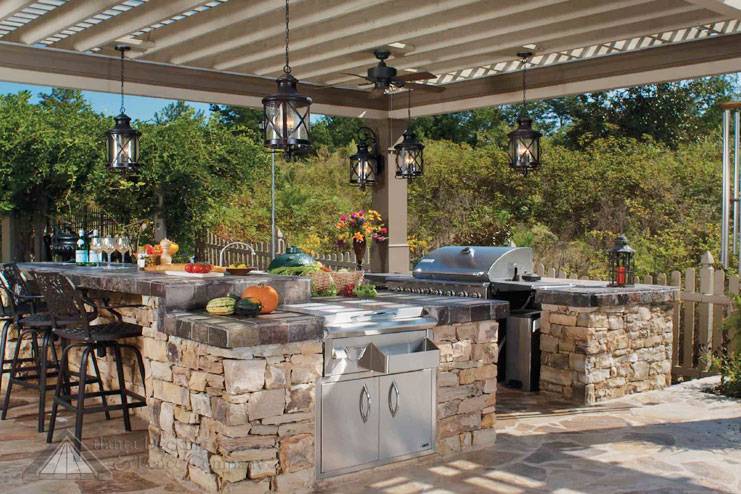 1. Identify the Functional Aspect of Your Outdoor Kitchen:
First and foremost identify the purpose your outdoor kitchen would be serving, as different space offers different attributes. For just lounging over the weekends you do not need huge space and appliances for a chef. But for a chef in training who loves to throw parties with outdoor cooking, you must have ample cooking space in addition to the sitting arrangement for the guests.
2. Pick an Accurate Location:
Now it is important to check the entire outdoor space you have for selecting the best location for your outdoor garden. All materials must be compatible with the whole landscape and must make an appealing offering which accentuates the entire home. Brick appeal or Stucco can add more charm and appeal but beware of the cost involved.
3. Appliances Must Be Pre-Decided:
The size and kind of appliances must be pre decided as they consume a lot of space and the area must be accordingly picked. There must be a kind of compatibility between the appliances which will help in keeping up the outdoor kitchen appeal. Also, the grill would need space on both the sides to the arrangement must be done in a way that it looks complete and not a haphazard arrangement.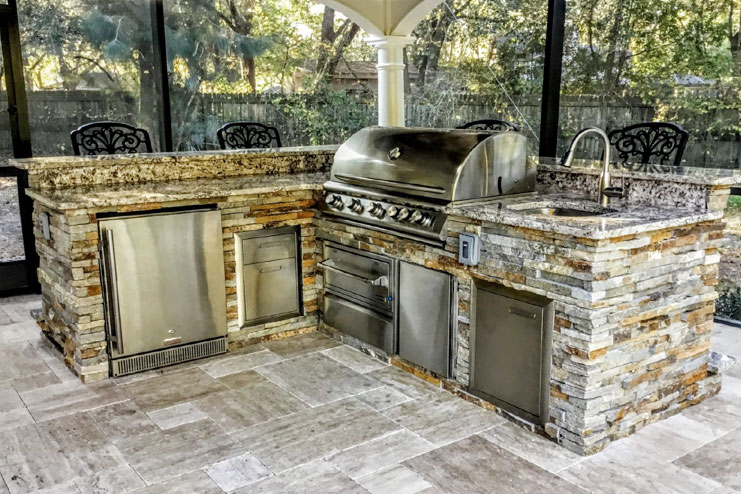 4. Durable Materials Must Be Picked:
Materials like tile, stucco, stone or slate must be picked for an outdoor kitchen as they are more durable and also appealing. The hardware and countertop must be such that it is all weather and resistant even in outside conditions. The weight must be balanced so that the kitchen is able to hold it all perfectly
5. Remember Storage Is Important:
Outdoor kitchen must have adequate storage space and cabinets must be spacious which enable decluttering. Add more and more contemporary hues by picking stone with steel match.
Share ahead and keep writing us, we love hearing from you!
Furthur More Articles to Read: