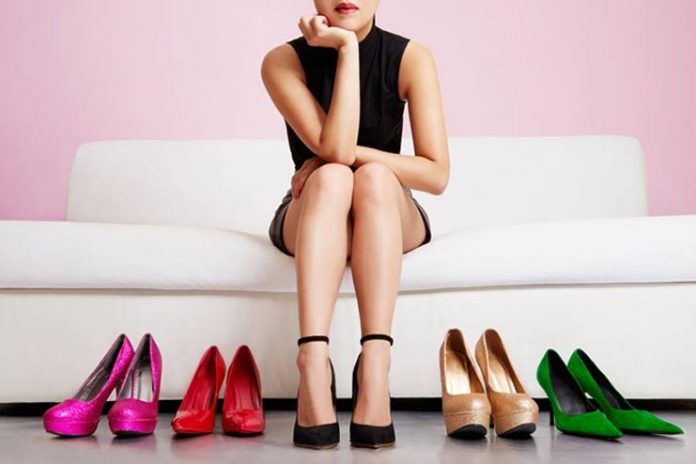 Most women adore heels that slide into their feet. Do you think carrying off heels is everyone's cup of tea? May be a yes or may be a no. Having said, it certainly looks classy. Has it struck you ever about how comprehensive is the fashion on heels and has it ever taken your interest?
Types of high heels are distinctive and of various kinds to try on. Majority of the woman love wearing high heels because it makes them a fashionista and a woman can strike a pose with her heels. Between, your footwear speaks
volumes of how you carry yourself.
This article does not make you buckle down on getting a clue of the types of heels looking for it everywhere as you will get it all on a scroll.
Types Of Heels To Wear On And Parade With!
It is a thumb rule in the world of fashion that one must always be aware of the right kind of footwear to wear based on the dress, occasion, body type and what suits your personality on a whole.
Picking up heels is not like you just quickly pick up vegetables to cook or pluck flowers from the garden, there is a lot of thought that goes into selecting good heels.
The basic idea of thinking on wearing perfect heels is for it to suit your feet well.
Heels are sexy to step on to!
Things You Should Know About Heels
Whether you want to walk on grass or on marble floor, it is important to get a check of the following things :
You do not want to be embarrassed for having your heels break while you are at an occasion. To avoid this, make sure to take a good walk
Be sure that you can balance your weight on the heel. To check on that, put your feet on something high and try to balance yourself
One of the knacks to keep your heels long lasting is to avoid walking with it all the time. Instead, sit for a while when you have worn them
Make sure you get used to your foot wear. Initially, to get adjusted to your footwear you need to wear them for an hour or two walk with around with them and then observe where is it that it is hurting you and if you can put on a foot cushion till you get used to it
Keep your body straight when you are walking with heels and especially see to it that you keep your legs straight
Go for heels that have a gripped base. Avoid wearing heels without a grip
In the beginning do not start of with too high heels. Start with low heels, then try medium heels and when you are confident about carrying yourself then go for high heels
Type No 1 – Slender Trainer Heels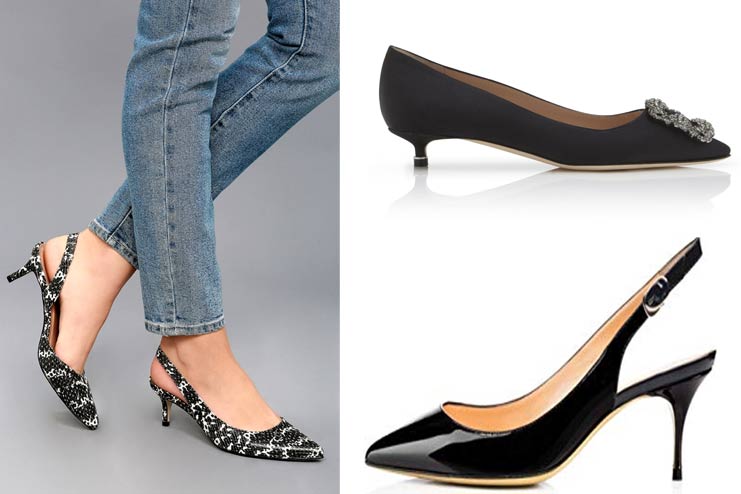 Trainer heels are also known as Kitten heels, you can walk around with them on your trousers, skirts, gowns and frocks. Audrey Hepburn and Hillary Clinton were the diva's who set the trend and from there on it picked up, it is an ancient heels loved to be worn in the modern time. Kitten heels are a great way to begin with.
Specifications:
Not an extremely high heel
It is broad from the front and it narrows down towards the heels
Buy it here:
Type No 2: Opera High Heels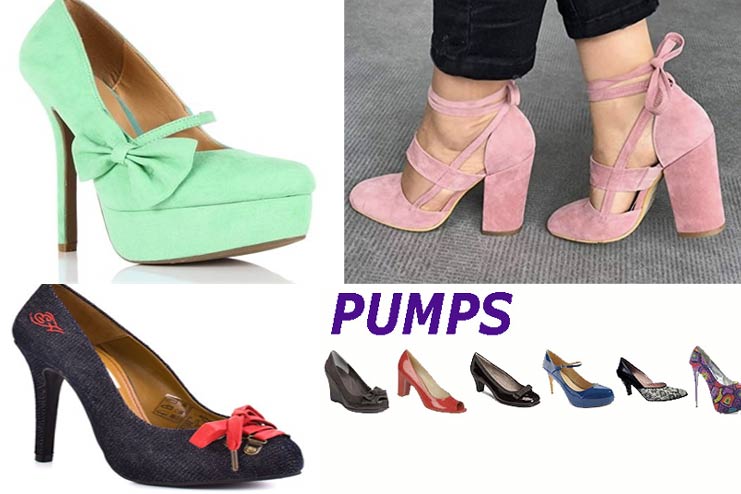 Opera high heels are also known as pumps that look lovely on straight cut, A-line dresses and mini's. They are made for all the happening eve's. This is inspired from the British and Scottish culture. These look pumped up the most on a velvet fabric.
Specifications :
It's low cut in the front
Pumps are close toe heels
Buy it here:
Type No 3: Steeper Stiletto Heels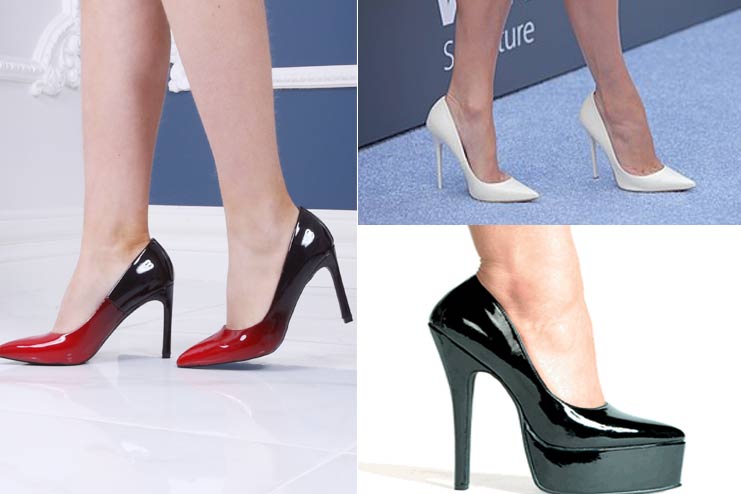 Stiletto got its roots from the Persian and Italian culture, these are also known as slim heels. Stiletto display their grace when worn with short dresses and for that matter, they look mod although it started of the way back.
Specifications :
They are steep
Not for beginners
They are long and thin
Buy it here:
Type No 4 – Holder Heels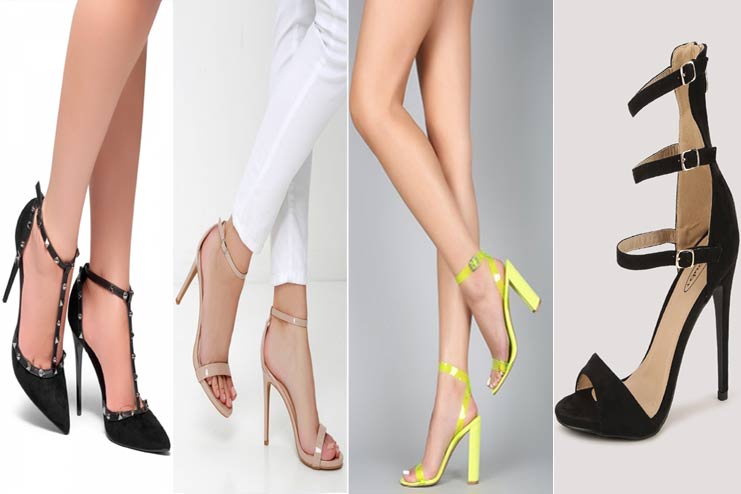 The other name of holder heels is strap heels. Ideal heels to lock your ankle and hop on. Ankle straps have always been there, it would never go out of fashion. It will always be permanent in the fashion era. Straps can be there in all types of heels. It is time consuming but it is worth the time.
Specifications:
There are no definite specifications about strap heels. The only difference is with the width and design in straps.
Type No 5 – High Platform Heels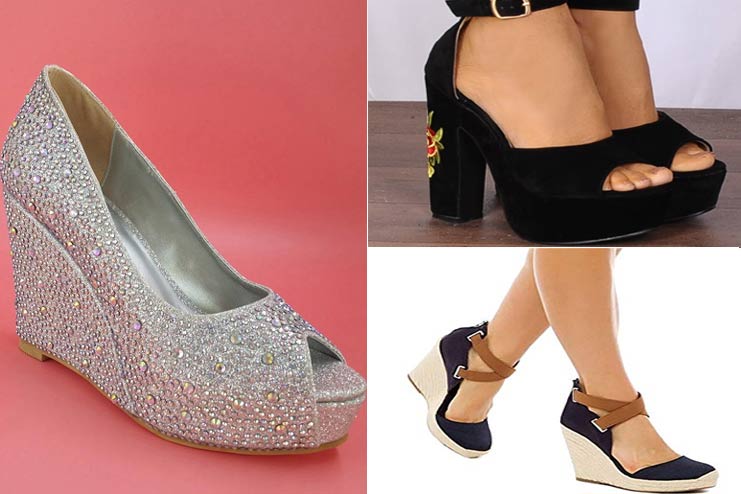 High Platform heels are also known as wedges. They are broad and easy to walk with. This is an inspiration from the Italian trend. Wedges go well with formal as well as informal attires and they keep your feet cosy and comfortable.
Specifications:
Wedges have a thick heel
The design in the front brings all the toes together
There are different ranges of wedges such as strapped wedges and close toe wedges
The base of the heel is common for the entire foot
Buy it here :
Type No 6 – Triangle Heels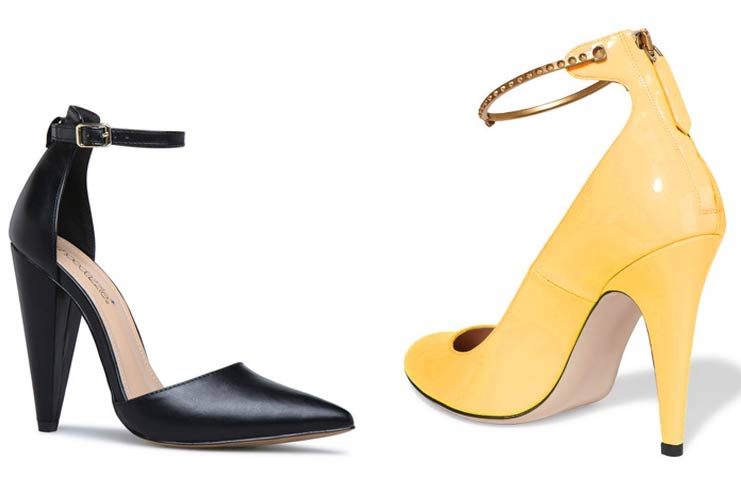 Triangle heels are also known as cone heels and they are charming like a cone at your heels. These are similar to that of a stiletto but these can be carried off more easily as the heels are broader. As the name suggests, the heels of the cone heels are just like that of an ice cream.
Specifications:
It is comfortable at the sole as well as the heel
Buy it here :
Type No 7 – High Platform Heels
These heels are higher than the ball of the foot. Platform shoes got its fame from Venice and it is a trademark of the European women. Despite these heels being high, your sole will still be at ease because the base of this footwear is strong and thick.
Specifications :
Your entire feet and sole are comfortable because the heel and the sole are on one platform, there is no distinction in the position of your leg.
Where to buy :
Type No 8 – Ancient Peep Toe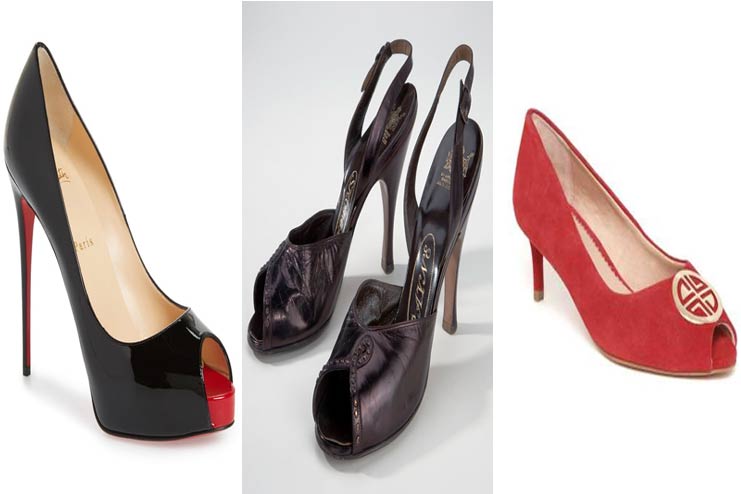 Peep toes were existing since 1940. In this type of a footwear your feet is slightly or completely covered and the area at your toes display, one of the knack to make your toes look pretty is by applying a pretty nail polish.
In ancient peep toe footwear, you get heels as well as flats. Try on footwear that gathers your interest. Be it a heels or flats.
Specifications :
The only specification here is, the comfort you will achieve is assured and it will be easy for you to walk with it because your feet will be well covered.
Where to buy :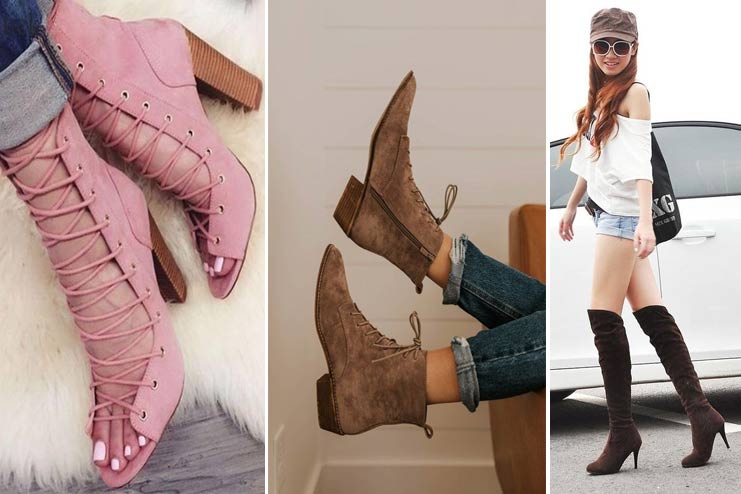 Boots is one of the smartest footwear! Be it Rihanna or Miley Cirus, observe how sassy and stunning they look with a pair of boots.
One cannot turn away from not having a pair of boots because they are mufti-functional and can be worn on short as well as jeans. Pair them up with whatever you love! Be it ankle or full boots they are in shipshape and Bristol fashion when you look at how much in trend they are.
Specifications :
Boots can be worn at any season of the year. They give you the best feeling and look when it is snowing in the winters.
Where to buy :
Type No 10 : Flairy Spool Heels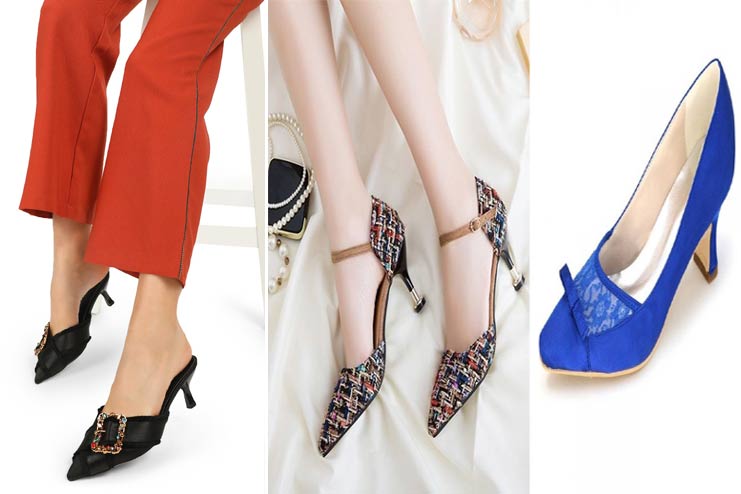 Spool Heels precisely looks like a cotton reel and is in the shape of an hour glass. On the foot this type of footwear looks completely flaired.
Their charm does not fade away be it on a formal or informal attire. You can explore on spool heels, they look great when worn as a small heel or a big heel. See to it that the back of your foot is not going out of the sole of the footwear.
If you want to consider a comfortable footwear for office use then this is the one without second thoughts.
Specifications :
These footwear give your feet the right platform to balance on and they come in various kinds, you can go for embellished footwear or even plain colored foot wear for that matter.
Where to buy it :
Type No 11 : The Rome Fashion – Mules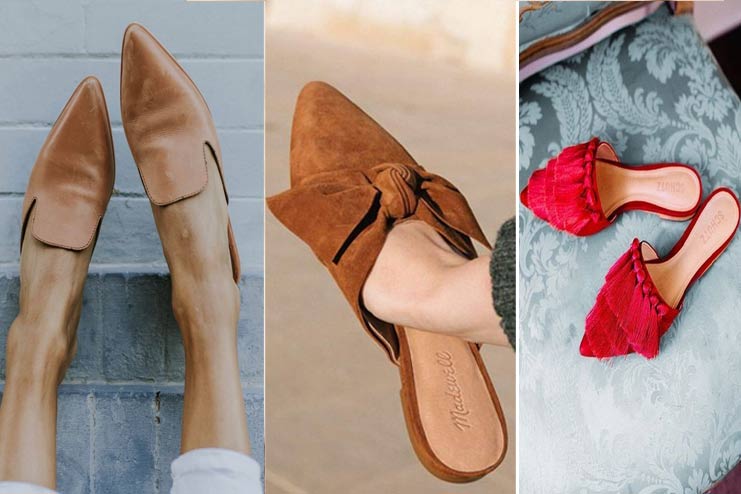 When you just want to slip into and out of your footwear you should consider Mules. Mules is a type of a footwear that does not have a strap to hook to the back of your feet.
Mules look their best on trousers, skirts and gowns. They do not look very great on jeans and shorts. Opt to wear them for casual occasions.
Specifications :
Mules protect your toes and you get a grip on your sole to walk with these footwear because of the way it is designed.
Where to buy it :
Type No 12 : Perfect Corky Heels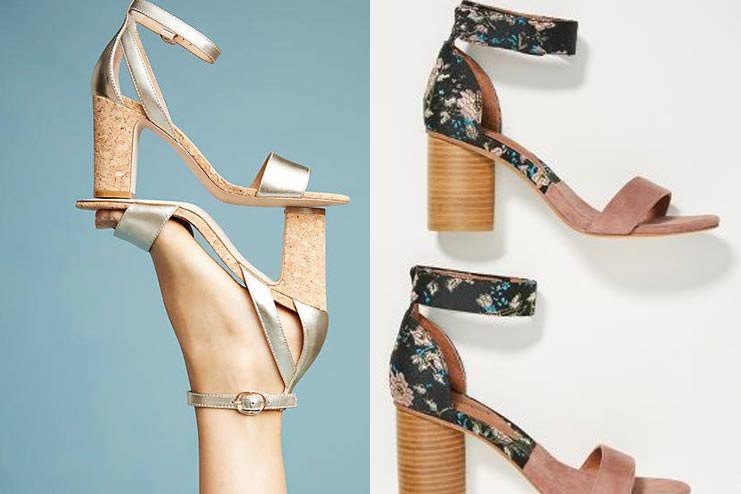 Corky heels are distinctive and they look impressive because of the material they are made of. Its consoling to the foot for an obvious reason that it will not make your feet feel heavy or difficult to walk with. It gives the sole of your feet a cosy base.
Get into a pair of these for work or when you want to hang out at place with your friends.
Specifications :
The material with which it is made it the best part about this footwear.
Where to buy it :
Type No 13 : Curved Comma Heels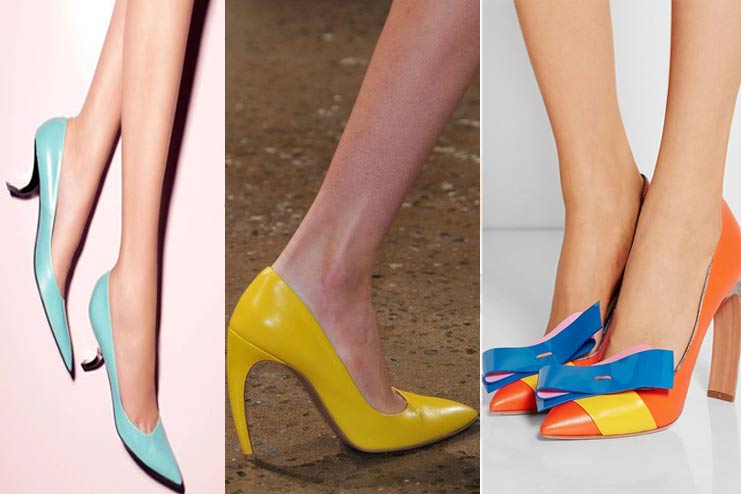 Comma heels are peculiar in terms of how the heel is designed. The shape of the heel looks cute because it is unlike the other heels. Comma heels can be worn on any kind of attire, it is just a new style of heel. What you have to check with is if you are able to carry them well.
Specifications :
The shape of the heel is either in the form of an 'in comma' or 'out comma'
Where to buy it :
Type No 14: Fluffy Flip Flop Heels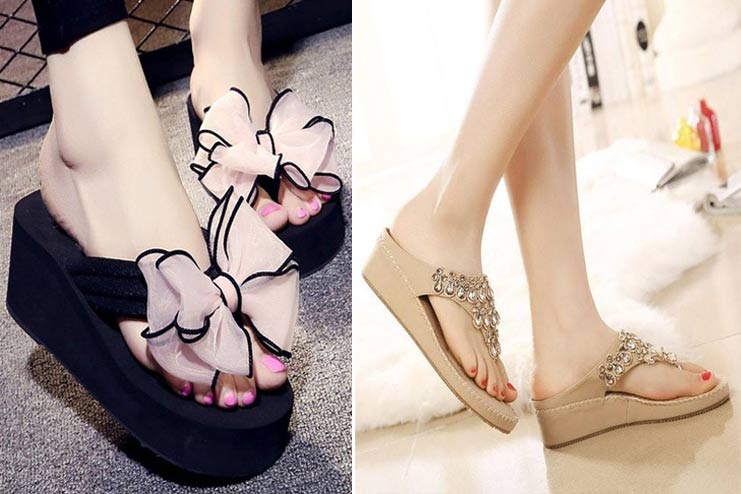 Flip flop is basically a slipper footwear that is either completely flat or it is a slightly high heel, this footwear is either made of plastic, rubber or crochet.
To be on mark with wearing flip flops you should always wear them casually or for an informal occasion. They would not quite suit your formal trousers and shirt. On the contrary , they would look fabulous with your floral short skirts.
You can get colorful flip flops and they are so comfortable that you can stroll around with them at home as well.
Specifications :
Flip flops are creative and well designed slippers.
Where to buy it :
Type No 15 : Jelly Heels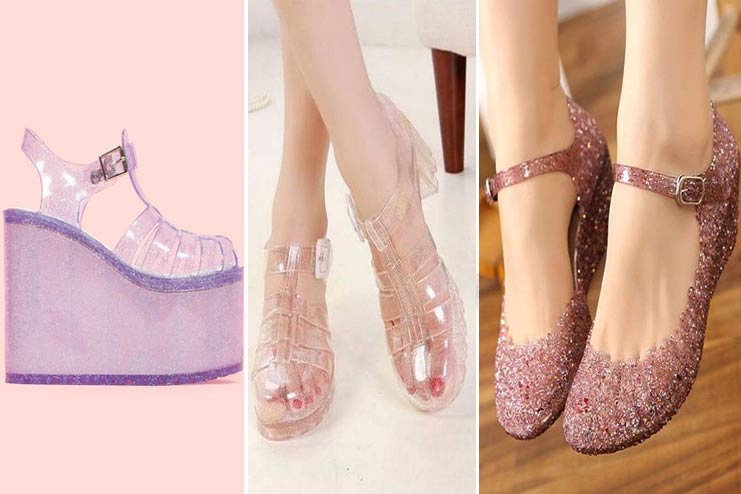 Jelly heels make your feet look fragile an attractive, it portrays an absolute feminine look, if you love sprinkles of shine, shimmer and glitter on your footwear then this is the one for you.
These heels can be washed easily and they are quite durable. They go well on skirts and gowns when compared to jeans. Do not wear them if you are dressed in formals, they will look completely odd.
Specifications :
It is a light weight footwear and you will barely feel like you have even worn a footwear.
It is made of PVC plastic
Where to buy it :
Type No 16 : Bulky Chunky Heels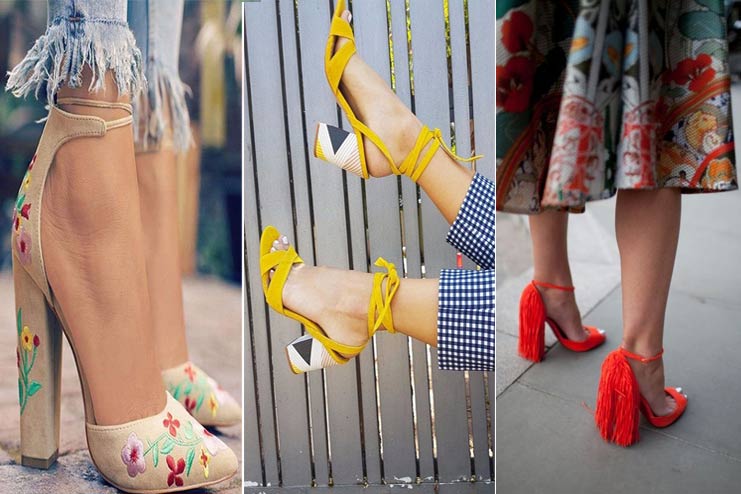 Chunky heels reverse stiletto's, its like shooting fish in a barrel to walk with chunky heels as they are not like stiletto's and even a lady who is not a pro with managing heels can walk the town with chunky heels.
Specifications :
It is a thick and broad heel. Chunky heels come on different kind of heels such as boots, strap heels etc.
Where to buy it :
Heels are one of the elements in footwear fashion that would never shed away in time as well. It will be a classic style for years and decades from now.
Heels are inspired from different culture's and there is an idea behind how every footwear is designed. To wear heels is different from how they make you look superb when you walk with them. Surprisingly, wearing heels can help in toning your calf muscles.