Valentine's day is just around the corner and all your plans must be already taking shape. Your chance to show to your beloved how important he or she means to you and how special this day celebrating love means for you. So to add charm and glory to your Valentine's day we have a wonderful compilation on Valentine's day hair styles to make you look stunning. Add some love and spark up your look with these stunning hairstyles for valentine's day. For a wonderful hair style speaks a lot more about love than anything else. And when your sweetheart is there, and it is all about love then why not jazz up your otherwise monotonous hair and do something playful and fun with it.
Tips on hairstyles for valentine's day:
When it comes to styling we leave no stone unturned and when it comes to valentines day we have to have everything just stunning and perfect. But hairstyle
 for valentines day is just not simple. It is not the routine decision we make for our hair to stay either braided, looped or let down. Our entire persona and grace will be more about our hairstyle than anything else on this day celebrating love. So check out a few tips on Valentines day hairstyles:
Do not show up in a messy and untidy hairstyle thinking you are your natural self
It is important to put effort into your valentine day hairstyle
Do not pick a random hairstyle but the one which will suit your personality well
Give time for your hairstyle too and do not rush it
Don't pick any hairstyle where you are stuck for hours just in building the hair up and you turn up late for your beloved
Your hair and dress must match with the environment you are in for perfect appeal
Best Valentine's day hairstyles:
Be it the romantic hairstyle for valentine's day or the funky cool hairstyle, every bit of the preparation adds up to making this day wonderful and memorable. The more you pamper and spruce up yourself the more impact it will have on your beloved. And who said Valentine's day hair styles are just to show, no they are for making you feel special and valued too. When you dress up and style yourself you actually feel good about your own self which is what makes you special. So bring on your charismatic style with these hairstyles for girls that can take you a long way in your relationship:
1- Love Bun: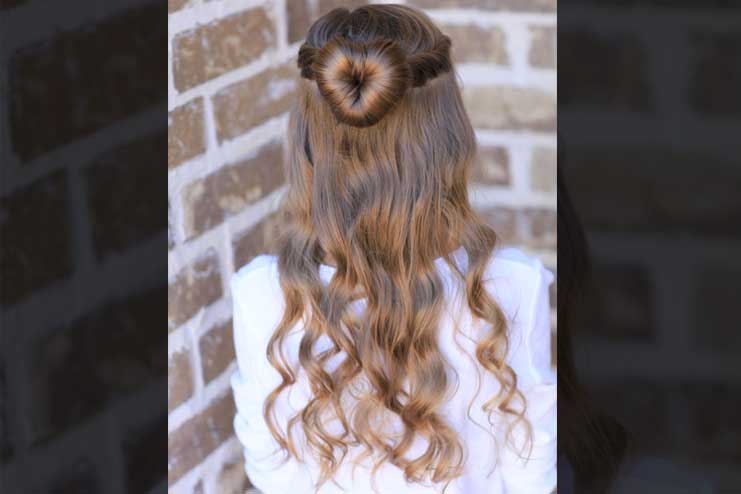 A simple and stunning romantic valentine's day hairstyle which goes a long way to impress everyone around. Just the right amount of hair falling down and the remaining adding upto a heart shaped bun which is appealing and also mesmerizing
2- Twisted heart braids: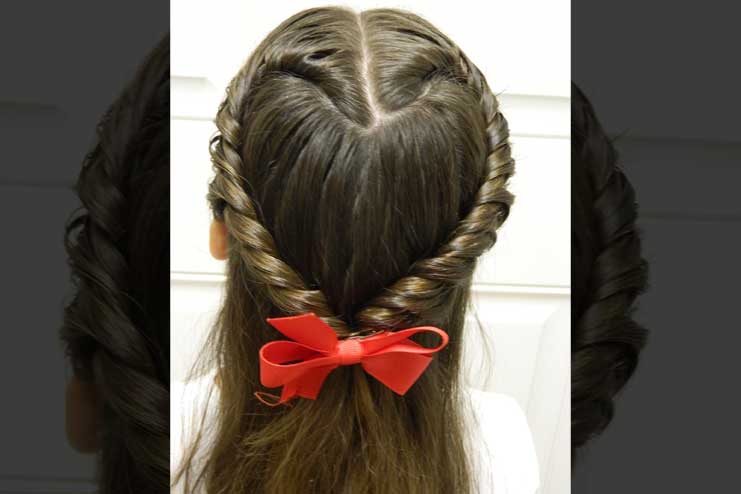 Another heart shaped delight with two braids adding upto the heart shaped structure on your hair. Adorn with a red bow and be assured this is the highlight style for your special evening for valentine's day
3- Double braided hearts: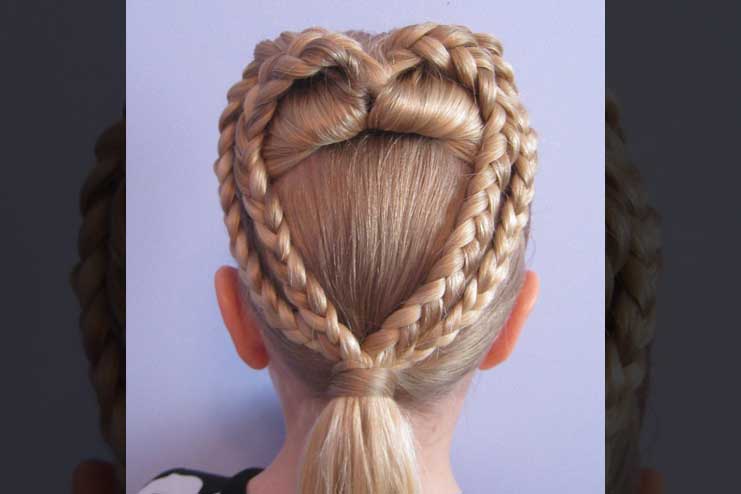 Time to get something serious and stunning, with this double braided heart adding upto a ponytail which makes it all the more mysterious and interesting. These double braided hearts are the true delightful hairstyle for valentine's day for any teen and college student
4- Open heart bun: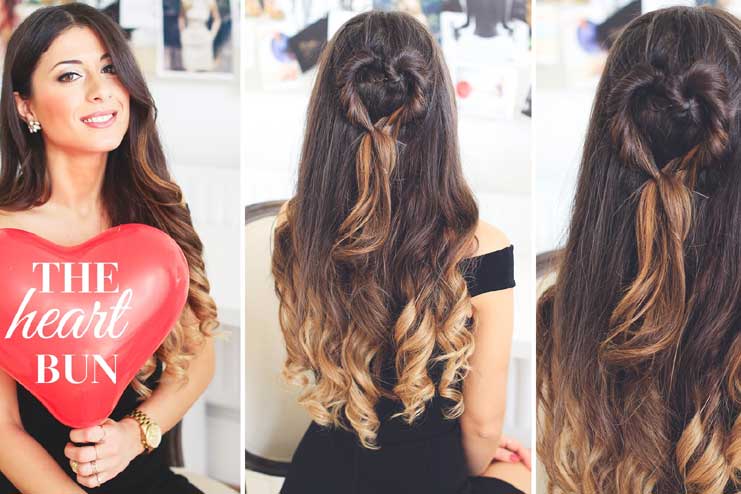 Now this shows how cute and messed is your love for him, and in all right ways. Love is not easy but love definitely makes you do things you never dreamt of doing ever. So the hairstyle where you show off your rich colors from hair tails and the heart made as stunning as possible, holding your feelings tight
5- Rope braided heart: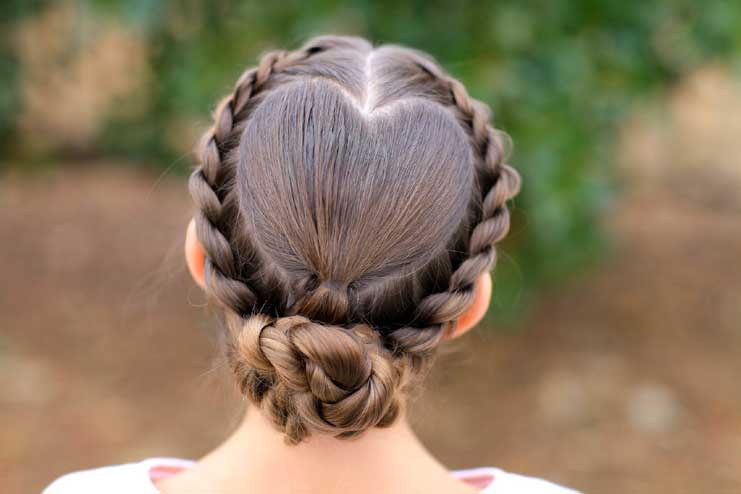 For all things beauty and all things bright this heart is just right. Well! We said that DIY Valentine;s day hairstyles can get charming and elegant too. Look at this neatly done style for your hair which speaks love, love and pure love. The precision to make this hairstyle goes all about the love you feel for your sweetheart and thus makes you want to be loved over and over
6- Half up heart bun: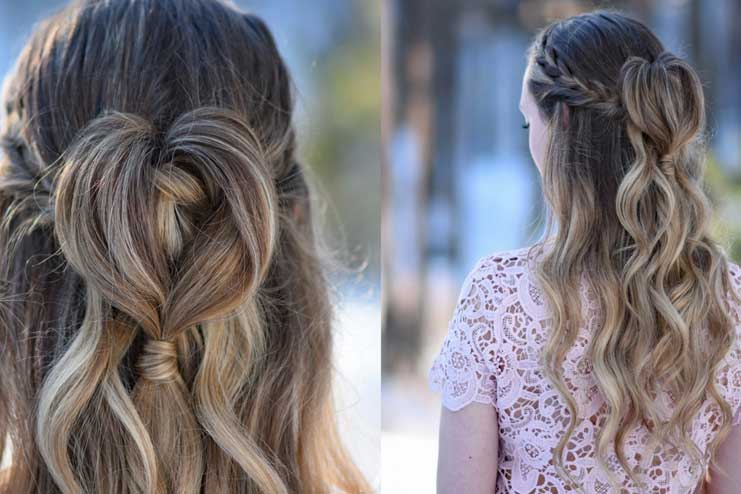 The messy and yet endearing look for your valentines day hairstyle is right here. With cute braids and some falling down hair it makes for a great style when you plan for beach or outdoor fun for the valentine day celebration
7- Spiral French braid with puff: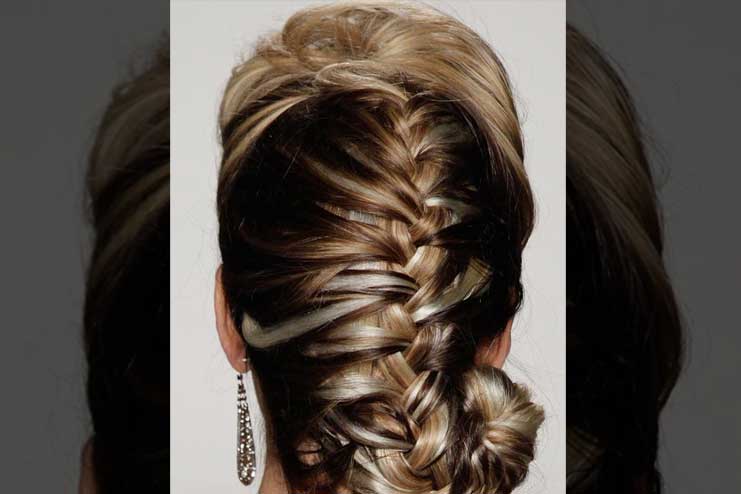 Oh this stunning hairstyle kills it already. So neat braids and curling inside for that mystic look. This is your perfect celebration for love, with this charming and delightful style your beloved would get enchanted with
8- Heart braid with hair color: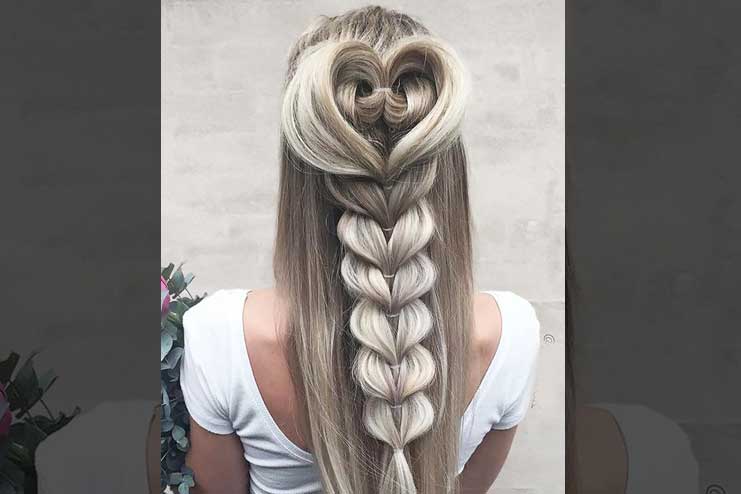 Whe Kim Kardashian adorns a white silver hair color, the world must follow so this years Valentines day is all about white. This cute heart braid hairstyle for valentine's day is all about the right appeal and impact. Make a huge heart and small hearts to follow on this half braid hair down.
9- Unicorn braids: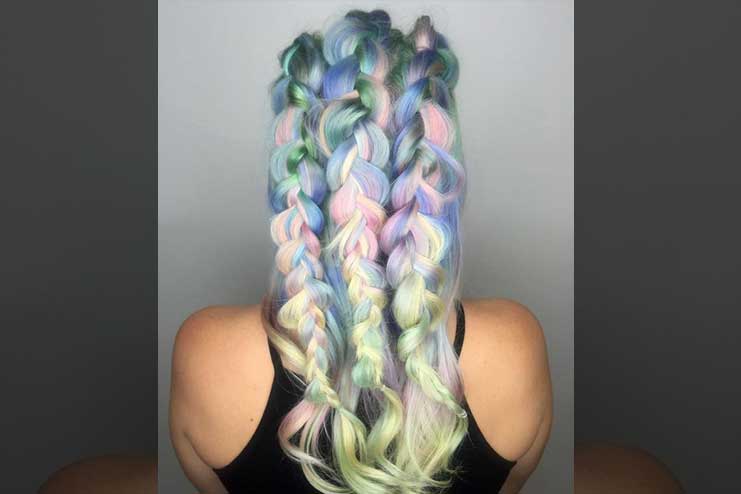 Now its time for some cool valentine;s day hairstyles which are not just stunning but eye catchy too. So color your hair all unicorn and make three braids with some hair left to let down, giving a scintillating appeal
10- Lace crown braid hair: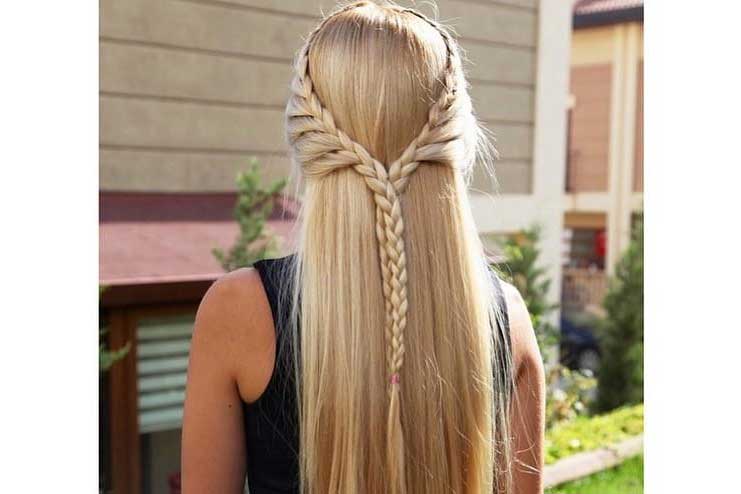 Another hearty and appealing adornment for your valentine's day hair style with this lacy crown braid. Bring like mermaid braids from both the sides and add upto a single braid coming from both the sides and let it stay to make a heart shaped image on top. A lovely romantic hairstyle for valentine's day
11- Messy bun: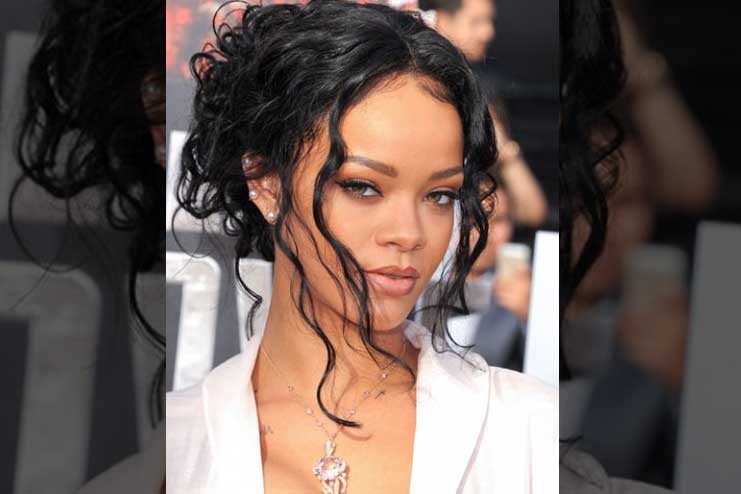 A look at Rihanna and we cans wear how impact creating this can be. Messy bun and the right amount of hair coming on face which adds to mystery and fun. Keep the hair down with reverse brushing to give that voluminous look
12- French and mermaid touch: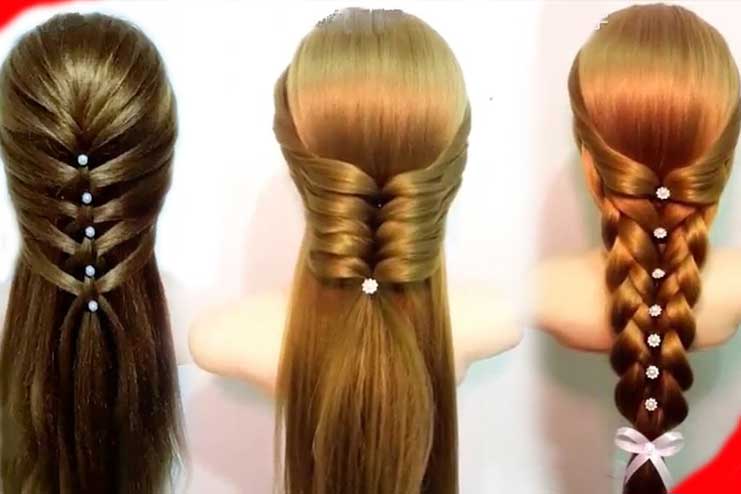 Pick any of these neatly done hairstyles for valentines day, and see how romantic a hairstyle an make your date. These adornments of beads and pearls are the mystic factor making you look vivacious and vibrant
13- Waterfall raids: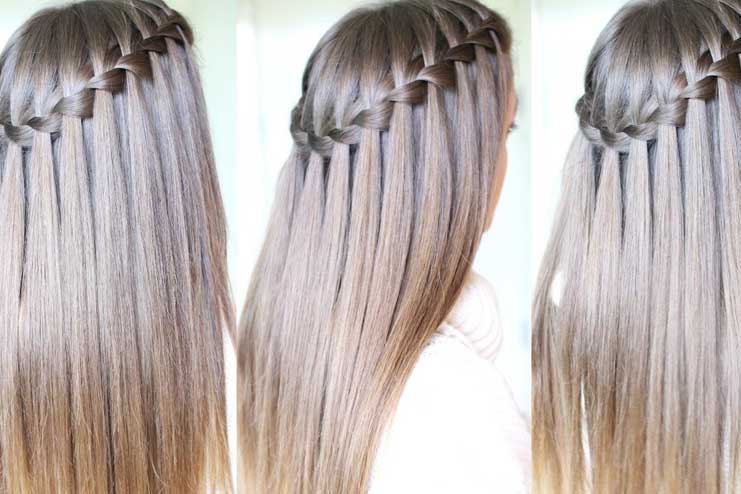 A sensational valentine's day hairstyle to make your day all the more passionate and romantic. This hairstyle speaks volumes about your love and intimacy, a mere look at it and we are swooning over celebrating valentines with our sweetheart already
14- Braids and ponytail: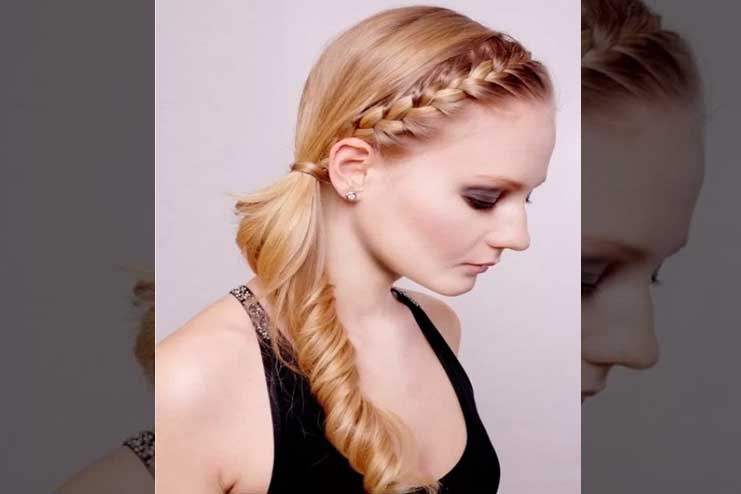 A simple braid with ponytail is an evergreen and easy picked hairstyle for your valentines day celebration. Cute adornment for teens and college kids with addition of some hair accessories you can jazz up your look
15- Waves and locks: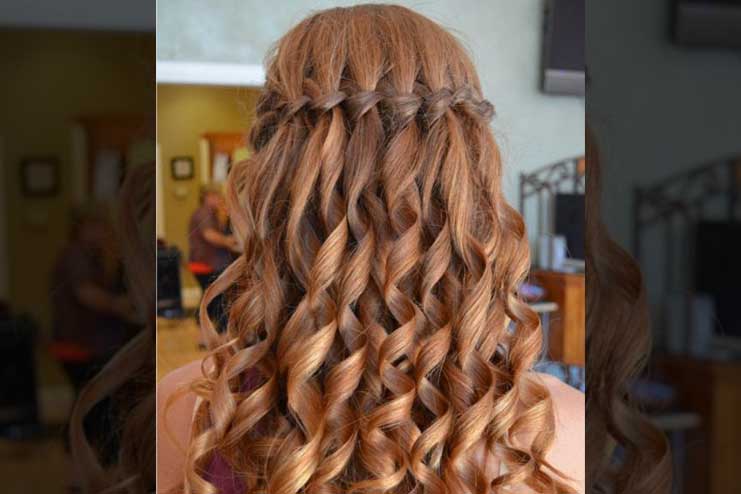 A cute combination of mystery and charm where locks are opening down to waves where in it gives an enchanting appeal. Make a waterfall braid hairstyle and curl the hair down such that they give wavered appeal. Stunning addition to your valentine's day hair style
16- Voluminous curls: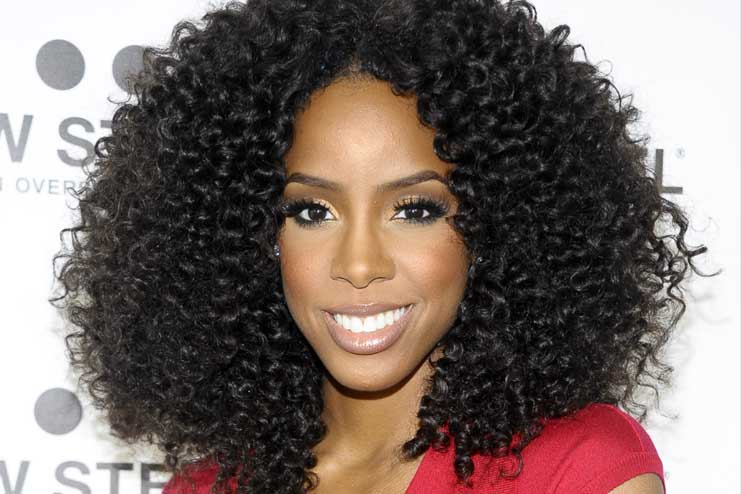 Get flirty with voluminous curls for that passionate look you can carry on this valentines day. Yes this hairstyle for valentines day is a go-getter and spirited one which any teen or pre-adult would look stunning in.
17- French with a twist hairstyle for valentines day: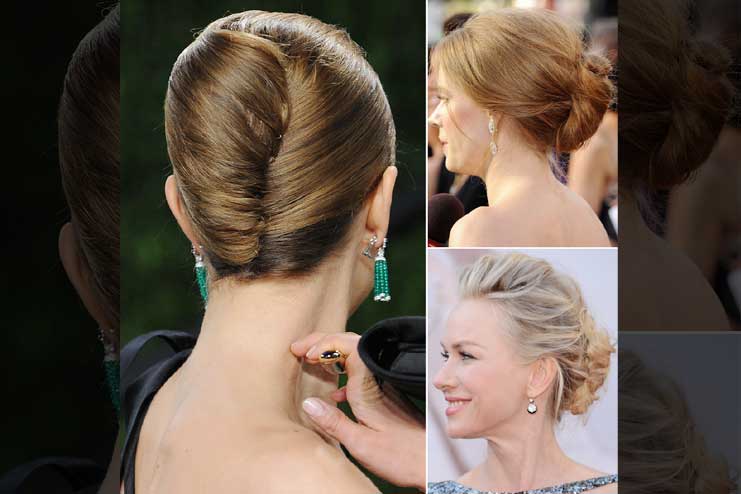 Wondering how to make a strong impact with a french bun well twist it to suit you. A classic and luxurious look for your date night on valentines at a spunky restaurant.
18- Hair bubbles: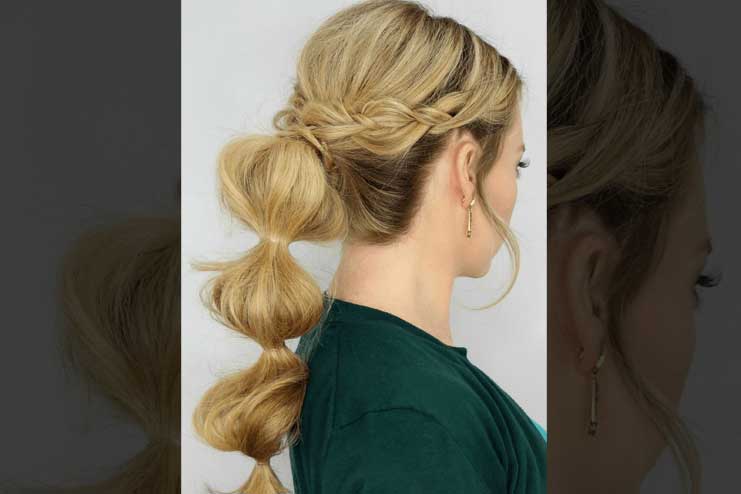 Get enigmatic with these hair bubbles on this valentine's day and twist your routine ponytail look with grace ans style. Impress your beloved and look stunning at the same time
19- Old Hollywood waves from Marilyn Monroe: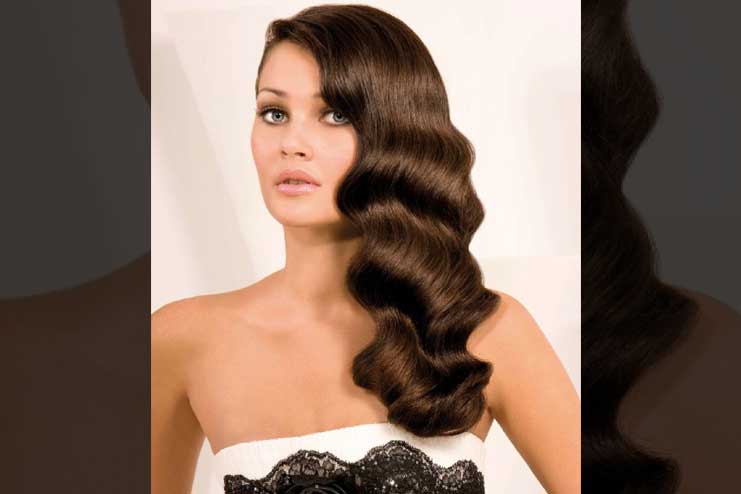 What is grace and elegance without that old Monroe hair style for valentines day. For an evening planned for a huge extravaganza or gathering this is great with your gown , SO get vintage and get classic with your favorite celebrity hairstyle from golden era
20- Roses and petals braids: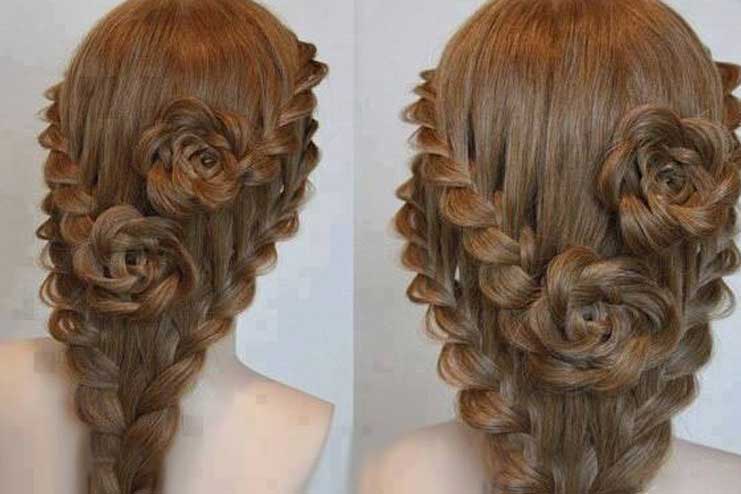 A floral hairstyle for valentines day is simply just wonderful for your big date night. Be sure to give ample time into making this hairdo possible for it may take a good time of the day. Long hair braids(http://www.hergamut.com/braids-for-long-hair/) are a thing and we must keep them special for valentines.
Valentine's day hairstyles for girls under 10:
What to do in terms valentines day hairstyle for girls or school girls I must say. Well! We have some stunning and charming details on how to make those cute little locks vibrant and stunning with simple yet appealing hair do. Check out some popular and incredible DIY Valentine's day hairstyles for girls:
1- Braids and hair fall: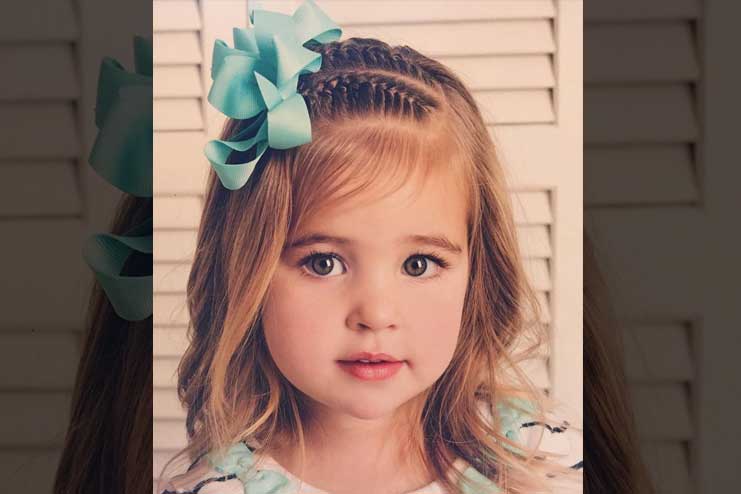 A charming bow adorning the right braids and hair for this cute little girl. Neatly done french braids look amazing and stunning on her locking at mid length and the remaining hair side parted and falling down
2- Reverse waterfall braid and ponytail: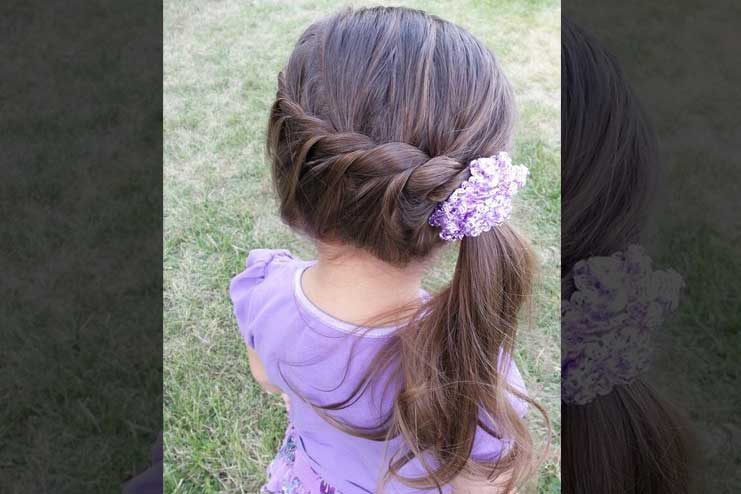 A sweet and charming hairstyle for cute little girls with perfect braid and pony tail blend, amazing for their valentines day celebration at school
3- Bow and hair down: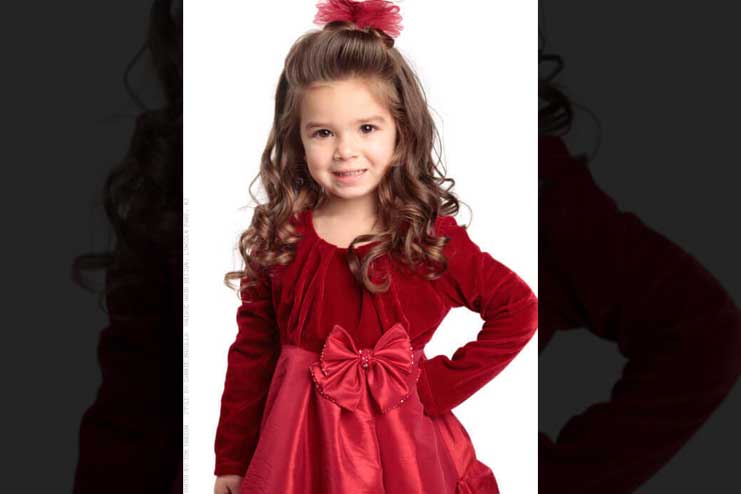 A centrally placed bow and hair curled and let down is just the most endearing hairstyle for valentines celebration at school
4- Twisted bun for little girl: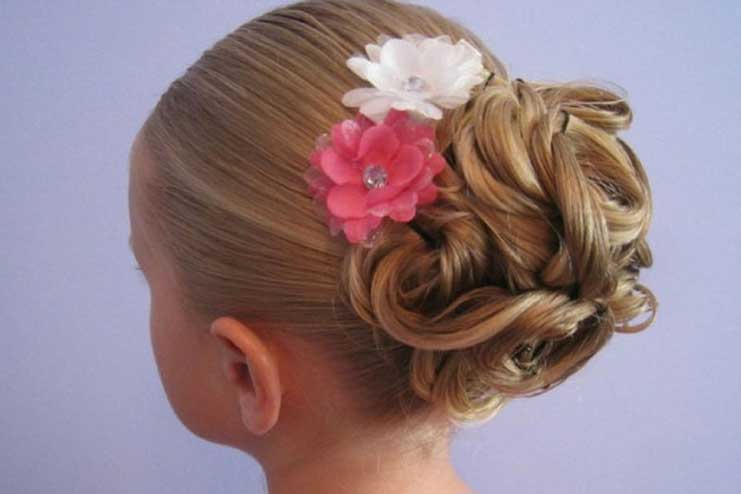 Yet another cool and lovely hairstyle which is no mess and stays intact all day. Specially for the party at school where the kids would be kids and this hairstyle would stay as is.
5- The regal: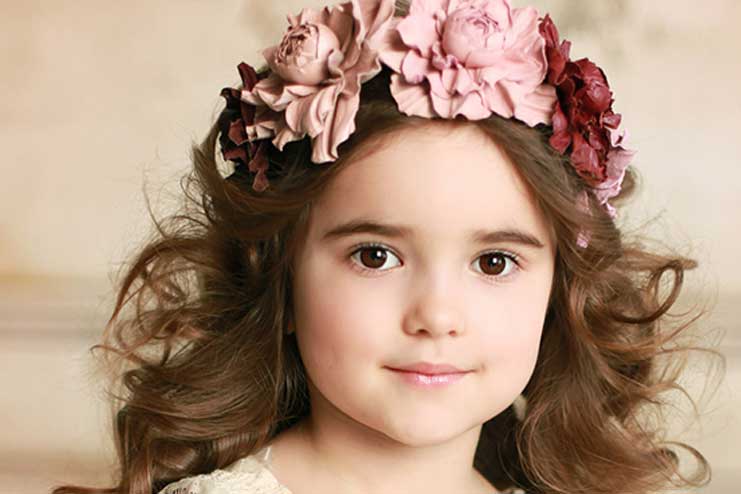 Valentine's day hairstyle for school girls takes a royal touch here with. This beautiful hair style is all about royalty and charm. With stunning floral wreath on top and messy hair let down it is the perfect hair style for valentines day party at school
6- Mermaid braids: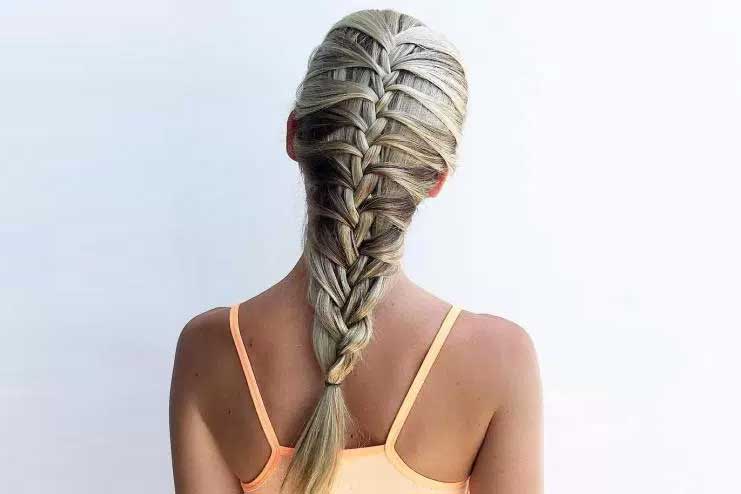 This hairstyle with mermaid braids is an evergreen pick for your little girl on this valentines day. Adorn with beads and pearls to look stunning
7- Reverse fish tail braids with bow: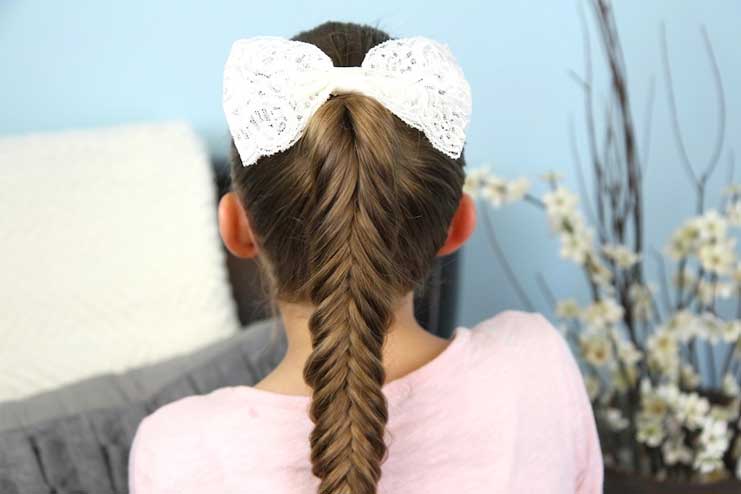 A wow factor gets added with this amazing hairstyle for valentines day at school. Your pretty princess would spill smile and shine all around with this cute and precise hairstyle.
8- Under the side pony braids: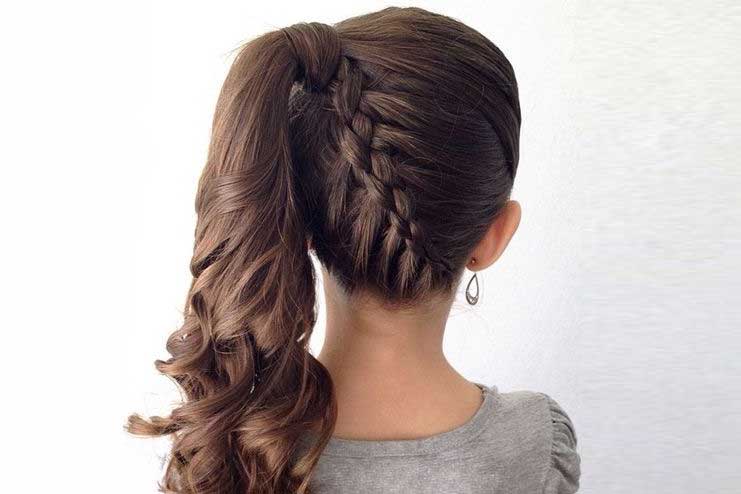 Here some fashion and style supplement for your little darling with this incredible hair style for valentines day celebration at school. Hair not too lose hair not too tight, a perfect celebration of love and friendship
9- Crisscross braids ending into ponytail: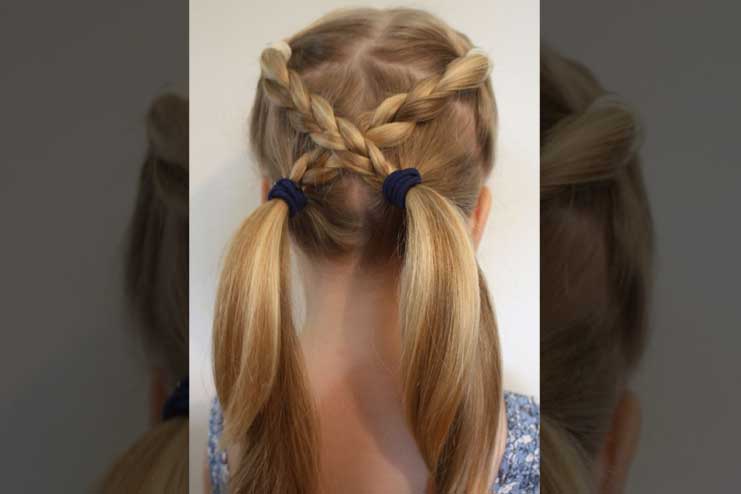 Here comes another beautiful adornment for your child's valentines day celebration at school. Braids criss crossed and make into a neat ponytail at both sides, keeping the style quotient high
10- Pinned french braids: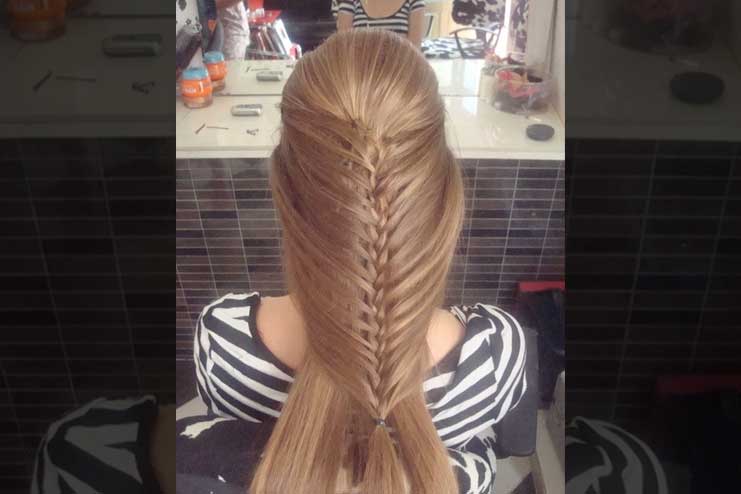 Hide that band and get this bun like appeal with pinned french braids, perfect for a valentines day hairstyle at school.
Remember! Valentine's day hair styles are just the beginning, you have to get set with your dress and gift too. So the sooner you chalk it out the relaxed you can be for the coming celebration of love.
Share ahead and keep writing us, we love hearing from you!