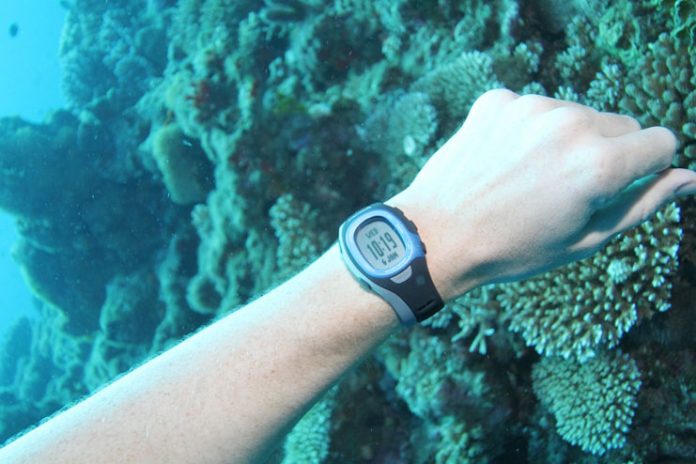 When it comes to fashion we wish for an all weather or just a weather appropriate essential wardrobe and accessory collection which keeps our style quotient high. And with summer just around the corner it is time to get set for summer fashion, specially for the pool and beach parties keeping up the fashion statement along with your style. Waterproof watches
 became popular with the summer time splash fun, as there is a need for wearing a watch which is not just waterproof but also keeps the style statement high. So we have a list of some of the best waterproof watches for women which are just too wonderful. These cute waterproof watches are simply marvelous and will help you enjoy uninterrupted splash fun keeping you aware of the time and looking stylish too.
How to select women's water resistant watch:
When it comes to picking a waterproof watch, there are a lot of points we need to consider. Specially as not all water resistant watches go deeper than a few meters. So for those looking for deep diving or deeper pools, you must check the permitted depth stated along with the waterproof watches. Some points to consider when buying ladies waterproof watches which are digital and handy, are:
1. Durability of the waterproof watch:
Specially a durable strap is of utmost importance, as the strap must be able to sustain in water for longer periods of time. Else the waterproof watch does not make any sense. Also the quality of the dial must be supreme and must look durable too. Also check reviews for the watch before purchasing, specially from the swimmers if possible
2. Waterproof Design:
The watch must be able to function underwater as it works outside water. Not all sports watches work well under water. So check the waterproof details of the watch and read the maximum depth it can sustain in water
3. Check For Timer And Other Record Details If Using For Athletic Purposes:
A timer which records every vital statistic which is of utmost importance, will make for the best waterproof watch. It must record run, laps and miles at least and must include a timer to help gauge your progress on a daily, weekly and monthly basis.
4. Easy To Read:
The waterproof watch must be easy to read even when in water. It is thus better to check videos online to see if the watch is easy to read and shows right amount of details accurately at all times.
5. Cost of the Waterproof Watch:
The cost is an aspect which makes all the difference. Why paying heavily when the same or rather better quality can be obtained at a reasonable price. So we have compiled a list of best waterproof watches keeping in mind all of these aspects
6. Water Resistant Does Not Mean Waterproof:
Beware as water resistant and water proof are two separate things. Based on ATM ratings or atmosphere ratings some of the waterproof watches are:
3ATM or upto 30 meter or 100 feet specially for everyday use while washing or even in rain
5ATM or upto 50 meters or 165 feet under water: good for showering bathing or short period of swimming. Not for diving or snorkeling.
10 ATM or 100 meters or 330 feet under water: good for swimming and snorkeling
20 ATM or 200 meter or 660 feet: for high impact water sports and also recreational diving.
Divers watch is for upto 250-300 meters or 660- feet under water. Specially designed for scuba diving and is probably this water resistant watch is closest to a waterproof watch.
Best waterproof watches for women which are irresistible:
So to help you buy the most stunning waterproof watch which is high on style and supreme on quality we have a list below. This will help you keep up the elegance and sophistication high even while you splash:
1. Armitron sport 45/7012 digital chronograph watch: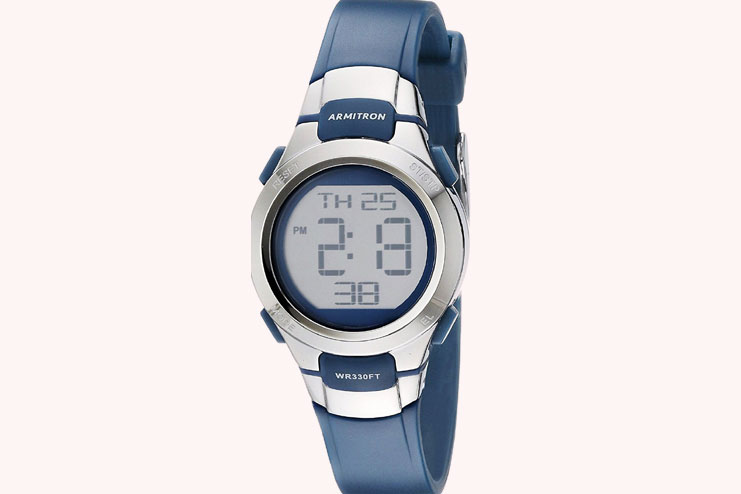 Armitron is a name which shines above and beyond all when it comes to digital watches which are waterproof. Resin band giving utmost style and quality also chronograph, dual time and backlight functions adding up to its quality.The sleek design accentuated by polished top ring and tonal pushers amazing for swimming and snorkelling but not deep diving. A 10 year battery life making it truly the most sought after of the waterproof watches.
2. Casio Women's Stainless Steel Digital Watch: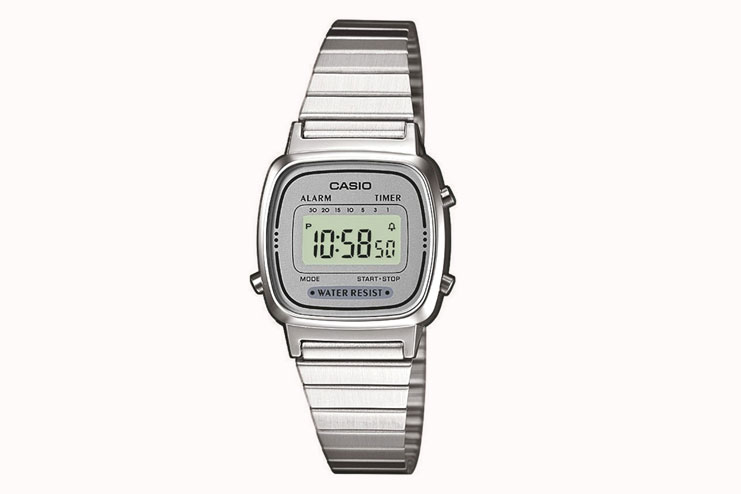 A stunning watch which is water resistant upto 100 meter in water. Styled with a bi-directional bezel, round dial and 33mm resin case with mineral dial window making it elegant and perfect for athletic women. It is suitable for swimming and snorkeling but not scuba diving
3. Marathon by Timex: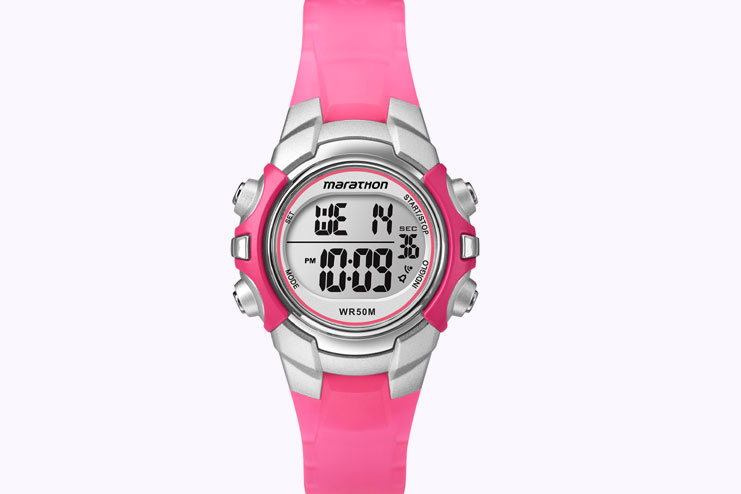 This waterproof watch offers dual time zones and quartz movement with digital display. Lightweight and durable resin case and strap with buckle closures. Water resistant upto 50 meter under water and suitable for recreational swimming but not snorkeling or scuba diving. Offering daily alarm, indiglo night light and its sporty design sustains splashes and dunk in water.
4. Tommy Hilfiger Women's Gold Plated watch: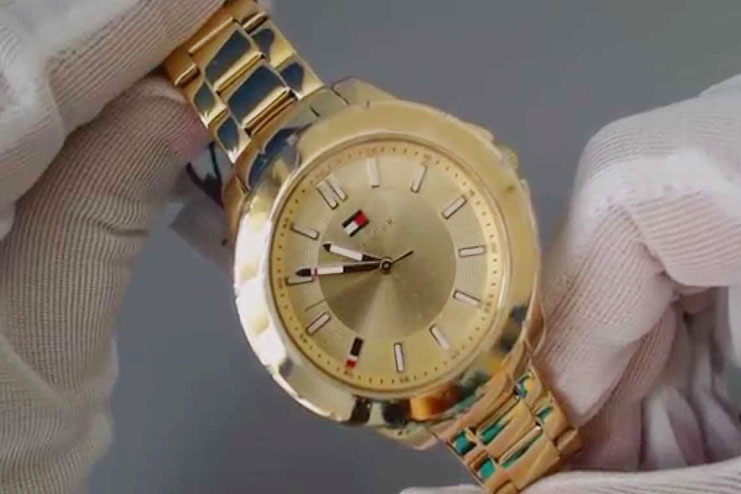 A rather stylish offering which may not be suitable for swimming but offers water resistance upto 30 meters. Probably the most stylish and fashionable product in waterproof watches category. Gold tone dial, quartz movement, analog display, number engraved bezel and Arabic number marks along with push button clasp is all about elegance and style.
5. Nixon bullet watch: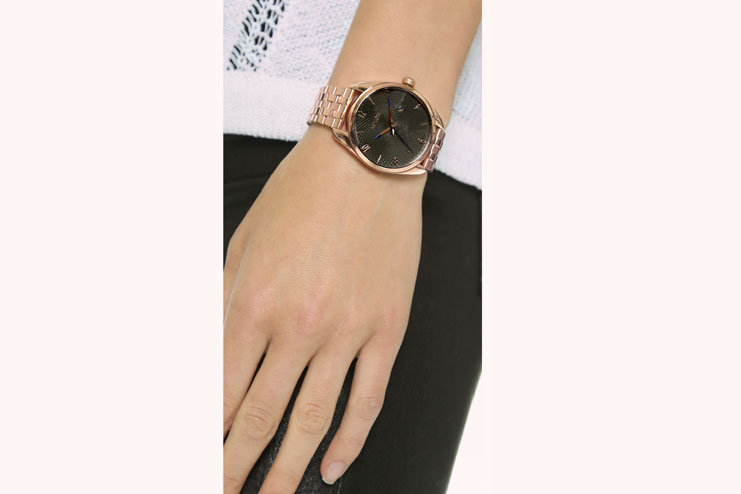 Upto 10 ATM, with 3 hand movement with applied indices and custom molded hands. Stunning with Japanese quartz movement with a date window at 3 o clock.
Share ahead and keep writing us, we love hearing from you!