Happens with most of us where we love using deodorants but our deodorants are not gelling well with us and affecting our skin and it happens for obvious reasons where our skin is either sensitive or there is a need to fix the deodorant. Have you ever felt like a damp squib when you bought deodorant and it did not suit you?
Not to worry at all, it is okay if it did not meet your expectations because there is an awesome alternate of switching over to aluminium deodorants instead of using what's a bothering factor for you at the moment.
In this article, you will get to understand of whether or not you are taking the right decision of using Aluminium deodorants. Besides this, you would also get an idea about a list of aluminium deodorants to use. You would love them!
Why Is Aluminium Deodorant Bad?
The general term aluminium is not bad for your skin because they are nothing but a metal that is naturally found and is being used in manufacturing a lot of things. Aluminium is not dangerous, it could probably have effects on the body(may be).
Not all deodorants have aluminium in it and aluminium is largely used in antiperspirants only. Antiperspirants are also sprays like deodorants, but they are not deodorants in the literal sense because there is a vast difference in the way an antiperspirant and deodorant works.
Antiperspirants stops the sweat
because of which there would never be body odour. Deodorants temporarily covers up the sweat and does not block the sweat pores. Therefore, if you are using a spray that has one of it's ingredients listed out as Aluminium salts then it is not the one you should be buying if you really want to stop using aluminum deodorants.
Reasons Why An Aluminium Deodorant Is Bad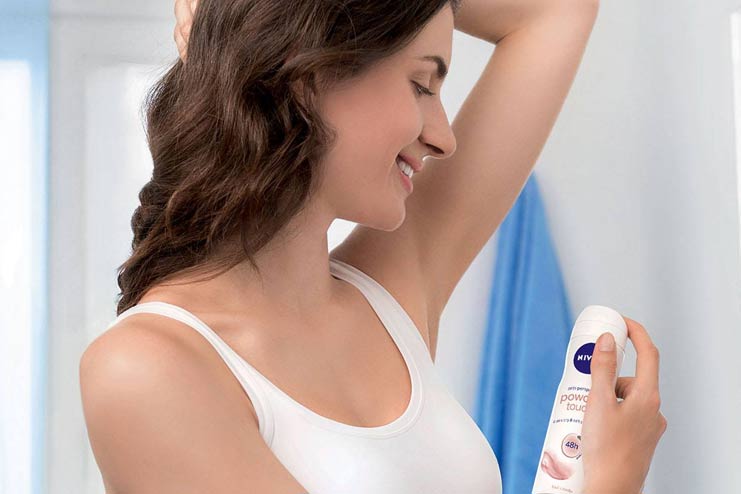 No 1 – You Are Prone To Suffer With Cancer
There were a lot of studies done and researchers try to find out if aluminium sprays are bad or not for the skin. At some point, there was a test done in a laboratory where rats were tested on whether or not aluminium is bad and they died. Since then, it has been understood that using an aluminium deodorants can put you into risks of getting cancer. Why not go for an aluminium free deodorant then?
No 2 – Likely To Get Alzheimer
It is not proved anywhere or after any study that aluminium definitely causes Alzheimer's but that possibility is existing. Having said, the analysis of one study proved that there could a risk of a person suffering with Alzheimer if you constantly used too much of Aluminium. As it is being termed as one of the reasons for causing a lot of diseases then the possibility could be reality.
No 3 – Sweat Ducts Are Affected
As you are aware by now that aluminium salts are mostly present in antiperspirants in order to enable the body to not sweat anymore. Is that good? To naturally block something happening in the body. No! It creates a complication and your sweat glands close when the aluminium gets mixed with your sweat pores.
No 4 – Stains Your Clothes
As aluminium salts are mixed in antiperspirants, these salts do not stay calm just there they end up mixing with your sweat and touch your clothes and leave a stain on them. You do not want your clothes to get dirty just because you want to get the benefits of using aluminium deodorants. You rather go for an aluminium free deodorant that will at least not stain your clothes.
Having said, why not go for aluminium free deodorants instead of sticking to the ones that are with aluminium, why mess with your health or skin if you have all the access to products that are going to save your skin from unwanted hassles.
There is a no end to the collection of aluminium free deodorants for women. Here is a list :
Best Aluminium Free Deodorants To Use – Do Not Miss On It!
The best part about aluminium free deodorants is that it helps to keep away all the odour in your body without placing the gun and targeting your health. Moreover, it is like you are going all natural by using aluminium free deodorants.
You would be happier if you temporarily work on keeping your pores clean and keeping the bacteria at a one arms distance rather than just closing your pores completely, which means going against nature just because you do not want to sweat.
What's the harm in sweating if it helps in flushing out all the toxins from your body. Right? Think about it. May be an aluminium free deodorant may not give you the same benefit of an antiperspirant but it would still give you the fragrance that you need to temporarily push away the bacteria with natural ingredients rather than risking your health just because you wan to smell nice. In no way, it is worth it.
Here is a list of some of the best aluminum free deodorants or your body.
1. Explore All Day Performance Aluminium Free Deodorant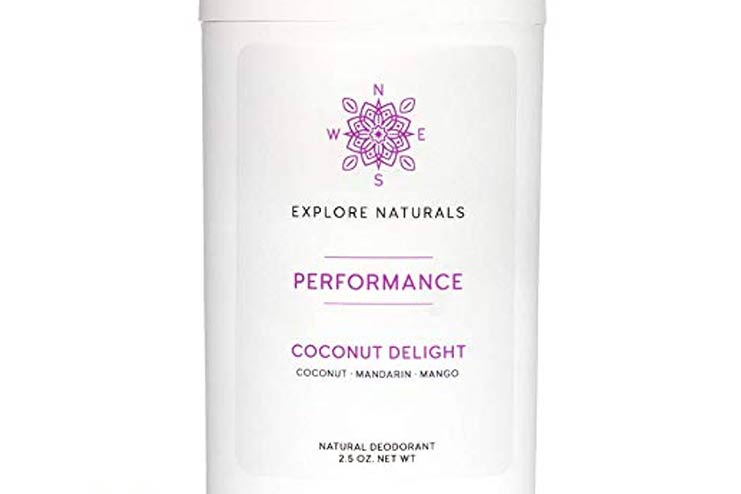 This is a natural coconut fragrant deodorant, you should go for this because it is sulphate and paraben free and that will benefit you because these chemicals are capable of damaging your skin cells, which could even trigger the cancer cells in your body and if your skin is sensitive then you should go for this one.
Features
This product has a fruit flavored fragrance
It is free from a lot of chemicals and is 100 percent natural made of shea butter, coconut oil, virgin oil etc
For beginners it might take time to get used to this product causing itching sensation in your skin(may be)
What's good in it :
The ingredients in this deodorant are natural
It is reasonably priced
It is a unisex deodorant
What's bad in it :
You are prone to feel irritation on your skin
Buy it here :
https://www.amazon.com/dp/B07GY1KGVK?aaxitk=Bu.splRAMAoj4SFYeOvwYQ&pd_rd_i=B07GY1KGVK&pf_rd_p=3fade48a-e699-4c96-bf08-bb772ac0e242&hsa_cr_id=2915863650401&sb-ci-n=asinImage&sb-ci-v=https%3A%2F%2Fimages-na.ssl-images-amazon.com%2Fimages%2FI%2F31P0c16O-NL.jpg&sb-ci-a=B07GY1KGVK&th=1
2. Magnesium Deodorant Nasanta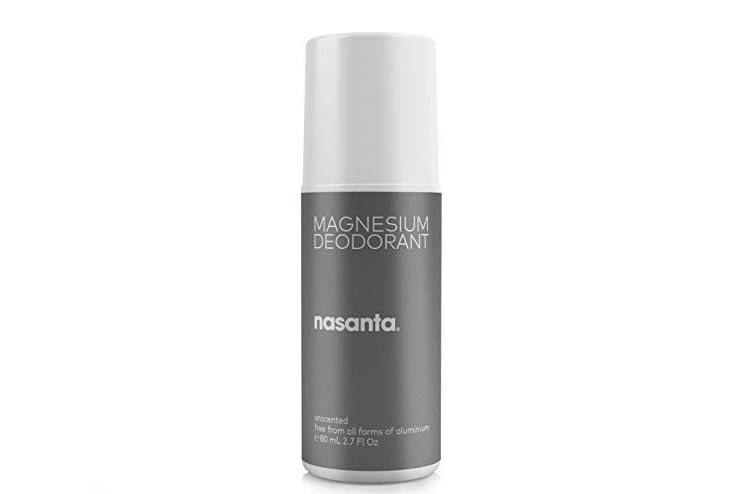 Nasanta is a clinically proven good deodorant and it is the most natural for it is away from baking soda,alcohol and is the best for sensitive skin. It's healthy magnesium formula helps in keeping your muscles relaxed. Amazing point about a deodorant. This product is formulated by cosmetic professionals in Sydney.
Features :
Formulated with healthy magnesium
Free from aluminium
Clinically tested by dermatest lab
What's good in it :
Chemical free and tested well
Affordable as it is reasonably priced
What's bad in it :
Buy it here :
https://www.amazon.com/Natural-Deodorant-Magnesium-Australian-Clinically/dp/B014J2G8U0/ref=sr_1_1_sspa?keywords=aluminum+free+deodorant+for+women&qid=1556879447&s=gateway&sr=8-1-spons&psc=1
3. Tom's Of Maine Natural Long Lasting Deodorant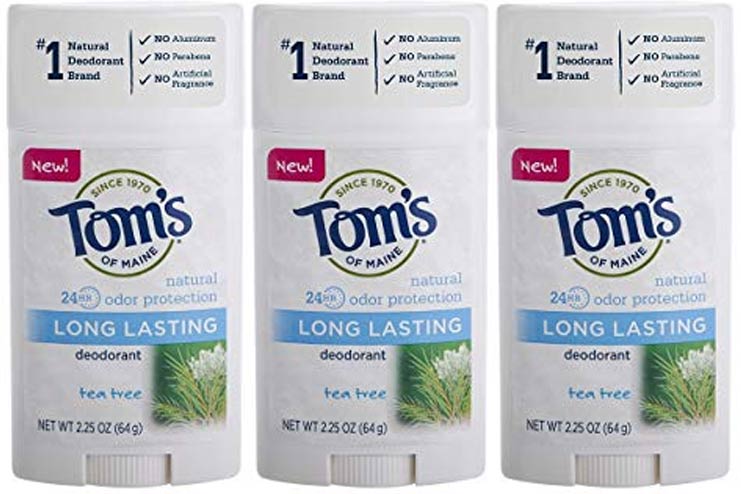 This deodorant is a a pack of three and would last longer with its nature of being natural and chemical free. It is a tea tree product.
Features :
24 hour odor protection
No Aluminium
100 percent natural
What's good in it :
It lasts for long
Keep your fresh all day
No preservatives or color
If you are a vegan you are going to be happy because it does not have any animal ingredients
What's bad in it :
Buy it here :
https://www.amazon.com/Toms-Maine-Natural-Lasting-Deodorant/dp/B016K8KEYC/ref=sr_1_1_sspa?keywords=aluminum%2Bfree%2Bdeodorant%2Bfor%2Bwomen&qid=1556880163&s=gateway&sr=8-1-spons&th=1
4. Bali Secrets Natural Deodorant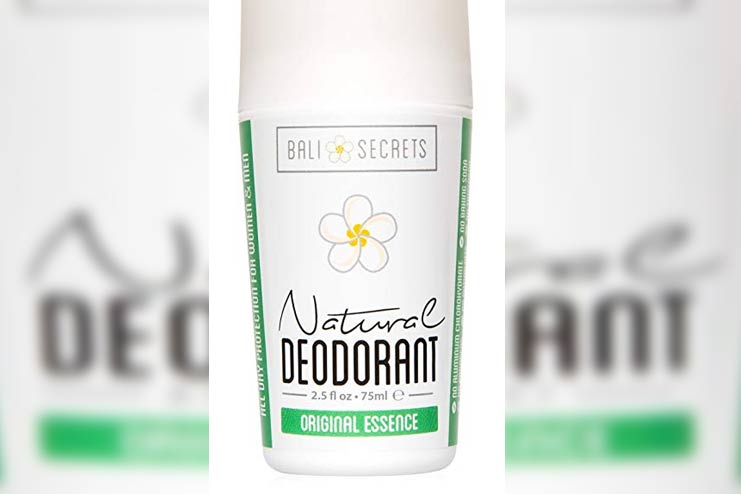 Bali Secrets Natural Deodorant is aluminium free and no traces of any animal ingredients in it, it is organic and keeps your skin protected. It is free from a lot of synthetic chemicals and is a mild deodorant for women, it is a proper herbal remedy sort of product
Features :
No chemicals such as paraben, backing soda, zirconium and phthalate, it is safe
No stickiness in the deodorant
What's good in it :
It is best for the one's who are vegan
Its fragrance is natural and it is long lasting
What's bad in it :
Buy it here :
https://www.amazon.com/Bali-Secrets-Natural-Deodorant-Protection/dp/B012E9DMNQ/ref=sr_1_7?keywords=aluminum%2Bfree%2Bdeodorant%2Bfor%2Bwomen&qid=1556880163&s=gateway&sr=8-7&th=1
5. Humble All Natural Deodorant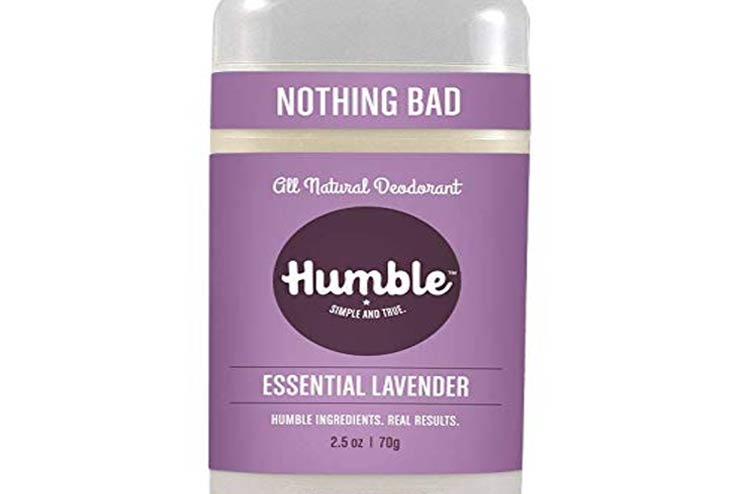 Humble All is really humble because it is free of chemicals and it is certified as a cruelty free deodorant by the leaping bunny certification programme. It is totally paraben free. It can be used by both men and women.
Features :
It is made of around 5 natural ingredients that are safe to use
It is safe as there are no chemicals used
What's the good in it :
Has a lovely lavender fragrance
Does no harm to animals
It is reliable for it has been certified by the international gold standard for non -animal tested consumer products.
What's the bad in it :
Buy it here :
https://www.amazon.com/dp/B0719KW42H/ref=sspa_dk_detail_5?pd_rd_i=B0719KW42H&pd_rd_w=hMAAU&pf_rd_p=8a8f3917-7900-4ce8-ad90-adf0d53c0985&pd_rd_wg=IbtaY&pf_rd_r=1ER1666J83Z3JBJ9GDH4&pd_rd_r=d0022e8d-6d91-11e9-9ffd-03efec45caec&th=1
6. Kopari Deodorant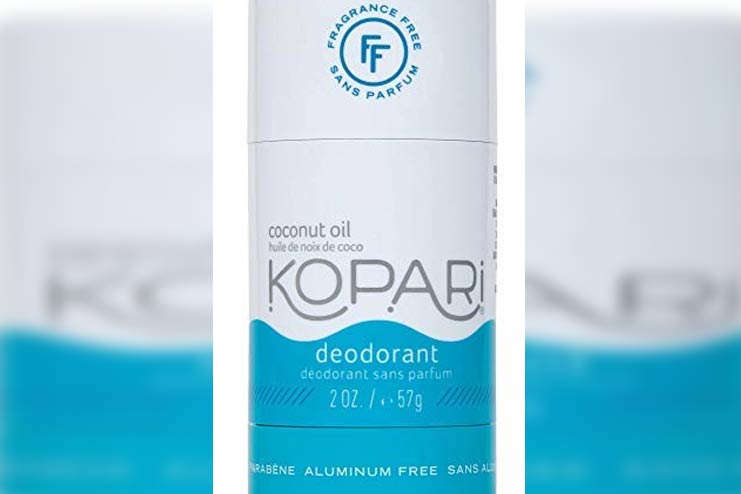 This is a plant based natural deodorant that keeps your body fresh and fragrant without any content of aluminium existing in the deodorant. It is cruelty free.
Features
Chemical free
It is colorless
It is the best selling product for sensitive skin
Whats the good in it :
It gives your skin a soothing effect
Whats the bad in it :
Buy it here :
https://www.amazon.com/Kopari-Deodorant/dp/B07KVRZJR8/ref=pd_sbs_194_3/146-5304701-6374422?_encoding=UTF8&pd_rd_i=B07KXMSW88&pd_rd_r=19838e65-6d94-11e9-8500-7b430b359b4b&pd_rd_w=6wMzb&pd_rd_wg=GXxmA&pf_rd_p=588939de-d3f8-42f1-a3d8-d556eae5797d&pf_rd_r=HCWWENRT48VDAHJZK1RF&refRID=HCWWENRT48VDAHJZK1RF&th=1
7. Soft and Dri Sparkling Citrus Deodorant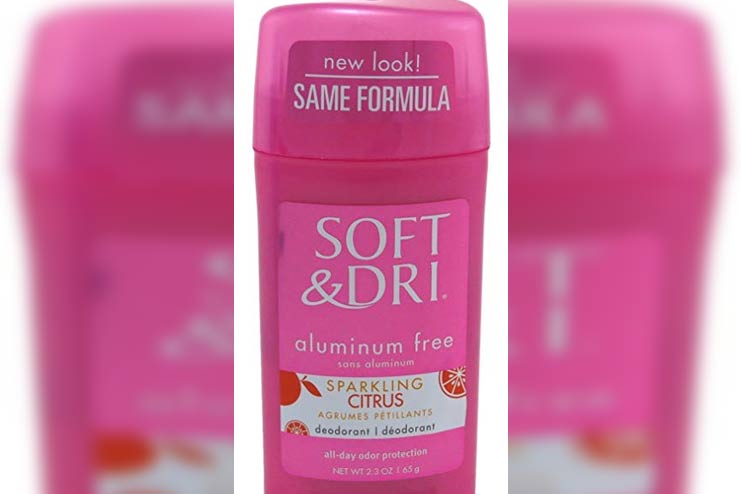 Soft and Dri Sparkling Citrus Deodorant is an aluminium free deodorant and its fragrance is mild, a soapy scent and a perfect girly kind of a deodorant. It is affordable and it is free from harmful chemicals.
What's good in it :
It keeps away the odor from your body all day by pushing away all the bacteria
It does not stain your clothes
What's bad in it :
The fragrance is not all that satisfactory
Buy it here :
https://www.amazon.com/Soft-Dri-Sparkling-Deodorant-Aluminum-Free/dp/B00TUEIKHM/ref=sr_1_28?keywords=aluminum+free+deodorant&qid=1556952414&s=gateway&sr=8-28#customerReviews
8. Primal Pit Paste All Natural Jasmine Deodorant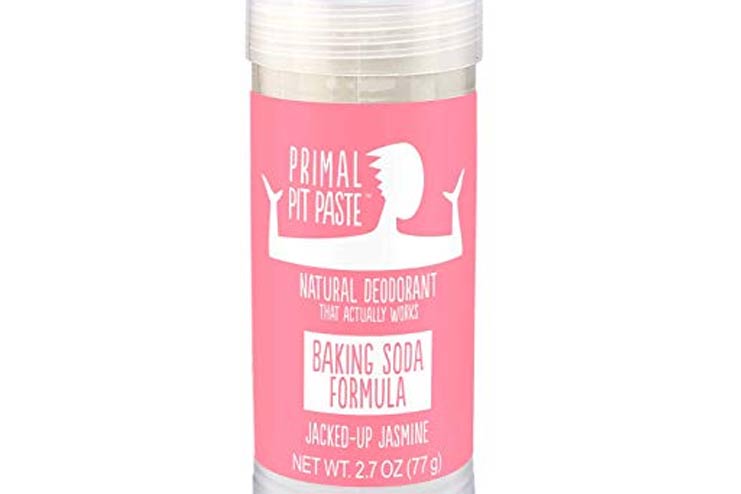 Primal Pit Paste All Natural Jasmine Deodorant is Aluminium and paraben free. It is made of certain scented essential oils such as organic arrowroot powder, sunflower oil and ylang ylang essential oil. It very well neutralizes the odor that causes bacteria in your body. This brand also has other products such as lip balms and stick jars.
Features
Has soft and floral aroma
Every ingredient used in making this deodorant is natural and has no harsh chemicals
This product is cruelty free and earth friendly too
What's the good in it :
The products are proven safe
What's the bad in it :
Buy it here :https://www.amazon.com/Primal-Pit-Paste-Natural-Deodorant/dp/B071ZQGC4X/ref=sr_1_26?keywords=aluminum%2Bfree%2Bdeodorant&qid=1556878911&s=gateway&sr=8-26&th=1
9. DeodoMom Unscented Deodorant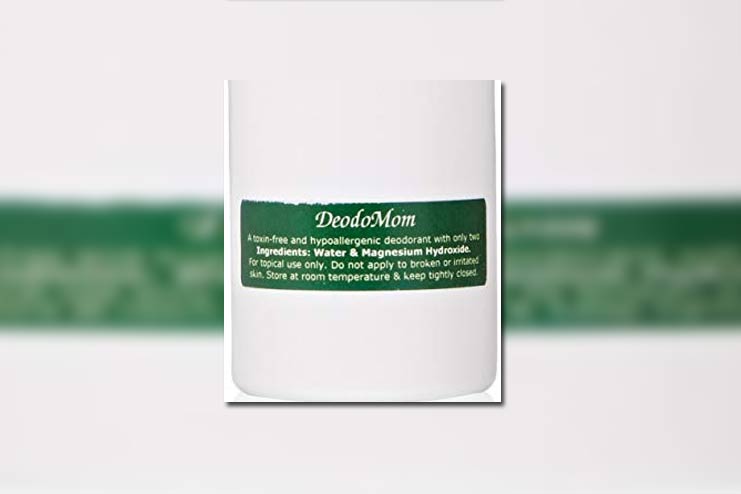 Deodomom is a natural aluminium-free, water-based and an unscented deodorant, it has no parabens, alcohol or dyes. It is a vegan deodorant and can be used by both men and women. It is unscented but it does good to the body.
What's good in it :
It is good if you are vegan
It will not damage your skin if you have sensitive skin
It does not stick to your underarms because it is a water based deodorant
It is long lasting
What's bad in it :
It gets bad if it is frozen and you have to use it immediately which is not possible always.
Buy it here :
https://www.amazon.com/DeodoMom-Roll-Hypoallergenic-Deodorant-Aluminum/dp/B00B60GA6G/ref=sr_1_16?keywords=aluminum+free+deodorant+for+women&qid=1556954813&s=gateway&sr=8-16
10. Thai Crystal Active Deodorant
The fact that there is no aluminium or chlorohydrate and chemicals makes it natural. It can be stored for about two years and it has a small portion of mineral in it. It reduces the bacterial growth without letting your pores get targeted with the chemicals.
Features
It lasts for up to 12 hours
It has one ingredient named Potassium Alum
What's the good in it :
it is good for all skin types and it is natural
It is not sticky, oily and nor does it leave any color
What's the bad in it :
There is one chemical present in it.
Buy it here :
https://www.amazon.com/Crystal-Deodorant-Stone-Ingredient-Chlorohydrate/dp/B01L6B3X82/ref=sr_1_16?keywords=aluminum%2Bfree%2Bdeodorant%2Bfor%2Bwomen&qid=1556880163&s=gateway&sr=8-16&th=1
Aluminium free deodorants are going to prove healthy and good for your skin. You can go for them if you want to avoid the risk of letting chemicals come onto your body.
Aluminium free deodorants are available at an affordable price in abundance. You have a wide range of them, some are scented while some are unscented. You name it and you have got it. You just have to make that change and try Aluminium free deodorants to be on a safe side. Spray it on yourself and feel the freshness and fragrance.