What a perfect start to get the 'we' time with the love of your life! the man of your dreams! the father of your baby! Restricting all the romanticized imagination of a couple workout popping into your mind is way too much a hindrance. Let those thoughts flow in and stay tuned right there.
Ladies! Do not 'see' your illusions, 'sieze' your illusion and let all the love and energy come out of the two of you. More than a 'we' time, the two of you get to work on your health together so that none of you crib of the other being lazy as well.
So ladies ! Are you ready to read this article having all that you want to catch up with your fitness regime. Above all, to try this entire 'workout plan' with your man. You are going to enjoy working out together and helping each other exercise. Don't miss this! Take a look!
Cute Couple Workouts To Try – Get Intensely Fit!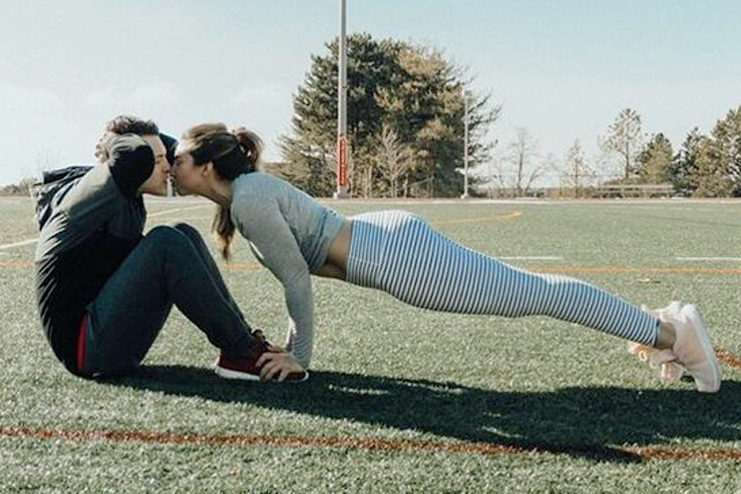 How thoughtful it is to workout with your partner, a unique style of becoming a fitness freak. Move forward step by step and follow these mind boggling couple workouts together to feel fit with your right 'fit' .
1. Med-Ball Exchange Workout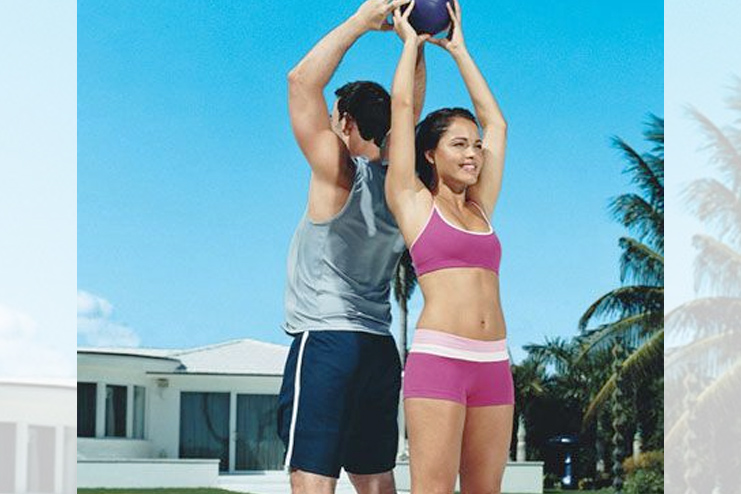 What is Med-ball Workout?
Med-Balls are a replacement to dumbbells, it is another medium to work on your muscles. This workout needs your attention while you are passing the ball to your partner.
Plus points of this workout
Strengthens muscles
Builds muscles
Aids to weight loss
Helps in burning fat fast
Steps to Do this Workout
You can follow this exercise in different ways, you can sit and do it or also stand and do it. All the two of you have to do is to pass the ball to each other.
Step 1: Stand facing each others back.
Step 2: Maintain a distance between the feet as much as the shoulder.
Step 3: Take the medball and hold it at your navel
Step 4: The one who is going to pass the ball, come up on your toes while you raise your hand with the ball in your hand.
Step 5: Hand over the ball to your partner
Points to Keep in Mind
Pass on the ball at least 20 times. Do this in two sets, 10 times for each set
Be careful and do not let the ball slip off your hand.
Another way to do the same exercise is sitting on the floor with your back facing each other and passing the ball to each other sideways in a 360 degree angle.
2. Couple Crunches Workout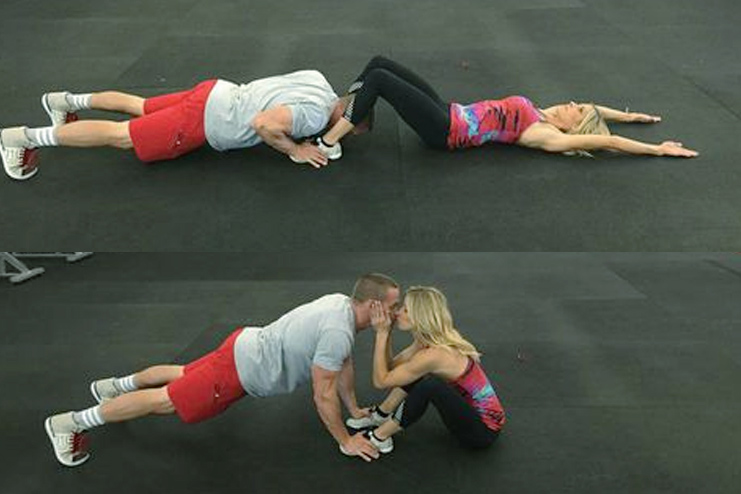 What is Couple Crunches Workout?
This is a popular abdominal exercise
, good for your stomach to say bye to the unnecessary fat and get the two of you toned up flawlessly.
Uses of this workout
Flat Belly
Firm Abs
Nurtures your abdominal muscles
Steps to Do this Workout
You both have to accommodate with each other and hold the other while they are doing the exercise. Follow the steps of this couple workout
Step 1: One of you lie flat on the ground with your legs folded and the other one hold the person's feet for effectiveness to be there in the exercise
Step 2: The one who is lying down, stretch out your hands on the floor
Step 3: Come up straight with your hands in the same position
Step 4: Keep your back straight when you come up, go down the same way
Step 5: The next person doing it has to follow the same procedure
Points to Keep in Mind
The person who is holding the feet of the other, ensure that you hold their feet firm
You will observe the strain on your stomach, this is what defines the effectiveness of this workout
Do this 20 times. Do 2 sets, 10 times each.
3. Paralympics Bench Press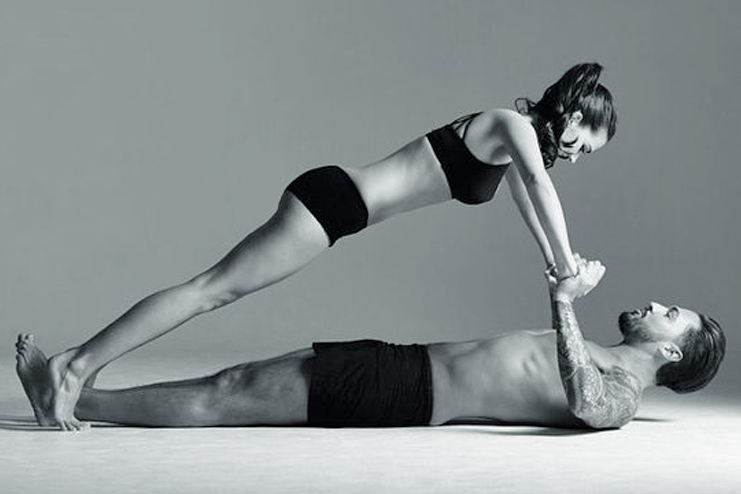 What is Paralympics Bench Press Workout?
This workout is a hard core exercise where in the two of you have to balance each others body and the man has to be able to carry the weight of a woman. A bench press is usually done with dumbbells. This workout is a powerlifting exercise
Uses of this Workout
Build strength in upper body, strengthens shoulders and your back
Strengthens your back and legs
Adds to your bone density
Improves your stamina
Steps to Do this Workout
Step 1: The man has to lay flat on the ground with his feet apart.
Step 2: The woman has to keep her feet apart in a way that the man's feet is joined together in between her legs.
Step 3: The man should lift up his hand in a way that he is going to hold a dumbbell.
Step 4: The woman must now place her hands on the man's hand and hold his hand in a way that she gets a grip.
Step 5: Once the man is sure that she has got a grip of herself, the man has to balance her weight and move his hand up and down imagining the woman to be a dumbbell
Points to Keep in Mind
Start doing this exercise only when the two of you have a good grip of your body
Start with 1 set and then bring it up to two sets. Repeat each set 10 times
4. Partner Planks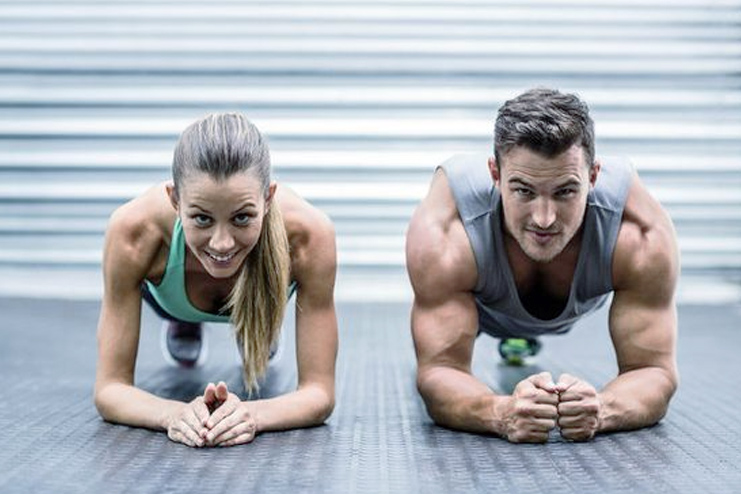 What is Partner Planks?
Planks with your partner is such a cute workout idea. You are so clinged on to each other. Planks is basically firmly balancing your body and this tones up the body and gives immense inner strength.
Uses of this Workout
Increased stamina in your abs, back and shoulders
Improves your posture
You learn to balance your body well
Works on your glutes and hamstrings
Steps to Do this Workout
Video Source :
You can do a plank exercise in side ways, not just front ways.
Points to Keep in Mind
Keep in mind that you start of planking for a minute after 10 days bring it up to 30 more seconds
Plank can seem very tiring and you may feel like giving up. The best part is to feel the pinch while exercising so that your body gets used to building stamina
5. Seesaw Back Bend Workout
What is seesaw Bend workout ?
Seesaw back bend exercise is exercising on your back and moving your body like a seesaw.
Steps to do this exercise :
Video Source :
Uses of this workout
Increases strength in your back
Makes your muscles flexible
Gives firmness to your spines and makes them flexible
Points to Keep in Mind
Repeat this procedure of lifting each other at least 10 times
Perform this exercise for 60 seconds to start off with
Allow your body to move naturally and this will give you a good resistance
Be careful while you lift each other because you could end up straining your back
6. Couple Balancing Workout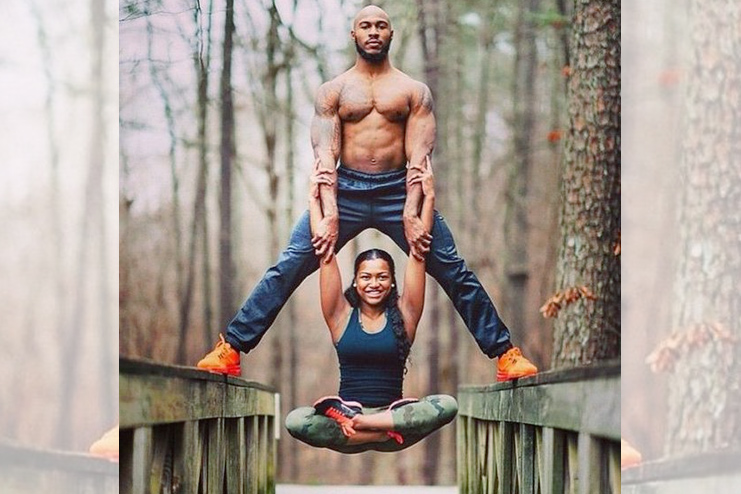 What is Couple Balancing Workout?
Learning the balancing technique with your partner is a wow feeling. One holds your body weight and one sustains the right balance in the body.
Uses of this workout
Balancing workout helps to keep the muscles strong
This exercise like that of a yoga exercise
Improves balancing stability drastically
Steps to Do this Exercise
There are various methods of doing this exercise . One can balance on the legs and one can balance on the hands. This balancing style is apt for couples
Step 1: The man has to stand at a slight height (could be standing on a table)
Step 2: The woman has to cross her legs and place her legs on top of the thighs
Step 3: The woman has to sit in between the mans feet and lift her hands up
Step 4: The man has to stretch his hands down and hold the woman's elbow and the man should in turn hold her elbows and their hands must be locked
Step 5: The man should now gently lift the woman and should keep his body straight
Points to Keep in Mind
The man has to be very careful while lifting the woman because there are possibilities that she could sprain her hand
This exercises should start of with 30 seconds and the duration of doing this exercise can increase by 10 seconds more after 3 days
Both the man and woman will get accustomed to a good posture and balance
The man will be able to immensely build on his strength as he is balancing his body and balancing her weight as well
7. Couple Dips Workout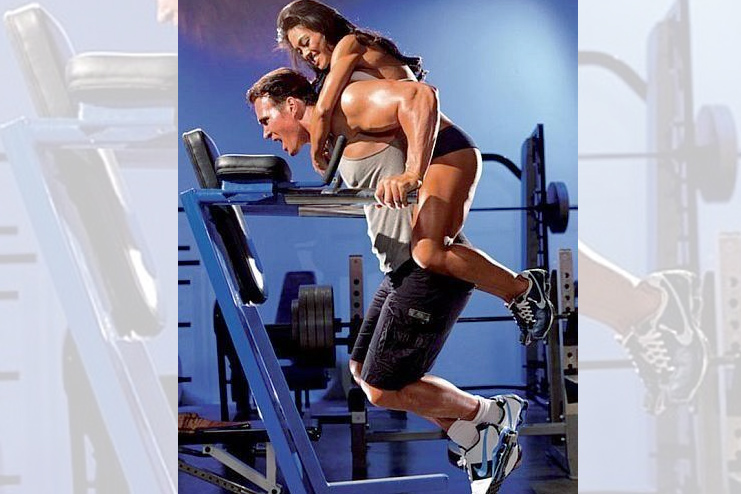 What is Couple Workout?
Dips is the right fit if you want to improve on the structure of your body, it tones your body in a v-shape and it look tremendously good when a man has that kind of a body structure. When you do this workout with your partner you are all the more motivated watching with each other.
Uses of this workout
Your upper body is well trimmed and gets firm
The strength in your arms and shoulders shoot up
It is the best workout for triceps and shoulders
Steps to do this workout
You need to hold on to an iron rod to do dips. Dips can be done side ways as well.
Step 1: Face each other and hold the the support rod in front of you.
Step 2: Together lift your body up taking the support of a support rod.
Step 3: Pull your body up until your chin and bring it down without stepping on the ground
Step 4: The woman can curl her legs on the man's leg for both to stay close and get a better support of each other
Points to Keep in Mind
This workout may seem tedious to begin with
Start of with doing 2 sets,as per each others comfort and then bit by bit increase the frequency. Do at least 10 for each set.
8. Couple Push Ups and Squats Workout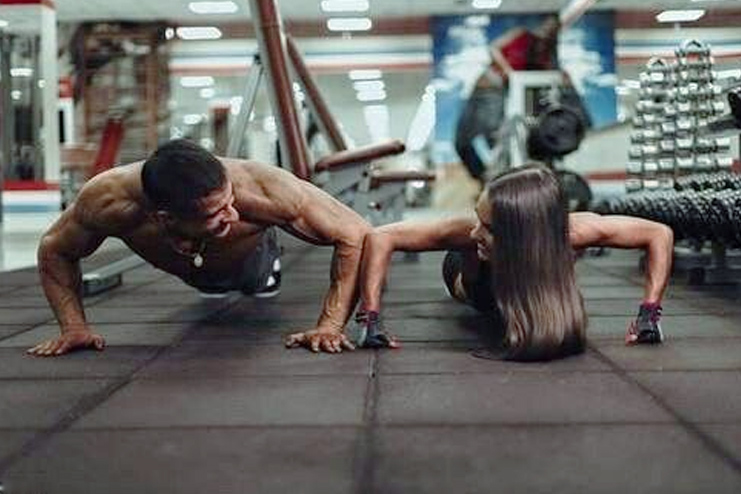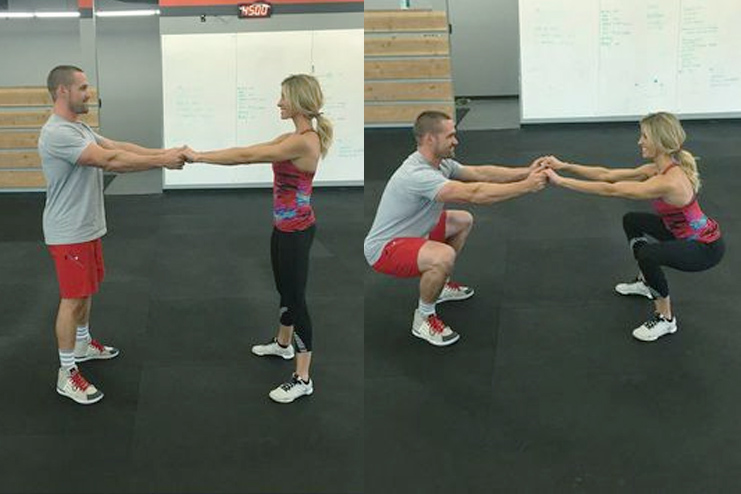 What is push ups and squats?
Push up is a type of workout where you apply pressure on your palms and push your body up and squats is a type of workout where in you sit partially and stand up. Both of these workouts when done with your partner brings in a great fun factor and you both would tend to get into the competition spirit.
Uses of this workout
Push ups –
Your muscles are well-stretched
Healthy for the muscles
Good for your cardiovascular system
Gives a firm support to your shoulders and lower back
Squats –
Better blood circulation
A good toner for your abs, legs and butt
Medium to burn fats rapidly
Great strength training exercise
Steps to Do Push Ups – Say a Hi Fi
Video Source :
Steps to Do Squats
Video Source :
Points to keep in mind
Do at least 2 sets of each, repeat it ten times. Start of with two sets and then increase it further
Do not over strain yourselves, accommodate with each others capacity while working out
9. Couple Leg – Stretch Workout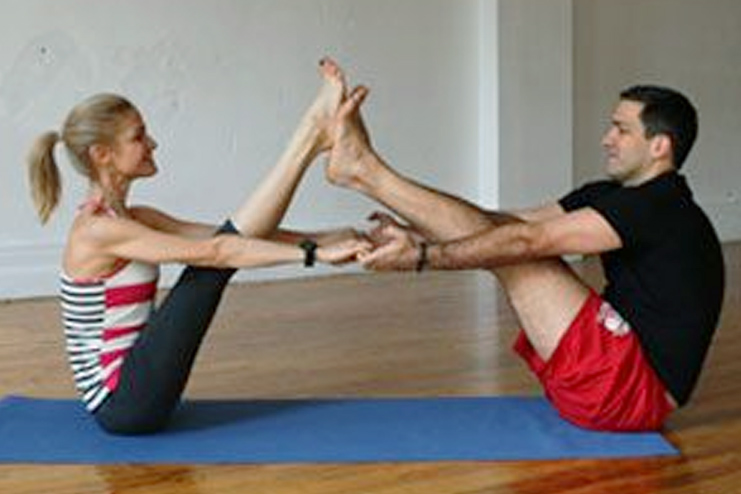 This is a very good stretching exercise to do with your partner, you will feel good to accompany each other and take each others support to do this exercise
Uses of this exercise
You gain flexibility
Results in a great body posture
Keeps the co-ordination between the two of you intact
You lower back is relaxed like never before because of the stretch
Steps to do this workout
Step 1: The man and woman have to sit in a position facing each other.
Step 2: Once the two faces each other, the man and woman have to spread their legs apart to an equal width.
Step 3: Both have to lift their legs to a 90-degree ankle in a way that both their sole join together.
Step 4: The man and woman now have to bring their hands in front at a 360 degree angle and join it to each others hand
Points to Keep in Mind
Sit on a mat before you begin to exercise
Do not bend your back too much
10. Couple Side-Stretch Workout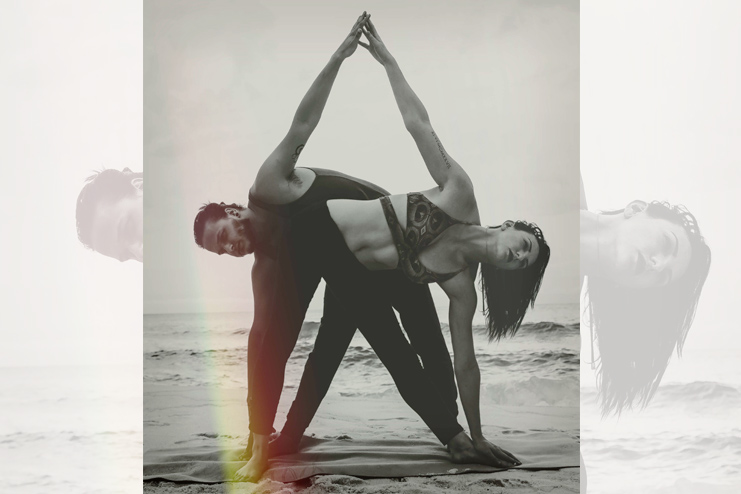 What is Couple Side-Stretch Workout ?
Couple side stretch is stretching out on your sides collectively forming a wonderful union with each other and this way you get to experience each other so well.
Uses of this Exercise
Burns all the side flabs
It helps strengthen your quadratus and outer legs
Steps to do this exercise
Step 1: The woman must stand in front of the man with her legs spread apart
Step 2: The man must stand behind the woman with this legs apart
Step 3: Both have to stretch stretch out their arms in a 360degree angle
Step 4: Then, slowly both of them must bend either sides, stay there for few seconds and slowly come up
Points to Keep in Mind
Do this stretching out slowly so that you feel it on your sides
Video Source :
These couple workout ideas are going to help the two of you get strong in you bond and an added advantage is that even if the two of you are always busy with work, you get to spend time through these exercises.
Make the most of this phase of exercising together for a healthy relationship and a lifestyle. Take up this couple workout challenge and get into the groove of romantic-fitness!