Looks of a plane Jane just because you have glasses? Do not be so unkind to yourself! Time to spell the beans and give you sexy ladies hacks about how to make your eyes look attractive despite the window like glasses around your eyes.
Food for thought! Ask yourself if a factor like glasses can stop you from experimenting with creative ideas on doing some scintillating with your eyes. Glasses on a whole give you a nerdy and sassy look, get into that imaginary box in your mind and see how pretty you look with great eye makeup.
It is but natural that you might be annoyed with the thought of wearing glasses after doing your make up. How about flipping this story and making it an interesting one for you?
Glance through this article to get some fancy yet happening ideas on all the eye makeup you can do with glasses on your eyes. Do not let your eyelashes close, its time to wink your eyes and show off that eye make up with your glasses. Go for it girl!
Guide To Apply Eye Make-Up When You Wear Glasses – Go On!
Getting a little poetic is fair in the world of fashion. The art of makeup is long and remaining a sober woman is not for you. Get going and learn about all the hacks of doing a good eye make up with glasses.
Step 1 – Make A Surface To Begin The Eye Make-Up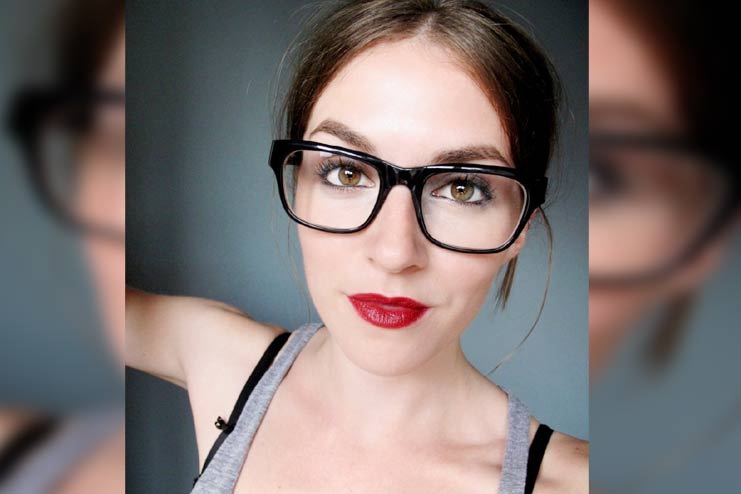 Now, this step is all about concealing your eyes that is hid behind your specs and making them look great. Powder the area of your eyes well enough to make it look perfect with the glasses. If your frame is a dark shade see to it that you make the area around your eyes look dazzling.
You have to do this step to give your eyes a new perspective, it is like a primary coat before you start with the main eye makeup. See off all the dark circles, all the marks around your eyes and the swollen eyes.
Concealing your eye is the basic to kick off with more detailing on your eyes!
Read This: 25 Best Concealer For Dry Skin For That Flawless Finish
Step 2 – Glide A Line The Right Way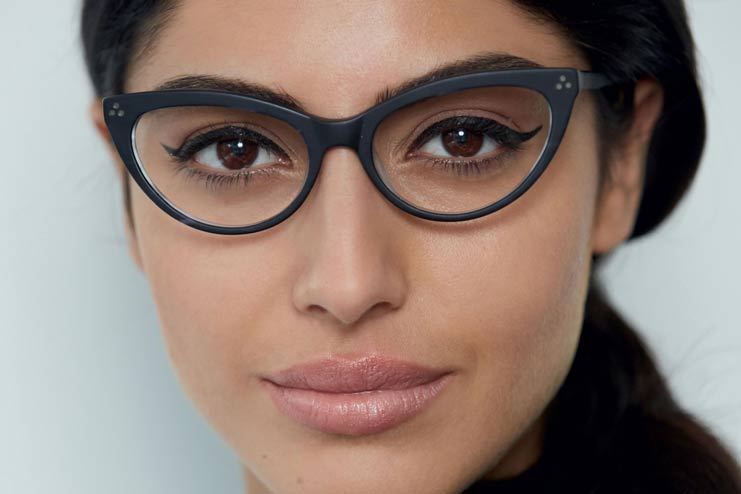 You need to be as creative as possible coming to this step, it is just like how you want to outline a favorite sketch. You know how thick or thin you want to make your outline. Here are some ideas that could help you widen your creativity!
Tip 1 – If your frames are huge and bold, go for wing eye makeup they look smart and will give your eyes a bold look.
Tip 2 – If you have thin frames you can apply a thick layer of eyeliner in the middle of your eyes and make it thin when you reach the edge of your eyes.
Most Importantly, consider the dynamics of the shape of your eyes. See if it is completely oval or round. If it is oval, then an extended stroke of eyeliner would look great towards the edges of your eyes and if your eyes are round, just a thick or thin line of eyeliner would work.
Glide it well and right. Let it make you look cool!
Step 3 – Go Ashy/Smokey/Colorful With A Colorful Eye Shadow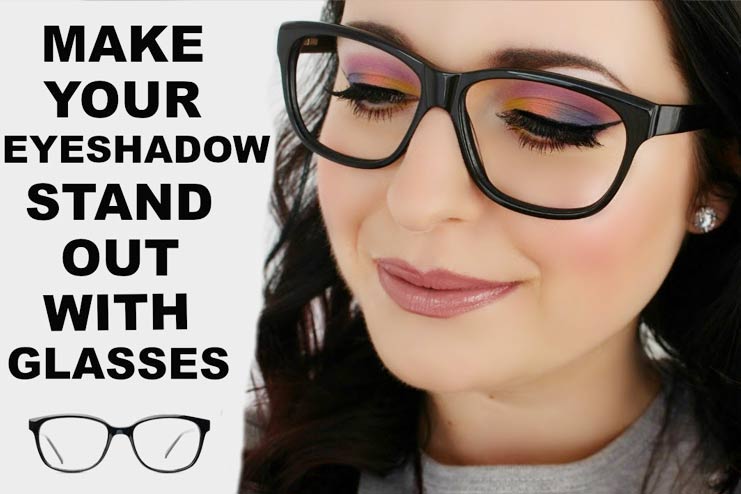 How to Apply Eyeshadow When you Wear Glasses?
The way you apply your eye shadow is one aspect about the eye makeup but it makes a world of difference if you apply an attractive shade that looks bright under your glasses and if you go haywire with applying the eye shadow, it might not even be visible on your eyes.
It is basic to begin with a light shade first to set a nice base color for your eyes. Then move on to applying a shade that goes well with the color of your frame, do not make your eyes look tacky. You want to be a diva, don't you? Well then, here are some tips of eye shadow shades.
Keep in mind the color of your eyes. If you have brown eyes, you can go for eye shadow colors like pink, light blue, hazel etc. If you have green and blue eyes, you can go for shimmer or brown shades.
Try and avoid too much smokey effects on your eyes. You can do a smokey effect but let it be subtle and not too loud.
Step 4 – Adorn Your Lower Lashline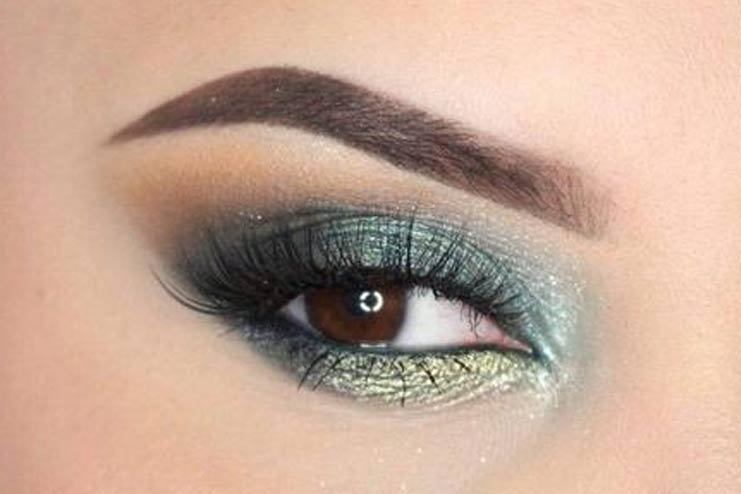 Adorning your lower waterline is optional but you can try it if you are going for a party because it looks charming. Preferably go for a shade that has a shimmer finish like white, silver or golden. Remember it has to be light and shiny.
Glimmers and shimmers on your eyes look sparkling and pretty. So what if you have glasses, they will still look so appealing. Try it on and go for it if you love it.
Step 5 – Check Mark On The Other Requisites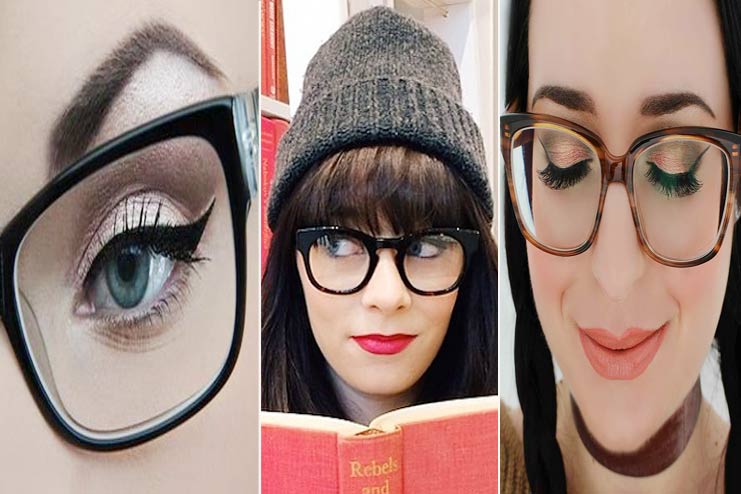 What did we miss on? You cannot let these aspects be. Here is what you should do
Draw a line on the lower waterline. If the eye make up on your eyelids is detailed then you can draw a thin line on the lower waterline. On the contrary, if you feel the makeup on your eyelids is subtle then you can draw a thick line on your lower waterline.
You can highlight and curl your eyelashes for them to look pretty inside your specs.
Use an eyebrow pencil to darken your eyebrows.
You got to check on the thickness and curls of the mascara on your eyelashes and an outline on your lower waterline.
All in all, getting creative with an eye make up is all your kind of art, your understanding of strokes and colors and how you put all your ideas to use by visualizing how is it going to look under the glasses. How to apply eyeliner, kohl pencil, mascara, eyebrow pencil and concealer when you wear on glasses is now your lookout. You have the techniques! Make the most of it!
Beauty is in the eyes of the beholder! Be that beauty even after you wear on your glasses by doing a flawless eye make up.