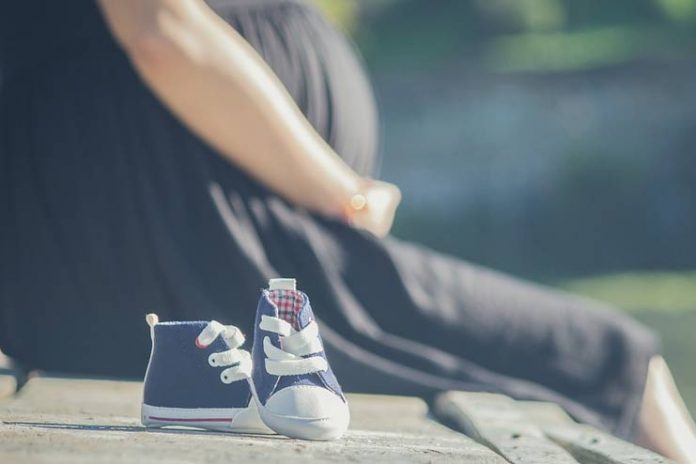 Why should any phase in life go by without adding some sense of fashion or style to it? We women must live, walk and talk fashion because it is one way of giving us true happiness. Having mentioned the phase, what do you think about getting some trendy, pretty and cute pregnancy outfit ideas during your pregnancy?
There is so much to know about the pregnancy outfits you can buy or stitch during pregnancy and make your pregnancy a happening one. Enjoy this precious moment of fitting into oversized clothes with your round tummy. Do not let that interest of being steezy fade away and at the same time do not compromise on what you are comfortable in.
This article intends to give you ideas on making this maternity phase a comfortable and fun one in terms of your clothing be it any season you are pregnant. Begin with being a diva like a mummy before your newborn comes into this world.
Get to Know Details Before Buying Maternity Outfits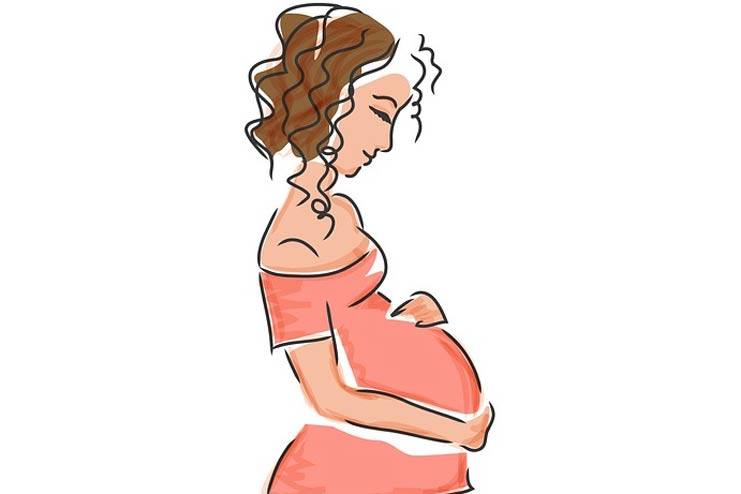 During pregnancy, the body dynamics of every woman varies. Some women have a round ball like tummy in their 5th month and they need their maternity outfits quick while for some their tummy starts coming out after the 7th month. Having considered these aspects, here are some good to know tips to keep in mind before choosing a maternity outfit during pregnancy
Read: 12 Pregnancy Exercises To Try For A Safe and Healthy Pregnancy
In the beginning, it is difficult to figure out what would your tummy be like after two months from now so keep in mind that you have to wear your maternity dresses precisely for 5-6 months. Therefore, buy what does not suffocate you.
Point No 1 – Take a look at how flexible and stretchable is your dress. Reason being, you could wear it even if you are growing from your initial pregnancy to the end of your pregnancy.
Point No 2 – Your maternity clothing must not be too clingy on your stomach and even when you bend you should have the appropriate breathing space.
Point No 3 – You could even choose to buy a maternity outfit that is not just useful for you during pregnancy but it comes along being of use to you when you have to breast feed your baby. Why not shell out money on a dress that is going to give you the comfort, style as well as be of use to you in the long run as well.
Point No 4 – If you think a maternity outfit is going to cost you a bomb and you do not want to spend too much you can always rent maternity clothes. All you will have to do is just pay a subscription based on how long you are renting the clothes.
Lovely Pregnancy Outfit Ideas For To Be Moms
If it is the first time you are pregnant then this must be all the more exciting for you to find maternity outfits that are going to make you look super cute and if you are not a mom for the first time, you are still going to enjoy by having a look at these maternity outfit ideas that could compel you to have some of these. Here are a bunch of maternity outfit ideas for you.
Halter Neck Floral Maternity Gown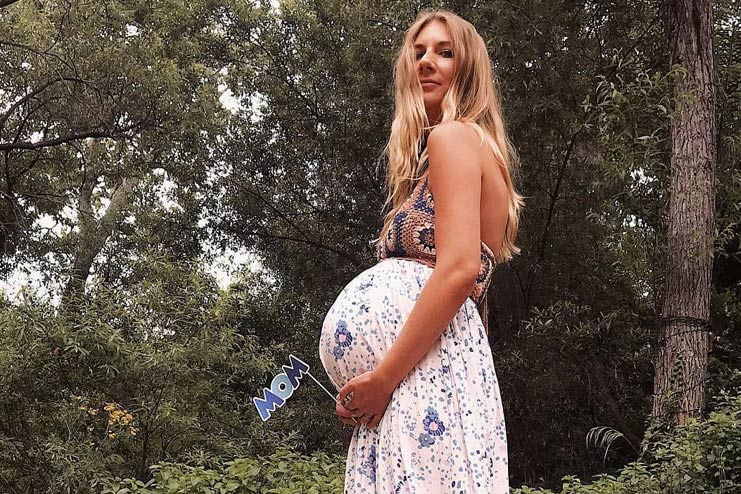 This halter neck maternity outfit idea is cosy. Having a soft fabric with an open halter neck pattern is absolutely comfortable and easy to carry off. Wearing floral or nature printed gowns portray that your have an innate craze for nature and the surrounding around you.
Styling Ideas :
You could try a low messy or neat bun with this dress
Apply a pink lip gloss
Adorn your wrists, ears and neck with some junk jewellery
Cool Maternity Dungarees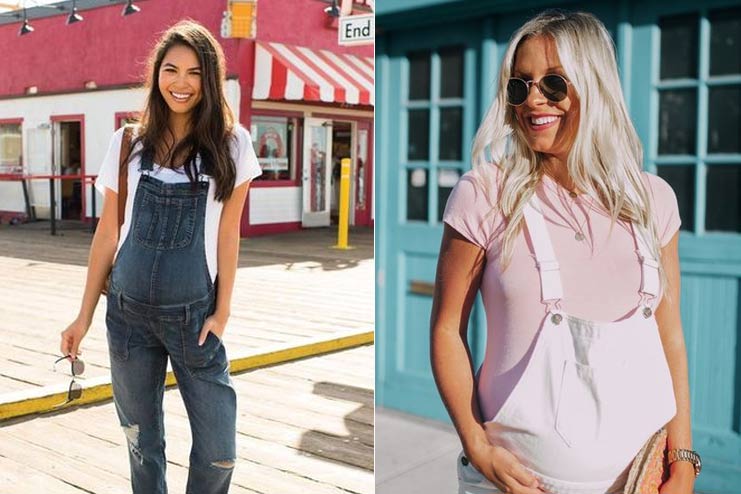 Not every to be mommy is going to be a girly or feminine mommy. For all those women who are born a tomboy and will always be one no matter what, this is the most ideal and happening maternity outfit. You are going to look cool, smart and you would just rock with this dress. You can even wear on a full-length dungarees even that will just nail the look.
You can buy black, dark blue or colored dungarees to wear them on with contrast colored t-shirts and rock your style. Go for a size bigger if you do not want the dungarees to stick on your body.
Styling Ideas :
Summer is the best time to rock with this style
You can wear on your shades and smile to the bright sun
A high pony tail or just leaving your hair for the breeze to play with it will also do
Long Tunic And A Legging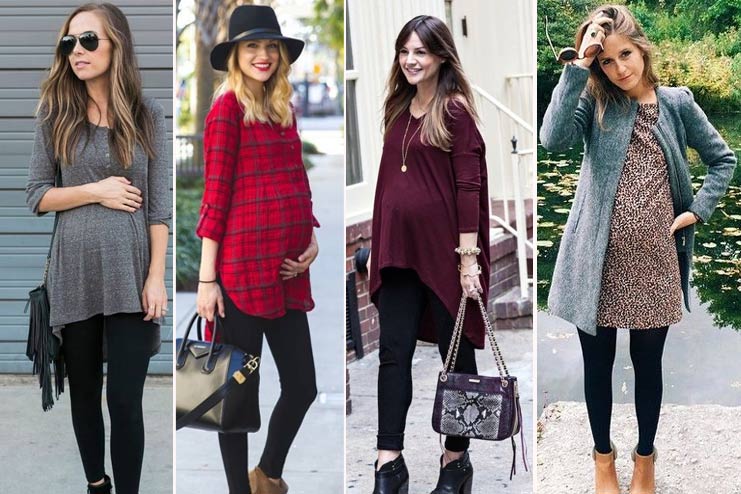 This is like a light and a free dress to stroll around with. There is no particular season to dress this way, it goes well to wear it on in all seasons. If you want to go for shopping, while going to work or you just want to relax at home this outfit can be worn anywhere. It is just the comfort of being able to wear this dress anywhere makes it special.
Styling Ideas :
Go for a black legging so that you can pair it with various colored tunics
Bring on all the accessories on your neck and fingers to look voguish in this dress
Go Denim During Pregnancy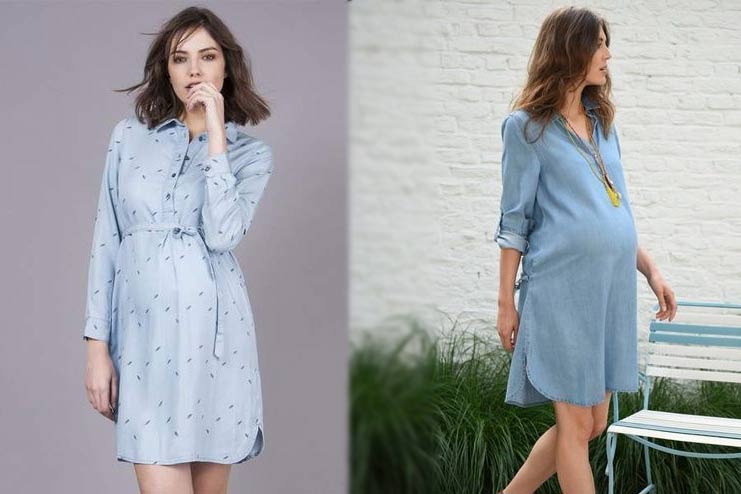 Denim is a heavenly classic style, why miss on it during pregnancy? Denim is just amazing for casual wear and to wear it to work when you have to be dressed in casuals is even more cooler. This shirt like the dress is in trend, you can just wear it like a one-piece dress or you could even wear a legging under it.
Styling Ideas :
If you are wearing it just like a dress then you can wear some accessories that will go well with a dress
Try wearing white sneakers or a strapped flat footwear
Floral Dresses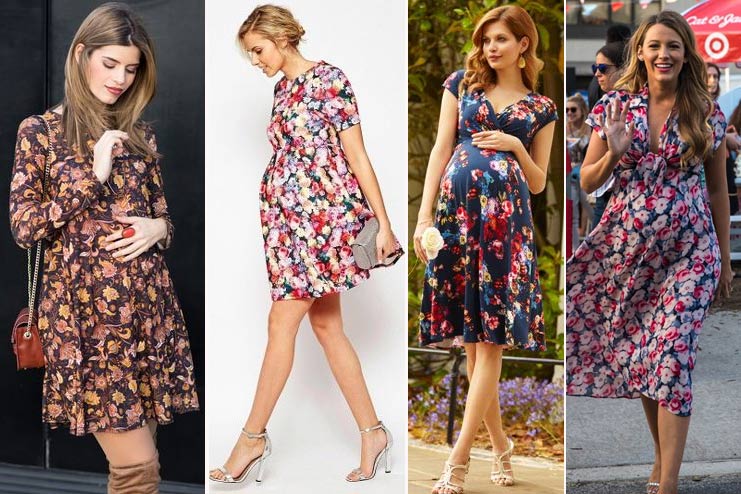 Floral is every woman's favorite having exceptions for sure. Floral has been there for a long time now and it is immortal in the world of fashion I guess. Short floral dresses look pretty when you have to go to watch the beautiful sunset during pregnancy. It is an earth colour and since it is there for a long time it gives out a typical vintage look.
Styling Ideas :
Wearing boots or ballerina shoes will look smart and lovely on this dress
Apply the red shade or pink shade lipstick for a good pout and a pretty look
Read: 14 Fruits That You Should Eat During Pregnancy
Best Pregnancy Outfit Ideas For Summer
In summer, wear clothes that do not make you sweat too much and keep your body cool. You can wear all your backless, sleeveless, halter neck and shorts to rock in your pregnancy outfit.
Sunshine Sleeveless Frock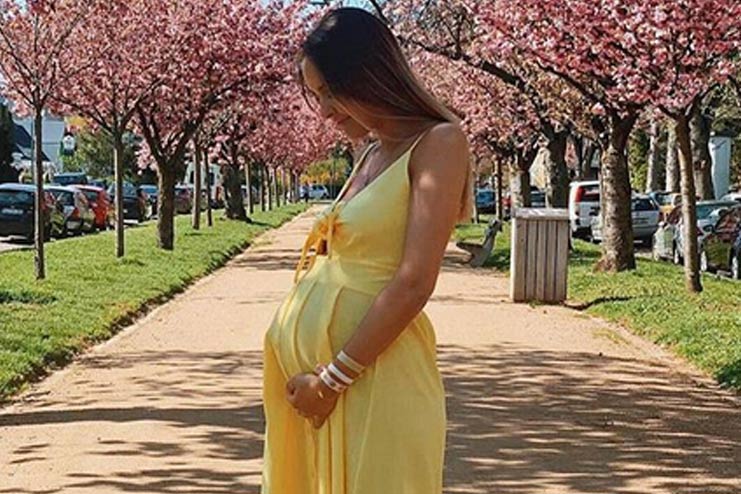 Wearing a sleeveless one-piece frock on a bright summer morning is going to make you feel refreshed and fresh in your pregnancy. This will be the most suitable dress to wear in the summer season because it is loose towards your stomach and is going to make you look like a sunshine doll.
Styling Ideas :
You can wear a nice delicate chain with a pretty locket in it
You could also wear a flowery tiara to make you look like a pretty doll
Street Style Black Dress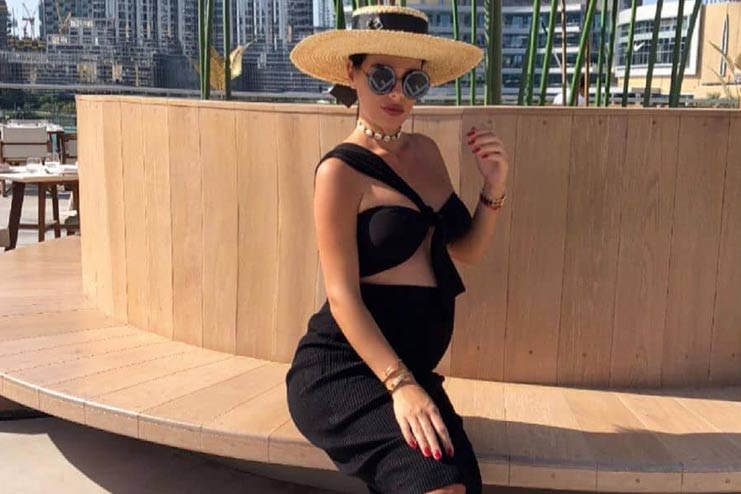 This black sexy dress in the summer to make you look all the more gorgeous with your baby in your stomach is a great one. This is an ideal dress to wear at the beach or when you are walking around the place.
Styling Ideas:
Pair this dress with pretty studs and a nice chain
Glares and a hat will give you such a royal and voguish look
Tube Top And A Skirt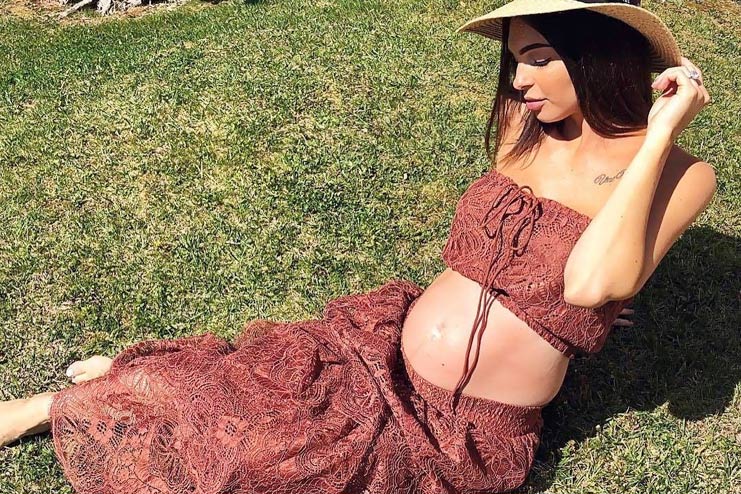 This racy style of a tube top and skirt is just great in summer. It is your time to relax and enjoy wearing this dress. It is a French style of dressing and looks ravishing when you look at yourself in it.
Styling Ideas :
The best accessory with this dress is to wear on a hat and make it look classic
Apply a nude colored lipstick shade to add on to your charm
Black Jumpsuit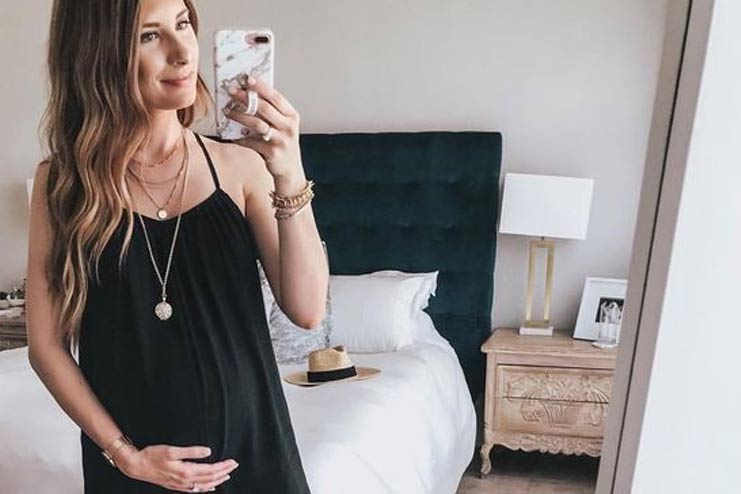 This jumpsuit will let you free to slightly float in your dress. It is a sensible dress to wear in summer, it looks nice as well as has a style to keep you cosy.
Styling Ideas :
You can wear this in any season but the best time is summer
You can wear a shrug or a jacket over this dress if you do not want to wear it with just the straps
It goes well when you want to wear it at work or you want to wear it when you are home
Fairy Maternity Gown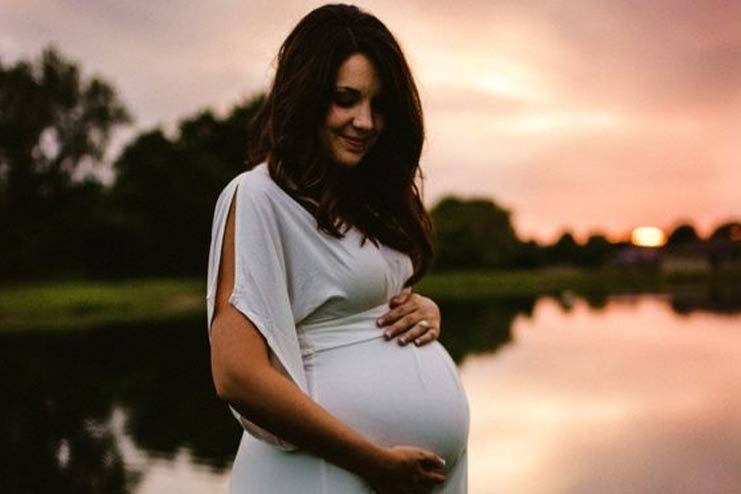 If you want to capture memories of your pregnancy and go for a great photo shoot then this dress is the right one to wear on. You can wear this type of dress even when you have to go for dinner or for an occasion, it has that grand and lavish look.
Styling Ideas :
If you are wearing this dress for an occasion, wear on some pretty earrings with this dress
Wear on flats for footwear because the dress would be covering your feet
Best Pregnancy Outfit Ideas For Winter
There are multiple pregnancy outfit ideas that you can wear in winter and stay warm. This is the right time to get on your mufflers, sweaters and stay covered to feel a bit of the winter with a slight warmth. Although it is puzzling to look cute as well as have a warm collection there is still a big list of lovely attires you can try on.
Polo Neck Dress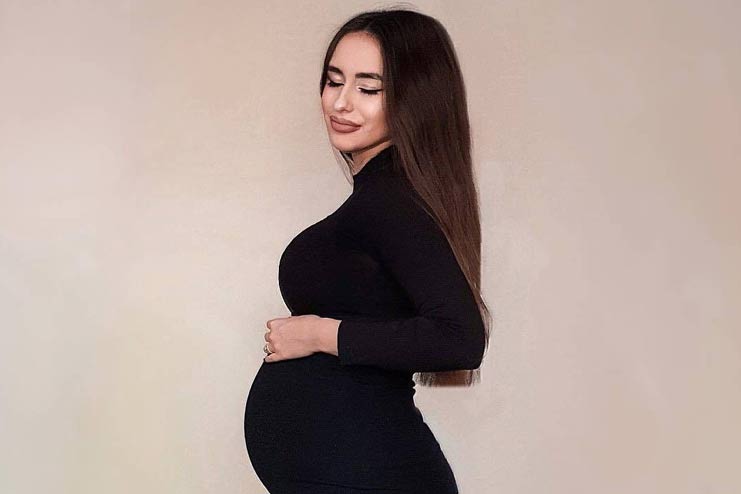 Polo neck is the best during winter, it is a skin fit dress that has a warm fabric to protect your body from the chilled weather around. You must try this trend because this pattern is to be seen in tops as well. This is one of the best winter dress.
Styling Ideas :
This dress will look classy when you wear it with wedges
You can leave your hair loose and apply a nice dark shade of lipstick
Red Turtle Neck Dress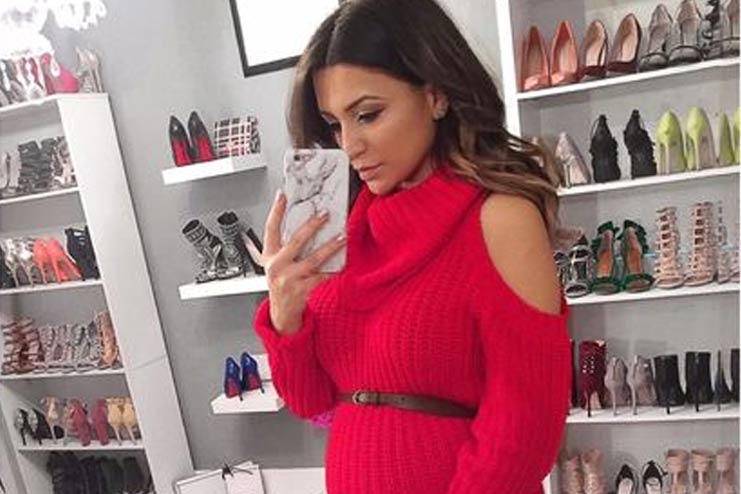 Turtle neck dresses give a great pattern and design on your arms, it is not a usual pattern. It makes one look modern and smart. This is a complete woollen dress and is suitable for a Christmas Eve. You can wear this dress without a belt as well.
Styling Ideas :
Wear on wedges that do not have big heels or you can go for stilettos
A pair of simple earrings you would need and nothing more
You could also opt to braid your hair and give it a good style
Skin Fit Dress With An Animal Printed Long Waist Coat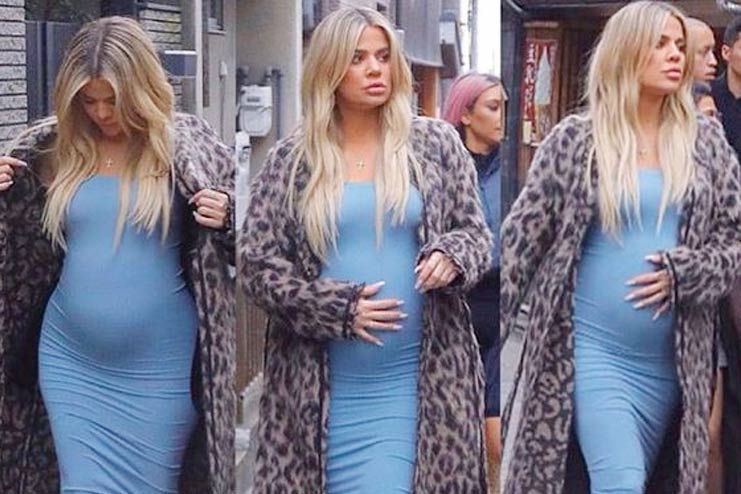 Try this one-piece dress with an animal print long waistcoat. Animal prints look bold and totally swish. It does not matter about whether you are pregnant or not but wearing skin fit long dress and blending it with a good jacket brings out the real show in a dress.
Styling Idea :
Wear on some nice sneakers that will match well with the animal printed long waistcoat as well as with the skin fit dress.
Read: What to Expect at 12 Weeks Pregnant
Best Pregnancy Outfit Ideas For Spring
An apt dressing in the spring season calls for maxi's, skirts, tunics, shirts, crop tops and tee's for women to get into. Here are some of the dresses pregnant women can wear in the spring season
Checks Long dress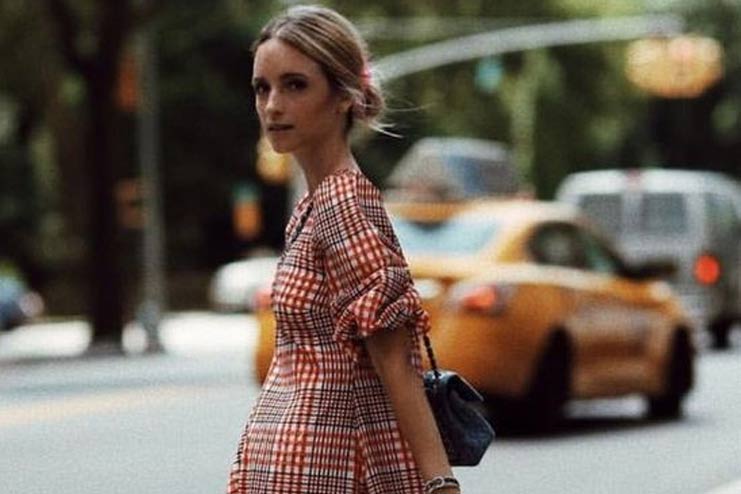 This dress can be worn for a vacation as well as at work. The checks print is rare in the way it appears but in today's time it is commonly used by men and women not just in terms of clothing but his print is used on fabric for purses as well.
Styling Ideas :
Checks is a vast ocean altogether, the patterns you can look to try are window pane, prince of wales, tartan, buffalo etc
On a long checked dress you can go for a half- updo hairstyle
Try wearing round earrings with this dress
Off Shoulder White Dress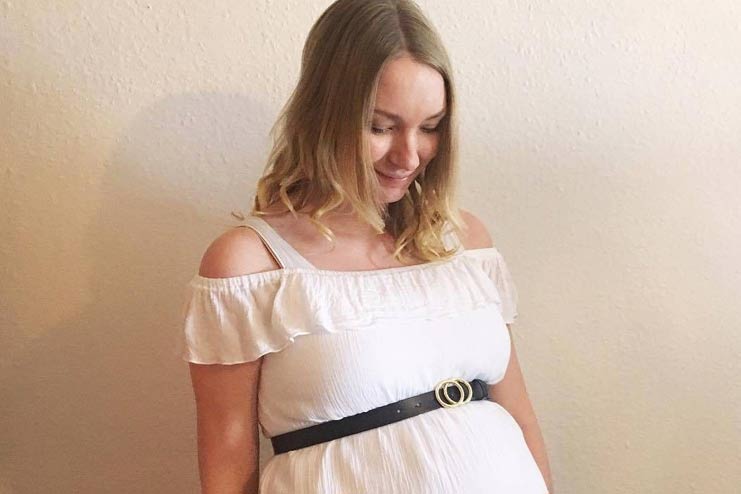 An off shoulder dress is the cutest pattern so far when it comes to one piece dresses, it has a great elegance that cannot be compared with other dress patterns. Its style is classy and adorable.
Styling ideas :
Go for a side puff hairstyle with this white dress
Be comfortable and walk with grace with your sleeves staying off your shoulders
Waist Tie Dress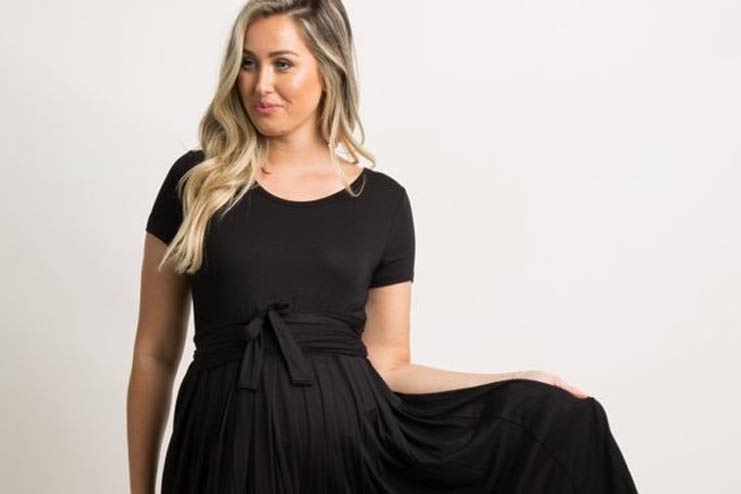 This maternity midi dress with a round neck and a bow above the waist is elegant with the pretty pleats falling from the belt of the dress. This dress can be worn even after the pregnancy phase. It is a rayon dress material.
Styling Ideas :
You can wear strapped flats
You can try a braided hairstyle if you have long hair and tie a bow like hair band
Striped Maternity Gown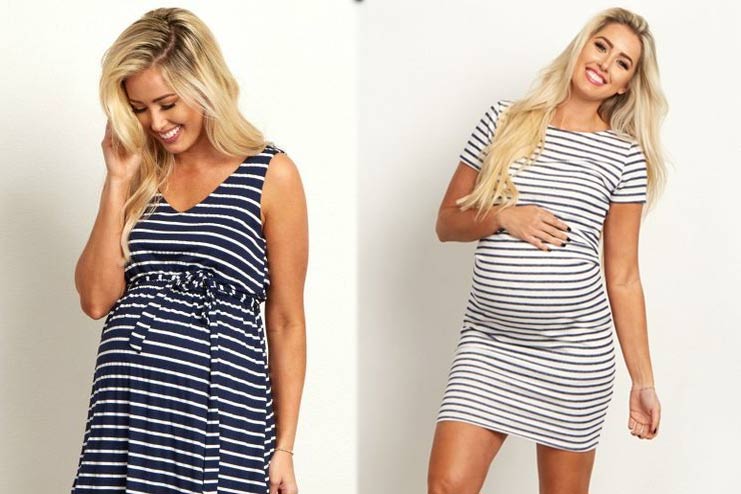 Is it not amazing to go for a striped style in spring? Striped maternity dresses are simply smart and there can be nothing else that can describe the beauty of this dress. It has a cool look that is as famous as the style of the check. Every woman must go for this pattern and add another style to their wardrobes.
Styling Idea :
Wearing sneakers with this dress is one of the best styling tips you can adapt to
Crochet Maternity Dress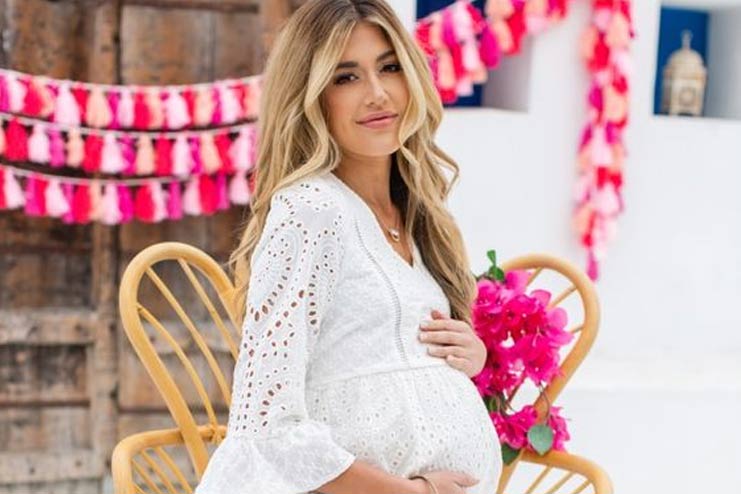 Crochet is one in a kind and its detailing is far beyond simplicity. Its ultimate look is simple with beautiful detailing. Trying a crochet one-piece dress is going to enhance your beauty and you do not even have to have second thoughts to pick on this pattern.
Styling Ideas :
You can wear the best of pearl earrings
Jelly shoes for the footwear will look great
Front Button Maternity Dress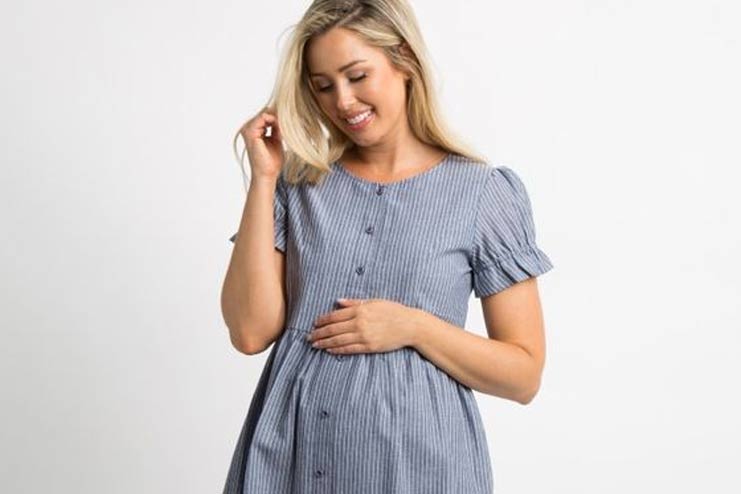 This maternity dress is one of the most comfortable and durable one's and it can be used after pregnancy as well. A great choice to make for wearing it in the spring season.
Styling Ideas :
You can wear a high ponytail with this dress
Wear sneakers to make this look rock on you
Slouch Maternity Dress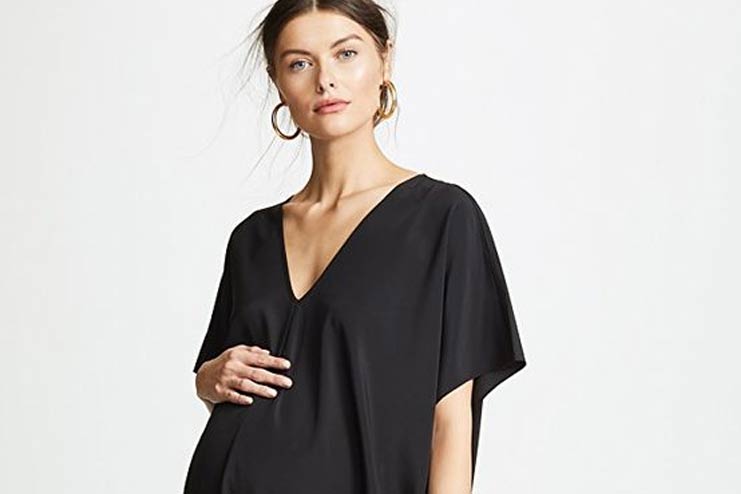 Slouch Maternity Dress are similar to the bohemian style, they are absolutely fabulous and stylish. One of the best attires to consider for a party in the spring season.
Styling Ideas :
In this dress it is always the best to fold your hair and tie up a knot so that the pattern of your dress is visible
V-Neck And Plazzo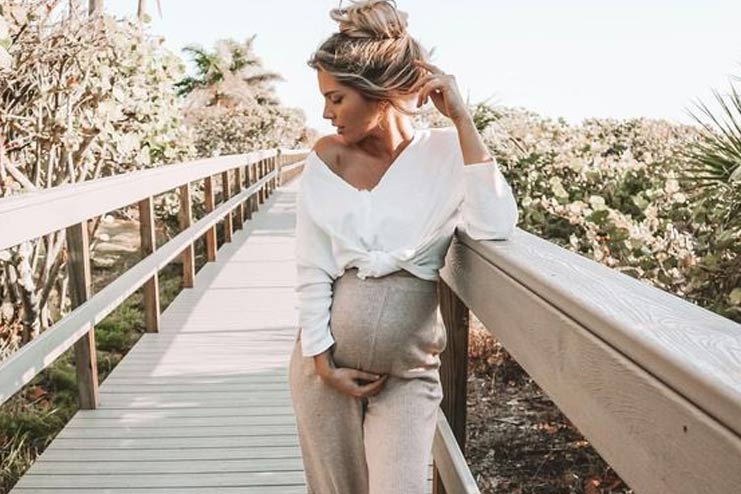 Plazzo is in trend in the western as well as the Indian style. Wearing plazzo as a maternity outfit is going to make sense because it will not make you feel like you are wearing heavy clothes which feels like a pain in pregnancy. Pairing your plazzo with a v-neck t-shirt is sexy and will be one of the great choices to make.
Styling Ideas :
A high bun is the best thing you can do with this dress
Make your pregnancy a trendy, comfortable, fun and an energetic one with a lot for you to explore with. The best part is that you get to wear pretty and feminine stuff.
You name it and its there. Be it shorts to jumpsuits. Check on what suits you the best and stay fabulous during your pregnancy.