Wondering about the fashion tips during pregnancy, well! worry not for we have everything in pregnancy fashion ideas to spruce up your trimesters with sass and class. Woman love to add charm and grace to their persona, and specially when their hormonal balances in the body have gone for a toss; the excitement and anxiety of carrying your heart in your womb must be celebrated and cherished each day by looking and feeling good with pregnancy fashion dresses.
A woman brings not just style and charisma on the table but also magic and mystic too. And when pregnant it becomes absolutely necessary to keep up your style quotient for this is the most auspicious time in your life.
Most women confess that their skin looked much more radiant and enriched when pregnant, and carrying a child brings a lot of shine and happiness to your skin. You begin reflecting the happiness and joy you feel, thus it is time to check some fashion tips for pregnant ladies and style ourselves in the most stunning way.
Top Most Fashion Tips For Pregnant Women To Help Pick A Maternity Wear Accordingly:
Have you seen the maternity sections in Macy's or any other store; well all of them from Marshal's to Ross to TJX to Dillard's all have a special section with just maternity wears arranged and displayed. Most of these stores have a weather appropriate maternity section from pregnancy outfits for winter to pregnancy outfits for summer which have all the ingredients to jazz up your pregnancy style. Check out some popular trends and tips for pregnancy fashion 2018
:
1- Get skinny: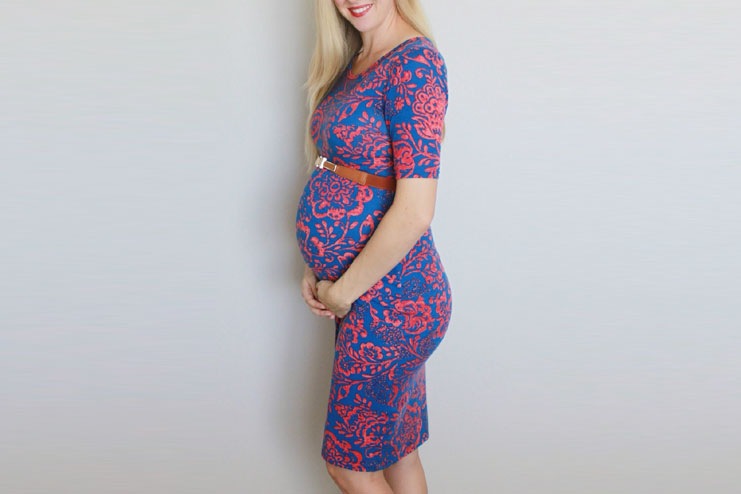 Yes! you heard that. Pregnancy does not mean you do not well fitted outfits. Get skinny and wear everything fitted specially the pregnancy fashion dresses which are stretchable and give you ample cozy and comfy time. Celebrate your new curves with fitted wear and flaunt your baby bump for this is the most incredible time of your life
2- Show some skin: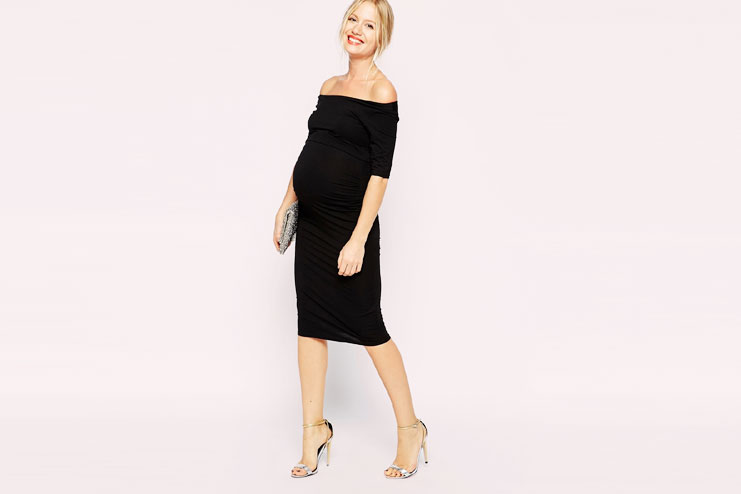 Pregnancy does not mean you cover from head to toe. Flaunt your cleavage and let go off the padded bra's for now, as its time to streamline the hormonal dysfunctions in your body with utmost elegance and pride. Put on scoop neck tees or sweaters for it is your chance to leverage the situation brilliantly
3- Pick snuggly outfits: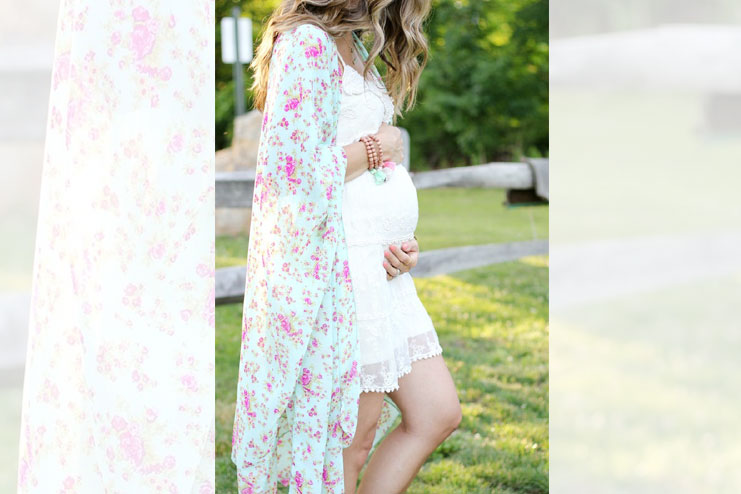 Wearing bulky may seem like a ritual for pregnancy fashion from ages. But comfort wear is the trend now. Get snuggly with lighter silhouettes for your body. Pick knits which stretch to your body size look and feel just prefect for your pregnancy style. Leggings and tank with a loose shirt knotted is probably the chicest pregnancy style ever. That's sexy, contemporary and classic at the same time
4- Get colorful: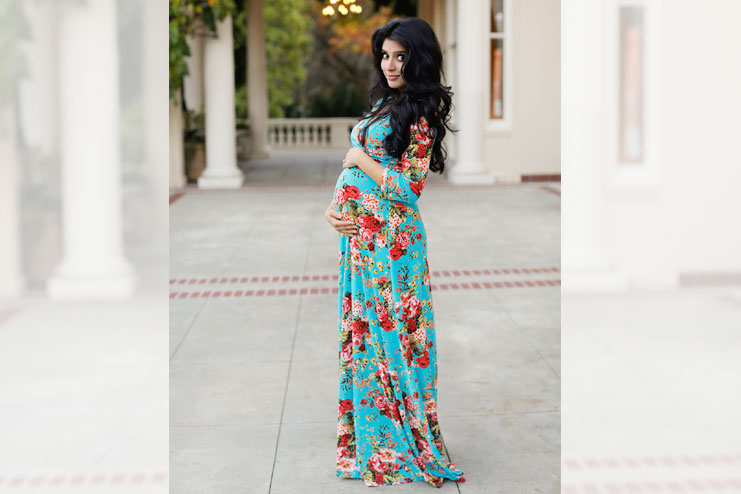 Color is a very important part of maternity style. Neutral or all monochrome will not make you look in vogue, so you must have adequate bright colors to your attire. Even a dash of colorful shrug on your otherwise pale dress would do the trick. So rejuvenate your pregnancy fashion and style with colors over drab neutrals
5- Get designs and decorations: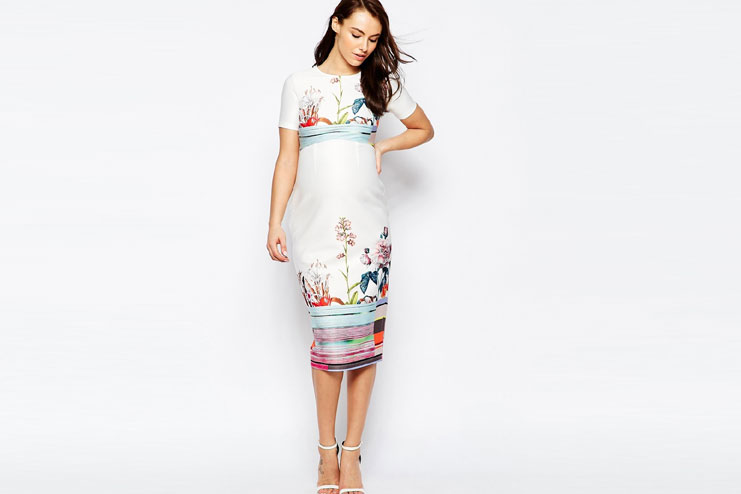 Pick embroidery, embellishments, ruffled trims and beaded accents in your pregnancy fashion. These are just the much needed source of oomph and glamor you need for looking stylish. Why staying too conspicuous when you can spruce up elegantly
6- Accessorize: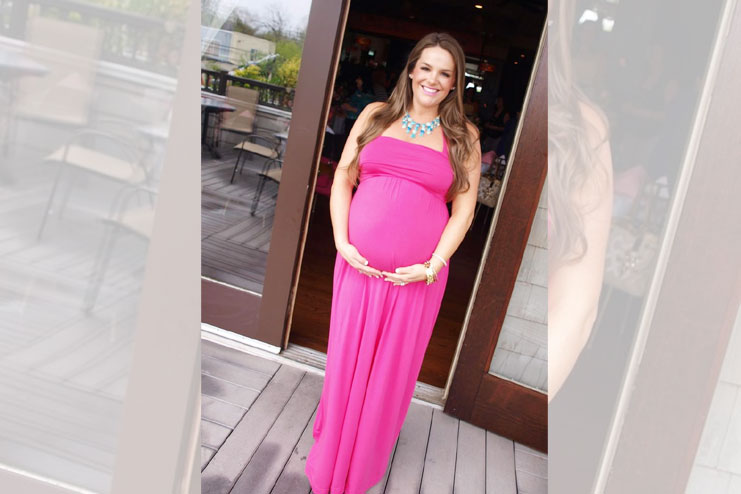 Adequate and matching jewelry are always the best way to accentuate your otherwise pale look. Put on those favorite danglers or choker of yours, for pregnancy fashion tips can not be complete without accessories. Put on patterned scarf, jeweled cuffs, chic handbag and sexy shoes to perk up your maternity style
7- Wear maternity waist bands: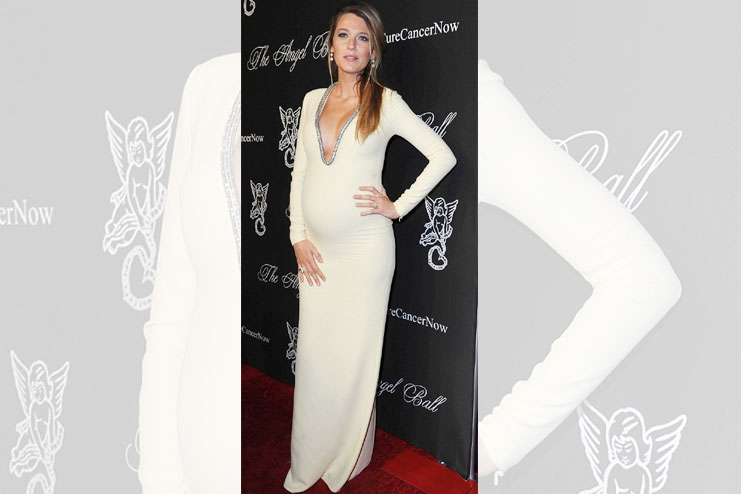 Waist bands for maternity are just not for looking fit but also help you feel comfortable all the time. These add the much needed balance to your pregnancy fashion
8- Pick trendy and comfortable sandals or shoes over heels: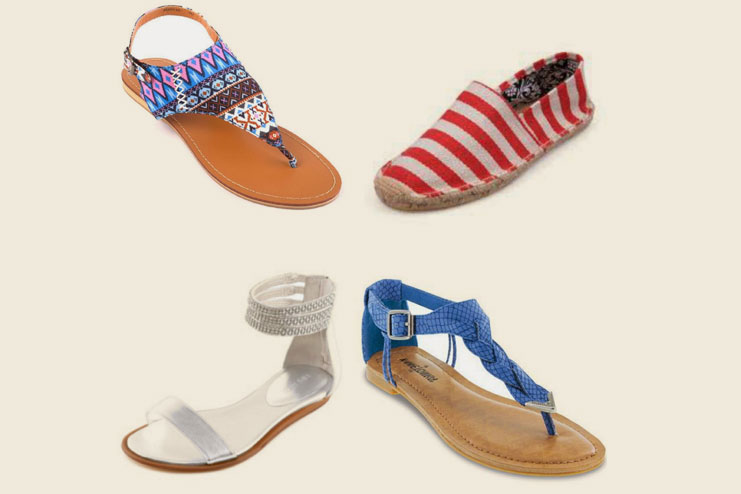 Though heels look great on dresses but this time it must be trading them with comfortable and stylish footwear. Right shoe or sandal can be a blessing specially when you have ample weight to carry
9- Remember your nails, hair and feet too: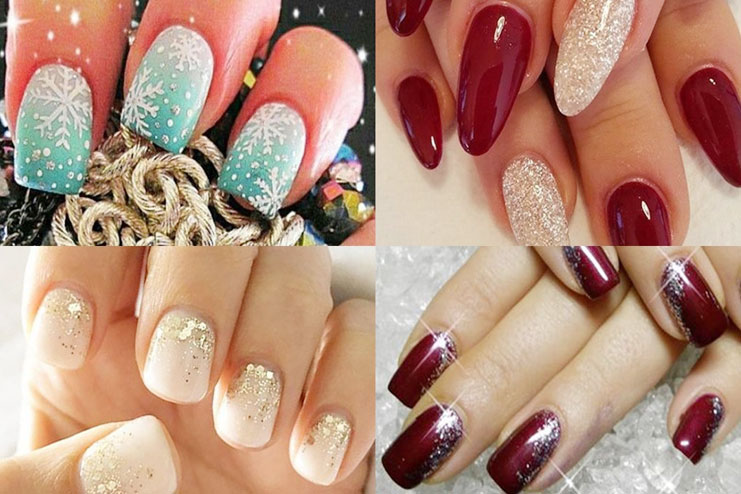 Put on the nail art you always wished for and add color and spark to your hair for looking your stylish best. Man-Pedi during pregnancy must be a strict have-to, for they not just make the nails shiny but also give you the much needed pampering at this time
10- Pregnancy style is not robbing your husband or partner's wardrobe:
Who said pregnancy means wearing the bulkier and bigger clothes straight from your man's closet. Pregnancy fashion winter classics are just the most stunning of all pieces ever, so much so, that celebrities often flaunt them despite not being pregnant.
Fashion tips during pregnancy which will take you a long way and spruce up your style:
A Kim Kardashian in those cleave accented pregnancy dresses which are too shaped for her beautiful figure or a Blake Lively in her maternity gowns, celebrities have brought in so many esthetics and styles to pregnancy fashion that we have so many choices now. What we thought would be a strict no-no for pregnancy is just how the celebrities styled for their pregnancy appearances. So we bring you the most stunning pregnancy fashion dresses which will never fail you:
1- A black pencil skirt with a bright top tucked over: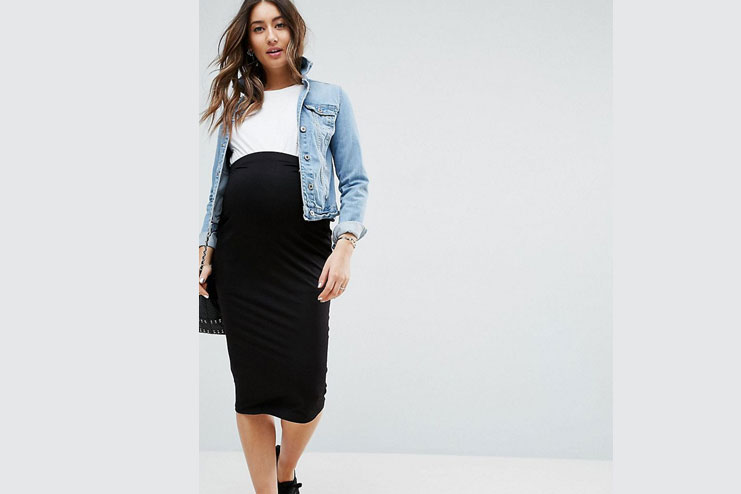 A black knitted pencil skirt is just the most sassy pregnancy style for anyone looking for some fun. Throw a crop top or a knotted shirt over and blazer for pregnancy outfits for winter and look your best styled self.
2- Button up shirts and tops: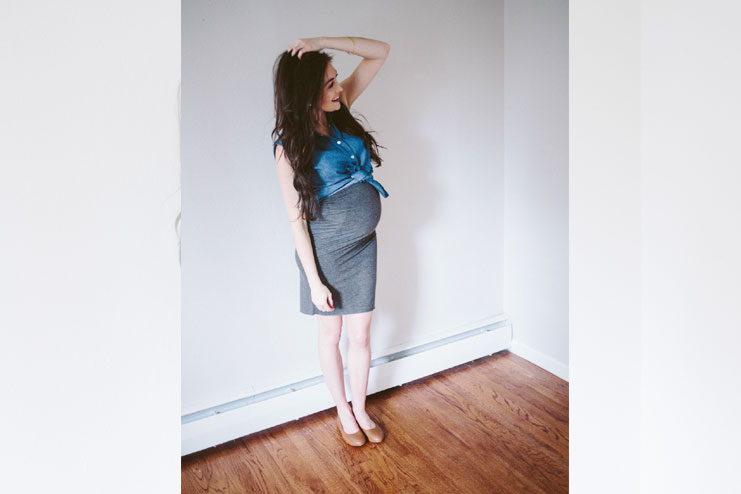 The instant maternity fix for your stye would be buttoned up shirts. For those belly and bust hiding and yet keeping the stunning curves alive, pick button up shirts
3- Stretchy black pants and black tank: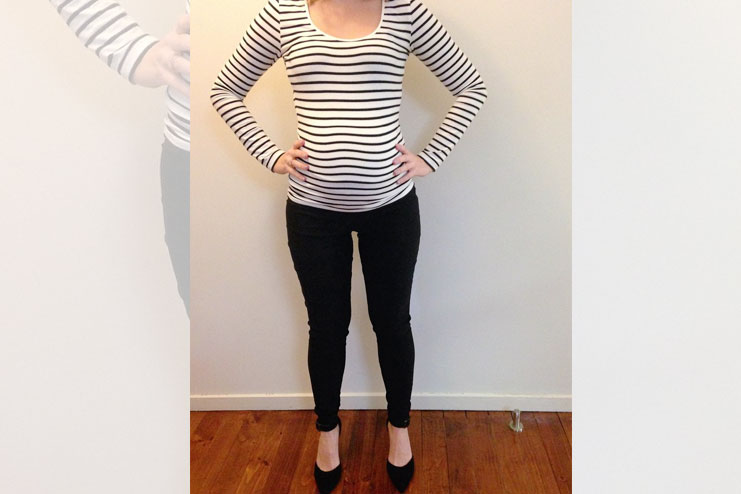 Everything gets an stunning spark with a black stretch pants and black tank top with a bright shirt on top. Just find your perfect fitted pair of maternity stretch pants and we know you will wear them more often than just during pregnancy
4- Flared skirts: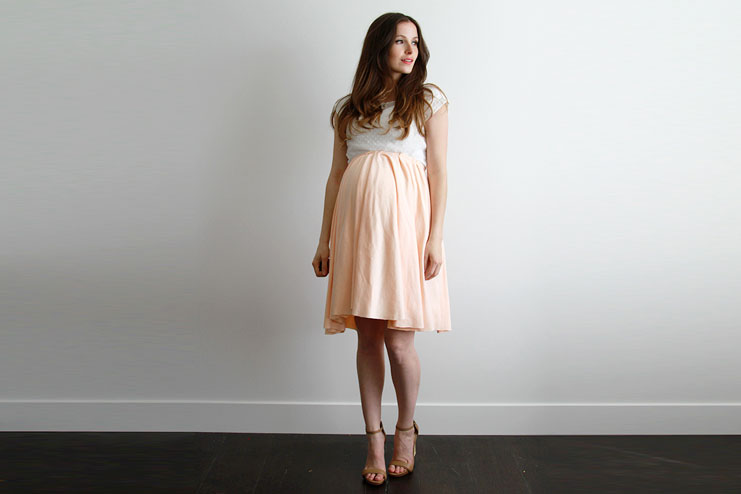 Flared skirts are the best pick to balance the proportion for your maternity style. This takes off the attention from the belly and brings more and more appeal to you. It also makes the upper half of your body look longer too
5- Pick asymmetrical hemlines: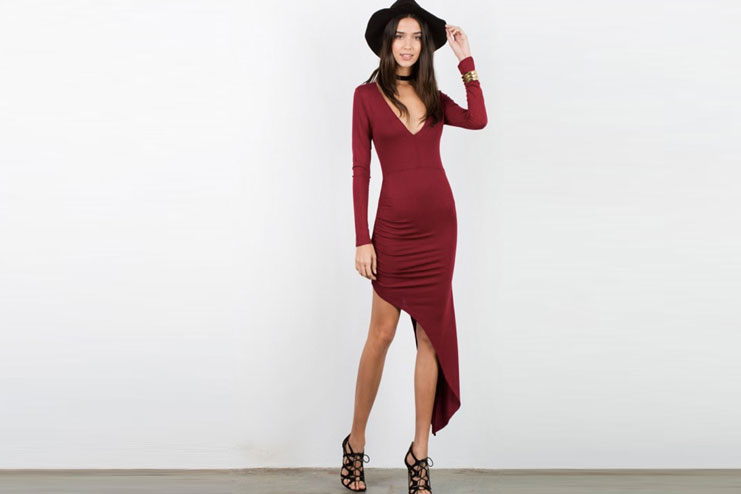 Hemlines with higher on front and lower at back are just the right dose of maternity wear you are looking out for. It helps in taking all the attention from bump and it is not tight on your belly area and giving the right edge of style
6- Comfortable and open toe shoes are your friends: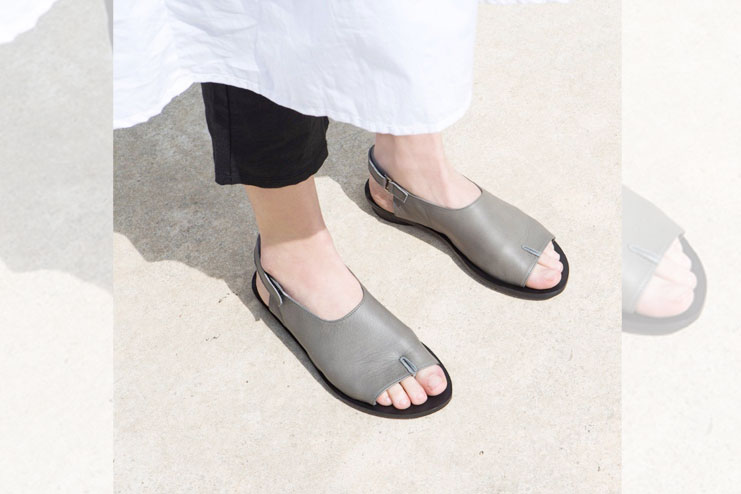 Pregnancy fashion means staying comfortable and yet stylish so the open toe shoes are the best pick for your pregnancy outfits in summer. This open toes show just goes right with almost all your outfits and keeps up the style along with comfort
7- Maternity jumper dresses: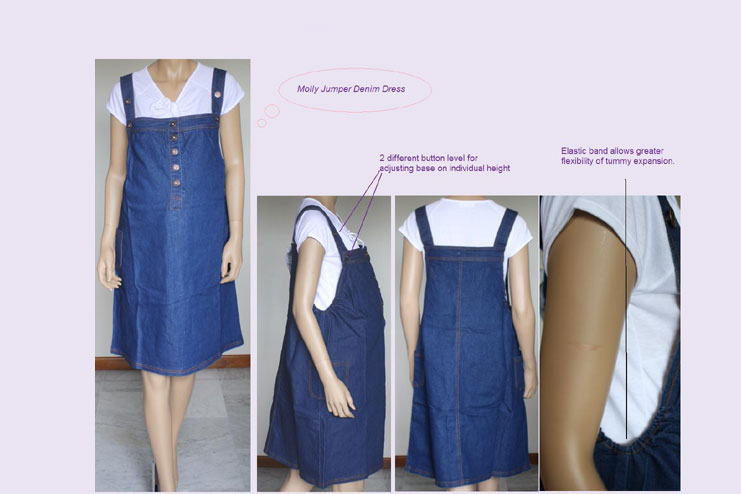 Time to get quirky, as jumpers during pregnancy are just the most trendy pick for you. Pair them with shirts and leggings or high socks for an enchanting style
8- Little black dress: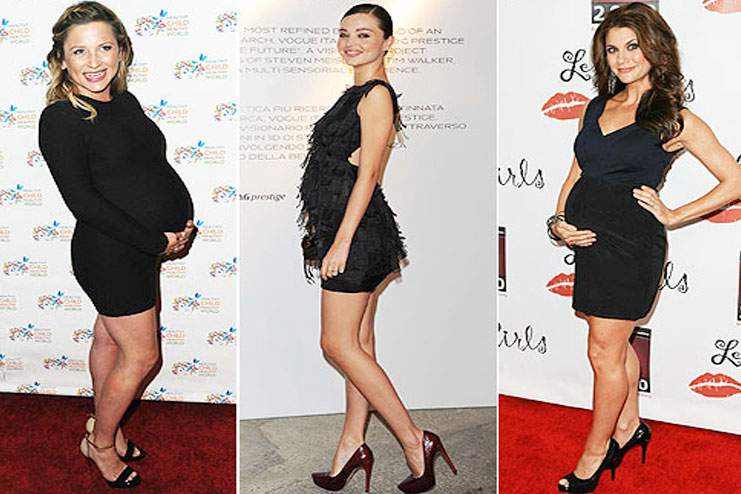 An LBD is also the most stylish pregnancy fashion article. It may not be suitable for all day wear but for special occasions during pregnancy just wear a sexy and stylish LBD.
9- Horizontal stripes: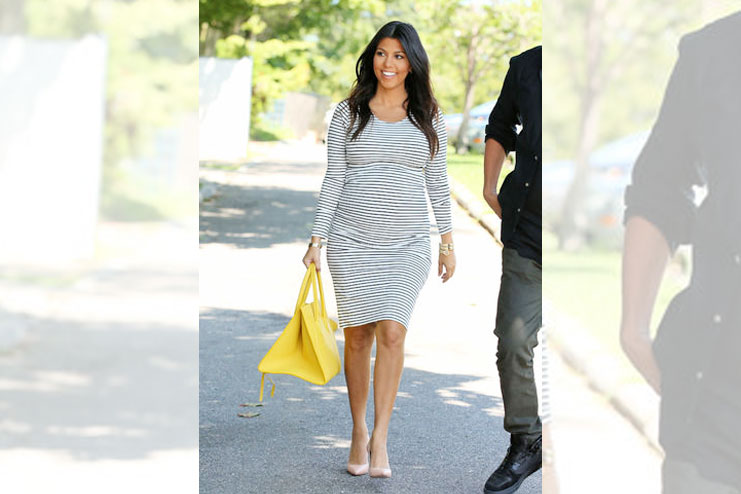 Horizontal stripes show the growing belly in the most wonderful ways ever. Every maternity style blogger just swears by this saving the day outfit which can be worn just on any occasion and yet it keeps the style quotient high
10- Slit dresses: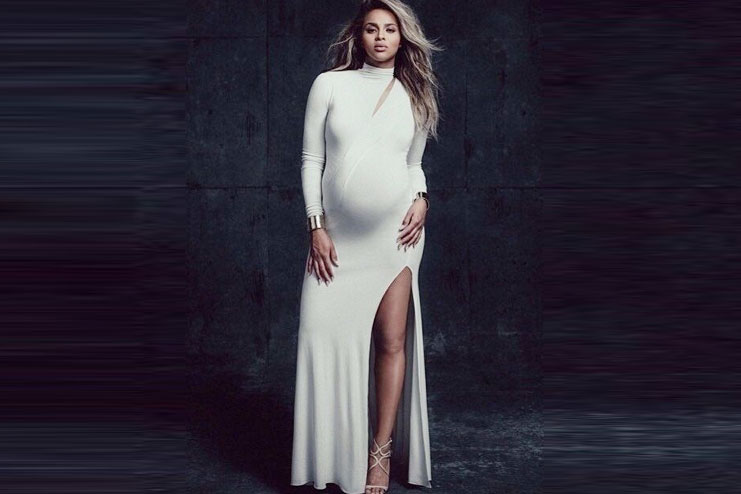 Why hiding the flesh when maternity style needs some hide and seek. A perfect fitted slit dress with knee high slits is just  the right way of showing off your curves to perfection. Also a slit at legs allows more movement and thus added comfort for those times.
11- Pair sneakers with dresses: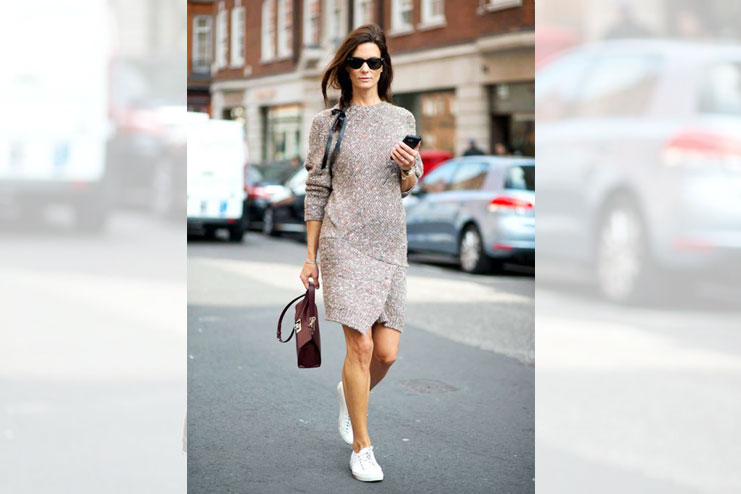 Sneakers with dresses is just the most comfortable and effortless style for your pregnancy fashion.   This is the cool chic style which you never want to lose during or even after pregnancy.
12- All black: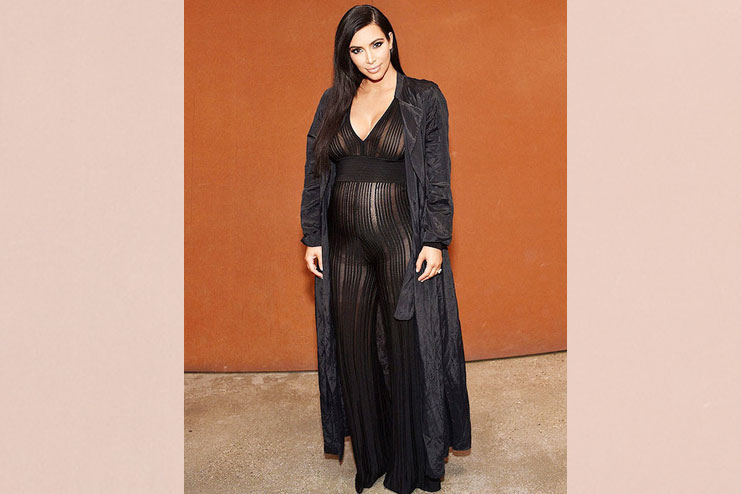 Imagine a Madonna in her all black attire, yes thats the kind of maternity sass we need. Look badass and conquer it all, even if that means in your maternity wear. Knitted tops, black boots and leggings are just the vampish look you need to quirk up your pregnancy fashion
13- Free flow materials: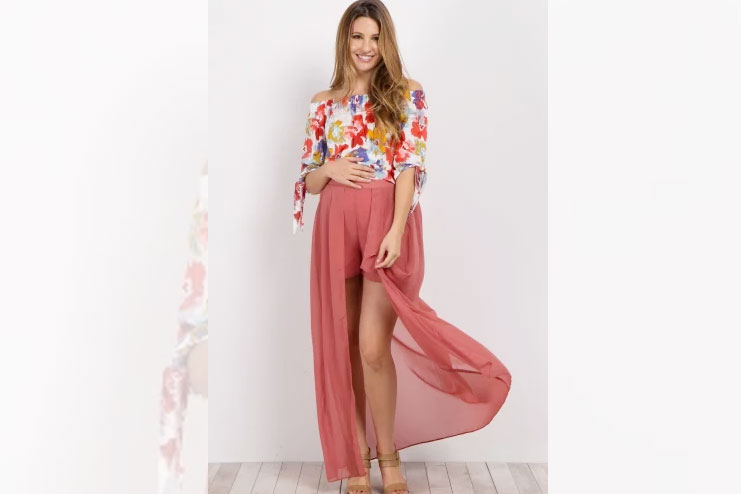 Most baby bump photo shoots just show those floral and pretty free flowing materials. These are the most styled maternity wears all over and why not. Fitted at until the waist and flowy at the bottom is just the most jazzy style for pregnancy. Remember Blake Lively at the Red carpet in that flowy dress during her pregnancy.
14- Get Bohemian: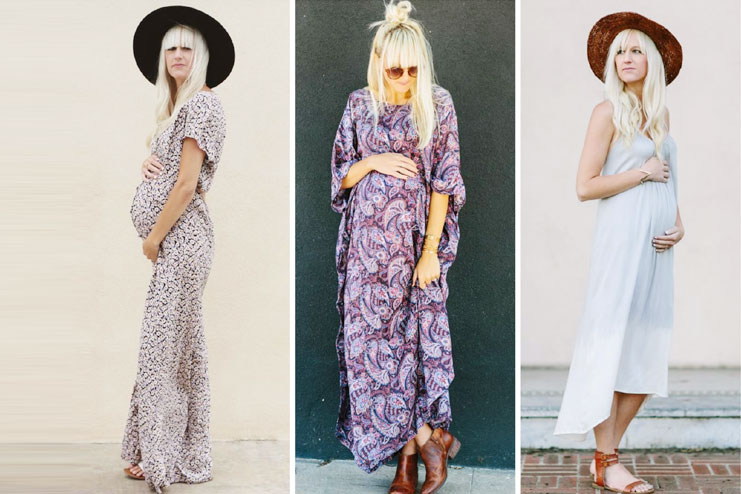 Nothing can be always right more than the Bohemian chic outfits for pregnancy. They are style, class, grace and sass for your much needed pregnancy fashion. This is a classic and preppy style which never fails and with some cool and appropriate colors it gets to be an all weather maternity style.
15- Thick Fabrics: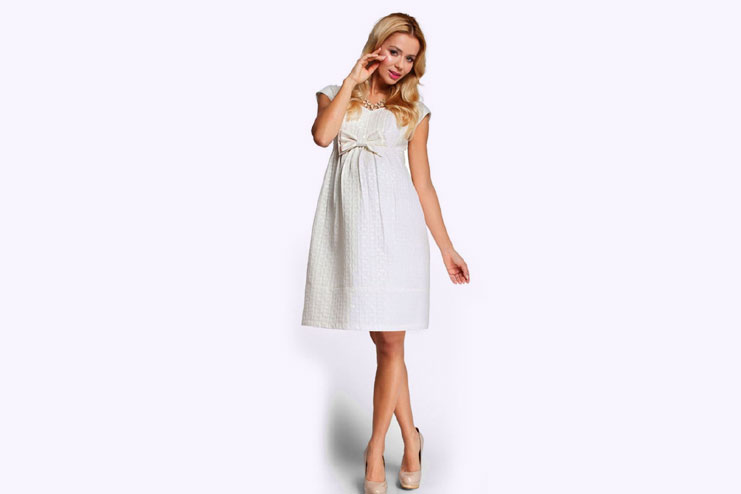 Thick fabrics can get tricky for those who have a plus size affinity. But beware when choosing the kind of outfit as you do not want to add bulk at any place. High waisted heavier fabrics even disguise pregnancy, look at Duchess Kate, in her pregnancy defying outfits in thick fabrics. Class and sass maintained.
Share ahead and keep writing us, we love hearing from you!
More articles for Pregnancy Lady: