Reading is not just a hobby but a way of life. And there is nothing more satisfying than reading regularly. Reading helps in developing your mind, infusing critical thinking abilities, improving vocabulary, increasing linguistics and advancing overall development specially the cognitive
 aspects. It is thus important to begin reading to your child as early as birth.
For reading aloud is a great stimulant for even infants and a routine reading habit helps in giving the kids an inspiration to continue reading always. Now comes the most important query, what are the best ways to teach kids to read. While everything in life is about experiences, even reading habit also comes when kids get to experience the many amazing benefits of books from beginning. As a parent we must become role models and try and help our children in picking the habit of reading.
As much as I am passionate about reading, I make sure my little one gets attractive and informative books in her hands all the time. My habit of reading has been hereditary where I have grown up seeing my father reading until late hours at night and then as a habit I was given books and magazines on a daily basis. And yes! I was even asked about them for how much I could appreciate and understand from the reading. I became a bibliophile firstly just to collect them and then eventually began reading them too.
Now as a parent I try my best to help my child become friends with books. Based on my own learning and experiences I have come up with a step by step guide to reading and some basics which will help us in helping our kids to read more and more.
Some tips for early readers and how to instil the reading bug in kids:
Reading as a habit must be picked by kids as early as a newborn stage. Yes! The kids are capable of showing they like the daily reading with parents or caretakers. Developmental Psychology states that depth perception, object permanence, and stranger anxiety come in as early as a few days or few weeks old child. And physiological sciences state the child begins to hear as early as the second trimester. And that stuck me, I began exploring more and more as soon as I found a positive sign on my pregnancy test. I have always loved exploring facts and reading my way through the baby parenting books, to find out everything that affects me or inspires me. And I started my little one's reading journey from the second trimester itself after knowing when exactly hearing aids develop. I began with spirituality at first as that was what made me sane with all the trips to the loo and being alone at home all day. Then came some intellectual, some romantic, some fantasies and some biographies which I finished during my next 2 trimesters.
So it all began as a daily habit and even now, it is more about the books than about anything else when it comes to buying gifts for my kid. Look at how as a parent you can facilitate and empower your children with the most blessed hobby they can even appreciate:
1- Begin earlier than you think: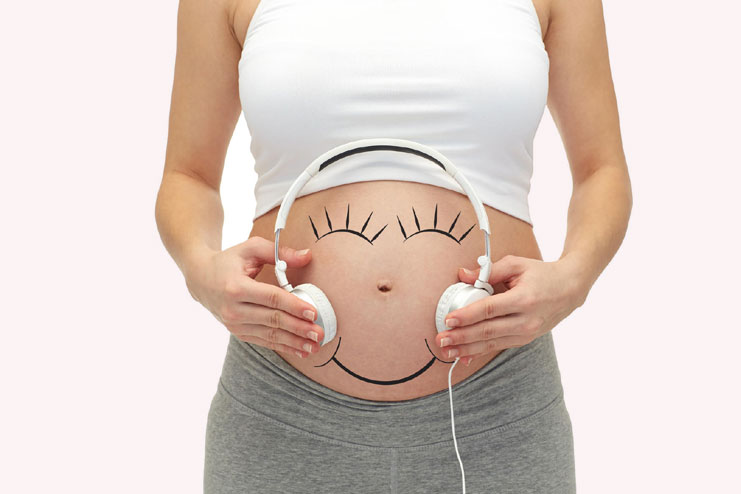 Even before birth the kids must be read out, in my opinion. This is because of two simple reasons. First we ourselves have to develop this habit of reading out loud to our kids. And secondly the child in womb does hear it all. There are ample texts which state how you can connect with your child through pre-natal music and reading. We began with reading, then it became an interaction where I would talk to my child about things that were around say what I was cooking or what I was reading. Then came in the music, by the 30th week we had figured out which song will make my baby doll kick and here, I could check her number of kicks in a day needed for ensuring a healthy pregnancy.
2- Before the child is born, be sure to have at least a 50 book names in your list:
You may not get ample time post delivery to get to the library and search books. So better utilize the time when you are pregnant with searching and listing books for the first 3-4 months, until you can take your baby to the library for story time or reading. It would be great if you could have at least 3-4 books at home before the baby comes home.
3- Begin reading to your child from the time you bring her home:
The most challenging part of having a newborn is the scheduling for everything goes for a toss. But one thing is sure, if you stick with a time table, eventually in a few weeks the baby will adjust to it. I had marked the time post lunch as reading time from my 30th week of pregnancy. And this became a habit later when my daughter was home. Every afternoon, post lunch between 3-4 pm I would read to her, anything that seemed interesting to me at first. Then I started with goodnight rhymes and bedtime stories and definitely it was never everyday on time. We did have some delays and sometimes we read more than an hour and sometimes we did not. But it kept going and still continues to connect me more and more with my child. And the song that she reacted to when in my womb, is still her most cherished one. We have used that song to sooth her, put her to sleep, to make her eat, to have her in bed on time and many other things. My own experience with the song has made me realize prenatal music is real and it does help a child enjoy and learn.
4- Begin with board books and picture books as soon as your child begins to balance their head: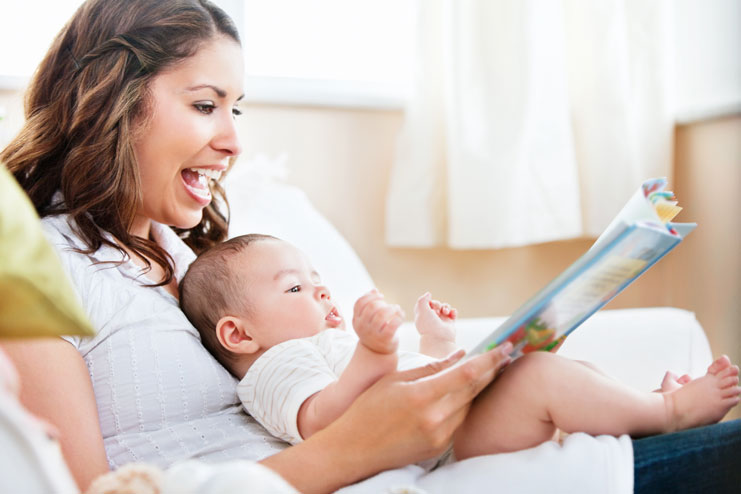 Start showing the kids these pictures and interact with them while reading with them. Point to things which come in while reading says the cat picked the hat, and point to cat first and hat next. Also, try and bring the first words book, begin point to the pictures as you read those first words. I had my child in my arms all the time while reading the books, sometimes she would try to turn pages as early as 3-4 months and it went on to my husband finding her favorite things in the book. Which by the way still stands true, a strawberry, a blue colored outfit, and crayons; even at 5.5 years she still gets scintillated with that blue color or the crayons around.
5- Start building up on stories; or what I say relativity of things around: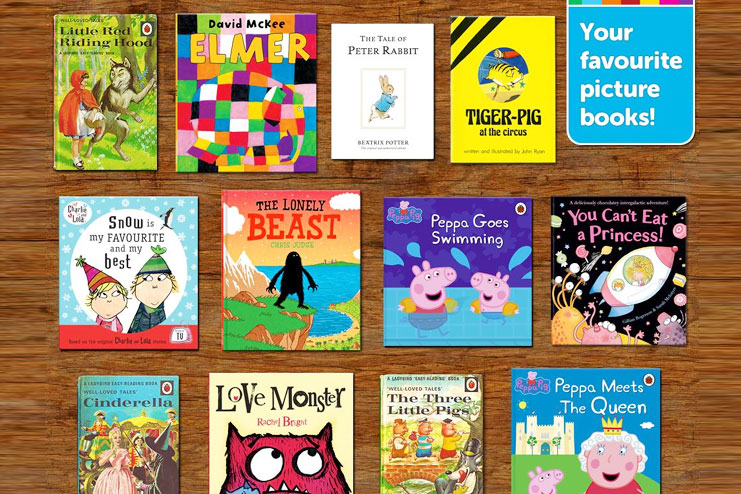 As you read to them, start relating too. Say in the morning you read about fruits and vegetables and here in the evening, you are preparing some snacks which have a fruit or vegetable you read about in the morning. Start saying remember where we saw this strawberry today, then sometime later ask them to find that strawberry in the book. Then while you go grocery shopping, ask her to find strawberry in the aisle around. This relativity exploration became a thing for my little one, and even now it is very much intact. Though it has now become more like guess where did we see it yesterday or I spy that strawberry, do you too? Even when we are driving the game stays on from past 5 years now and now I am the one at receiving end
6- Take kids to a library as early as they start sitting: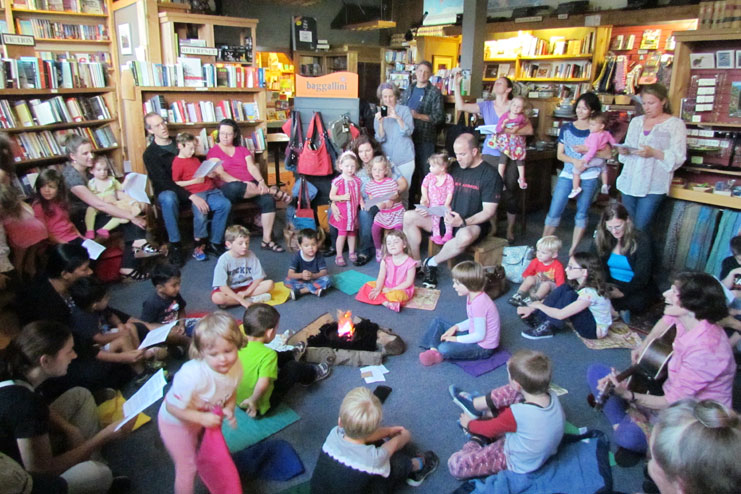 Even before age 4 months, you may take them but after they start sitting, story time must be a routine. At least one or two story sessions a week and discussions to follow from there on, specially finding relative things at home or around. Be sure to make discussions a habit. It is not just what they read or hear but how much they absorbed. We began with discussions about what we read or heard but now it is more about telling the entire story that my little one read, and not just one time.
7- After they start crawling and walking around, make book shelf accessible: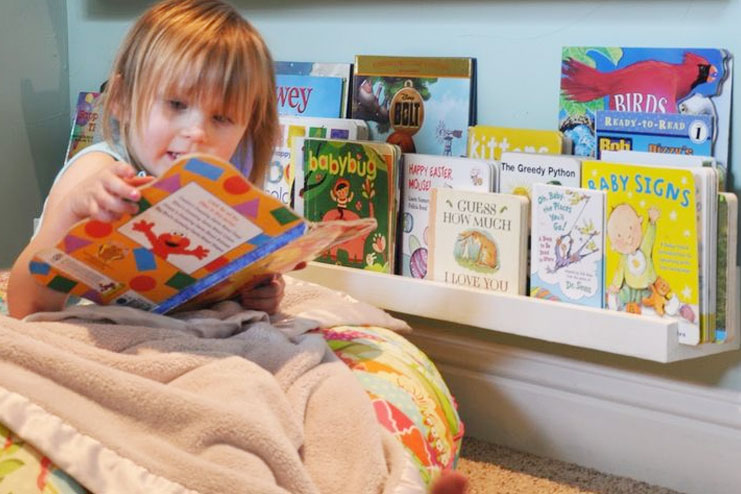 Begin arranging an accessible book shelf with board books and picture books which do not tear easily and have ample colorful things for the kids to find. Also put nursery rhymes and other bedtime story books too. Let the kids find these books themselves while on their rover mission and sit to find interesting stuff in the books. Don't worry if the child damages the book initially, the whole point is to train the kids to understand how to handle books when they start lending from library. Make sure to sit with them when they read and begin pretend play's as soon as the kids start speaking one or two words.
8- You must find simple words like mom, dad, me, no and the rest to help them speak: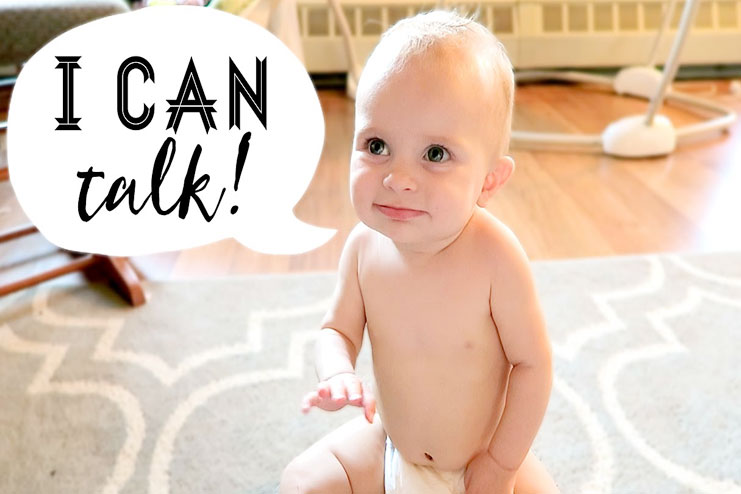 My daughter may have heard mom sound gazillion times but she chose to speak her first identified word as paapaa at age less than 4 months. And she kept chanting it for months before she spoke mom or maa or even m, only at age 14 months after she had spoken every word she could. Well that's how the children are, they would somehow find their own interesting things and follow them rather than the ones you repeat day in and out. So keep speaking the words and stories even while you are feeding them, bathing them, playing with them or driving with them, you never know what inspires them when.
9- Once they begin speaking first words, begin with phonics: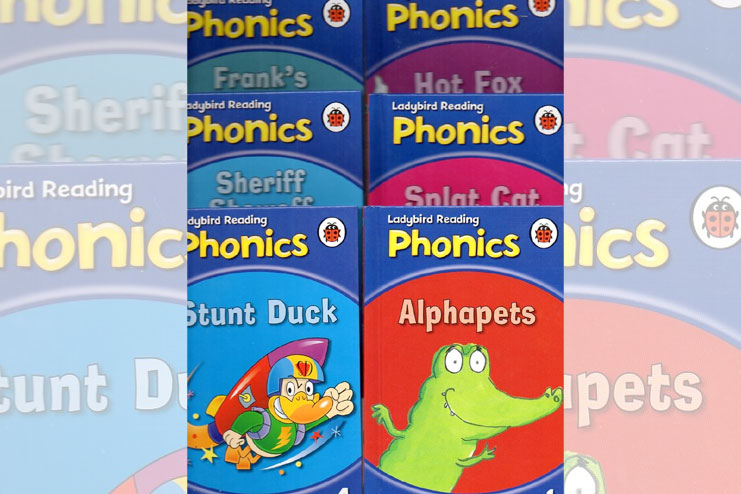 Phonics is the best way to begin language training in kids. Whatever they read or listen or speak must all be gelled well. Phonic rhymes or books must become a part of your daily schedule. Start showing or listening to phonics videos and songs from 8-9 month old baby. They begin speaking these words and relate to their own books brilliantly. Keep encouraging them for more and more participation
10- Ask questions: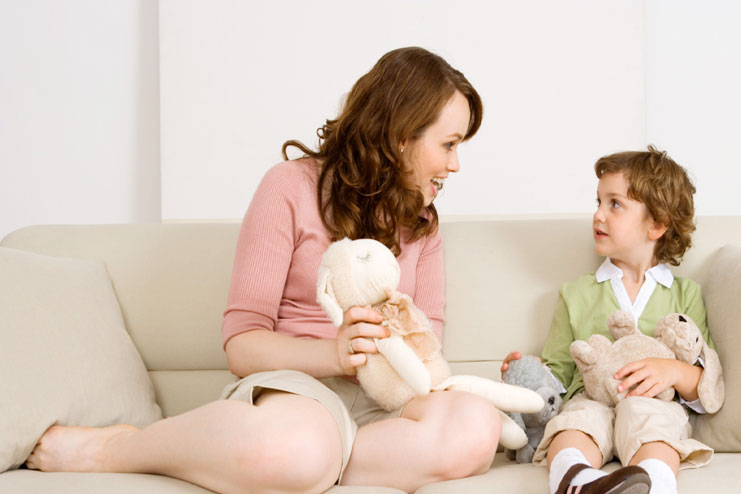 Once you see your kids enjoying their reading time, ask questions to make it interactive and fun. Start with say what color is the strawberry and how many sheep's are the in Mary's hands. Colors, numbers, shapes and sounds are the most significant part of first few month interactions you would have post the child starts speaking. Relate everything with these identifiable items for your kids. Say the red apple is delicious, we saw a black dog outside, the fruit loops are circles, the cow says moo and many more. Get innovative and bring on as many examples as you can. For you are enriching her vocabulary and also providing interesting information which builds on further. And even now what's your favorite… is the most repeated activity at home with blanks being shifted from fruits and vegetables to planet and country.
11- Now put up letters, words, shapes, colors etc in natural settings: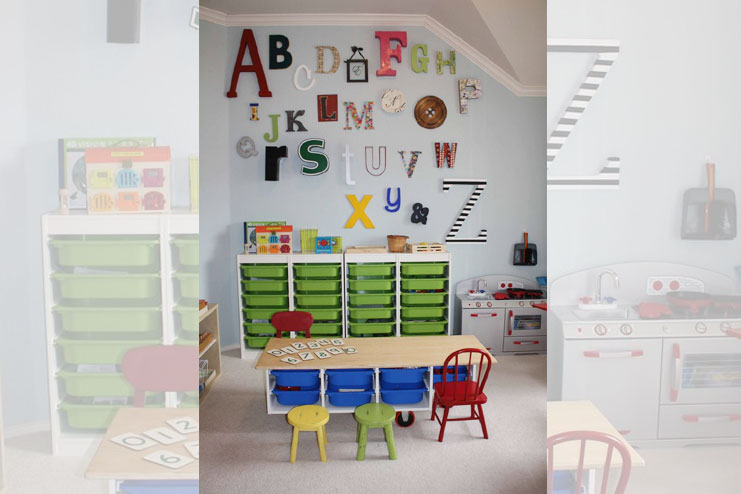 Decorate words and shapes all over the living space. Even find stickers which show animals, birds, plants, flowers, fruits, vegetables, alphabets, numbers etc. And just stick them up on walls or find magnetic ones for the refrigerator. And whenever you pass by, remember to ask your kid about what is what. Also have a family quiz session when you all sit together, I Spy a red star, Point to the letter B and so on. The more your kids participate the more interested they will be in readings further.
12- Now begin with more developmental activities: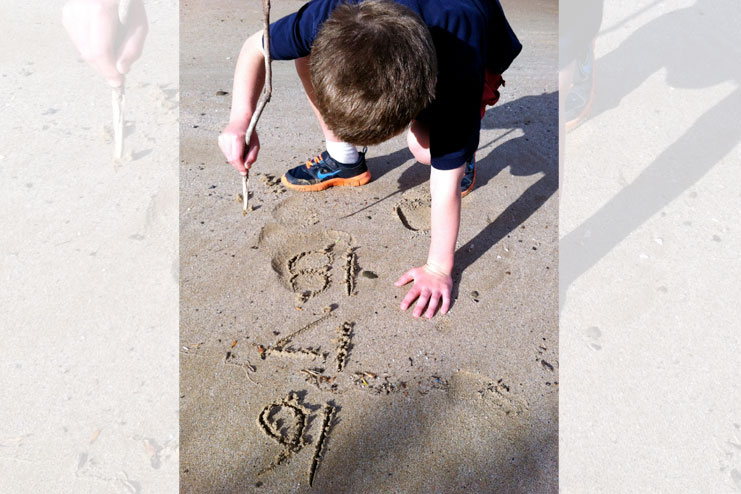 Start helping your kid to draw or carve numbers, shapes, alphabets and more. The more you get creative the more interesting it becomes of for the kids to participate. The most stunning of such activities we have done and still are a part of some wonderful memories include; writing with ketchup on the plate, re-shaping the leftover food into a shape or a number, drawing on a dry wall with brush and water, arranging beans and pulses at home in shapes and letters, using body paint on the floor to paint, using play-dough to form shapes and numbers, using fingers on sand which by the way still is the most interesting way to spell words, and many many more. It is all about creativity and learning, how well you as a parent can gel them together and make it interesting for your child
13- Now after your child begins speaking a few words, be-friend the rhyme family:
Make rhyme a part of every conversation to help your child learn and grow their vocabulary. It is fun when suddenly you see a cat and start off by saying oh cat, where is your hat which was on mat and see she sat. Use more and more relative contexts of every piece you read, listen, speak or see. Be sure to add alliterations too, they make it even more interesting. This will help your child come up with even more creative words, we really don't know how and when but we have a few of our own dictionary words which my little one uses even now; socks were always socksie-pocksie, pink was always pinki-ponki, a kitten was always kitti-kitti-kitti and even now she makes her own words when she falls short of any, which by the way is rare for her though.
14- Introduce sight words: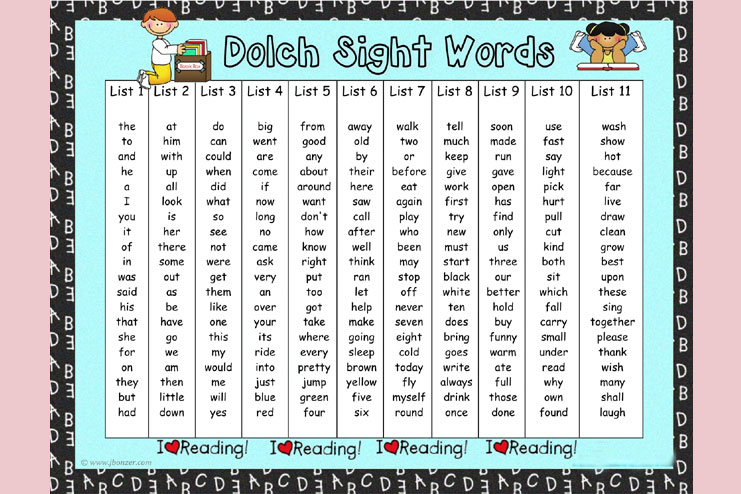 Sight words may not be the most ideal to follow, since they do not have phonics rules and they are just for, to memorize. Make sight words fun with flash cards, spelling out in the bath rub by writing on walls around, or on sand pit. These sight words are the biggest challenge for the kids to begin reading on their own. The more you help them learn these sight words the easier it gets to follow phonics rules for other words and read out everything in the books they pick. Decoding sight words phonetically is impossible so only option is to memorize, be creative and make them easier to learn. We had 3-4 sets of 3-4 letter sight words put in a ziplok and placed in the car, at home, in her bag and everywhere we could bring them to. Even now those hand written flash cards are loved by my little one and we come back to them time and again. This helps in better memory too, and keep progressing from 3 to 5 to more letter wight words and so on
15- The most important habit now at age 5 and above, is to help kids make reading log: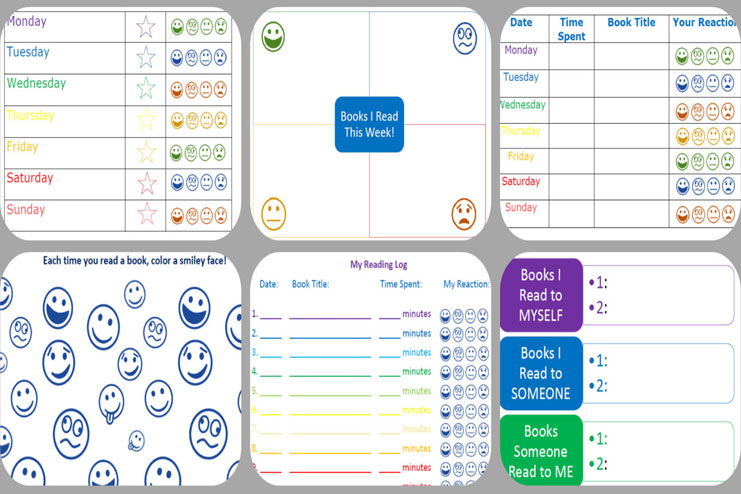 We made a "My reading log" for my daughter a few months back and now whatever she reads, she has to write in the log with its title and give stars out of 5 to the experience she had in reading it also mentioning how many times she read the particular book. This helps us in more enriched reading activity and also this will help her in reading more and more books over time. I am also thinking of putting colored prints of first page of every book she has read so far to make it even more informative. And in the coming months, we plan to have her own dictionary; a small diary where she writes 3-5 new words in a day and uses those in her interaction. Then she would have her own book review blog, which we plan for her out and about as soon as she begins writing entire book in her own words.
Do not worry about grammar so early, the kids will get it eventually. The most important task first is to help them begin reading. Set a good example by reading yourself too. And take them to places around where reading and interacting is a must, to help enrich them even further.
Share ahead and keep writing us, we love hearing from you!
More Related Articles: