Fascinated with the thought of knowing your body type? Well! Why not? Your body is your temple and you should get to know it. Having said, believe in the fact that your body is beautiful irrespective of the body type.
Why would you want to know your body type? Is it because you want to see if you are appealing enough to impress a man or because you want to keep a check of how better can you make it? Each of you may be fall in one of these categories. You can attain perfection in how you carry yourself when you exactly know how to get into the right clothes that quite suit your body.
In this article, you will get to learn what's your body type, hold on to this curiosity and enthusiasm. Elicit the ways on how to dress up based on your body type.
8 Types of Body Shapes In Women – Get To Learn Them All!
It is paramount that a woman should be aware of the type of body she has so that she can estimate what is for her and what can go against her. Every woman should get used to knowing these minute things so that there is no scope for the body shape to become a limitation.
1. Apple Shaped Body Type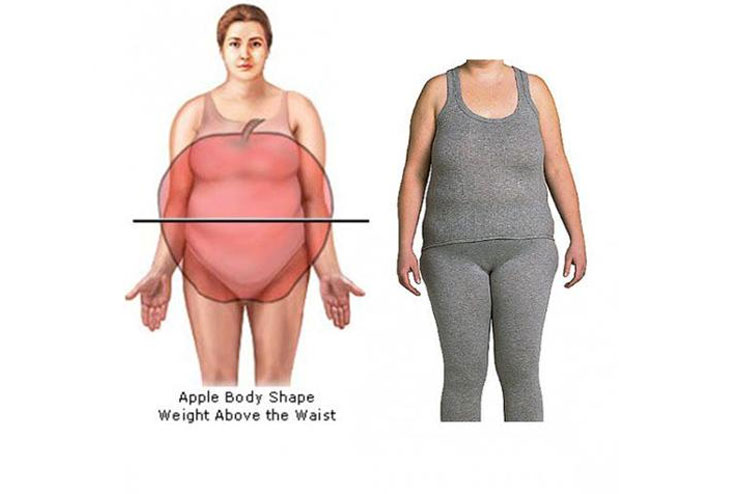 This body type is the healthiest of all, a woman who has broad hips, rounded shoulders, average or big busts and a round tummy. This body type is similar to that of an apple which is why it is called an apple pear-shaped body. The muscle fat is all around the body in this body type.
An apple shaped body type can be toned with the right exercises and food. Nevertheless, it is essential to wear the right clothes to be able to accurately balance your body type.
The Right Attire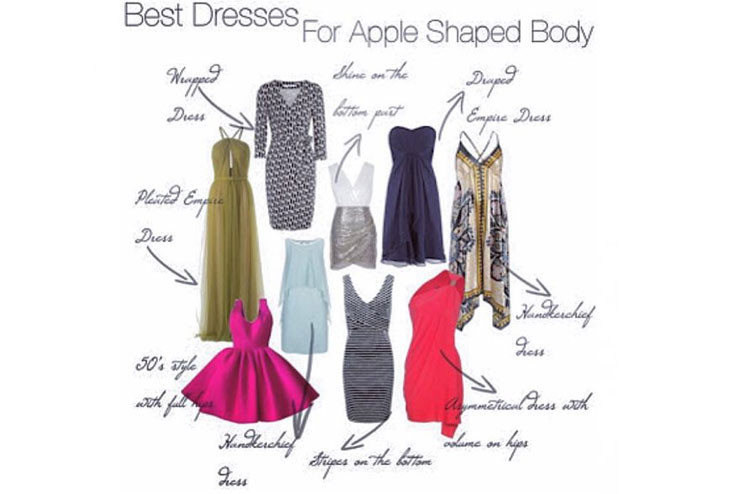 Focus Area:
You should focus on your legs, busts and give attention to your waist.
Hide Your Tummy:
In an apple shaped body type at any cost do not let your stomach get highlighted, try to wear a dress that does not make your tummy bulge out. In order to hide your tummy's disproportion, avoid wearing clothes that stick to your body and clothes that are extremely short. Do not wear bottoms that are too high on your waist as well.
Avoid This: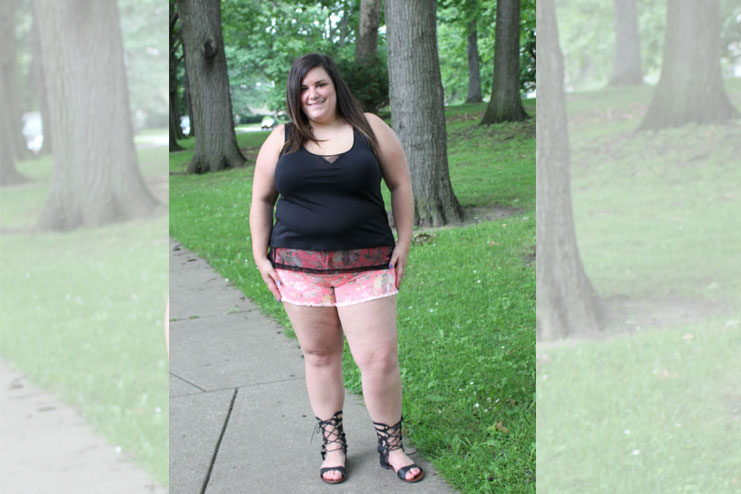 Pay Heed to Your Chest:
The best way to compensate for your tummy is by focusing on your bust area. For a fact, for an apple shaped body, your bust must be in proportion, wear t-shirts that have a v-neck and A-line dresses that fit you well at your chest and as they reach your tummy the flow out.
Go For This: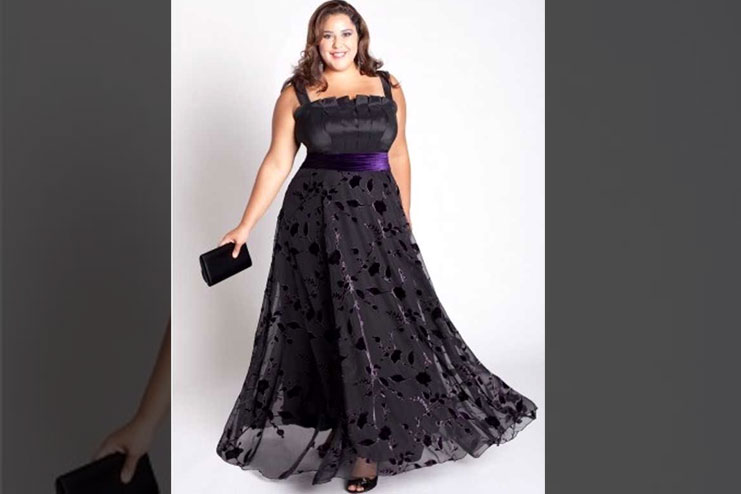 2. Pear Shaped Body Type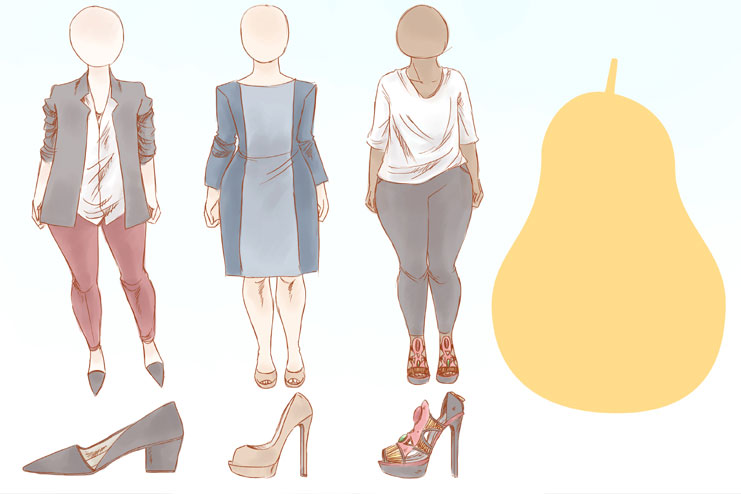 A pear shaped body is when a woman's hips are wider than her shoulders, sloping shoulders, well formed thighs with good abs. Hips are huge when compared to the busts and shoulders.
A pear shaped body can be toned by working on the thighs and hips but it cannot be transformed completely.
The Right Attire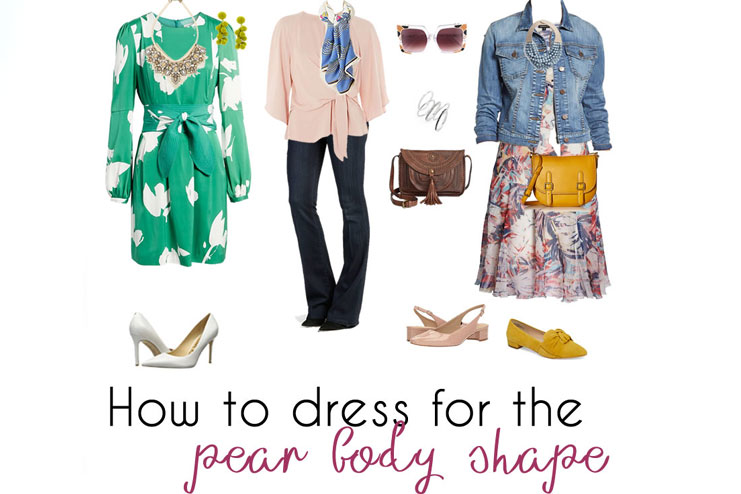 Focus Area:
You must focus on your arms and waist and draw attention to the upper body
Upper Body:
Wear clothes that would make your upper body stay in the right shape and cover your large hips. Do not wear clothes that would stick to your thighs.
Go for This: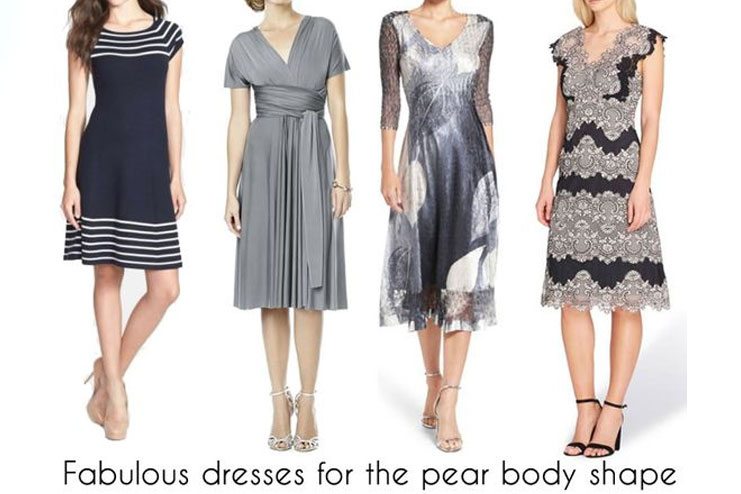 Avoid This :
3. Banana Shaped Body Type
The Banana shaped body type is similar to that of a rectangle. In this kind of a body type, your shoulders and chest are of the same width, your hips are straight, you have less curves,
The Right Attire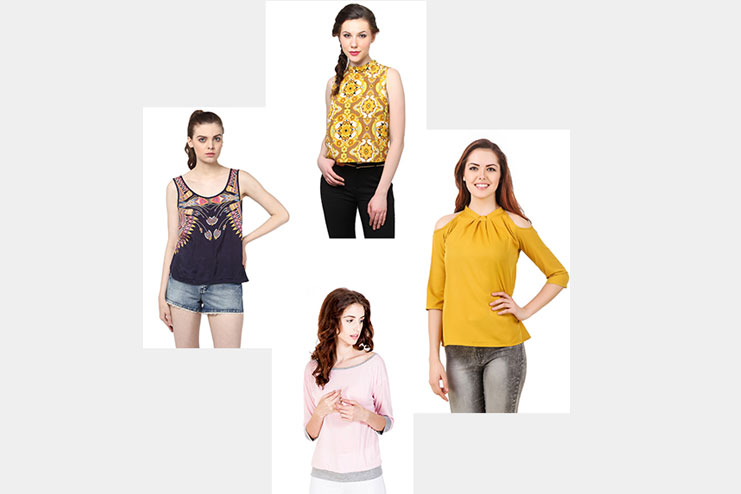 Focus Area:
You must stress on your curves and waist.
If you have a rectangle body type you are fortunate enough, it is an easy body type to carry of. All you have to do is may be work on your curves. Otherwise, you are all slim and trim. You can wear skinny jeans, off shoulder tops, round neck tees, tulip skirts, blazers that bring out your sleek curves. Straight dresses, boxy tops and square neck tees won't look great on your body type.
Go for This :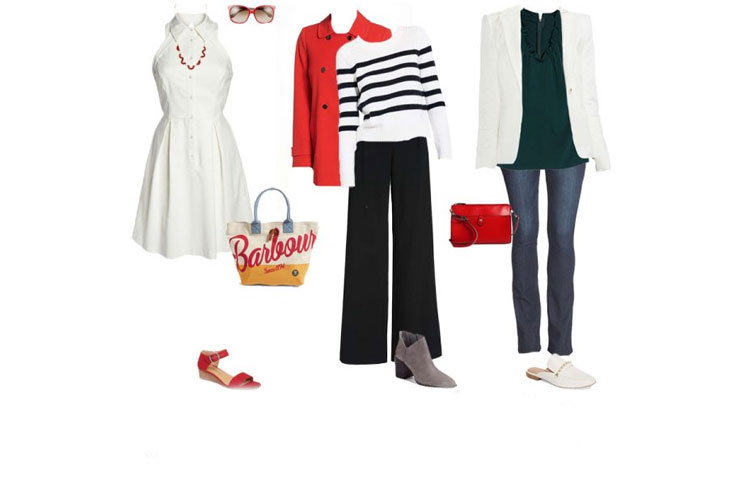 4. Hour Glass Body Type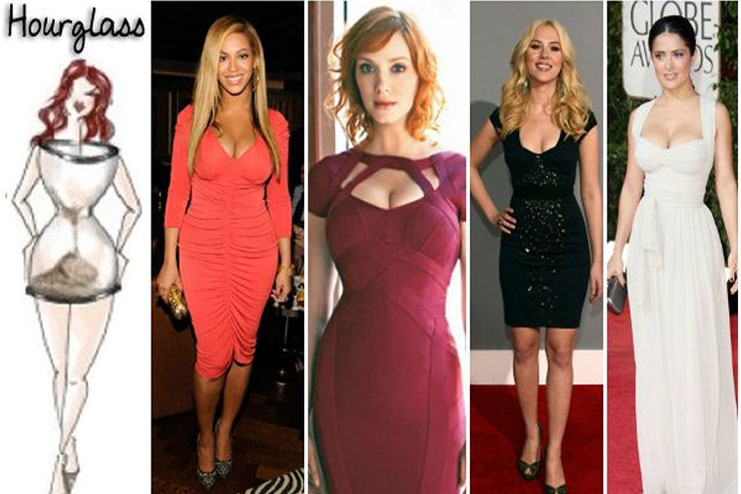 An hour glass body type is just flawless, this body type is defined by a woman's full bust, narrow waist, rounded bottom and the hips equivalent to the busts. This body type is over all a curvy body. This body shape is similar to that of a triangle.
The Right Attire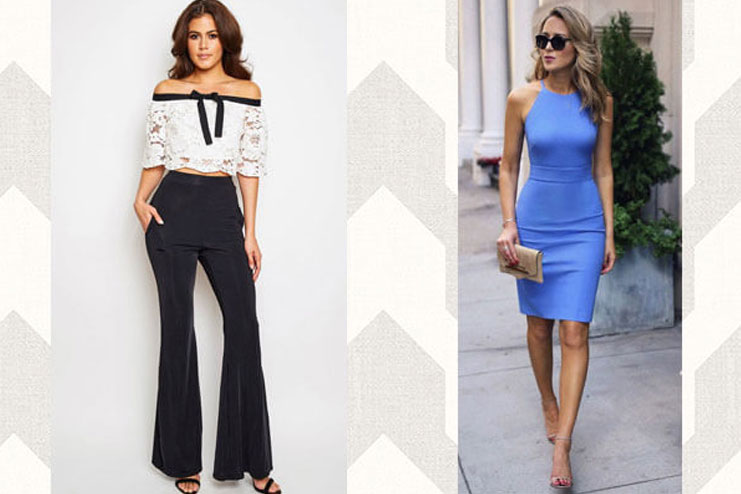 Your waist and legs will accentuate the beauty of your lower body when you dress up in boot cut and straight jeans,. You are fortunate to have a narrow waist, flaunt with your well-shaped waist. To gracefully define your upper body you can wear halter and v neck t-shirts. Rock your style with your dressing.
Focus Area:
If you want to know what's the ideal dressing style for this body type, you do not have to break your head too much. All you have to do is, dress in a way that you culminate your curves and exhibit your waist
You must avoid dressing up in clothes that do not highlight the beauty of your body type such as tops that have ruffles and bows, boxy tunics and tops and dresses and skirts that have too much of detailed embroidery on them.
5. Oval Shaped Body Type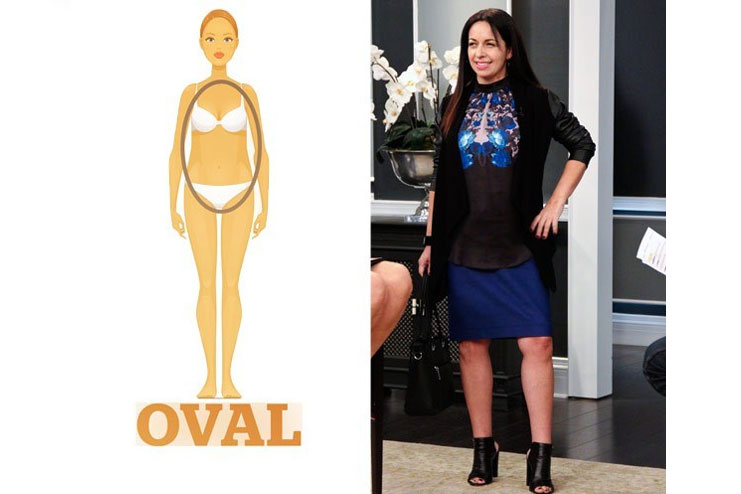 You fall in this category of having an oval shaped body type when you got narrow hips, a full tummy and you have huge busts. An oval shaped body is not an odd looking body type at all. In fact, just dress it up the right way to have your body look great.
The Right Attire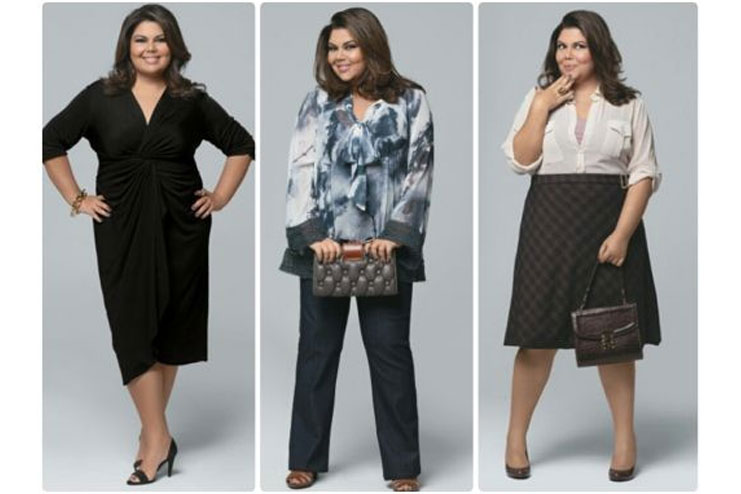 You can consider wearing shirts and jackets that come up to your hips, you can wear dresses and skirts that are drapey, cargo pants will rock on your and go for V-neck and wide neck tops. For your footwear, you can go for wedges and ballet flats.
Avoid wearing clothes that are too tight at your thighs because they might make you look too healthy.
Focus Area :
With this type of body shape, you should dress in a way that you high spot your upper body and manage to cover your full tummy. Choose to wear tops that bring out the best in you in a way that your bust and shoulders are highlighted.
6. Inverted Triangle Body Shape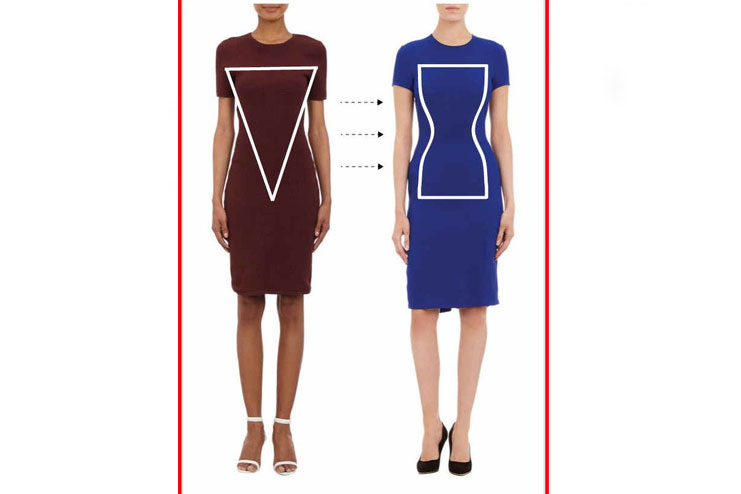 A woman who has an inverted triangle body shape has a wider upper body and a narrow lower body. A woman's busts and tummy is wider than the waist. The thighs and waist are much sleeker when compared to the upper body. The charm in your body is sustained with this type of body shape.
The Right Attire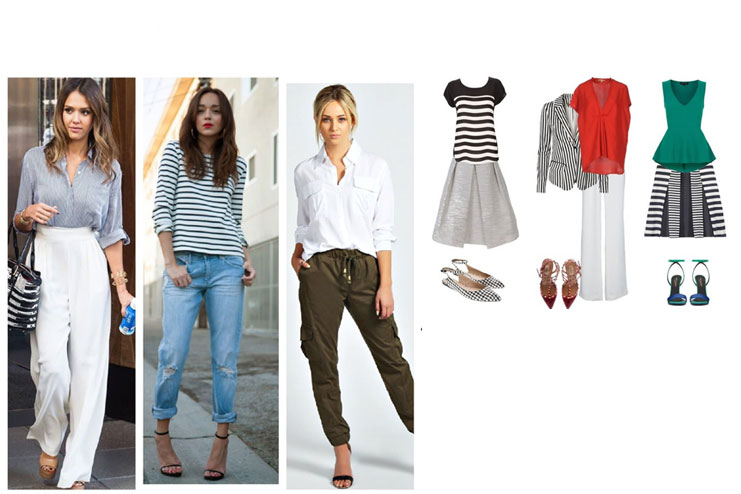 Wear clothes that give out a bold color on the bottoms that you wear in order to draw focus on your lower body. Go for wearing v-neck tops so that you do not look wide. Avoid wearing off shoulder tops as they will make your shoulders look too wide. Try and wear bottoms that are voluminous and they match well with the width of your shoulders.
Focus area:
You plus point in this body shape is your upper body. Having this type of body shape, focus on making your lower body and try to create the right balance between your upper and lower body to make it look appropriately in shape.
7. Diamond Shape Body Type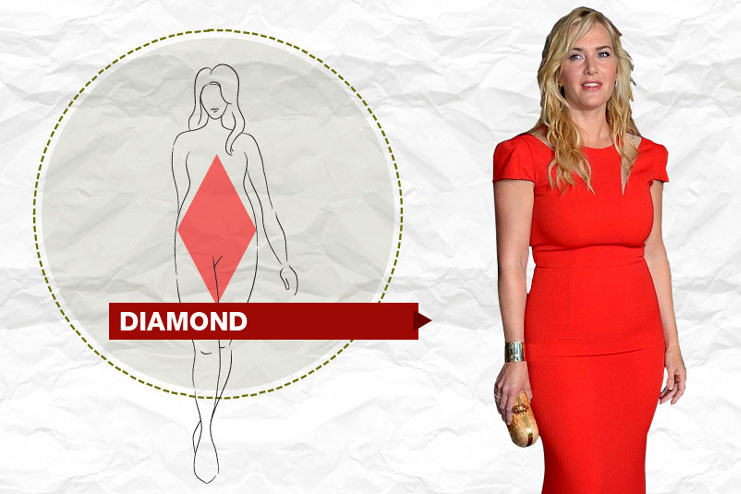 A diamond shaped body is similar to an apple shape body. In this type of a body shape your waist is not rightly defined and generally, the hips tend to be broader than the busts and shoulders and your thighs do no blend in with the shape of your lower legs.
The Right Attire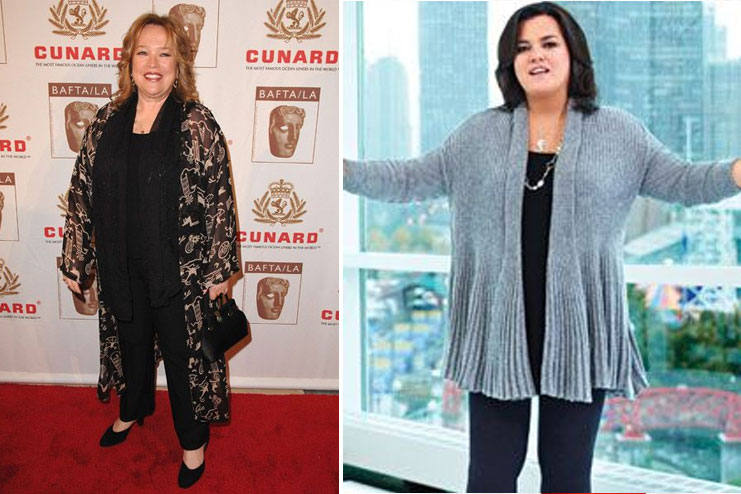 You have to wear the right kind of dresses that will suit the shape of your body well. Go for tops that are slightly loose on your body and have a cap or puffed sleeves, the fabric that will best suit your body is soft cotton. Straight fit pants or skirts will suit your legs as they will look in shape. Talking of footwear, you can go for strappy sandals and stretchy boots.
Focus Area:
You have to keep in mind that you do not highlight your waist, tummy or thighs and in fact dress in a way that they look balanced with the rest of your body, wear those clothes that bring the best of your body shape rather than highlighting the flaws in your body.
8. Skinny Body Type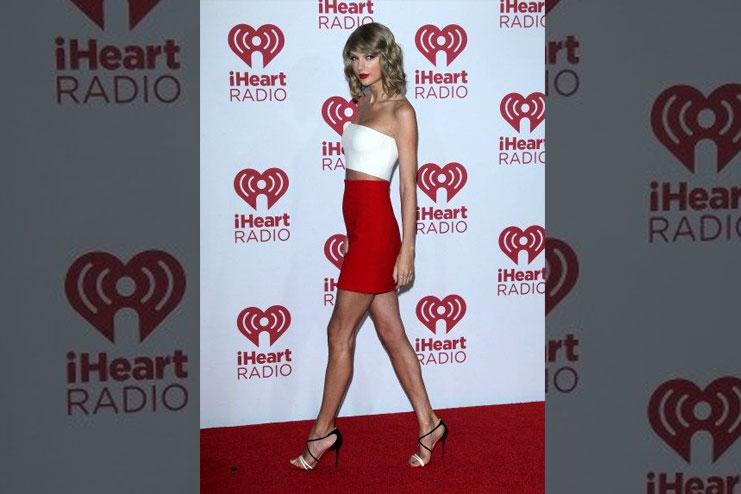 Skiny body type is similar to a rectangle body shape. However, a woman with this kind of a body type is all the slimmer and light in weight. Slim and tender arms and legs, flat stomach and buttocks, shoulders and waist in equal width and over all having a great bone structure.
The Right Attire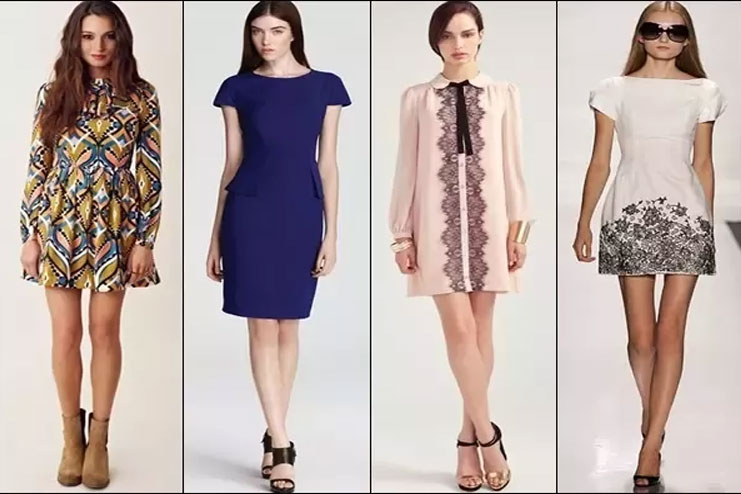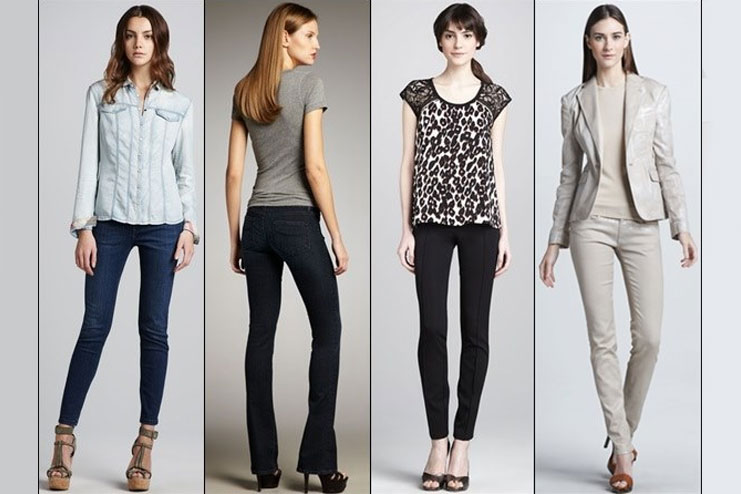 Having a skiny body shape one can explore on various dresses such as low waist jeans, shorts, off shoulders, crop tops etc. Anything and everything suits a skiny figured woman. To look curvy you can wear stripped tops or may be dresses as that makes women look nice and curvy, you can choose to wear belts on your waist that add volume to your waist and highlight your entire figure.
Focus area:
When you are slim the only disadvantage is that you miss out on looking curvy and that's exactly what you have to do. Work on making your body look curvy.
Summary of Tips Based on Your Body Type :
While you are gauging on the right attire to choose for the body type you have to consider these factors
Check on the color of the dresses you pick for yourself. Somebody types call for dark colored clothes whereas some call for light colored clothes.
Try to balance out the parts of your body that might tend to dominate the best in your body.
Wear clothes that focus on the parts that bring the best out of you.
Wear the right footwear that will suit your foot.
Do up your hair well based on the dress you have worn. Majorly our hairstyles also determine how we look.
All in all, there are no hard and fast rules that your dressing style has to be restricted to the shape of your body. For a matter of fact, you will get an idea of what could look good and not so good on you if you do a research on dressing the right way as per the shape of your body.
You are the queen of your life, dress in a way that pleases you and spots on the best of you. Love your dressing and get into all the attires possible!