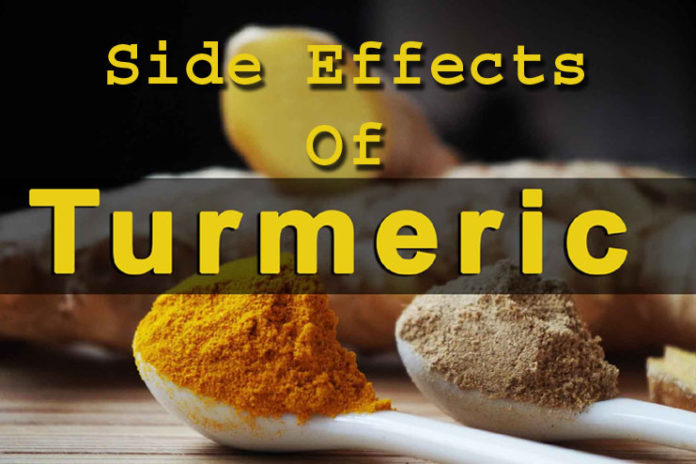 Turmeric is a natural herb which has ample benefits as an antiseptic. It is a natural anti-inflammatory and contains bioactive compounds. It also increases anti-oxidizing properties of our body. It has some powerful medicinal and specific healing properties. It helps in anti aging, skin nourishment, prevention from cancer, cardiovascular diseases and brain related malfunctions. But do you know these side effects of turmeric on our health. Turmeric it is not regarded as an essential nutrient so there is no RDA for turmeric or recommended daily allowance for turmeric. You must consult your health care provider before consuming turmeric, for some people with gallstones or on prescription drugs, turmeric may cause reversing effects
Side Effects of Turmeric include:
1- Turmeric causes uterine stimulation:
Women are given large portions of turmeric to encourage the menstrual flow under specific situations. The uterine stimulation properties of Turmeric may cause severe blood loss by monthly periods. Pregnant women must avoid it totally and lactating or nursing mothers must check with OB-GYN before consuming turmeric. Also, since it stimulates uterus and causes blood flow, turmeric must not be taken in high quantity on the days of periods.
2- Turmeric causes diarrhea and nausea:
Turmeric if consumed in large quantity, causes diarrhea and nausea in addition to sweating. As the turmeric causes body heating and this if increases beyond adequate, gut passage suffers. It also causes an increase in stomach acids.
3- Turmeric causes stomach disturbances and GERD:
Gastroesophegeal refluxes or GERD and stomach disturbances may occur if turmeric is taken in large quantities. Upset stomach may result in decrease in appetite. Even stomach ulcer risks are high if you prolong with consumption of large quantities of turmeric. This may even lead to chronic stomach ache and internal bleeding in stomach. Do not ignore these signs and get yourself checked at your health care provider.
4- Turmeric lowers Blood Pressure:
If turmeric is consumed in large quantities, it lowers the blood pressure. And also dilates and relaxes the blood vessels. It can also react with medicines taken for blood pressure and cause even more damage. Specially people taking hypertension medication must consult their healthcare provider before consuming turmeric in any form.
5- Turmeric causes skin Rashes:
Small, red patches or rashes may develop if you consume too much turmeric. These skin rashes may swell and become red with itchy sensations. The skin rashes must not be ignored and do not treat them at home if they are out of an allergic reaction. Seek medical aid immediately.
6- Turmeric causes bleeding:
Turmeric slows blood clotting, and it may lead to bruising and bleeding. It also raises a risk of severe bleeding. It triggers nose bleeding in many tropical inhabitants. In areas of extreme heat and dryness, consuming turmeric results in overheating the body which causes bleeding from nose and turmeric actuates it further
7- Can lead to kidney stones:
Turmeric can change oxalate metabolism and oxalate forms kidney stones. These oxalates bind with calcium and form insoluble calcium oxalate, which resides as a kidney stone. Some urine tests performed after consuming turmeric suggest the urine contained higher levels of urinary oxalate. This proves that turmeric forms kidney stones
8- Turmeric can lead to infertility:
Turmeric if consumed by men may lower their sex hormone or testosterone levels, These testosterones if lowered decrease the sperm movements, and also result in infertility.
[Read: Home remedies to remove tartar and plaque from teeth]
9- Turmeric decreases absorption:
Turmeric if consumed orally does not get absorbed well. And this causes some deformities in the system. And since the absorption is decreased the many benefits of turmeric are impossible to obtain, rather causing its side effects
10- Turmeric decreases chemotherapy effect:
Turmeric may affect the effects of chemotherapy, thus causing some serious damages. Therefore, it is not advised to consume turmeric during radiation and chemotherapy
11- Turmeric if applied externally on the body causes dark spots when going out in the sun. As soon as you apply turmeric on the skin, for its skin tone benefits, do not go out in the sun, as it may cause pigmentation. The skin pores and turmeric react and UV radiation makes the spots darken.
[Read: Digital detox for health and wellness]
12- Contraindication:
People with pre-existing health problems related to bile duct, gallstone and some gastrointestinal disorders must not consume turmeric without consulting healthcare provider.
13- Interactions with drugs:
Turmeric is known to interact with some prescription drugs and cause severe impacts. As turmeric may increase stomach acid production. Also, it must not be taken with anti-coagulants or blood thinners and diabetes or BP medicines.
14- Iron deficiency:
Turmeric causes iron deficiency, as they prevent the absorption of iron. Anemic people must restrict any amount of turmeric.
15- Reduces blood sugar levels:
It may help people with diabetes, but when consuming prescription medicines and normally also, curcumin a chemical in turmeric decreases blood sugar in people.
Do not consume turmeric while taking blood clotting drugs, aspirin, ibuprofen or BP medicines, antacids, Take extra precautions while consuming turmeric for its dosage. Do not over indulge in turmeric for the above side effects are serious and may cause some more severe impacts. In addition, some studies suggest consuming a good multivitamin and restricting the doses of turmeric for great benefits.
[Read: Homemade energy drinks after gym workouts]
The above compilation on, "Do you know these side Effects of Turmeric on our health" is based on readings and learnings over years. Be conservative while you consume turmeric and check with your health care provider for probable doses and side effects.
Share ahead and keep writing us, we love your feedbacks!
Minu Manisha