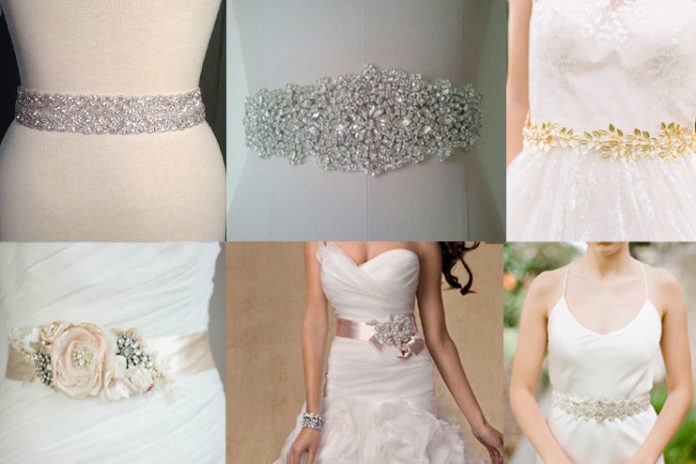 Being a bride calls for some meticulous planning and more than that a thorough transformation from a young lass to a graceful bride. Check out some of the ultimate wedding belts and stashes to entice in your bridal wear. Unlike most wedding accessory bridal belts and stashes are much more than just an ornament for adornment, they accentuate each and every part of your body in utmost elegant ways. But finding the right stashes for wedding is challenging, as it takes into account a lot of factors from your body shape to wedding gown to even the theme of the wedding.
Why do we need wedding belts and stashes in the first place:
Well if it were just a plain wedding gown sewed to match your body type and nothing else to add on, no one would have cared that much. But from times immemorial wedding outfits and accessories are a part of much discussed and elaborated bridal endeavor. Every bride wants to look perfect and create a lasting impact on her special day. And accessories are just the right fit for doing so.
How to decide on ultimate Wedding belts and stashes :
A beaded bridal stash seems like a universal trend, where every second bride just puts on the beads around her waist and its show time already. But you need to first check whats your dress kind, your body type and also the color of the fabric used for wedding gown. This will help in picking the right stashes for wedding. Let us find out how to pick wedding belt stashes:
1- First and foremost find your body type:
Your body type and moreover the curves on your body with decide in determining what kind of wedding dress accessories belt would go perfect on your bridal wear. For straight bodies the bridal stash has to add an element of curve and for curved body types the stash must complement the body shape. Check out ultimate wedding belts and stashes for various body types:
There is absolutely no or little curve so the bridal stash must be such that it gives an illusion of bust and waist line. Pick embellished wedding belts which are at least 3 inches thick. You may also go for a wide dark colored ribbon too
Pick a medium sized wedding stash or belt with less embellishments. You don't need to show off the curves by accentuating the waistline.
2- Pick your style:
You need to find your style and make sure it looks perfect on your wedding day. You may shortlist from Pinterest collection and go to stores around to check which one looks great on you. There are ample wedding belts and stashes designs for you to pick your best bridal wear accessory. From Vintage touch to rhinestone, from peals to beads, from satin to netted, from floral to heirloom fabrics. You can check the styles by photoshopping on the wedding dress you picked and see its impact
3- Choose the styles of stashes for wedding displayed below:
There are ample kinds of ready made stashes for wedding which look perfect on most bridal wears. There are all varieties and designs for you to choose from, check out these unique wedding accessory which is gaining popularity everywhere:
a) Rhinestone wedding belt:
Rhinestone wedding belt is an inexpensive way to accessorize your wedding gown. This has a sparkly impact on your waistline thus making you look slimmer in your wedding dress. This brings down most attention to the slimmest part of your waist and shimmering it all the while
b) Crystal wedding stash with ribbon:
These crystal wedding stash are high quality and update your look beautifully. These gorgeous crystals are giving a look like brooch at the center which brings immense attention
c) Fresh flowers with wedding belts gold and more in appeal:
Adding a fresh flower made stash can be an amazing way for accentuate the wreath on head and bouquet in hands. Just match with all the flowers you carry and its an already pleasing style
d) Silk floral satin stash:
Silk made floral belts are elegant and graceful with amazing effect on your wedding attire. They add a hint of feminism to your wedding dress making it wonderful and attractive too
e) Delicate floating belts:
Vintage inspired tulle made delicate wedding belts are popular among all cultures. They blend in with the dress so beautifully that the pearls and all embellishments are simply a stunning addition at around your waistline
f) Rhinestone gold bridal belt:
For all those wedding gowns with gold as undertone, pick a wedding belt with rhinestone and gold appeal. They will not just look amazing but also add the warmer hues to the wedding dress too
g) Beaded and floral bridal stash:
Embellished with amazing pearl arrangements and flowers stuck in gracefully, this wedding stash is just a little bit of everything for your special day. Switch up your look with a hint of everything so tastefully bonded into sparkly fit for your ceremony or reception
h) Rose gold applique wedding stash:
Gold undertones make this stash a feminine favorite pick. Pearls and rhinestone entice the look and it blends just right into the bodice of the wedding gown.  Grosgrain ribbon: Grosgrain is a fabric which may not have the luster of a satin piece but gives an elegant and understated statement at your altar. It adds an interesting touch to your bridal wear
i) Make it your something blue:
Pick a blue beaded and laced bridal belt and make it your something blue for the wedding day. Blue beads just look so royal and elegant that you wont mind adding them.
j) Single pearl line:
Make something delicate yourself, sew in on a lace a single line of beads and match with your trousseau fabric. This will add enchanting effects on your look.
k)  Plain satin bow wedding belt:
These are just the classic addition to your waistline. Looking elegant and attractive they catch most of the attention.
The above wedding dress accessories belts are a charming and scintillating addition to the bridal wear. They not just bring in elegance but also sparkle your look. Pick your ultimate wedding belts and stashes to make your "I DO" mesmerizing and enchanting.
Share ahead and keep writing us, we love hearing from you!