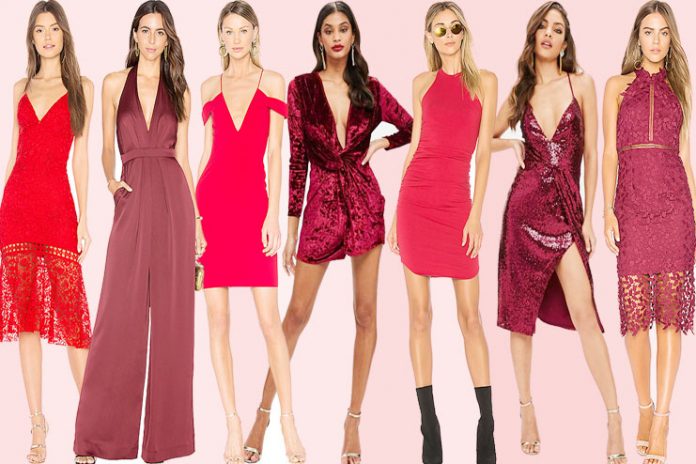 Hurry! the valentine day celebration is hardly a few days away and it is time to zero in your valentine's day outfit ideas and the plan you have for your beloved. Sharing and celebrating the joy of togetherness calls for immense effort in term getting ready for the moment. Specially your valentine's day outfit which not just speaks of your style but also adds magic and charisma to your look on that day.
Check out some valentine's day outfit ideas here and add grace and elegance to your day. We have compiled some of the best valentine's day outfit ideas to keep up your sass and class. For we know the day of love and passion is just so special for us all. And when you dress up brilliant and look stunning, it show show much the bond of love means to you. Don't forget to check the valentines day nail art
,
valentine special makeup tricks
,
valentines day hairstyles
 and more on
valentines facts
 too.
Valentine's day outfit idea to make this Feb 14th enchanting:
So we all are already prepping up for the huge date night this Valentine's day and our ideas for valentine's day outfits must have already started confusing us. For we want to look perfect but not too loud, we want stunning makeup but not too eccentric, we want best designer clothes but not too expensive. SO check out Valentine's day outfits for ladies below and enjoy your celebration of love with your valentine:
1- Get red Hot: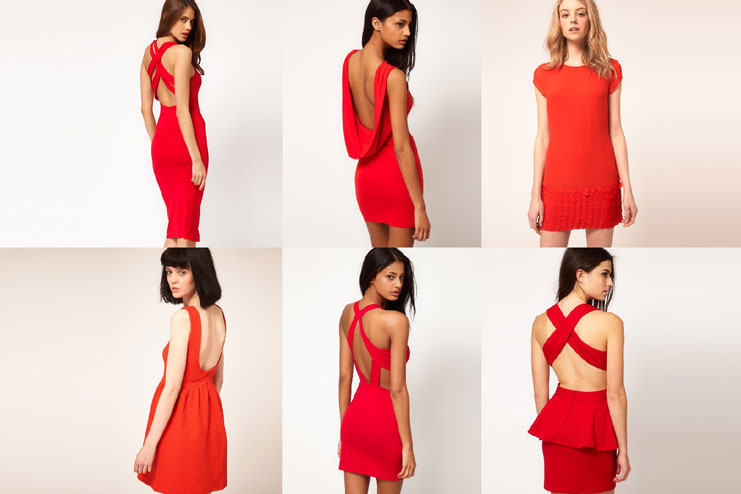 Color red not just speaks of valentines day but also depicts love and passion immensely. So pick an outfit which is blood red and electrifying in color and makes you feel loved too. Add contrasting handbags and shoes to create the perfect trendy girl look
2- Flirty ruffle skirt and cute top: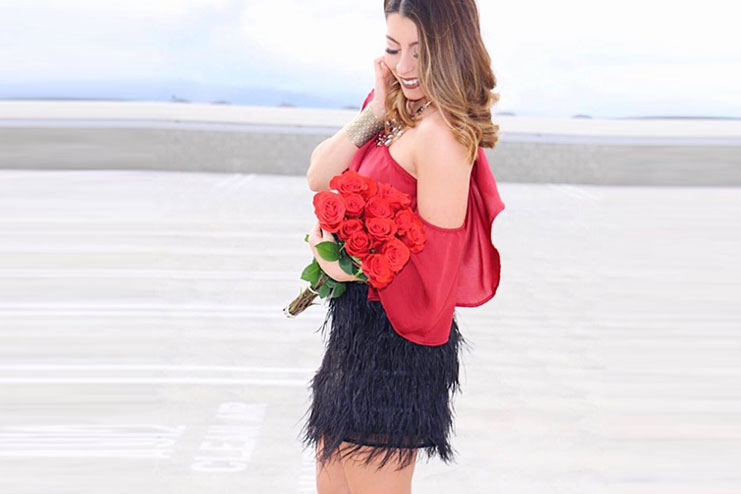 Flirty ruffled skirts for your trendy look, and matched or contrasted color of shirt will make an incredible appeal for your valentine's day outfit
3- Red and Pink: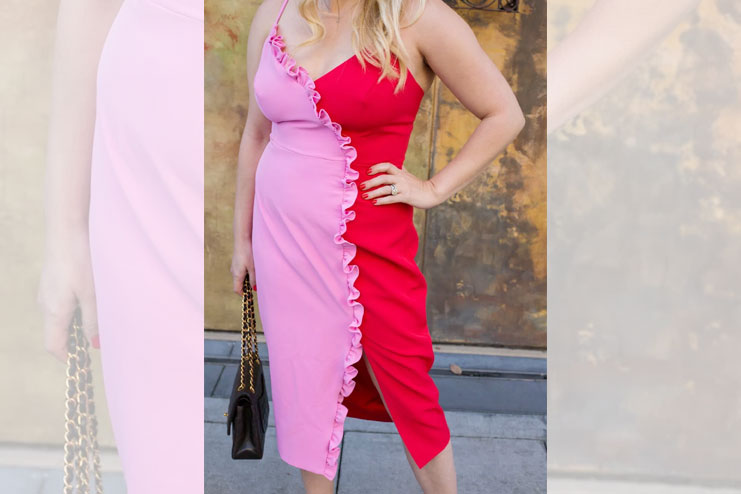 Of all the latest color trends pink and red is taking the culture by storm. For it has the right amount of love, passion and persona. It adds an innate charm to your valentine's day outfits and would certainly make him fall in love over and over again
4- Heart cut out skater dress: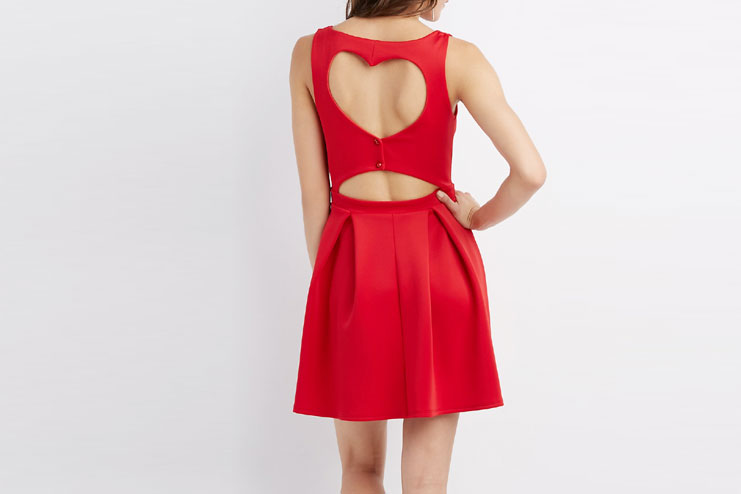 I simply loved this wearing your heart out concept. A brilliant valentine day outfit which has all the ingredients of romance, passion, love, intimacy, fun and mystic too
5- Marlow textured skirt and blouse: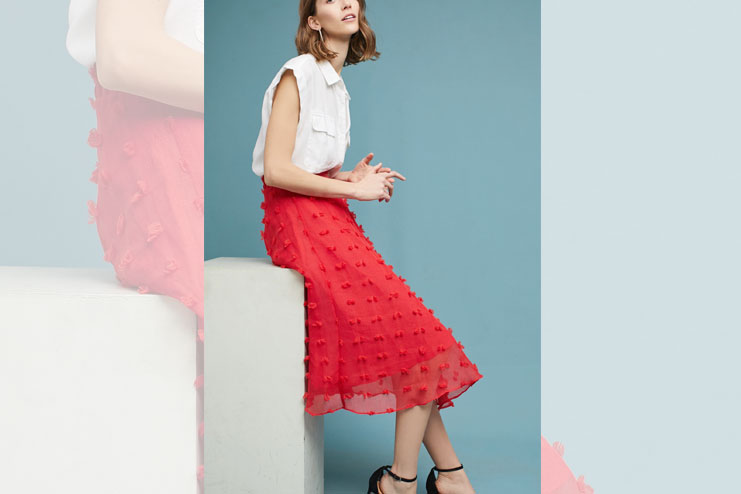 A simple yet stunning valentines day outfit which will sweep him off the ground. He would instantly fall in love again as this outfit not just looks trendy but also graceful and elegant too
6- Sexy skirt outfit: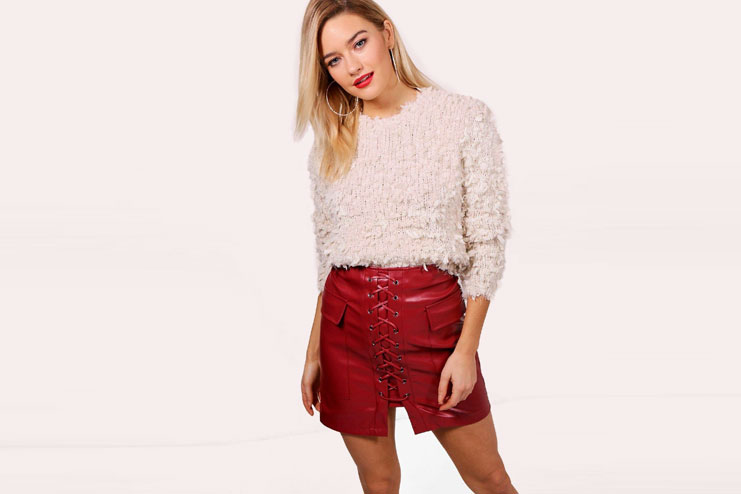 This is a great and sensuous valentines day outfit idea which will make you look just uber stylish and hot. Match with a white turtle neck or full sleeve sweater and this leather skirt would take the charm to an altogether different level.
7- Pick the pink: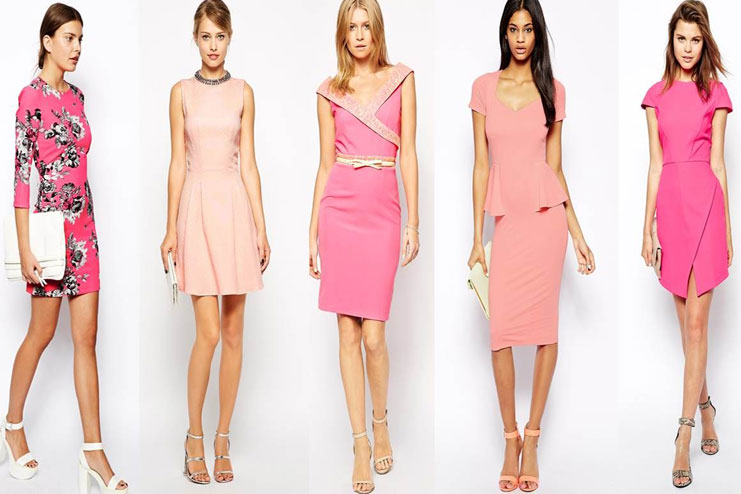 Some pink preppy dress ideas for valentines day outfit, as these cool pink colors are chic and will make you look stunning. Styled with an open toe footwear and accentuated with a contrast color clutch, this is your style for valentines evening
[Also Read: Valentine day gift ideas]
8- Black and laced outfits: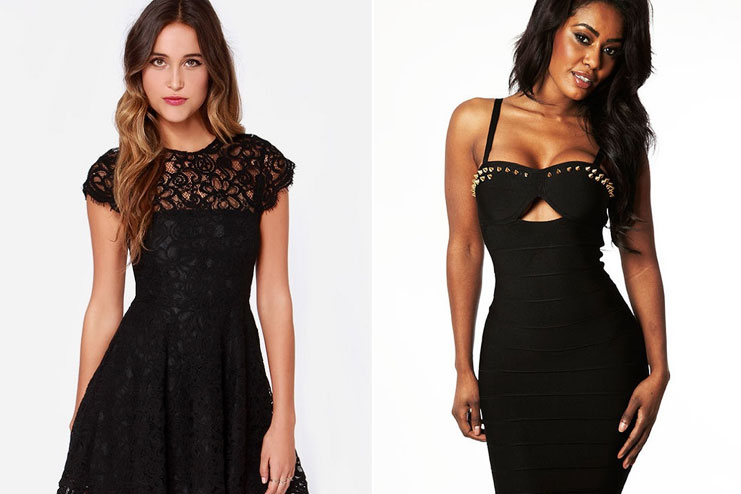 Black and laced outfits usher immense passion and romance. They are the true friend for those who wish to take their relationship to even more intense level beginning Valentines day itself
9- Printed dress for valentines: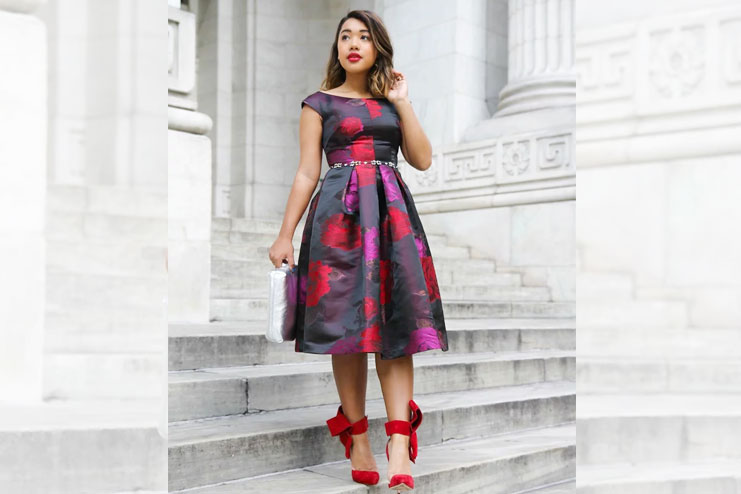 A simple and yet stunning dress for a perfect date night on this Feb 14th. Colored brilliantly, this outfit will create the illusion of vintage wear and also keep the style quotient high
10- A line heart imprint dress: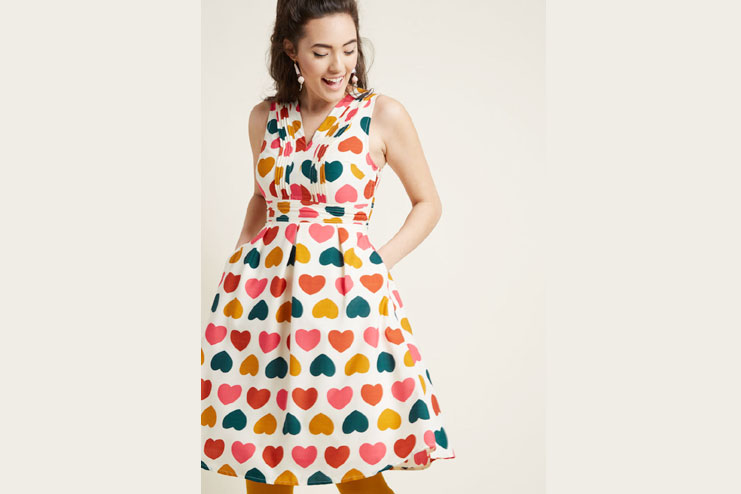 A wonderful and soothing pale colored dress with printed hearts is just what you need for your valentines day. For it speaks all about your romance and love
11- Laced midi dress: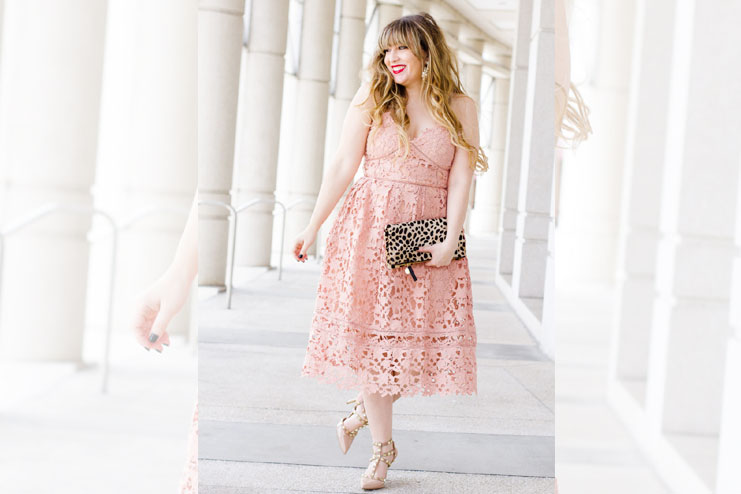 A great soothing valentines day wear for a whole day plan. This midi dress is all you need to style your look elegantly. Specially if you are towards plus size
12- Floral classic dress: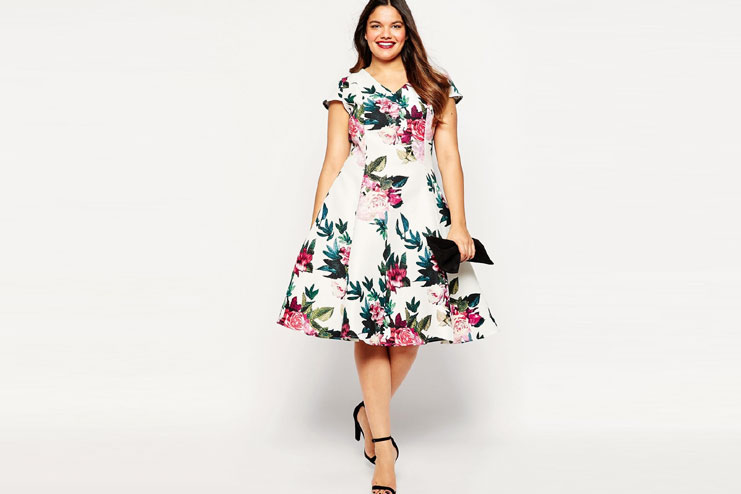 Nothing matches the classic and vintage floral dress for your valentine's day outfit ideas. It spills grace and elegance in addition to style and class
13- Short prom dress: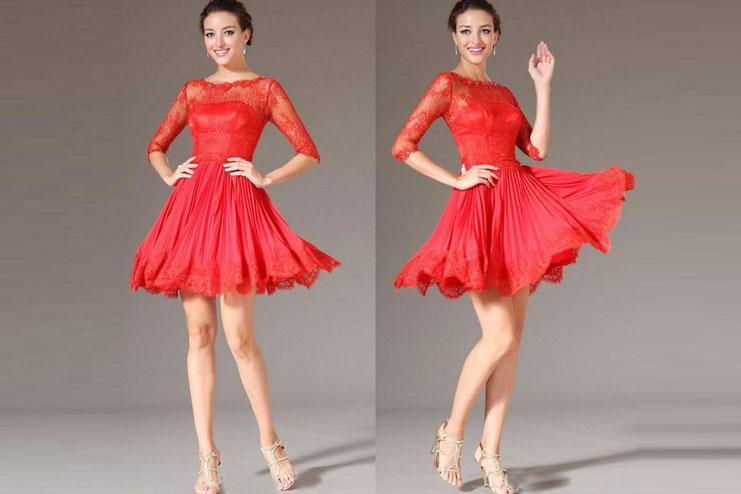 Laced sheer and a short prom dress for those chic divas who wear their heart on their attires. This is a trendy and chic style for your valentine's day
14- Red full length dress: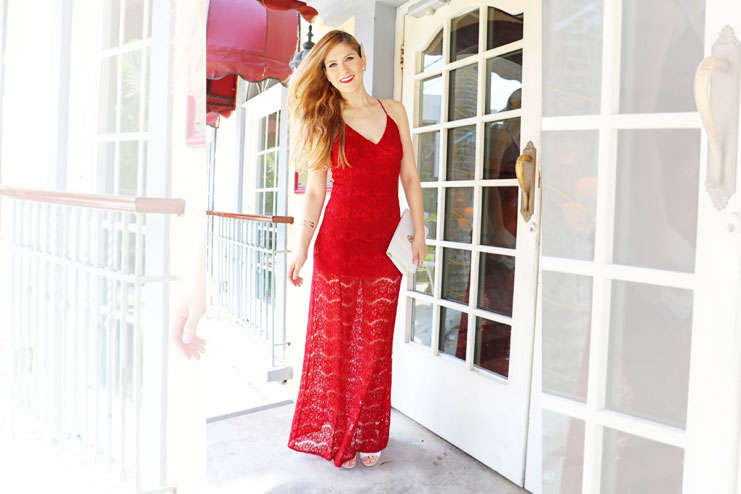 Red dress which is full length and has some laced areas is a great combination of style and elegance. It goes best for evening dates or parties with just the two of you celebrating
15- Add electrifying neon shades: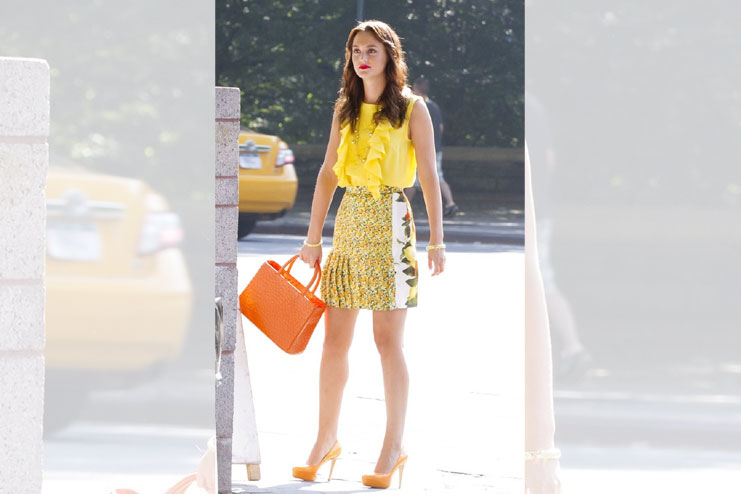 Pick a neon color shirt, skirt and accessories and wear them for a stunning day with your valentine. This bright and stunning dress goes great for a sunny day
Share ahead and keep writing us, we love hearing from you!