Ever since they got registered on the fashion radar way back in the 1960's, leggings and the ways to wear leggings have never really been out of fashion. They are always making a comeback and with the recent crop of celebrities making leggings their staple, ladies all over the world have been taking this trend seriously and by the looks of it, it is definitely here to stay.
They are comfortable as they stylish and the best part about wearing leggings is that they are so versatile you could wear them with anything and you could wear them anywhere. Leggings look hot on almost every body type an flatter women and their bodies in the most amazing manner possible. This is the reason they are the go-to outfit choice for millions worldwide.
The Plethora of Choices
And though there isn't any fashion Faux Pas when it comes to leggings, there are obviously certain do's and don'ts. There are various ways in which you can style your leggings according to your mood or the occasion but the most important thing to remember is that you must be comfortable in what you are wearing. Whether it is athleisure or an official look, you can do a lot with leggings, and here are the 15 innovative ways to do the same.
1. The One With The Leather Jacket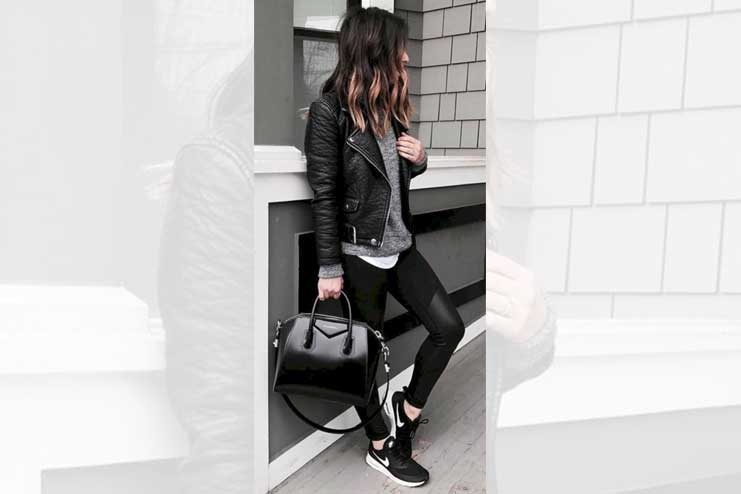 Let's start with being badass. This is an unbelievably stylish look and a favorite among the celebrities. It is chic, it can also look professional but it is just that appropriate for an evening out with friends. The look dictates style and a certain amount of confidence. Pair it with a simple t-shirt or an elegant top and don a black leather jacket, some beachy waves for a hairstyle and aviators will also help in completing the look.
2. The One With Scarf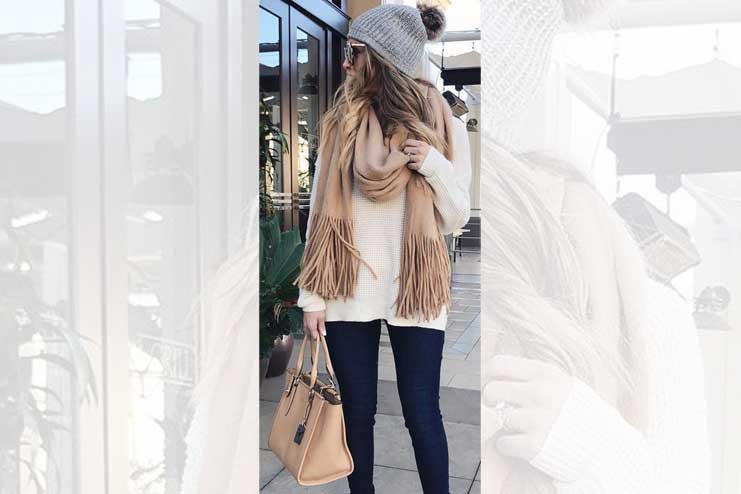 Another element that can take an outfit from 0 to 100 in one move. Learn how to mix and match your accessories to go with your look and understand what goes with what. Similarly using a scarf is a brilliant idea in ensuring that your look has an oomph factor. Pairing legging with an elegant top and a great scarf is one of the sure fire ways of creating an Instagram worthy look. This is also a great fall fashion idea that will help you look your bubbly best and if you happen to include a beany in your look, your adorability will know no bounds.
3. The One With The Denim Shirt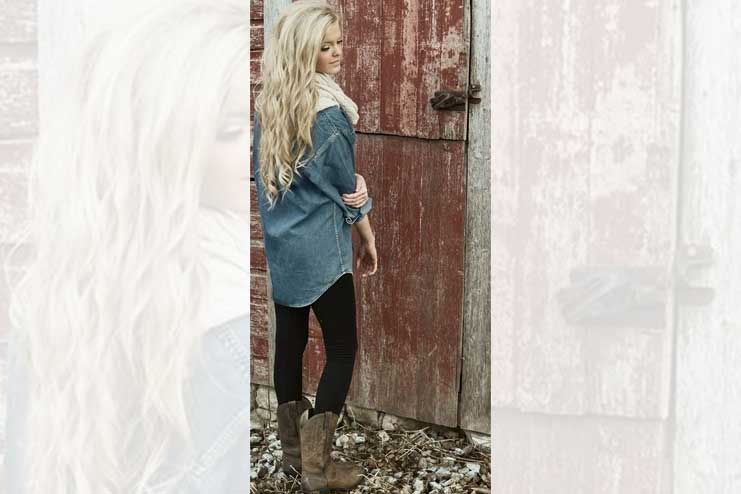 This is actually an evergreen look that can make anyone's day look brighter. Another fall fashion idea, the classic denim shirt adds an extra bit of cute personality vibes to your attire and the leggings combo is obviously one of the best things ever. And if you happen to combine a lively pair of boots with this, you will literally never get bored of this look. Its what they call a classic. This is suitable for work, as it for school or even casual outing with friends, the blue and the black make for a beautiful combo.
4. The One With The Striped Leggings
Striped leggings are just as much a rage as regular leggings. In fact, if you ever get bored with wearing just single coloured leggings you can give your wardrobe a new twist. This is an interesting change of pace and gives a refreshing look. If you wear a single coloured top with this it will go excellently. As the pants will draw all the attention to themselves and the stripes can be an excellent choice for work settings too. This is a great way too look classy
as it also has certain vintage elements in it too. Revamp your work wardrobe with the help of stylish, striped leggings.
5. The One With a Sweater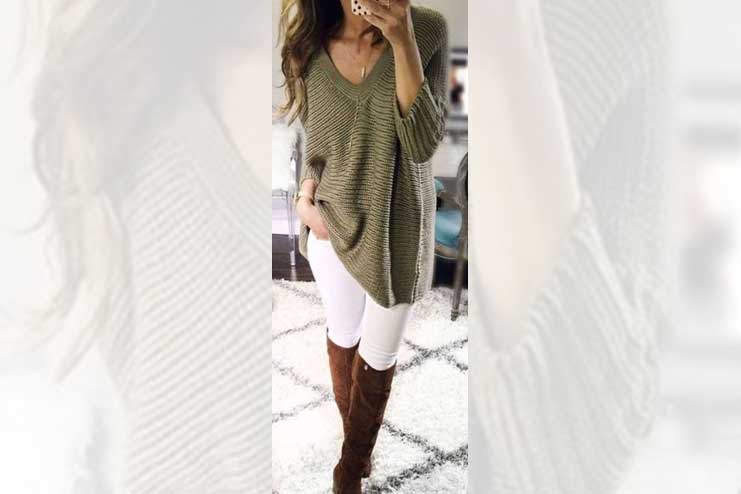 This is also a classic look and has been shown I a lot of movies. Almost a favorite with the celebrities, this is an easy going loom meant for the days when you want to put in least effort but look fabulous, it signifies the true athleisure spirit whilst make sure that you stay warm. And thinking of the cute sweaters that are available for the ladies out there it is only natural that you team it with the ever so classic leggings to increase your cuteness quotient. This one is an Instagram look for sure.
6. The One With The Flannel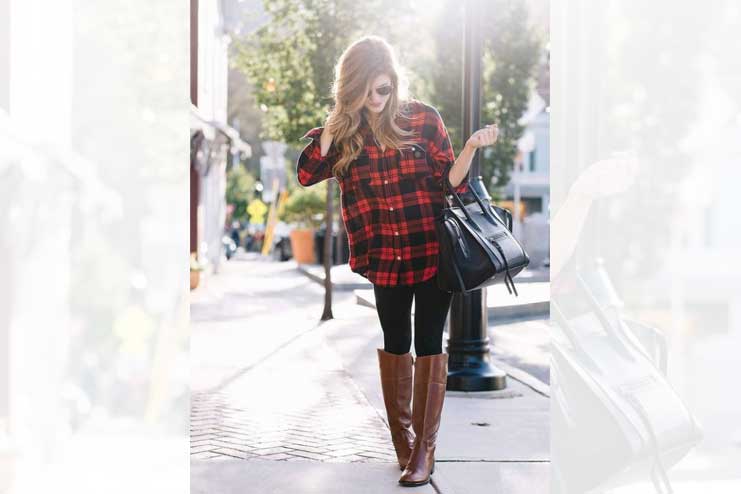 Now this one is a complete mood. Who does not love this look, it is straight off an 80's movie with equal dollops of nostalgia and subtle yet classy style. The more flowy the shirt, the more effervescent the look. Combine with unruly hair and some cool boots, this will create one of the most memorable looks. This, again, is an extremely versatile look which can be worn for any occasion and will look good on skinny as well as voluptuous girls, the loose and tight ratio of the shirts and pants makes it a sure fire winner in glam world. Nice way to prep those leggings for cooler photos, and even better wardrobe days.
7. The One With The Crop Top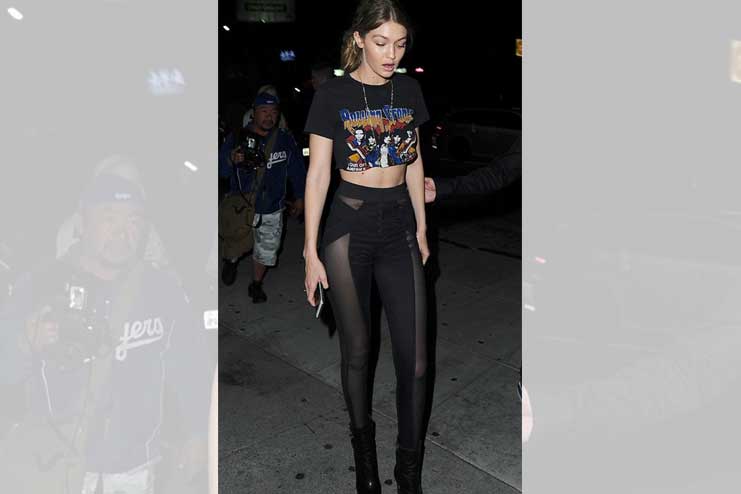 Welcome to the world of millenials. This has to be the cutest look ever, thanks to the likes of Dua Lipa and Gigi Hadid, the world cannot get enough of this look. Show off your legs and midriff in a style that is both sexy and hip all at once. The crop top and leggings combination is one of the finest ways of wearing the leggings and is ideal for even parties. Based on the mood, if you decide to wear sneakers or heels, you can change your look accordingly and get a whole vibe going. The look is great for daytime, for the airport, for the club, or even some lounge chilling. When paired with relevant accessories it can be a total rager of a look, one that will get you the maximum number of compliments.
8. The One With The Tank Top And Shrug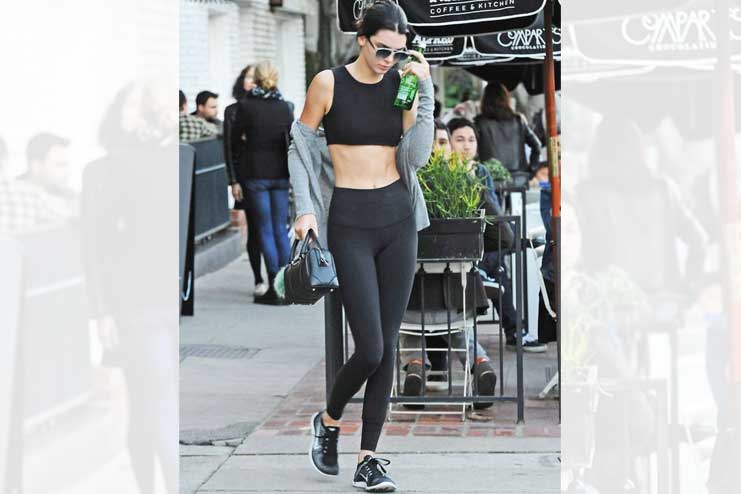 Another one by the Millenials. The tank top and the leggings can be a total gym look but there ways in which you can look like a total babe in it too. In compliance with the whole athleisure look, a sexy tank top and leggings can also be the look for an evening out. The right accessories and the right shoes are all you need. With the likes of Kendall Jenner and Bella Hadid rocking this look, girls all over the world have made this their go to outfit. Another beautiful addition to the ensemble can be the addition of a shrug. This can make the look suitable from morning today with just one change.
9. The One With The Zipped Leggings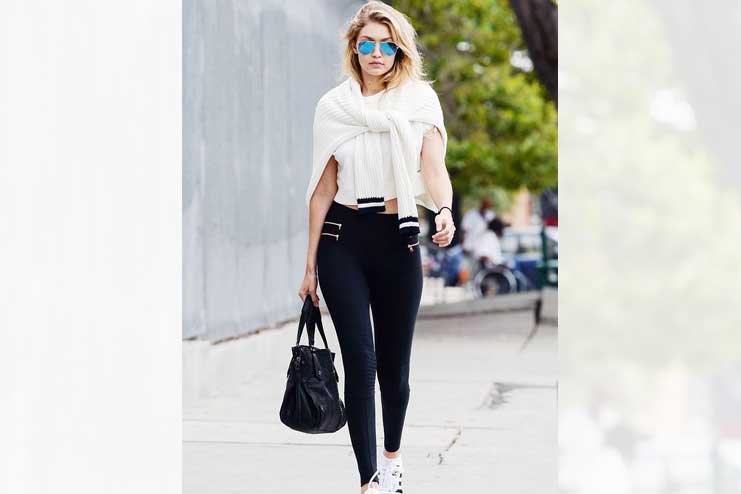 Quite the edgy rage! Zipped leggings are probably the best way to make a statement as they can make you look stylish and provide the comfort of leggings. When trying to curate the ultimate rockstar look, zipped leggings can be quite the centrepiece. Combined with some solid boots and a pair of incredible sunglasses and a studded jacket, it can still look fabulous. The thing about the zipped leggings is that whether it is street style or a semi formal event, the zipped leggings have a little more personality than the usual leggings and will help you give off a good vibe.
10. The One With Leather Leggings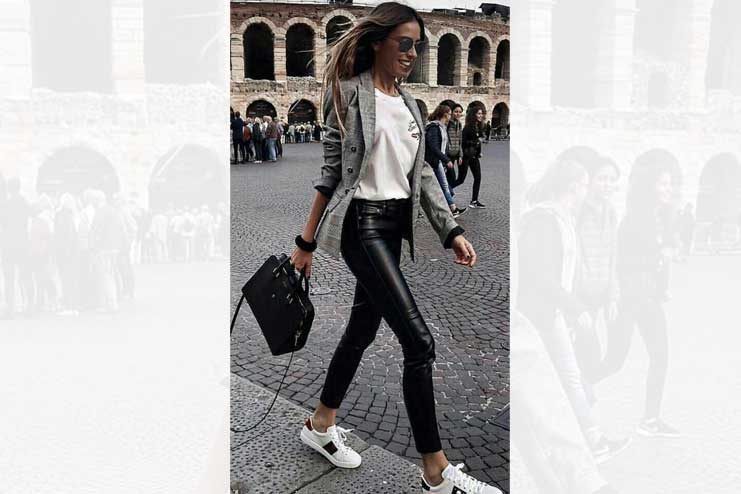 For all those who feel that leggings are a little informal and that they do not add that extra bit of seriousness to an attire, here's the answer. Leather leggings. They look stylish, they look classy and they are extremely versatile. This can be used for a meeting, for the biker chick look, for the rock star look and most definitely for a casual look. Take care not to wash them too often as faux leather leggings will bag, especially at the knees once the material gets worn out. Wearing tunics or tops that are below your hips but not too long can give an overall flattering look when it comes to wearing leather leggings.
11. The One For The Gym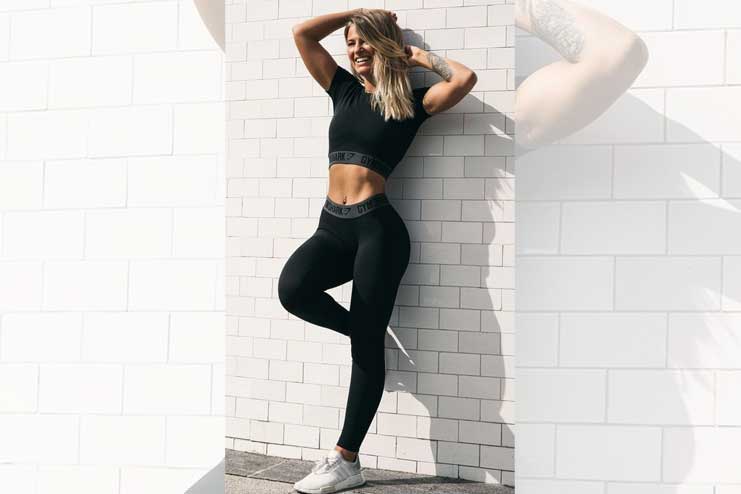 The place where leggings are used the most is probably the gym. It gives you the ease of movement and also makes you look hot as hell. The gym look over the years has evolved, but if there is one thing that has gained more and more popularity over the years, and is probably the way people know leggings. From Instagram models to divas, everybody – everybody swears by the magic of leggings. Considering how important it is to feel good while you are working out to get the perfect body, leggings make you feel good about yourself even before you go to the gym and thus help you feel the fitness enthusiast mode right away. The comfort yet the support that a good pair of leggings provides to your body is not something that can be compared with regular track pants.
12. The One With The Graphic T-Shirts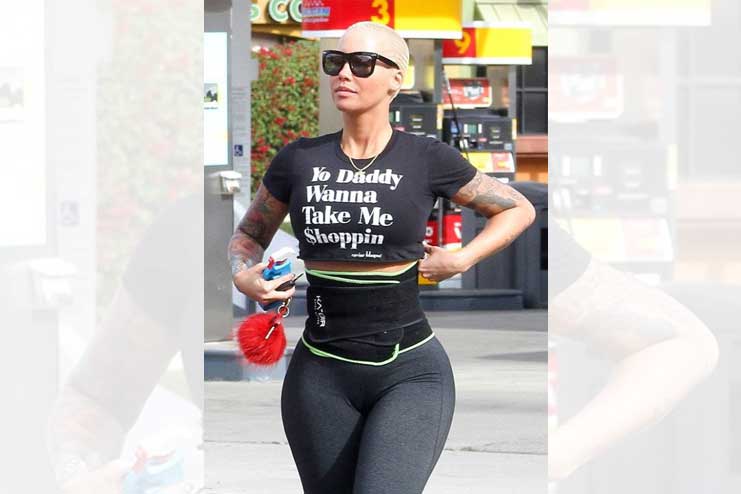 This is a fairly casual look that lets you-you look fabulous without much fuss. The whole look is very 80's and pretty easy to pull off. The vibe that is given off is sporty yet relaxed and definitely laid back. This can be effective as loungewear and if you re more into customized graphic t-shirts, you can also wear this to events.
13. The One For The Formal Occasion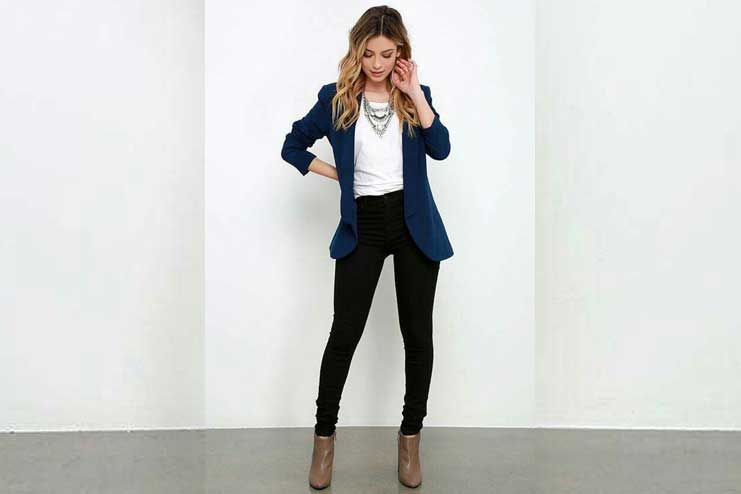 Like we mentioned before, leggings can be used to create a formal look without much trouble. And do not worry, its not just zipped leggings or leather leggings that do the trick. You can also do the same by pairing a simple pair of black leggings with some trendy heels and solid colour jacket. The jacket with the leggings gives a whole form fitting silhouette, which is the most ideal look for work settings. A well fitted blazer and great shoes can obviously change any attire and give you a more sophisticated look.
14. Leggings With Bomber Jacket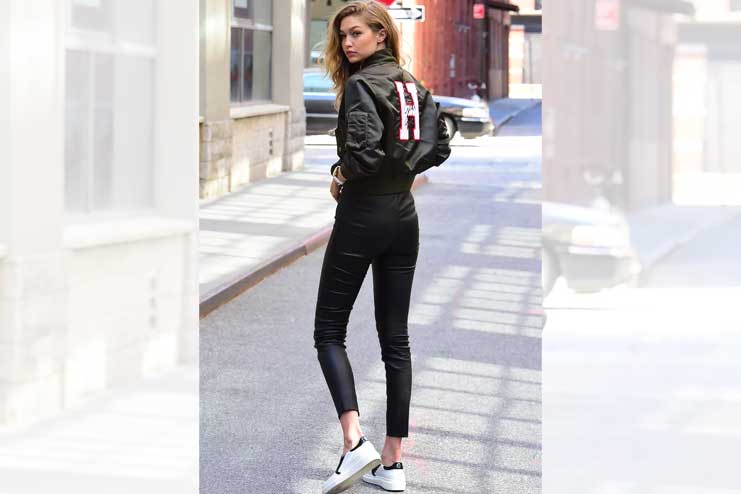 2016 was announced as the year of the Bomber jacket. The retro styled stunner is the ultimate springtime outfit and wearing that with leggings and some ankle boots are definitely the best fashion combo ever. It is a look that is straight from the 80's and makes you look smart and casual all at once. Heading for drinks after work? Just grab onto a bomber jacket. The ultimate casual boho look where you look effortlessly stylish but just as trendy is what this ensemble offers. Look at Kendall Jenner absolutely rocking this look, its as effortless as it gets. The strong collars with the fit of the leggings give you the extra edge and obviously this is the best outfit for almost every occasion and not to forget it also keeps you warm.
The versatility of the iconic leggings is what makes it such an indispensable part of every girl's wardrobe, there is a certain element of ease and endless style that makes the leggings so special. It's the fit and its the feel, which is why you will see that there is no girl who can resist them. They are suitable for every body type and even curvy girls can pull of the most amazing outfits with their help.