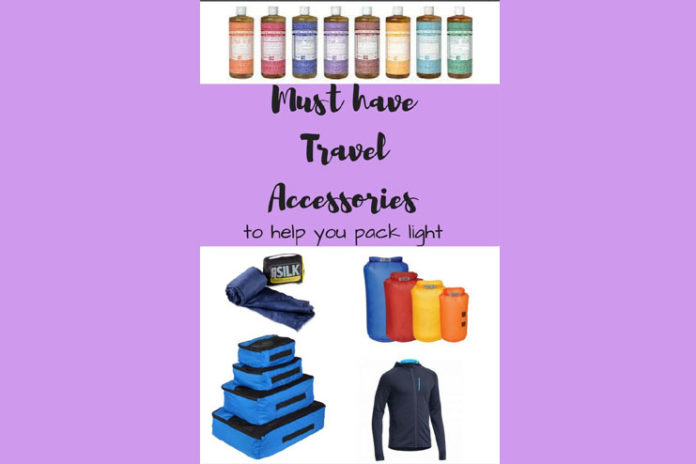 From one traveler to the other, the tips are farfetched and precise. I have been an avid traveler and the many adventures have led to my little list including must have travel accessories for avid travelers. We all love to travel with least luggage and ideal luggage. Necessary items to make the travel memorable and fun are to be carried without fail. There are also some wide range of travel specific gears and accessories which make everything easy and compact.
For both road trips and airplane travel, there travel accessories are extensive. They comply with the TSA standards
 and are easier to carry. They also consume less space and provide more convenience.
[Also Read: Ideas for International Travel on budget]
Must have travel accessories for avid travelers include:
1. Travel Pillow
Travel pillows are very important for the mid travel, nap and it keeps your fresh and active all through. There are varieties of travel pillows from inflatable pillows which consume very less space to cushion to full body rest pillows. Depending on your travel and space permit chose the most suitable one
2. Power bank
Power bank is as useful during travel as otherwise. For long hours in transit, sometimes the mobile devices get discharged. These power banks have many hours of charging capacity. They are handy and can be carried easily
3. Foldable gym bag or duffle
Keep a duffle or gym bag in your big luggage for in between travel contingencies. Sometimes the luggage we start off our journey with get inflated after we open and it is difficult to contain the travel gears. Also it is handy to keep some most needed items in duffel.
4. Travel bag insert
Travel bag inserts are sectioned and pocketed for storing all the basic items from toiletries or cosmetics held up at one place.
5. Handy Travel iron
A small handy iron for travel is very important for business travel. It is hardly 6-8 inches and takes very less space.
6. Backpack
A good backpack is important for easing off the luggage carrying issues. It gives a hands free travel, ideal for backpacking or road trips
7. Shoe Bags
Shoe bags not only keep the shoes organized, but prevent shoe smell and dust from spreading in other items packed. They keep the smudged shoes in nice compact packs
8. Foldable Laundry bags
Most suitable for road trips as they prevent the dirty, soiled clothes from mixing with fresh ones. And also its easy to unpack after coming back from the trip as the items in laundry bags will be washed as soon as you reach home.
9. Cross body bags:
Easy and convenient to carry and gives hands free ease and comfort.
10. Foldable umbrella
For the rainy weather pack a small foldable umbrella too.Mini lightweight umbrella is most ideal for any travel
11. Wireless Portable speaker
Wireless portable speaker is great for any trip; it keeps the playlists handy for everyone. Some of these handy speakers are water proof and can be utilized for beach, camping or international travel.
12. Folding hammock
For the ultimate camping leisure nap. Use a hammock that gives proper sleeping frame and is safe and easy to set up.
13. Open tote
For the camping and road travel, an open tote to just grab snacks or food items during drive is handy and easy. Some of such bags are even having hydration inserts which are ideal for summer time
14. Cooler for camping
Summer travel or camping cannot be possible without cooler. Use handy and portable one for small family and short trip and use wheeled big ones for a big family or long trip.
15. Camping chair
For road trips and camping these travel accessories are a must. Very handy and lightweight folding to smallest consuming sizes, makes them ideal for any travel
16. Travel medical kit
First aid box is very important for any travel. Handy and compact travel kit must e included in every travel
[Also Read: Tips for traveling with a kids on a long haul flight]
17. Travel packs for sanitizer and lotion
Buy travel packs for any kind of travel. These bottles are ideal and easy to carry and help in proper storage
18. Rechargeable batteries
Pack adequate rechargeable batteries for your trip. Include some extra too
19. Water proof beach mat
Water proof mats must be carried for easy and handy usage. Specially for a beach filled summer fun these sand resistant and waterproof mats are a must
20. Portable water purifier bottles
Most filtration systems have their travel bottles also available. Try Britta 16 oz travel bottle with filter. They are easy and prevent water borne diseases.
[Also Read: Have you read these reasons for traveling]
Must have travel accessories for avid travelers is an all inclusive compilation, to help you make your next travel hassle-free and memorable. This is very handy and ideal for routine travelers.
Enjoy sharing and send us your feedbacks for, we love to enrich from our reader experiences.
Minu Manisha