How about conceptualizing yourself to Molly Ringwald in Sixteen Candles and breakfast clubs? The way she looked and what she wore! 'jogged your memory'? Those times in the 80's when permed hair was in the spotlight, neon flashing among the colors, women decked in ballerina gowns and smart fanny packs. How delightful to just visualize it all!
You can be a fashion icon when you get into the groove of mix matching colors, accessories or clothes. On the contrary, if it's not in your blood to be ingenious, it is absolutely fine.
Talking of fashion trends, let's dig deep into the fashion trends of the 80's . If you want a vintage get up. This article has it all for you! If you belong to the 80's here's a chance to go back in times and get adorned!
14 Best 80s Fashion Trends that Look Stellar!
1. The Pleated Skirts – Go pink!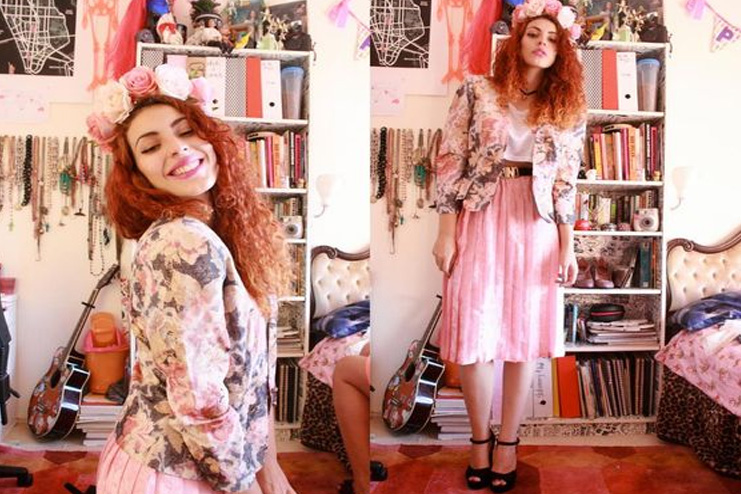 Pleated skirts in the 80's trend were distinguished and with a color like pink looks feminine. If you have a craze for skirts, you should get into this 80's trend.
Occasion: The right suit for a birthday party or a date
Styling tips: Go for these pleated skirts with floral shirts, wear on ballerina footwear or high heels, put on some pink lipstick and parade around the place.
2. The 80's Prom Gowns – Dribble around!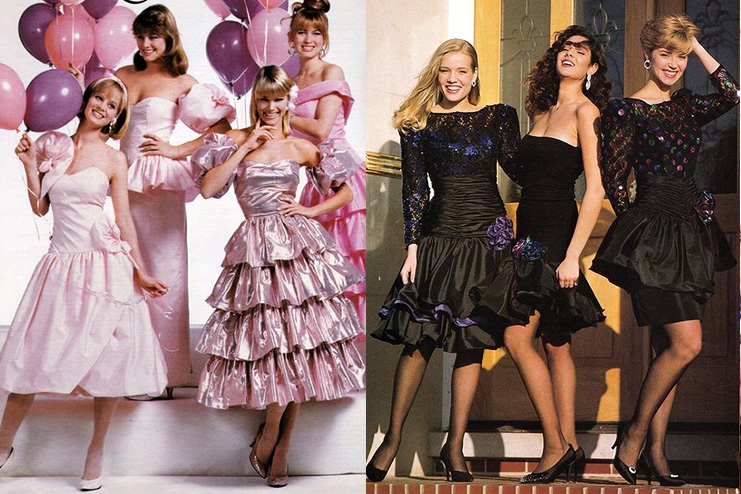 Party gowns never fade like the seasons. Talking of the 80's 90's or 20's a woman looks idyllic in a gown. Be it fish cut gowns or flowy gowns, a woman looks like a doll in them.
Occasion: Flawless outfit for a party
Styling tips: Get on all your studs and crystals and decorate them on your neck, ears and fingers. Wear on buns or leave your hair loose, do the right makeup and get on to the princess mode.
3. Disney Gown – Tour the Land of Fairies!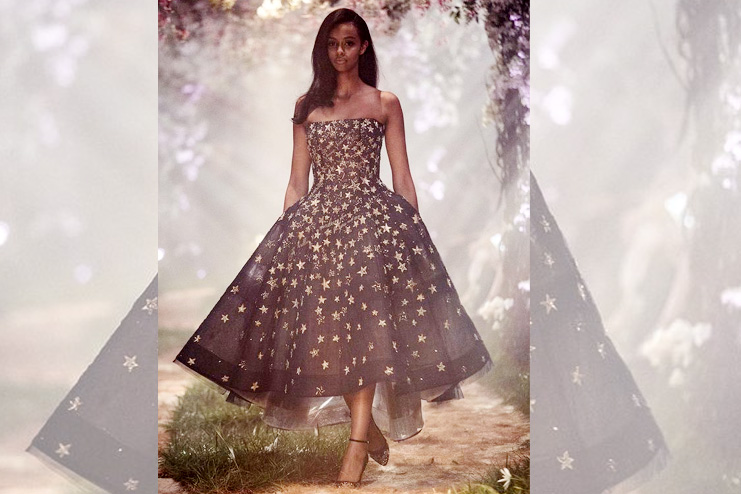 Paola Sebastian gets the credits on designing this gown taking an inspiration from the fairy tale once upon a time. Embroidery embellishments on gowns look fantastic.
Occasion: Beautiful outfit for a date, wedding or a party
Styling tips: This gown can be worn backless or with thin straps as well.
4. Funky Western Attire – Swim in Colors!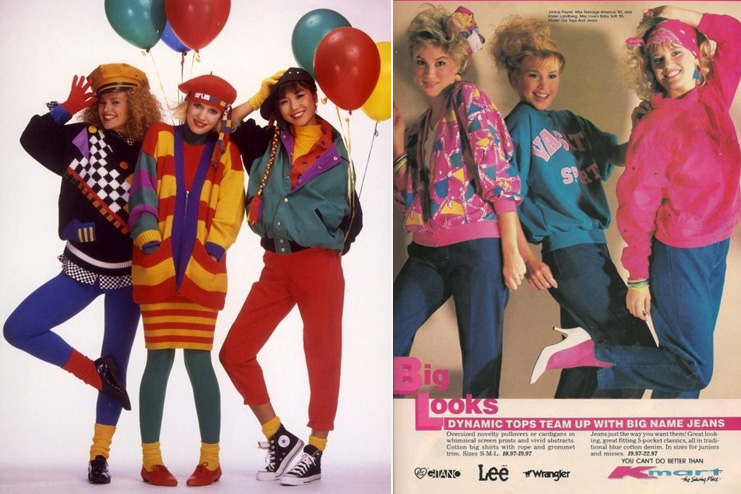 Colourful tights, with caps and shoes and big smile brights up one's mood. This is one of the funkiest trends in the '80s.
Occasion: You can dress this way for casual occasions when you have your friends around or you are going for a theme party.
Styling tips: Wear on any color that you love.
5. Denim Times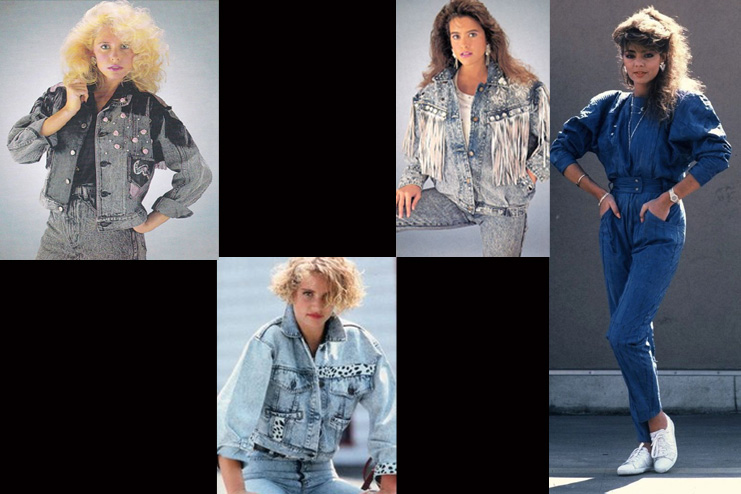 Denim is the best add on for a casual attire, as it is modish for a long time now. Looking back at the times in 1980's, Calvin Klein came up first in the 80's and denim picked up prominently from then. Denim fabric makes one look smart. When you look back at the times in the 80's ripped jeans, acid wash jeans were all the happening trend.
Occasion: Denim is evergreen and can be worn at any time and any part of the year. One can wear denim at home as well. Denim will never die out of fashion.
Styling tips: Denim looks lovely on light as well as dark shade t shirt and shirts. One must try denim dungarees as well they look chic.
6. Street Style in the 1980's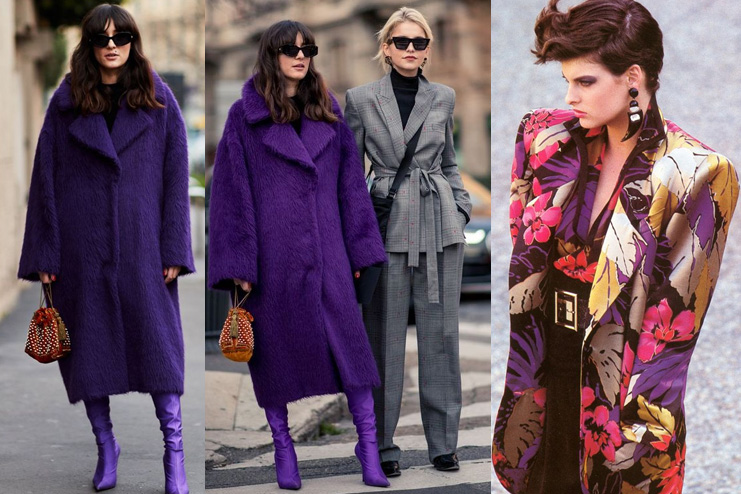 These long waist coats to wear on a cold winter evening is fabulous. Long waist coats are designed differently in every country. The trend on long waist coats in 2019 has a touch of the 80's style even today.
Occasion: Long waistcoats aren't just apt for a formal occasion. Wear them on when you are casually loitering around the city.
Styling tips: Wear on your boots and a nice jeans with this long waistcoat. If your waist coat is long enough you need not even wear jeans. To add a classy look to your attire you can wear on your glares.
7. Mufflers and hats – Inspired from the 1980's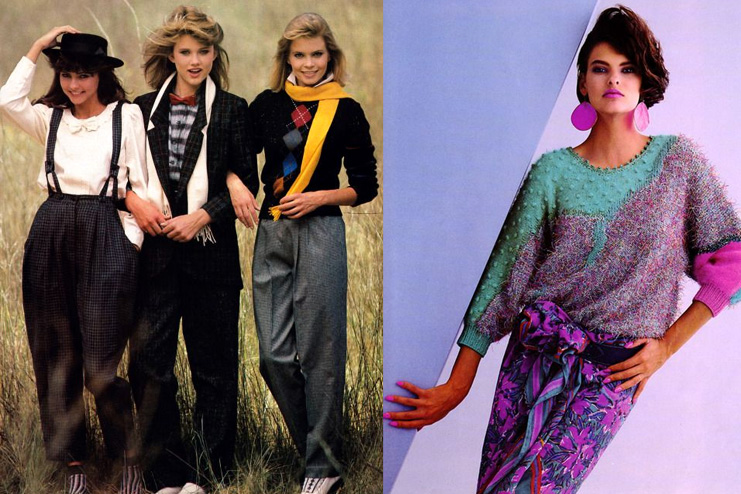 In the 80's, men and women two tied their sweaters around their shoulders and they would wear colorful mufflers and hats to give themselves a trendy look. This trend has its come back even now. This fashion may not die down even decades from now.
Occasion: Winter is the best time to try on this style.
Styling tips: Go for color contrast mufflers with your sweater.
8. Leg Warmers – Flashy in the 80's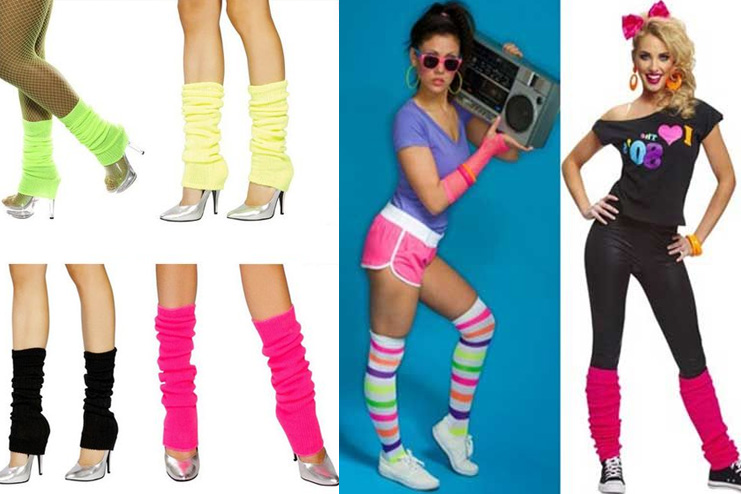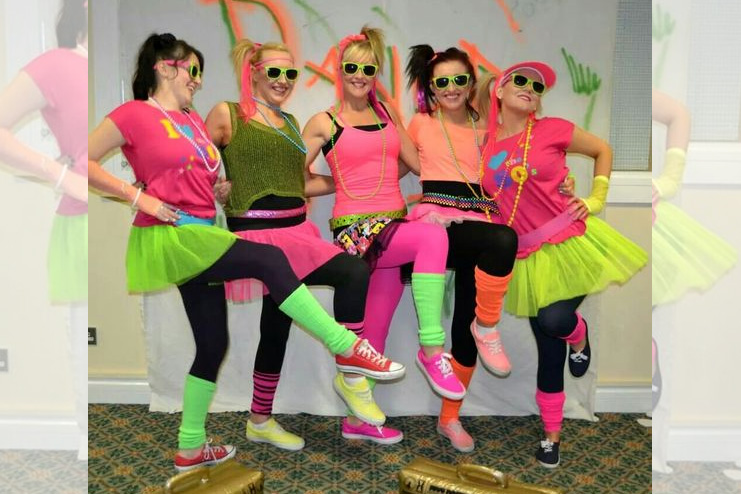 In the 80's, the real idea of wearing on leg warmers was for the people who were professional dancers. When a movie named footlose came up in 1984 it became a claim to fame for young girls. Girls enjoyed wearing these leg warmers on their stockings.
Occasion: precisely to be worn when the weather is chilled. Form the fashion stand point it looks pretty on your legs when you wear it on with your mini skirts and on your track pants.
Styling tips: Wear on your boots to style your leg warmers.
9. Theme Party Dress – The Rocking Retro!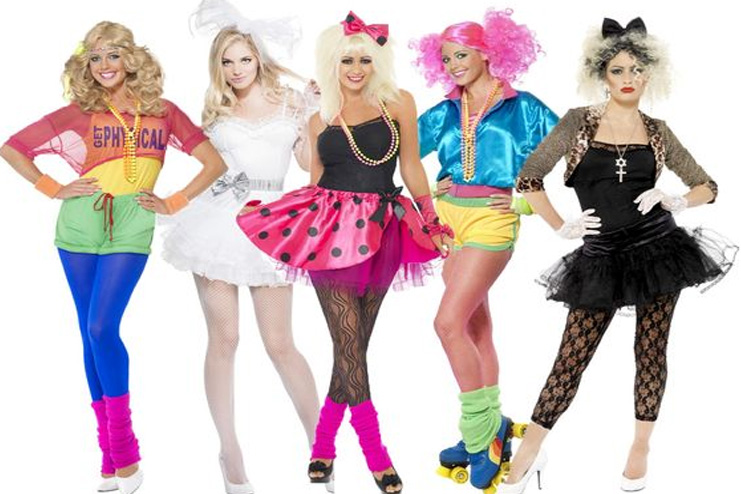 To rock and roll in this retro style when there is a theme party is a peculiar idea. Retro styles are always in and in the 1980's women wore bright colored attires and permed their hair. It may be going out of fashion but its uniqueness still exists in bits.
Occasion: Funky and hippie dressing best suits theme parties.
Styling tips: The best part about this style is that you won't really need to be conscious on the colors you are wearing. You can relax and mix match any color.
10. Jelly Shoes – Tap Your Feet in Silence!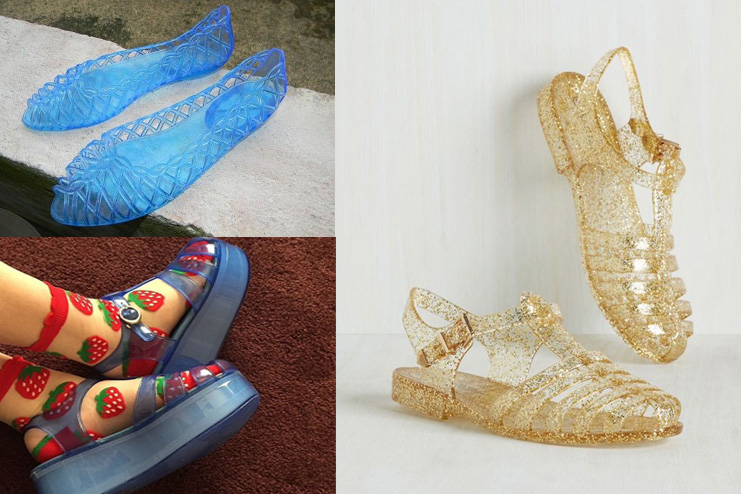 Jelly shoes bucks the trend from 1980's and they are still ina craze. Fashion revolves round and comes back, the same goes with these shoes.
Occasion: A good idea to wear it for casual occasions.
Styling tips: Fit your pretty legs into colorful jelly shoes and tie around fragile anklets around your ankle.
Have a look at this anklet :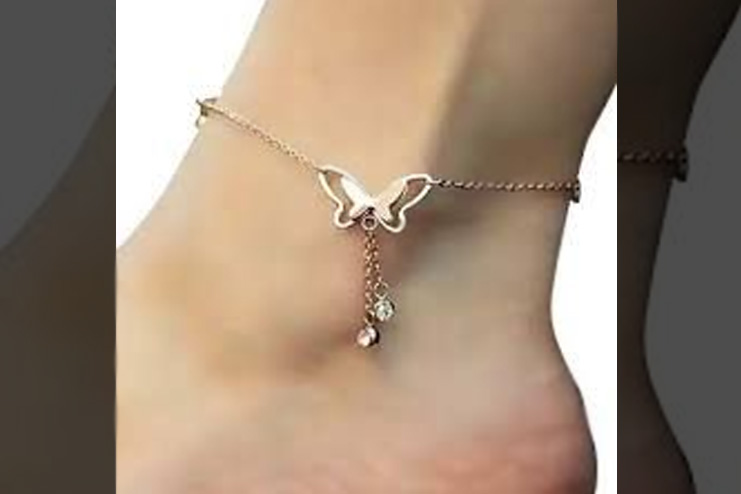 11. Portugal Shoes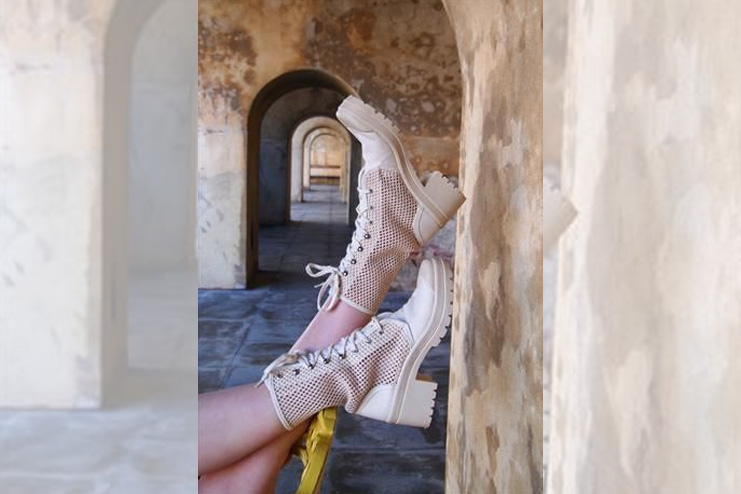 These Portugal shoes were a boon between the 1980's and 1990's. Women went gaga over these shoes. Portugal shoes are elegant and the best time to wear them on is in the spring season over your short dresses and skirts. This vintage form of a trend is still alive today and one must have a pair of these shoes.
12. Bermuda Bags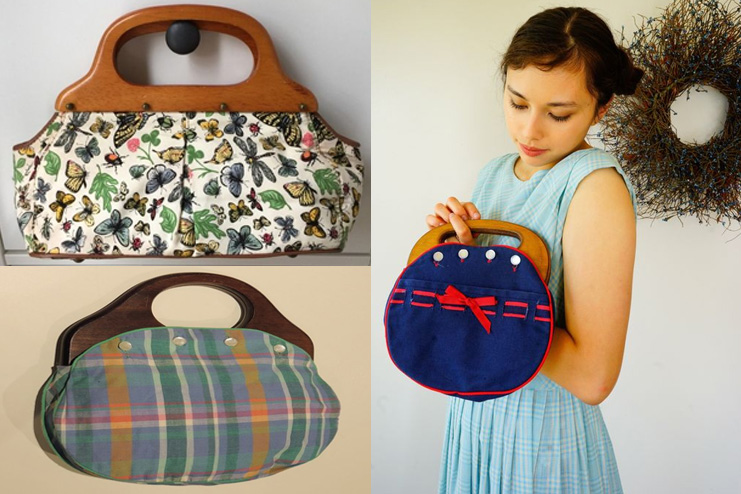 The bermuda bags were also known as pappagallo bags. It came up in the 60's and every girl would walk around with flashy bags in her hand back then. Bermuda bags cannot accommodate a lot of stuff in your bag but they look fancy to carry it off otherwise.
Occasion: They are not quite suitable to carry it to work but otherwise one can carry them anywhere it goes well on any outfit.
Styling tips: Another way of holding this bag is to hang it on your wrist, looks classic!
13. Woolen Hat in 1980 – Queen Elizabeth's Hat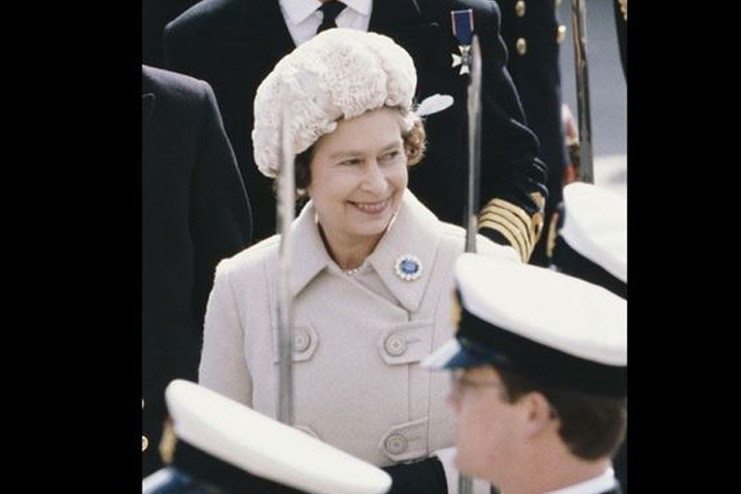 These crochet like woolen hats exist even today and look gorgeous to be worn on short dresses, in 1980's Queen Elizabeth wore these hats and they were over every woman's head.
14. Beaded Chains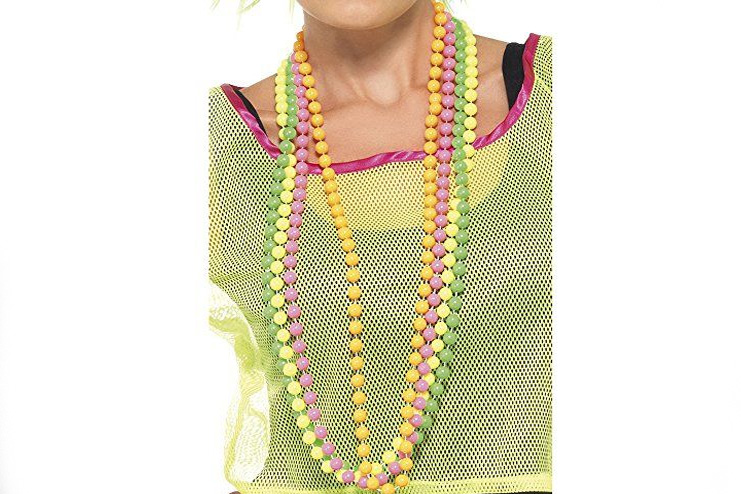 Although beaded chains have been there since 1914. In the 1980's, colorful beaded chains were super famous, about 4 or 5 colored chains would be mixed and worn together.
Occasion: Beaded chains would look tacky if worn on every dress possible. Beaded chains are not meant to be worn on any dress. They look good when worn on long dresses, skirts and low neck t-shirts.
Styling tips: You could get a change in how you wear the chain. You could double fold the chain or wear it as it is.
In the cocoon of fashion, there is no age limit or a restriction that shorts are just meant for youngsters and gowns are just meant for elderly women. The world of fashion is all about exploring, finding and fitting into an attire that displays the best of you and 1980's trend is the era that one can grab a lot from. Be it the fashion of colors or ideas on how to embellish yourself with jewellery/accessories.
A classic never goes out of style and that is the 80's classic that will light up its essence every ten years.