Being a father of the bride can be like being on a roller-coaster of emotions. Your little darling is going to be a wife and begin her new journey. As a father, you have dreamt of this day for many many years now, when you would hold your little angel and walk her down the aisle. That one last ritual, which by the way is the most gratifying and heartfelt part of a wedding is, the father of the bride wedding toast. There are so many things you wish to share and there are loads of blessings you have to shower upon the newlyweds, but the wedding toast must be crisp and yet all inclusive of these. Worry not, we are here to share some amazing father of the bride wedding toast examples, which are mesmerizing, captivating, hilarious, emotional and truly heart-filled
Tips for writing wedding toast if you are the father of the bride: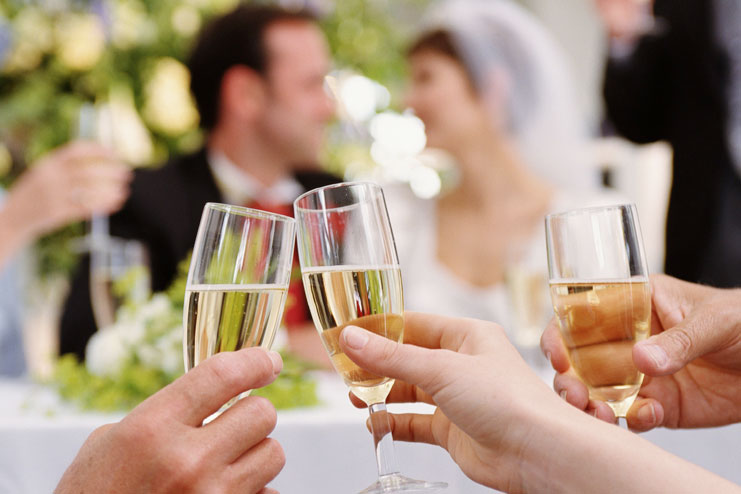 1- Keep is short, simple and sweet
We know it is the last day before your darling daughter becomes a Mrs, and you have a stream of emotions within you.You waited for this day all your life, and now you just can't stop but share everything you think about. But understand wedding ceremonies are truly exhausting and by the time your wedding toast comes, the bride and the groom would be completely tired, all set to fall down on their honeymoon plans. For the rehearsals,
wedding vows
, ceremony, and reception are all totally packed affair
2- Do not embarrass your daughter or her groom:
Stories from past are nostalgic and sometimes embarrassing, it is not nice to share those awkward snippets from the past which would ruin your daughters day. You may save those hilarious moments to be shared at the many many coming family lunches and dinners. Marriage is a sacred place, and you must keep up with the sanctity of the wedding ceremony.
3- Do not push for laughs:
Laughs must be natural and organic rather than asking for it. Do not makeup things, let them be as natural and smooth as can be.
4- Do not mention the ex'es:
The ex-boyfriends or partners must be kept away from marriage ceremony mentions, despite the fact that they are being ridiculed or mocked. It does not speak highly of you when you share those painful past moments.
5- Don't just talk to your daughter but everyone else:
Make eye contact and talk addressing everyone, not just your daughter. She sure is the apple of your eyes but the toast and speech is for everyone else too, so do not ignore them.
6- Toast must mention both bride and groom:
Do not skip the groom from mention, for it is not just your daughter but her better half too who is a part of this nuptial. And mind it an important part.
7- Show gratitude:
Be thankful and show some gratitude to everyone who has gathered, to celebrate this awesome day along with your family.
8- If you can not write then pick popular ones:
We know how much you have wanted to write those toast and speeches for the wedding ceremony, but it can be overwhelming and difficult to pen down everything in a way that means special. So we have some of the top 10 father of the bride
wedding toast examples
 which are popular:
"There are two lasting gifts that we can give to our children. The first one is roots and the second one is wings. We always wanted to give [bride] a strong foundation and a support system that would always be there for her never what. But we also wanted her to have wings so that she could one day go and build a life of her own"
"Our family is very close-knit and sure, our family tree has some nuts on it, I won't say who. But I have to say that [groom] fit right in with us from the moment we met him. And I am glad to say that we did not scare him away. He is still here and now he is family"
"I raise my glass to toast my daughter, (Bride's name). She's dreamed of this day since she was a young girl, and now her dream has come true, complete with her very own Prince Charming. (Bride & Groom), I wish you much love and happiness in your new life together As I look at this beautiful woman before me in the lovely wedding gown, I can't help but reflect on the girl she was and the woman she has become. She became "Daddy's Girl" on the day she was born and has always been a princess to me. All through her life, she has brought joy to her mother and me, and while not every day has been perfect, the love I feel for her has been.
And today, she has joined hands with a wonderful young man, and in addition to the sparkle I have always seen in her eyes, today I see a love and joy there beyond anything I have seen thus far. She and [Groom] today have completed each other as they become a new family unit.Please join me today in wishing [Bride] and [Groom] every happiness possible and a long and joyful life together as husband and wife"
"Let us raise our glasses and toast the happy couple. The bride has been like a ray of warm sunlight on my soul from the day she was born. Now, she begins a new life and there will be another man to whom she will turn for love and protection. But I want her to know her father will always be there for her. Cheers"
"Coming together is a beginning.
Keeping together is progress.
Working together is success"
"To keep your marriage brimming,
With love in the loving cup
Whenever you're wrong, admit it
Whenever you're right, shut up"
"A toast to sweethearts – may all sweethearts become married couples, and may all married couples remain sweethearts. It now gives me great pleasure to propose a toast to the happy couple. Look at (Groom) and (Bride).
Here's to the past, for all that you have learned
Here's to the present, for all that you share
Here's to the future, for all that you look forward to together"
"I lift my glass to honor my daughter on this her wedding day. It is hard to find the right words to express the depths of my feelings.She is a fine daughter, and I am sure she will make as fine a wife. I am filled with a curious mixture of joy and wonder. Joy at the happiness I see in her eyes, and wonder at the miracle of seeing my baby child grow from a little girl to a woman"
Share ahead and keep writing us, we love hearing from you!